ICICI Pru Heart/Cancer Protect Plan
ICICI Pru Heart/Cancer Protect is specially designed to reduce the financial burden while treating the two most dreadful health issues (cancer & heart ailments). The policy pays out the lump-sum amount on the first diagnosis, without any medical bills.
Eligibility:
Minimum Entry Age

18 years

Maximum Entry Age

65 years

Minimum Maturity Age

23 years

Maximum Maturity Age

75 years

Sum Assured

Minimum: Rs.2 lakhs

Maximum:

Cancer cover: Rs 50 lakh
Heart cover: Rs 25 lakh

Policy Term

Single Pay: 5 years

Regular Pay: 5 to 40 years
**Last Updated on 04-12-2020
Coverage of ICICI Pru Heart/Cancer Protect
Dealing with cancer and heart ailments can put a toll on your body. To avoid added pressure/problems, the cancer insurance plan offers the following-
Parameters

Coverage

Income Benefit

1% of the sum assured is paid every month for 5 years

Hospital Cash Benefit

Yes

Discount offered

5% off for existing customers on 1st year's premium

Grace Period

15/30 days

Free-Look Period

Available

Payout Facility

Minor Conditions: 25% of the sum assured

Major Conditions: 100% less earlier minor condition claim payouts (if any)

Policy Revival

Can be revived if all the premiums are paid within 5 years of the first unpaid premium

Survival Period

Not available for Cancer Cover
7 days for Heart Cover
**Last Updated on 04-12-2020
List of conditions covered
For Cancer cover:
| | |
| --- | --- |
| Minor Conditions | Major Conditions |
| Early-stage Cancers | Cancer of Specified Severity |
| Carcinoma-in-Situ of any organ (except skin) |   |
**Last Updated on 04-12-2020
For Heart cover:
| | |
| --- | --- |
| Minor Conditions | Major Conditions |
| Angioplasty | Cardiomyopathy |
| Balloon Valvotomy or Valvuloplasty | First Heart Attack of Specified Severity (Myocardial Infarction) |
| Carotid Artery Surgery | Heart Transplant |
| Implantable Cardioverter Defibrillator | Major Surgery of aorta |
| Implantation of Pacemaker of Heart | Open Chest CABG |
| Infective Endocarditis | Open Heart Replacement or Repair of Heart Valve |
| Minimally Invasive Surgery of aorta | Primary (Idiopathic) Pulmonary Hypertension |
| Pericardiectomy |   |
| Pulmonary Thromboembolism |   |
| Surgery for Cardiac Arrhythmia |   |
| Surgery to place Ventricular Assist Devices or Total Artificial Hearts |   |
**Last Updated on 04-12-2020
What are the features & benefits of ICICI Pru Heart/Cancer Protect?
ICICI Pru Heart/Cancer Protect understands the trauma of the family when one of them suffers from cancer/heart ailments. Apart from the emotional pressure, such ailments put a financial dent in their savings. To overcome these problems, the plan offers the following benefits-
How does ICICI Pru Heart/Cancer Protect work?
Rahul, a normal  28 year old person with a 9-5 job. He bought ICICI Cancer Insurance Pru Heart / Cancer Protect plan, with Cancer cover of Rs 30 lakh for 15 years. He was diagnosed with an Early stage of Blood cancer at the age of 35. He received a payout of Rs 7,50,000 lakh through this plan which helped him with his medical expenses.  The plan continued with remaining Rs. 22,50,000 Lakhs, and moreover, with the waiver of premium benefit, Rahul doesn't need to pay any further premiums. Unfortunately, at 40 he was diagnosed with major stage cancer, and the remaining amount that was 22.5 lakh was paid to him.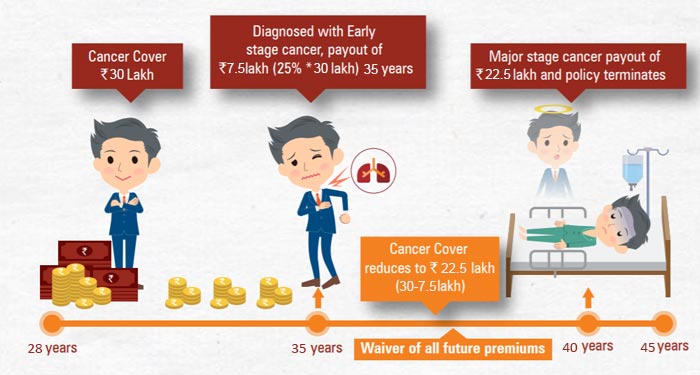 What's not covered under ICICI Pru Heart/Cancer Protect?
The plan has a long list of exclusions. A few of them are listed below-
Pre-existing diseases.
Any covered event or its signs or symptoms occurred within the waiting period.
Any self-inflicted injuries or damage to self.
Any injury caused due to overdose of drugs/alcohol /solvent, taking of drugs except under the direction of a medical practitioner.
Radioactive contamination due to a nuclear accident.
Any illness due to a congenital defect.
How to Buy ICICI Pru Heart/Cancer Protect?
Buying ICICI Pru Heart/Cancer Protect is an easy and hassle-free process. Just perform the following steps:
Visit the official website of ICICI Prudential and click on the 'Online Plans'.
Find the 'ICICI Pru Heart/Cancer Protect' plan, and click on the 'Check Premium'.
Fill in the details and again click on 'Check Premium'.
Add the required details. Click on 'Buy Now' and pay the premium online.
Once the payment is received, the policy document will be mailed to your registered email address.
How to file a claim for ICICI Pru Heart/Cancer Protect?
You have to perform 3 simple steps to file a claim. Let's check them out.
Report the incident to start the claim process. This can be done online or via phone, SMS, email, among others.
The team will then evaluate the claim and verify your documents. The company will keep in touch with you and inform you every step of the way.
Once everything is sorted, the company will settle the claim in a short period.
Contact Details of ICICI Prudential:
Address: ICICI Pru Life Towers, 1089 Appasaheb Marathe Marg, Prabhadevi, Mumbai 400025.
Contact Number: 1860 266 7766
For Claim Related Queries:
E-mail: claimsupport[at]iciciprulife[dot]com
or, SMS 'ICLAIMPolicy Number' to 56767