At PolicyX, every day we get the request for changing health insurance plans for different reasons. Inadequate coverage, cost, benefits, and search for better plans among others are a few reasons that we use to listen daily. Many people ask why one should change medical insurance coverage. Thus we have updated some content based on the financial advisor's recommendations and a team of experts.
If you look after your life and the life of your loved ones with the utmost care, then Health Insurance is that type of financial decision that you don't forget. 
The cost of healthcare in our country is continuously rising day by day, Thus it becomes significant to have health insurance to protect yourself and your loved ones from the uncertainties and the catastrophic losses of life. 
With a health insurance plan, you do not have to worry about paying the bills right away. Even if one has to pay, having medical insurance will ensure that the money is reimbursed to the payee, be that for any medical emergency. 
While all that sounds extremely good, As per multiple reports, India continues to have low health insurance levels in the world. To improve the current situation, the government has taken up new initiatives like the Ayushman Bharat Yojana. 
Surely, the government is doing its job and we will see better days in the future, but are you rightfully shouldering your responsibilities? Have you got your family protected by the powerful shield of your insurance plan? No? Well, then the following reasons might direct you to get one.
Why Health Insurance Policy Is Important?
So, now you see why is it essential to have a health insurance plan in the current times. 
According to financial planners, it would be wrong to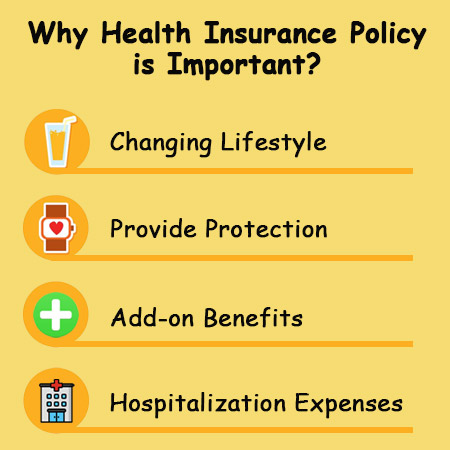 assume that one medical insurance plan will be perfect for you throughout your life. Like one grows out of old clothes and shoes and buys new ones to match the current trend or requirement, you will also have to modify your health insurance plan as soon as any new change comes along. 
Financial advisors or planners said that every time some significant change occurs in a person's life, for instance, the birth of a child, or death of a spouse, it's important to review your health insurance scheme. Additionally, it is also a good idea to reflect as well as compare the current plan with the current ones in the market. 
That brings us to the most important question, what are the signs which indicate that it might be time to rethink or change your healthcare insurance plan?
Changing Lifestyle of People
The lifestyle of an average man or woman is changing rapidly. Owing to their work pressure, they can develop new diseases and medical conditions, they eat junk food, they sit long hours in the same position. Thus it is better to be prepared with a health insurance plan rather than be sorry! 
Health Insurance Provide Protection
The primary function of health insurance is to protect against future risks, accidents, etc. Health Insurance checks the happening of the risk, but can certainly provide for the losses of risk.
Hospitalization Expenses Benefits
In addition to other benefits, the Health insurance plan also provides benefits on hospitalization expenses, for instance, surgery or other expenses like Outpatient Department and diagnosis has also increased over the years. Such an increase in medical expenses makes it mandatory for people to opt for medical insurance plans.
Health insurance plays to the benefit of one since it no longer covers only the fees of hospitalization, but also over a wide array of medical scenarios such as OPD and diagnosis. 
Add-on Benefits
Along with the other benefits mentioned above, a medical insurance plan covers cash benefit charges, ambulance charges, daycare surgeries, health check-up expenses, vaccinations, and many other such areas. 
Why You Should Change Your Health Insurance Policy?
1. Increasing Medical Costs
If you have not noticed it yet, the medical costs in India have become sky-high over the last few years. Thus, if there happens to be any medical emergency, one has to spend nearly half or even more of their savings to meet up with the expenses and hospital bills thereby making their future uncertain. Thus despite fall on the savings, it's a prudent idea to get a medical insurance policy that covers all your medical expenses. 
2. Currently, Your Needs Are Changed
Health needs are always changing as our age changes. So we should also change our health insurance scheme accordingly. According to Insurance advisors as your age increases, you need more doctor's visits and need a plan with low deductibles and low premium, so that you can save your savings as much as possible.
3. Poor Service From The Company
Many times it so happens that a company fails to live up to the promises it makes. In that case, the quality of their services may fall over the years causing problems to the insurers. Thus, it might be time to look for change if one finds a good alternative to the plan they have.
4. Lack of Additional Cover
In many cases, an insurance company refuses to provide insurance cover to a specific health condition. While many people find this situation adjustable, if one is not comfortable with the situation or anticipates the break out of that specific disease, then it is a good idea to change the insurance plan. 
5. Chance To Save More Money
Since medical expenses are reaching the ceiling with the days, it's essential to get health insurance in the current times. The importance of the financial document is well recognized and thus even employers are gearing up to protect their employees through a medical insurance plan. 
In that case, even though nothing major might have changed in your life in the past few years, it would still be a good option to revisit your medical insurance and compare the costs. 
6. Lack Of Transparency
In many cases, there are transparency issues with the health insurance documents. There might be some hidden clauses that were not made known when the insurance was purchased.
However, these unclear and often hidden clauses become a great deal of hassle when it comes to claiming the insurance money. Under such circumstances, shifting to an alternate service provider or changing the plan can be considered. 
7. Better Offers For Competitors
Insurance has a booming market in India, and there is a high possibility that you will get good deals and great offers from many companies. These offers can be in terms of age cap renewal, premium, co-payment slabs, and room-rent limit. However, if you want to change your medical insurance plan, go through quite a few deals to select the best at a competitive price.
8. You've Had a Child
As mentioned earlier, it is important to consider changing your health insurance plan if you have gone through some major changes in your life. Such change can be having or adopting a baby, losing a parent, divorce or any other change.
Other changes can be considered which can include buying a new property or starting a new business. Although, not many people consider these, as these are covered by other financial investments. 
Other Articles: 7 Key Changes in Health Insurance Plans After Marriage
However, before making any changes in your health insurance scheme it is advisable to talk with your advisor or planner. They can help you with your decision and provide you the required guidance. Of course, there is no need to highlight the truth that you want to compare a few insurance policies before you decide to shift.