What is Home Insurance?
Home insurance provides coverage to the structure of the building and its content against damages caused by natural and man-made calamities. Whether your house is robbed by a thief or stuck down by an earthquake, home insurance will look after its damages.
Importance of Home Insurance
To ensure the safety of your house, contents, and family members, home insurance is a must. Let's know more about it.
It offers protection to the structure of the building in case of damage caused due to man-made or natural calamities.
From furniture to electronics, home insurance covers the damages caused to it due to perils like fire, robbery, etc.
Additional structures like mailbox, garage, fence, pool, and others are also covered under home insurance.
If a third-party/property is injured/damaged on your property, home insurance will look after its legal liabilities.
In case you wish to construct a house on your property, the bank will offer a quick loan if the property is insured.
Benefits of Home Insurance
Like every other policy, home insurance delivers a set of benefits to its customers. Some of the notable ones are listed below-
Full cover against the expenses of any damage or loss caused to the house and its interiors due to natural and man-made activities.
Home insurance is available at low premiums. Companies also offer riders like dog insurance cover, loss of rent cover, etc. for added protection.
You can stay calm and enjoy the benefits once your house is insured under the policy.
The buying and claim settlement process of home insurance is quick in several cases.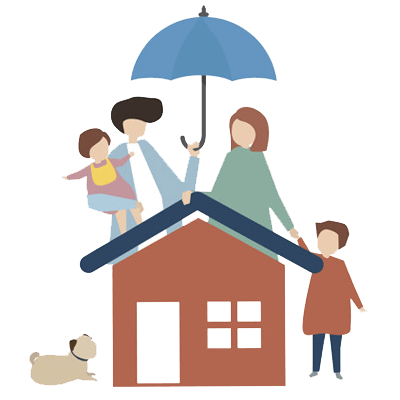 Types of Home Insurance
To meet every need of the customer, insurance companies have come up with multiple types of home insurance plans. Let's take a look at them.
1. Comprehensive Home Insurance
This is the mainstream plan. It not only covers the house but also covers the contents inside it. It's perfect for those who wish to protect their content and the house under the same plan.
2. Content Insurance
The plan only covers the content of the house like appliances, furniture, jewelry, wardrobe, and other necessary items. If any of these items are damaged/lost due to man-made/natural calamities, the plan will take care of its expenses. Do remember that the contents are covered based on the market value i.e. the cost of purchasing a new item after deducting the depreciation based on the age of the item.
3. Standard Fire and Special Perils Insurance
This plan provides coverage against any damage caused due to natural calamities like earthquakes or floods and man-made calamities like fire. Shopkeepers, godown owners, industry offices, etc. can purchase this plan for the security of the buildings.
4. Building Insurance
As the name suggests, this plan takes into account the expenses incurred against damages caused to the house, flat, or apartment construction. Places like garages or sheds are also covered under the same.
5. Public Liability Coverage
If a third-person or his/her property is damaged inside or outside your building, this plan will look after its legal expenses.
6. Landlord Insurance
As a landlord, you need to maintain the building in a good condition. Sadly, the standard home insurance doesn't help the landlord in any manner. That's why this insurance is designed to help the landlord in case of any damage to the building/public liability.
7. Tenant Insurance
As a tenant, you reside in a rented flat/building. This insurance covers the damages caused to your content inside the building.
8. Personal Accident
This is a special type of home insurance. In case you get injured (disabled) or die in an accident anywhere across the globe, this insurance offers compensation to your family.
Best Home Insurance Plans 2020
Providers

Eligibility

Key Features

Homeowner/Tenants

Get coverage against natural disasters (fire, earthquake, flood, etc.) and man-made calamities (robbery, riots, etc.).
Option to cover pets.
Get coverage for damages to your home including garages, terraces, swimming pools, etc.

Homeowners/Tenants/Housing Societies

Get coverage up to Rs.50 lakhs for third-party liabilities
Get coverage for contents up to Rs.25 lakhs.
It offers optional coverage against acts of terrorism.

Homeowners/Tenants/Housing Societies

It offers coverage against loss or damage caused to buildings and contents by fire or special perils.

You can avail of coverage (up to Rs.10,000) for the legal liability of pedal cycles.
Avail coverage for loss or damage to property by theft.

Homeowners/Tenants

Get extended coverage (terrorism, loss of rent, etc.) by paying an additional premium amount.
Avail coverage for the pedal cycle, ATM cash withdrawal, misuse of credit card, and veterinary costs.
Coverage for loss or damage to electronic appliances and portable equipment.

Homeowners/Tenants

Get coverage for loss or damage against your baggage anywhere in India.
You and your family can grab personal accident coverage only in case of permanent total disablement.
You can avail of standard fire and special peril protection.
**Last Updated on 28-12-2020
Which factors should you keep in mind before buying home insurance?
Home insurance guarantees the financial safety of your house. A wrong provider/plan can spoil that with ease. Before zeroing in on a plan, it's necessary to judge a provider in and out. Below are the factors that you should consider for it-
Coverage and Premium
The amount of coverage you need for your house depends on the associated risks. For example, if you live in an area that is prone to landslides, make sure to choose a provider, which covers this type of risk. Also, the coverage is directly proportional to the premium amount. It is advised that policyholders should compare premium quotes and purchase home insurance policy wisely.
Claim Settlement Ratio
The claim settlement ratio means the time taken by the insurance company to settle the insurance claims. The higher the claim settlement ratio, the less will be the time taken by the insurance company to reimburse/settle the claim. Before purchasing a home insurance policy, carefully look after the claim settlement ratio of the insurance company, along with the terms and conditions of the policy.
Reputation of the Company
A good company never lets its customers down. Such a thing is directly related to the reputation of the company. Make sure to judge the customer staff of the company. They should be capable enough to handle all your queries.
How to reduce the home insurance premium?
Why spend more money when there is a way to reduce the home insurance premium. Here are a few ways to do the same. Let's check them out.
Reduce your liability by sharing the burden of repairs. This will lower the premium by a significant amount.
Never insure any item that is too old. For example, if you own a washing machine that is 10 years old, there is no point in insuring the product at a depreciated value.
Try to avail of two or more insurance plans to avail discounts on premium.
If you have installed safety equipment (like fire safety alarms) in your house or employ 24x7 security guards, then the insurer offers a discount on the premium.
Is Home Insurance necessary in India?
Yes, of course. We live in a country that is home to floods, landslides, earthquakes, and robberies. As buying a home is a very special moment for an individual, it's important to safeguard it from the possible perils. For example, if you reside in a place that is prone to floods or a locality where thefts are common, home insurance becomes a necessity. It offers financial protection to your house and its contents, without giving you any trouble.
How to buy Home Insurance from PolicyX.com?
PolicyX.com is a trusted IRDAI approved online web-aggregator that has satisfied the needs of over 2 lakh people in India. To provide maximum comfort, it has designed an easy process to buy home insurance online. Follow the below-mentioned steps to purchase the same:
Go to the top of this page and look for 'Compare Home Insurance Online'.
Fill up the details and click on 'Continue'.
A list of quotes will appear in front of you. Select your desired plan and check the insurance details.
Make the premium payment and the policy document will be shared on your email id.
How to file a claim for Home Insurance?
Multiple providers in the market sell home insurance. Each of them has its own claim procedure. However, there are a few general steps that policyholders have to follow. Let's take a look at it.
Inform the respective authority about the incident by dialing the toll-free number or sending a mail/SMS.
File an FIR in case of theft, burglary, or fire.
Collect and fill the claim form.
Submit the required documents to the respective authority.
The policy issuing office will appoint a surveyor (if necessary).
Once the verification is complete and on par with the TnCs of the policy, the respective authority will settle the claim.
Documents Required
Here is the list of documents required to file home insurance claims:
Fire brigade report
Medical Officer's Certificate for death and disability
Invoice of the owned products/items (if any)
Repair estimates
Court summons
An investigation report by police
Supplier's original invoice for replacement
Original policy document
Claim form
Others requested by the authority
What is excluded under Home Insurance?
There are certain situations where home insurance does not offer coverage to its policyholders. Given below are some of them:
Loss or damage from the war, invasion, the act of a foreign enemy, etc.
Any damage due to legal confiscation.
Loss or damage through nuclear damage, radioactivity, etc.
Damage through terrorism (specified under the home insurance).
Any pre-existing disease or illness.
General wear and tear.