EMI Calculator
PolicyX.com allows you to calculate your monthly EMI related to the car loan, personal loan, home loan, etc and protect you from tedious and confusing calculations. It assists you in knowing your monthly installment related to any type of loan. A person needs to pay the EMI amount to the financial institution till the loan amount is fully paid off. All you need to do is put in the loan amount, interest rate and tenure.
Assist in knowing the EMI amount without any confusion.
Provides Loan amortization table that assists you with systematic and tabular representation
Provides connectivity between EMI, interest and principal as well.
Highly helpful for the process of pre- close loan.
Can check outstanding loan amount
Provides relevant graphs and schedule table.
Assist in planning finances
Simplify calculations.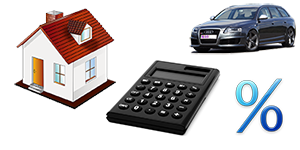 By using the EMI calculator at PolicyX.com you can check the loan amortization table. Basically a loan amortization table provides a systematic and tabular representation of the loan payment process. This table shows you the connectivity between the monthly EMI, interest and the principal factor of a particular loan which provides a clear idea about the whole process. Through this you can easily come to know about the outstanding loan amount. If you want to pre-close the loan, then this table can be highly effective and helpful for you.