With the financial year-end soon approaching, there would be a frenzy amongst most of us to buy tax-saving products. Life insurance companies do a brisk business in March as you can claim tax benefits under Sec 80C for life insurance premiums.
As such, the time is right to know more about Unit Linked Insurance Plans or ULIP as it is popularly known. In the case of a ULIP, the maturity benefit, partial withdrawal benefit, and death benefit are exempt from tax under Sec 10(10D) (as per current tax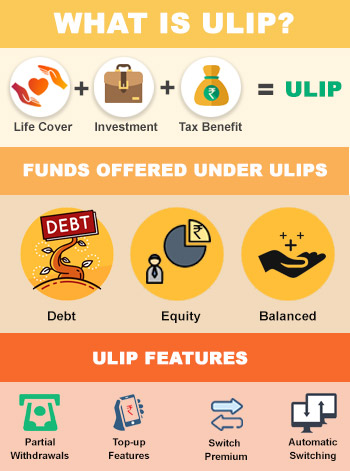 laws and some pre-defined limits). Switching between funds is permitted and is not subject to taxation.
Also, ULIPs are exempt from long term capital gains tax (LTCG) that one incurs in case of mutual fund and direct investments in the stock market. Other than the taxation benefits, a ULIP can also be used as a vehicle for long term wealth generation. Read on to know more about how you can use ULIPs effectively in your portfolio.
What is ULIP?
A Unit-linked Insurance Plan (ULIP) is a Life Insurance product combining life insurance and investments into a single product. ULIP allows you to earn market-linked returns as the investible portion of the premium is invested in market-linked funds such as debt and equity instruments in varying proportions as per your risk appetite. ULIP being a long-term product can be used effectively to plan for your long-term goals such as children's education expenses, marriage expenses, to fund your dream home, to build a neat retirement corpus, etc.
The fund management team of the insurance company manages your investments using their expertise. It is akin to owning a mutual fund folio and a life insurance policy in a single product.
Also, a ULIP offers you the flexibility to switch between various investment funds (debt to equity or vice versa) to make the best of market conditions, thus providing you more control and freedom to manage your policy.
Funds Offered Under ULIPs
To accommodate various risk appetites, most life insurers offer 7-9 investment funds to choose from. The funds broadly fall under one of the following categories:
Debt: The investments are done in a mix of debt or fixed income securities such as government securities, money market instruments and corporate bonds. There is a low risk as compared to equities. A low risk also entails conservative returns. This is a good option for those who are risk-averse and are keen on stable returns over higher returns.
Equity: The investments are primarily done in the equity markets. The risk is very high and so is the potential for higher returns. This is a good option for those who are open to taking risks and understand that equity markets are subject to volatility and can see ups and downs per market conditions. The insurers offer a range of equity funds that invest in the large-cap, multi-cap, mid-cap, small-cap, and thematic funds to suit various risk profiles. Most financial experts suggest that equity is the best option for long term wealth creation and should be considered by people who are saving for long term goals which are at least 5 years away.
Balanced: This is aimed at people who have a moderate risk appetite and wish to earn more returns than what a debt fund offers but are not comfortable investing entirely inequities. These funds are a combination of debt and equity funds and insurers offer balanced funds with varying debt/equity proportions to suit a range of risk profiles.
Quick Facts About ULIP
Flexibility to choose policy premium, premium payment term, and policy tenure.
For policy term greater than 10 years, if the age at entry is below 45 years, the minimum sum assured should be 10 times the annual premium and if the age at entry is above 45 years it should be 7 times the annual premium. For policy term less than 10 years, the sum assured should be 5 times the annual premium irrespective of age.
Sum assured cannot be less than 105 percent of the total premium paid including top-ups.
The charges are bifurcated into upfront charges and monthly charges.
The policy allocation charge (commission, distribution, and promotion expenses, etc) is deducted upfront from the premium. Some ULIPs sold exclusively online do not have this charge.
The monthly charges include the cost of insurance/mortality charges and the policy admin expenses. These are deducted by way of cancellation of units from the policy fund at the prevailing NAV.
The fund management expense is the fee charged to manage the funds. It is deducted from the NAV before the NAV is declared. The maximum allowed is 1.35% p.a. of the policy fund value and it is charged daily.
There is a lock-in period of 5 years. If the policy is surrendered before the completion of the lock-in period, the surrender charges are deducted from the policy fund value and the surrender value is retained in a discontinuance fund and paid after completion of the lock-in period.
After the lock-in period, partial withdrawals can be made from the policy fund.
Top-Ups can be made in your ULIP policy.
Choice of multiple investment funds and the flexibility to allocate your premium in more than one fund in proportions desired by you.
Customize your policy with various riders such as Accidental death and dismember rider, Term rider, Critical Illness Rider, Waiver of premium rider, etc.
How ULIP Features Can Be Used to Achieve Long Term Goals
Partial Withdrawals: After completion of the lock-in period, you can make tax-free partial withdrawals from the policy fund value (subject to min/max limits and no. of withdrawals permitted by the company) to fund emergency expenses or to meet various milestones such as children's higher education, etc.
Top-Up: ULIPs also help you allocate any excess funds that you may have on account of bonuses, salary increments, dividends, etc in your policy by way of a top-up. Thus you are saved from the task of searching for new investment options/products to invest your excess funds. To exercise the top-up feature, you need to first pay the regular premiums due. Top-ups can be done anytime during the policy tenure. An important rule to note regarding top-ups is that as long as the top-ups do not exceed 25% of the total regular premiums paid till then, there is no need to buy an insurance cover with the top-up premium. Top-ups attract a nominal charge of 1-3%. Thus, you can buy more units at a lower cost. This feature provides you an opportunity to park your excess funds in a choice of funds thereby helping you to generate an attractive corpus in the future. Also, it saves you the hassle of buying and managing multiple products.
Switch of Funds and Premium Redirection: These are two different features that can be used to manage and re-balance the asset allocation.
A fund switch request switches the existing funds to the new/desired fund(s). However, in case you wish that your future premiums also be invested in the new fund(s) you need to provide a premium redirection request. Premium redirection applies only to future premiums. With a premium redirection feature, you can invest your future premium in a fund(s) which is different from your existing fund(s). Most insurers allow policyholders to give switch/premium redirection requests online with just a few clicks.
Below are some illustrations on how the switch of funds and premium re-direction requests can be used to derive maximum benefits out of your policy:
Policyholder A has an equity fund that has performed exceedingly well, however, he sees that the equity markets are becoming quite volatile. Hence to insulate his existing funds and capitalize on the gains, he switches from equity to a debt fund which is not subjected to high volatility.
Policyholder B has an equity fund in his ULIP policy. During the initial years of the policy, the equity fund NAV was quite low and this helped him buy more units on premium payments. After some years, he sees that the equity fund has performed very well and the NAV has gone up considerably. Accordingly, his policy fund value (NAV*units held) has seen good growth.
Now his next premium is due. If the premium is used to buy units of the equity fund, he will get considerably fewer units on account of the high NAV. At the same time, he sees that the debt markets are looking very attractive and he wishes to participate in this performance. He also wants to keep the equity fund and enjoy the good performance of the same. So, what does he do? He gives a premium redirection request to the debt fund. Since the premium redirection is concerned only with future premium allocations and not with existing funds, his current funds are untouched (remain in equity fund itself). Subsequently, he pays the premium which is used to buy units of the debt fund (as per premium redirection request). This policyholder has used both the features to exploit the market conditions and derive maximum benefit for his policy.
Policyholder C is an investor with a low-risk appetite and accordingly has chosen a debt fund. When his premium is due, he sees that the equity markets are quite volatile and the NAV of the equity fund is quite low. As per his financial advisor, the equity fund is quite a promising one and is expected to perform well and that C should make good use of the market correction to buy units of this fund. C being a conservative investor does not want to put all his apples in a single basket. He only wants the fresh premiums to go to the equity fund and wants the existing funds to remain in debt. He gives a premium redirection request to equity. Subsequently, he pays the premium which is used to buy units of the equity fund and earlier funds remain in debt only. By using a premium redirection feature, C is taking small steps into the world of equity without disturbing his existing funds in debt.
Policyholder D has an equity-based fund. His policy will mature in a few years. He has earmarked the policy fund value to be received on maturity to fund his daughter's wedding. Since the goal is soon approaching, he wants to adopt a conservative approach and safeguard his kitty from market volatility. So, he gives a switch of fund and premium redirection request to the debt fund. The switch request ensures that his existing funds are switched to debt. The premium redirection request ensures that the future premiums paid are allocated to the debt fund. Here he has used both switch and premium redirection features to manage his policy. As his goals are soon approaching, D has taken the right decision to switch from equity to debt fund to protect his fund from the high risk and volatility presented by equity funds.
These are ways in which a ULIP can be customized to suit your specific requirements and generate wealth in the long run. However, do not fret in case you do not have the time, inclination or savviness to follow the markets and make the decisions related to switching and premium re-direction. This gets us to the other feature of ULIP.
Automatic' Switching: If you are not a market-savvy person or do not have the time or inclination to follow the market news and trends, you can still use ULIPs for your long-term goals. Many ULIPs offer automatic switching features as explained under. The policyholder can choose a strategy and change it if required on the policy anniversary.
Asset allocation fund: The insurance company's fund manager uses his expertise to switch between equity and debt funds considering the prevailing and expected market conditions.
Wheel of Life strategy: In this strategy, your investment is shifted from equity to debt automatically on a gradual basis considering your age and remaining policy tenure. This helps build a fine balance between risk and returns and optimizes returns based on the policy tenure.
Systematic transfer of funds: In this strategy, the money is initially invested in a debt fund and transferred to equity funds in 12 regular installments to safeguard against high volatility.
Trigger-based portfolio strategy: Your premium is invested in an equity fund and a debt fund in around 75:25 ratio. Market movements will result in a change in this fund allocation ratio. The trigger event may be defined as a particular % say a 15% rise in the equity fund. On the happening of a trigger event, proportionate units are moved from the equity fund to the debt fund. Such re-balancing ensures that gains are capitalized and protected from equity market fluctuations. Also, it helps in restoring the asset allocation between the equity fund and debt fund at the ratio chosen initially.
Indicative Returns on a ULIP
Plan Name: Bajaj Allianz Goal Assure Plan
Life Insured – Male
Date of birth – 11/03/1989
Policy Term: 15 Years
Pay Term: 15 Years
Amount Invested: 5,000 monthly (Rs 9,00,000/- for 15 years)
Maturity Value @ 8% – Rs 14,81,210/-
Maturity Value @ 20.94% – Rs 48,49,820/-
Conclusion
A ULIP (Unit-linked Insurance Plan) is a holistic product for both the conservative and the seasoned risk-taking investors. It provides various options, freedom, and flexibility to manage your policy and maximize returns over the long run. If used well, it can help you meet your various goals at different life stages.