About Bajaj Allianz Life Insurance Company
Bajaj Allianz is one of the best life insurance companies in India. It is a joint venture between Bajaj Finserv Limited and Allianz SE. The company was founded in 2001 with an aim to provide innovative life insurance products to customers. The company is Incorporated in 2001, this company is still leading in the hearts of its customers and ruling the market with its best of advice and policies.
Bajaj Allianz Life Insurance offers a large number of life insurance products and therefore considered one of the most widely choose companies. Its wide range of life insurance products includes Bajaj Allianz pension plans, Ulips, and many other traditional plans as well.
Trusted Insurer: With the experience of many years in the same industry, the company has got the status of the most reputed insurer.
Claim Settlement Ratio: The best thing about Bajaj Allianz is its claim settlement ratio which is making it easier for all to get their claim on time
Customer Assistance: The company is also leading when it comes to customer assistance. The highly professional team is always there to assist you.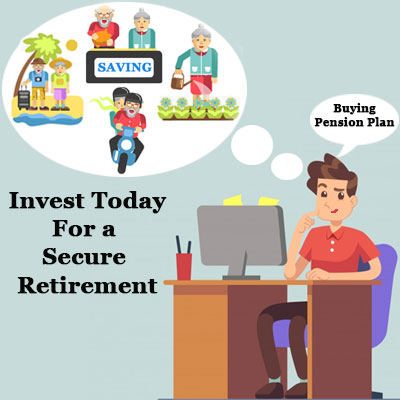 Statistics
| | |
| --- | --- |
| Headquarter | Pune |
| Business Line | Life Insurance |
| Claim Ratio | 92.04 |
| Branches | 582 |
Bajaj Allianz Pension Plans in India
Bajaj Allianz Life Insurance company is offering a wide range of pension plans that cater to the multiple needs of customers. Below is the list of such innovative pension plans:-
1. Bajaj Allianz Pension Guarantee
Bajaj Allianz Life Guarantee pension plan is an immediate annuity plan that ensures a regular income within one, three, six months or a year as per the chosen option. Under this pension plan, a customer or a policyholder can select a policy from a wide range of annuities which are primarily based on the primary necessities of life. Customers can choose the annuity price frequency by using a purchasing technique that is month to month type, quarterly type or yearly as well.
Key Features of Bajaj Allianz Pension Guarantee
Multiple Options: The plan has come out with multiple annuity options to choose from starting from an annuity for life, annuity for a fixed period, joint life or one that offers purchase price in case of death, as per your requirement.
Option to Cover the Spouse: In the case of the annuitant's death, the policy will keep on providing benefits to the spouse depending on the option chosen.
Return of Purchase Price: It is an option under which the purchase price is returned to the nominee/spouse in case of the death of the annuitant.
Multiple Annuity Frequency: You will be allowed to receive the annuity amount on a monthly, quarterly, half-yearly or annual basis as per your retirement life goals.
Eligibility of Bajaj Allianz Pension Guarantee
| | |
| --- | --- |
| Entry Age | 37-80 years |
| Purchase Policy Price | Rs.25000+ |
| Policy Term | 7-30 Years |
| Annual Annuity Pay-out | More than 10000 |
2. Bajaj Allianz Retire Rich
Bajaj Allianz Retire Rich is a unit-linked deferred pension plan, that helps you in securing your post-retirement life goals. This plan offers the benefit of investing in a market-linked fund, to create a corpus that will offer guaranteed income during post-retirement years.
Customers are required to pay a decided amount of premium to the insurance company without any delay and at the time of their retirement, they get the total amount with a good percentage of interest on it. It is a lot of good thoughts and it is a must to choose for your better and happy future.
Key Features of Bajaj Allianz Retire Rich
Guaranteed Vesting Benefit: The plan offers a guaranteed vesting benefit of 101% of the total premiums paid.
Multiple Premium Paying Terms: It offers multiple options to choose from regular, limited or single premium payment terms under this retirement policy.
Pension Builder Fund: This feature aims to provide capital appreciation by investing in an appropriate mixture of debt and equities.
Option of Paying Top-Up Premium: You can make an additional investment at any time in the five years to improve your fund value.
Eligibility of Bajaj Allianz Retire Rich
| | |
| --- | --- |
| Entry Age | 30-78 years |
| Vesting age | 37-80years |
| Policy term | 7-30years |
| Premium paying frequency | Yearly, half-yearly, quarterly or monthly |
3. Bajaj Allianz Life Longlife Goal
Bajaj Allianz Life LongLife Goal is a non-participating, individual regular premium payment Unit Linked Insurance Plan (ULIP). This plan invests your money in an investment portfolio chosen by you and offers market-linked returns over the long-term, to assist you to accumulate a retirement corpus. Under the Long Life Goal pension plan, a customer is eligible to get retirement income, insurance cover will be given for the entire life of a customer, loyalty is added to the file of customers and also customers get tax benefits.
Key Features of Bajaj Allianz Life Longlife Goal
Choice of 2 Plan Variant: It offers a choice of variant at inception. The policy charges will depend upon the variant chosen.
Retired Life Income till Age 99 Years with Return Enhancer: The plan will offer the retired life income till age 99 and that too with a return enhancer
Choice of 4 Investment Portfolio Strategies: Multiple investment strategies to choose from that will offer desired results on time.
Eligibility of Bajaj Allianz Life Longlife Goal
Entry Age
18- No limits
Maturity Age
99 years
Premium Payment Term
10-25 years
Minimum Premium
Maximum Premium
5000(Monthly)
No Limit
Why Do You Need Bajaj Allianz Retirement/Pension Plans?
Bajaj Allianz Pension plans are great plans to secure your post-retirement days. The plans are highly innovative with great features that can easily meet the different needs of customers. The plans are available at affordable prices and can help you in getting the desired results. Bajaj Allianz pension plans offer you life coverage safety and investment benefits to financially ease your retirement years. Those plans additionally provide tax advantages, as cited underneath:
The premium paid for the policies gets tax benefits beneath phase 80CCC of the Income Tax Act.
The computation amount is likewise eligible for tax rebates underneath phase 10(10A) of the Profits Tax Act.
Similarly, it is feasible to modify the premium payment frequency of the policy, so long as the prevailing and requested premium frequencies are in alignment.
The Bajaj Allianz Retire wealthy plan allows the client to make lump sum investments in the last five years of the policy tenure via premiums. This enhances the fund value if all normal premium has also been paid on time.
Advantages of Bajaj Allianz Retirement/Pension Plans
The precise features of pension plans are
Freelook cancellation facility is available for the Bajaj Allianz retirement/pension plans.
Consumers also get the choice to change their premium price frequency.
Some of the retirement plans from Bajaj Allianz offer you the flexibility of paying a top-up premium
A few plans provide regular, single, or constrained premium fee facility.
Guaranteed maturity and demise benefits are provided through the Bajaj Allianz retirement solutions.
What are the Pension Plans?
A retirement/pension insurance plan is an assurance for the future, so you do not have to fear about a solid income source during post-retirement. An excellent retirement plan permits you to maintain your present-day dwelling requirements without compromising the future.
Bajaj Allianz gives retirement planning solutions that assist you to adhere to a financial savings strategy, accumulate wealth, and make it develop at some point during your employment years so that you can retire rich. The amount which you invest in a pension plan may be in addition, invested in monetary mediums so that you get hold of the top returns.