Max Life Forever Young Pension Plan
Whether you have your own business or are a proud corporate nerd, retirement will eventually hunt you down. When that happens, you need enough money to carry on with your life without hearing the word 'bankrupt'. You need a well-structured financial plan and luckily, Max Life Forever Young Pension Plan is here to help you out. The motive of this plan is to design a savings structure for your retirement and also, help protect your investments from market volatilities. You can also grab additional benefits of an annuity plan, safety consideration for your life partner and others.
Max Life Forever Young Pension Plan Features
This is a multi-beneficial policy which offers attractive features such as:
You are able to surrender this policy at any point in time.
This pension plan is a part of the ULIP – Unit Linked Life Insurance Plan.
The respected policyholder can renew the same policy.
For this policy, the maximum term is up to 75 years and the minimum term is up to 10 years.
This policy will accept the minimum premium of Rs.1,00,000 for a particular single pay and Rs.25,000 for a regular policy. Also, there are no limits to the maximum amount of payable premiums.
It offers immediate annuity for full amounts of your premium.
In this policy, you are allowed to extend the accumulation period including one stipulation (which is your age should be less than 55 years) and this is applicable to single and regular payable policy.
It doesn't support switching any kind of premium allocations.
The overall look period is of only 15 days if you purchased manually and 30 for online if you bought this policy also, 30 days grace period is offered by the policy.
Benefits of Max Life Forever Young Pension Plan
This pension plan has four major benefits that highlight its importance. Here they are:-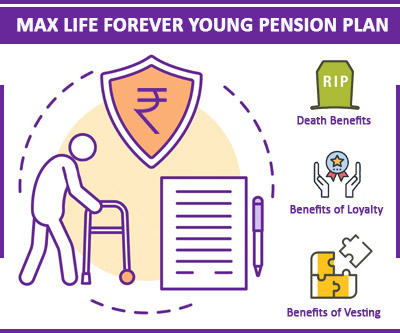 One can process the entire procedure to purchase Deferred Annuity or an immediate annuity from Max Life Insurance and the principal annuity rate for another insurer.
The deferment period or extended accumulation period with the same policy and same terms and conditions (as per the original policy provided to the life insured) is less than 60 years of age.
Death Benefit: If the policyholder dies in the phase of premium payment, the respected nominee will receive the high fund value or 105% from the total premium including top-up premiums (excluding rider charges, if any).
Benefits of Loyalty: You will get the loyalty additions up to 0.50% of the total fund value-added to your fund by making such additional units at every year-end. Also, these additions increase by up to 0.02% every year including the respective terms and conditions.
Tax Benefit: As per the Indian Tax Act 1961, you will get tax benefits on the premium that you pay in a single year.
How does Max Life Forever Young Pension Plan work?
In order to function properly, this plan has laid down a few steps which every policyholder has to follow. Here they are:-
Choose your retirement age (vesting age).
Select the investment option (Pension MaxiMiser or Pension Preserver).
Choose the respected premium that you wish to pay.
You can link your policy with the Max Life Partner Care rider.
In case you are unhappy with the policy, you will be given 15 days to cancel the same (only if no claim was made).
Policy Specification
Eligibility Criteria for Max Life Forever Young Pension Plan
| | |
| --- | --- |
| Entry Age in Years | Vesting Age in Years |
| Minimum 30 | Minimum 50 |
| Maximum 65 | Maximum 75 |
Eligibility Criteria for Rider benefits
| | |
| --- | --- |
| Issuing Age | Maximum Maturity Age |
| Minimum 21 & Maximum 55 | Minimum 60 |
Investment required for amount Funds in Max Life Forever Young Pension Plan:
| | | | | |
| --- | --- | --- | --- | --- |
| Name of Respected funds | Government Securities and Corporate Bonds | Money Market and Cash Instruments | Equity and Equity related securities | Potential Risk/Reward |
| Pension Maximizer Fund: | 40% - 80% | 0% - 40% | 20% - 60% | Medium |
| Pension Preserver Fund: | 60% - 90% | 0% - 40% | 10% - 35% | Low |
What will happen if you won't pay the premium?
A policy requires on-time payment of premiums to continue functioning at its normal pace. If that doesn't happen, you have to face its consequences. In Max Life Forever Young Pension Plan, they have jotted down a straightforward process for the delay in payments. Here it is:-
A grace period (of 15 days) will be given to you to clear your dues.
If you fail to do so, your policy enters an 'Inactive mode'.
In such a phase, you have 2 options- either pay your dues to revive the policy or submit an application for policy withdrawal.
If you fail to do so, your policy will be surrendered.
A person who has worked for 40-50 years (8-12 hours a day) may not be a fan of retirement. There is a lot that he/she has to adjust to and worrying about financial expenses is not an option. If you want to play a safe bet, investing in Max Life Forever Young Pension Plan will be a good option. So, secure your finances for a happier retirement.