Car insurance is one of the most demanding and important general insurance plans in India. As per the Motor Vehicles Act,1988, the government of India has made it mandatory for all the car owners to carry a valid car insurance policy. It will not only protect you from hefty penalties but also cover damages caused to your car. 
Majorly, there are two types of car insurance- Comprehensive and Third-Party. You should know the difference between them before taking the final call. Let's discuss this in detail.
Comprehensive Car Insurance
It offers coverage against the car and individual damages. It also protects against third-party liabilities. Though it is not compulsory to buy this type of insurance, people still prefer it, thanks to its enhanced coverage.
Benefits of Availing Comprehensive Car Insurance
---
Comprehensive car insurance policy comes with various benefits for the policyholders in terms of coverage. Let's take a look at it-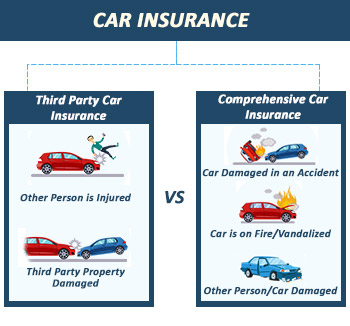 Total Protection: Under comprehensive car insurance, insurers offer complete protection to car, policyholder and third-party. Any loss or damage made due to man-made/natural calamities is covered. 
Cost-effective: The premium of comprehensive car insurance is relatively higher than that of third-party insurance. However, the services and coverage offered under the comprehensive car insurance make the premium payment (cost-effective) worth it. 
Add-on Covers: Add-on covers refers to the additional services given along with the base plan by paying extra premium. The coverage offered under comprehensive insurance can be customized with add-ons. Here are some of the popular add-on covers: Zero Depreciation, NCB Cover, Engine Protection Cover and Invoice Cover. 
Exclusions under Comprehensive Car Insurance
---
There are some situations, where the policyholder cannot avail the benefits of the comprehensive car insurance policy. They are listed below for your reference- 
Driving Drunk
Driving Without License
Driving Without a Valid License Holder
Consequential Damages
Contributory Negligence
Third-Party Car Insurance
As the name suggests, this policy only offers protection against third-party liabilities. No attention to 'Own Damages' is given under the same. 
Benefits of Third-Party Car Insurance
---
Here given are some of the important benefits that can be availed under third-party car insurance:
Third-Party Liabilities: It offers coverage against losses/damages caused to the third-party by your car. The car owner is the first party; the insurer is the second party, and any person affected by the insured vehicle is third-party. So, if any damage is made to one's property, third-party insurance will cover the losses incurred.
Affordable Premium: Third-party insurance comes with affordable premium as it is quite cheaper than comprehensive car insurance.
Helps in Driving Legally: As per the Motor Vehicles Act, 1988, availing at least third-party car insurance is made mandatory to drive legally in India. 
Exclusions under Third-Party Car Insurance
---
Mentioned below are some of the exclusions where policyholders cannot avail benefits under given circumstances: 
Own Damage Cover
Drunk Driving 
Driving without Valid License
Damage caused due to Act of War
How can you buy Car Insurance?
There are three ways through which you can buy car insurance:
Online: Individuals can directly visit the official website of the respective insurer and apply for car insurance (comprehensive or third-party) by entering the details and submitting the documents. You can also log on to PolicyX.com (third-party web aggregator) to purchase car insurance. 
Agent: Insurance companies deploy insurance agents who provide all the necessary application forms to the individuals. Insurance agents act as mediators between the insurer and insured. All the process is done through them. After you have applied for the car insurance policy, you will receive your policy either through post or the agent.
Visit Nearest Branch: Individuals can visit the nearest branch of the respective insurance company to avail car insurance policy. You are required to submit relevant documents along with other details to the representative at the branch.
Compare Benefits Between Third-Party Car Insurance & Comprehensive Car Insurance
| | | |
| --- | --- | --- |
| Point of Difference | Third-Party Car Insurance | Comprehensive Car Insurance |
| Theft Cover | It is not covered. | It is covered. |
| Door-step Pickup and Drop | It is not covered. | It is covered (differs from insurer to insurer.) |
| Insured Declared Value (IDV) Customization | It is not covered. | It is covered. |
| Personal Accident Cover | It is not covered.  | It is covered. |
Conclusion
It is always suggested to carry valid car insurance to avoid any traffic violations in India. When you buy a car insurance policy, it is important to look after the coverage and services offered by the insurer to minimize any discrepancy.