The main reason the traffic rules were made was to ensure safety and bringing efficiency in time while travelling. It is very important for one's safety that he/she should always be updated and familiar with all the new traffic rules and regulations. It will help no one but you.
Our government is trying extremely hard to implement all the regulations and to ensure the smooth flow of the traffic on the roads. To ensure these things, the GoI is taking steps toward controlling pollution, keeping all the information ready and some bits provided online of all the registered vehicles. The government can't do anything all by itself, the citizens of India must be actively cooperating and should follow all the rules so that implementation can be done easily. 
The increase in the traffic on the Indian roads in the past 4-5 years is caused by two huge factors, the factors are, a) increase in the population and b) urban mobilization. 
Must Read: How to Check Two Wheeler Insurance Policy Status?
These two factors caused the increase in mountain-high numbers and the increment seen is not gradual but in very high volumes. Witnessing all these data, the risk of getting into accidents is also increased by a huge margin, hence this is the high time when we make ourselves aware and start genuinely following all the traffic rules and regulations for our own and everyone else's safety and contribute to minimizing the risk of accidents that this increase in population brought with it.
If we start following the rules, we would make things easy for us and also for everyone in clearing the confusion that we face on the roads. The chaos and noise pollution created by the horns can also be get vanished for a much greater extent. 
Your life is very much important than you think. If you are following all the rules, you are not just ensuring your safety but also of everyone who is driving or present on that road. Your country needs you, your family needs you, your office needs you, you must take all the decisions maturely and not violate any regulations to any extent. 
India is a developing nation, hence many developments and changes are undergoing simultaneously on numerous spots. The construction like flyovers, bridges, etc. is being done only to ensure that the flow of traffic becomes more and more smooth and hassle-free. Even in a time-span of 6 months, if we visit a place again, we would witness a whole lot of changes and developments being done in that area.
To ensure that the implementation is done nicely and everyone stays safe, we must come forward and fulfil our duty as a responsible citizen and try to follow all the rules even going on small commutes.
How To Know My Two Wheeler Insurance Policy Number?
New Traffic Rules 2019
Indian roads are infamous for taking over 1.5 lacs lives each year. These accidents happen mostly due to the negligence and not in abeyance of the traffic rules. The citizens of India don't think that the rules are made to be taken very seriously and thus resulting in hurting themselves. The Government of India recently changed a lot of rules and imposed much higher fines to curb the violations and ensure that everyone is travelling safely. Along with these fines, punishment like jail and sentencing have also become more strict after these new traffic rules came into existence.
To implement that, the government also made an amendment in the Motor Vehicles Act for the same and it was instantly passed by the Cabinet. The law came in effect in no time and Challans started to get issued. The provisions in this bill were submitted by the transport ministers of a total of 18 states. 
Real Fact & Figures About Motor Vehicles Act
These past days have witnessed a lot of criticism as well as support when these new rules are implemented and challans are issued. The dialogue around this debate got more attention and weight when a challan of INR 24,000 was issued to a Honda Activa owner, summing up the fines for various violations. The buzz was created not because of the hefty amount but that the challan is of almost half of the price of the new scooter. This was needed badly as if it weren't being done, no one would have taken the rules seriously and continue to ignore as they did till now.
Due to all these reasons and everything people are getting the sense of being responsible and are very curious about getting to know all the new traffic rules. Well, out of the whole bill, 63 clauses are amended in the Motor Vehicles Act and implemented in our country. 
Before going deeper into the new fines and challans, let us have a look at the rulebook which a two-wheeler rider must follow.
Importance of Two Wheeler Insurance Policy Renewal on Time
Motor Vehicles Act Rulebook Study
Wear Helmet: It shouldn't matter if you are going to a place near you or on a long commute,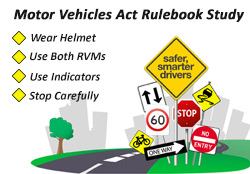 either on a street in your community or on a national highway, you must wear a helmet while riding your two-wheeler all the time. Helmets help a lot when you meet any accident and undergo any big injury. 
Ride With Only One Pillion: On Indian roads, the riders in the cities and even on highways can be seen riding with more than one pillion very commonly. When you are riding with more than one pillion, you are risking everyone's life and also, you have to make sure that pillion is wearing a helmet as well.
Indicators: Indicators have just become a mere piece of decoration nowadays. This feature can be used very easily and can also provide a very good safety cover if you use them on every turn. Indicators should be turned on before 30 meters of making the actual turn.
Stop Carefully: You must also carefully stop if you have to while riding and make use of indicators this time as well. And you must stop on the most left lane, never stop on the right side of the road.
Use Both RVMs: On Indian roads, no one follows the lane system and this habit turns into a chaotic situation in no time. People just overtake without even trying to notice that someone may be coming on that lane and a crash may happen. Most of the riders don't even use rearview mirrors and this is also a big reason which contributes to the increasing number of accidents.
Essential Factors While Purchasing or Renewing Car Insurance
List of "New Traffic Rules" That Are Imposed on The Indian Citizens 
The general offence, that carried a penalty of INR 100 earlier is now bumped to INR 500.
Violation of rules of the road had a penalty amount of INR 100 which is now INR 500.
If you are not obeying the authorities, earlier you had to pay only INR 500 which is now a hefty amount of INR 2,000.
Unauthorized use of the vehicle, i.e., without a license, will now cost you INR 5,000. Earlier it was INR 1,000.
Driving your vehicle but without a license will now cost you INR 5,000, which was earlier just INR 500.
Disqualified, yet driving will make a dent of INR 10,000. The penalty earlier on this offence was INR 500 only.
Driving an oversized 2 or 4-wheeler will cost you INR 5,000 which was NIL earlier.
Driving above the speed limit will cost you more than double now to the amount of INR 1,000 which earlier was only INR 400.
If you are drunk driving, it will cost you INR 10,000 which was earlier just INR 2,000.
Trying to race on the road, stay ready for getting the penalty of INR 5,000.
The aggregators will be fined from INR 25,000 and up to INR 1 Lac, which was NIL earlier.
If your truck is overloaded, earlier you had to pay INR 2,000 as a penalty and INR 1,000 per extra tonne. Now, the amount which will be charged as penalty is INR 20,000 and INR 2,000 per extra tonne.
If you are driving a taxi with overloaded passengers, it will cost you INR 1,000 per extra passenger.
Keep INR 1,000 ready if you are not wearing a seat belt.
Got caught riding with more than 1 pillion, the penalty will be of INR 2,000 along with the suspension of license for 3 months.
If a juvenile is seen riding a bike or driving a vehicle, then

Owner of the vehicle will be considered guilty
INR 25,000 as a penalty with the prison term of 3 years
That juvenile will be presented before the court under the JJ Act.
Vehicle registration will be cancelled permanently

If any officer of the authority commits any offence, the penalty for her/him will be double.
The Major Impact on The Insurance Sector
The amendments which are done in the Motor Vehicles Act turned out to be the boon for motor insurance companies. This act came into force from September 1 with revised penalty amounts and punishments. If a vehicle is found running on the road without insurance, a fine of INR 2,000 will be imposed along with imprisonment of 3 months. This penalty amount is for first-time offenders. If someone makes the offence a second time and further, the penalty will be imposed amounting to INR 4,000 along with the same imprisonment. 
These hefty figures forced many riders and vehicle owners to renew their insurance which had expired long ago. As it is needed to be done on an urgent basis, the online insurance companies are witnessing a lot of traffic and seem the most thankful to these new traffic rules. 
These regulations will enhance the growth which came to a halt after the downfall which we witnessed in the automobile sector. IRDAI is actively participating in the process and examining thoroughly all the traffic violations and linking them to the insurance. 
These new regulations are implemented in a few states for now and experts have the opinion that this growth is not only for the time being but a continuous process. As soon as more states will be added to the program of implementing the regulations, significant growth will be witnessed.
Is Car Insurance Wastage Of Money?
Result
The impact of the amended Motor Vehicles Act can be witnessed by the figure which S Brahmajosyula from SBI General Insurance told the media that they are issuing more than 65,000 insurances per day through their platform. 
If you enjoyed this post, I'd be very grateful if you'd help it spread by emailing it to a friend or sharing it on Twitter or Facebook. Thank you! And stay with us Policyx.com