Car Insurance is a mandatory requirement in India. You will need car insurance after buying a new car or at the time of an existing car insurance policy renewal. Choosing the right insurance plan may be a troublesome task for few.
This is also because every new year a new car insurance company is added to the list. With a few steps, you can always pick up the best plan for yourself. Another task is how much you should spend on these car insurance plans.
That can be decided after making a quick online comparison of various car insurance plans. Before choosing the car insurance we must keep a few things in mind that will be elaborated in detail. You must also choose to buy the car insurance from the right channel as that can give you the cheapest plan.
How To Choose Best Car Insurance?
Some of the things you can consider before buying suitable car insurance are as follows.
Type of Car Insurance
There are four types that you can choose from as per your suitability. These 4 types of car insurance are as follows:-
| | |
| --- | --- |
| Sno. | Types of Car Insurance |
| 1. | Comprehensive Car Insurance |
| 2. | Private Car Insurance |
| 3. | Commercial Car Insurance |
| 4. | Third-Party Cover |
1. Comprehensive Car Insurance
According to this car insurance plan you can cover all the risks of possible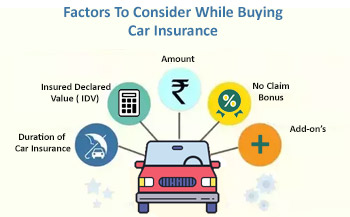 car damage due to fire, theft, etc. It also extends coverage of third party liability.
2. Private Car Insurance
Private car insurance covers the risk of your private car. It protects your car in case of any kind of risk. It also safeguards you from an accident. In addition, it also covers third party damage as well.
3. Commercial Car Insurance
It covers all the commercial fleets or cargo that can affect the business.
4. Third-Party Cover
This is one of the mandatory insurance covers that every vehicle owner needs to take. It covers the risk of any damage done to other vehicles from your car.
Duration of Car Insurance
Some car insurance companies offer additional discounts by giving a policy that can be continued for 3 to 5 years. If you don't want to bother to renew your car policy every year than you can take the combined policy for 3 to 5 years. It can give you an additional discount and you don't have to get into the hassle of renewing it every year as well. 
Amount of Premium
The amount of premium offered by car insurance companies plays an important role in deciding about which car insurance plan to buy. The amount of premium is based on many factors. Some of the aspects that impact the amount of premium car insurance are the manufacturing year of the car, model, brand, etc.
There may be other parameters that can determine the premium of car insurance. One of them can be the city from which the car or car insurance is purchased. Other things that can affect the premium could be the number of claims taken in case of old cars. 
Insured Declared Value ( IDV)
IDV is completely based on the depreciation value of the car. It keeps on increasing every year with a fixed percentage. It can go up to 50% within a span of 5 years. After 5 years it can be mutually decided by the car insurance company and vehicle owner. You can choose the insurance company that has less value of IDV. Though it is more or less fixed but at times may have slight variation. 
No Claim Bonus ( NCB)
NCB acts as a reward for every no-claim year. Every year it increases with a fixed percentage. It can go up to 50 %. In case any claim is taken in between than the rate decreases.
Some companies may have a special provision of offering NCB even after the claim or some may offer better NCB. You can check the same across car insurance policies and decide to buy from a specific car insurance company that can provide the best NCB. 
Add-On's
Different insurance companies offer different add-on's. You can choose a specific car insurance plan based on the add-on facility offered by them. Some of the add-on facilities offered by these car insurance plans are as follows.
| | |
| --- | --- |
| Sno. | Add-On's |
| 1. | Zero Depreciation Cover |
| 2. | Engine Protect |
| 3. | Key Replacement |
| 4. | Hydraulic Lock Protect |
| 5. | Car Towing |
| 6. | Hotel Accommodations At Time of Car Breakdown |
| 7. | Cab Facility |
| 8. | Any Other As Required |
These add-ons can be purchased with just nominal additional cost.
Features of car insurance plan
Every car insurance plan has some unique features. It can be an additional discount tor inbuilt add-ons without additional cost. You can always choose the insurance plan that had got the best features as per your requirements.
Garage Facility
One of the best facilities that these car insurance companies can provide is their garage facility pan India. The number of garages provided by the various insurance company may vary. We can always check the number and the locations and decide about the car insurance plan that we wish to buy.
Life cover in accidents
It is mandatory for all the car insurance companies to provide the accident covers to all the policyholders. The minimum insurance that the car insurance needs to provide is Rs. 15 lakh rupees. Some insurance companies may provide additional cover. You can always check about the amount of accident cover provided by these insurance companies. It can also impact your decision of buying a particular car insurance plan.
How to Buy Car Insurance with the Lowest Price?
Online Comparison Sites
One of the important aspects that can impact your decision about buying car insurance is the number of premiums. You may have a limited budget to buy car insurance. Thankfully there are a lot of insurance companies to choose from. The first thing you can do before buying any car insurance plan is to check the amount of premium.
This can be easily done on Insurance web aggregators. You just need to provide a few details and you can get the quotes from all the leading car insurance companies. You can choose to buy from the one that offers the lowest premium amount. Choosing the lowest amount of premium may lead to a compromise in other aspects of car insurance.
The best thing to do is along with premium you can check other factors as well as mentioned above. Some of the things required to calculate premium are the manufacturing date of car, model and make of car. Depreciation value and previous insurance policy also affect the amount of premium among others.
Some of the leading players to select from to buy the cheapest car insurance policy are as follows.
| | |
| --- | --- |
| Sno. | Car Insurance Companies |
| 1. | Bajaj Allianz Car Insurance |
| 2. | Bharti Axa Car Insurance |
| 3. | Future Generali Car Insurance |
| 4. | HDFC ERGO Car Insurance |
| 5. | ICICI Lombard Car Insurance |
| 6. | Iffco Tokio Car Insurance |
| 7. | Reliance General Car Insurance |
| 8. | Royal Sundaram Car Insurance |
| 9. | The Oriental Car Insurance |
| 10. | United India Insurance |
Above are just a few insurance companies, after selecting the car insurance company you can easily buy it from any of the online comparison sites. There are secure ways of making payments on these web aggregators.
You can easily pay through any of the following ways
NEFT
Online Transfer
Mobile Wallet
Payment Gateways
Debit Cards
Credit Cards
Payment Links
Any other online secure channel
Mobile Applications
Mobile applications are as good as online comparison sites. The difference is you can make the payment through your mobiles. If you are more comfortable buying policy through mobile than you must download its app first.
You can easily do so through an online comparison company or direct website of the car insurance company as well. Most of the people prefer to download from an insurance comparison website as they can compare the premium cost across various car insurance players.
Irrespective of the channel you may select you can always select the online car insurance at the lowest rates. This can be done easily through an online comparison site for Insurance.