Car insurance policy number is a unique 8 to 10 digit number, given by your car insurance company for the identification of your insurance account. It is generally written on your insurance card or statements issued by the insurance company. The number remains the same as long as your policy is active with the respective insurance provider.
When Do You Need Your Car Insurance Number?
In the following scenarios, you need your car insurance policy number-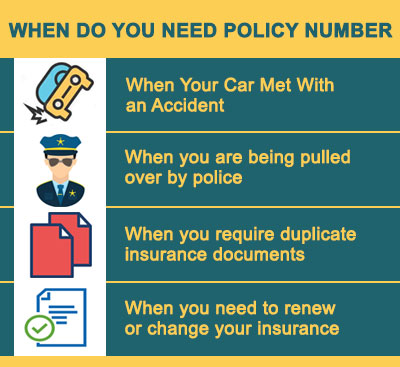 When Your Car Met With an Accident: Unfortunately, accidents are quite common on Indian roads, and if your insured car met with an accident, you require your policy number to file a claim to bear damages.
When you are being pulled over by police: A traffic policeman has the authority to pull you over on the side of the road in case of any suspicion or checking. At that time, you need to show the car's documents, including the car insurance policy. In case you are driving without motor insurance, you will be charged with a fine of Rs. 2000 as per the Motor Vehicle Act, 2019.
When you require duplicate insurance documents from the insurance company: In case you lost your insurance papers, you need to apply for duplicate insurance documents. It requires information like the name of the policyholder, policy number, date of issuance, and more.
Important: Comprehensive Car Insurance Vs Third Party Car Insurance?
Steps To Check Car Insurance Policy Number
Through Online Mode
In 2009, the Insurance Information Bureau of India (IIB) was introduced by IRDAI (Insurance Regulatory and Development Authority of India) to facilitate easy and simple tracking of insurance policy details of vehicles.
Step 1: Visit the online portal of IIB
Step 2: Provide correct information about the following-
Name of the vehicle owner
Address of the vehicle owner
Email ID and mobile number
Vehicle registration number
Date of accident
Place of accident
Step 3: Enter the security "Captcha" Code and click the submit option. 
Once that is done, you will get details of your car insurance policy.
Guidelines For Checking Your Car Insurance Policy Number on IIB
It is worth noting here that before checking details on your car insurance policy number, you must go through the following guidelines carefully.
The car insurance policy must be at least two months old. Otherwise, you will not find any data on the IIB portal as it takes a minimum of two months to submit the insurance policy information on the Data repository. For new policies or new vehicles, you can submit the engine and chassis number of your car to get the information.
A maximum of three attempts is available on a particular phone or email id to search for information on the insurance policy number
While entering the vehicle registration number, special characters are strictly avoided.
Information on car insurance policy number is accessible on IIB for policies starting from period April 1, 2010.
Through Offline Mode
In case, you are finding difficulty in checking your car insurance policy number online, then you can gather the information on the same from the concerned Regional Transport Office. RTO is majorly responsible for executing all important tasks related to vehicles' licensing, registration, inspection, safety, and more.
Read: Can You Renew Car Insurance Policy After it's Lapsed? 
Other Methods To Check Your Car Insurance Policy Number
Besides visiting IIB or RTO, other ways to check your car insurance policy number include -
Vahan e-services Web Portal –
In case you are unable to get information from IIB portal, then follow the simple steps to know about your car insurance policy number-
Step 1: Visit the Vahan e-services web portal.
Step 2: Click on 'Know your vehicle details' placed on the top navigation bar.
Step 3: Enter vehicle registration number and verification code correctly.
Step 4: Click on 'Search Vehicle' to view information related to your car insurance policy. 
Contact Your Insurance Provider -
To make things more convenient, contact your car insurance provider through mail or SMS. Now, almost every insurance company offers 24/7 support to its customers. Provide details of your car and of insurance policy that you have, and based on that your representative will help you with your queries.
PolicyX.com is a customer-friendly insurance company that assists you in retrieving your car insurance policy number with few basic details. Our representative will surely love to assist you over the email or call.