Nowadays every person has two wheelers in their house. For some people, it is just like a big dream comes true when they buy two wheelers. But no one knows about the unforeseen problems of the future.
These problems include accidents, burglary, theft, natural disasters and much more. These problems come with a lot of more problems along with and put the people in trouble. 
Suppose you have gone through one of an unforeseen problem with your two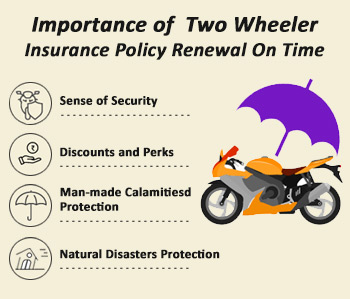 wheeler such faced with an accident. You and your family in trouble and taking you in the hospitals. The expense of the hospitals not easy to bear by the family and another side your two wheelers also damaged in an accident. It's like your dream breaks down and it becomes difficult to manage the expenses of your medicine and hospital along with the repair cost of your two wheelers. 
Here the insurance policy of the two wheelers comes in a picture to help you in this situation. In such unforeseen situations two wheeler insurance policy becomes a member which helps you a lot. 
It is important to renew the two wheeler insurance policy from time to time without any delay. As renewable of policy is important to help you to prevent any unforeseen events, it is also mandatory to renew the motor insurance policy. Here are top benefits are listed which you get by renewing the Two Wheeler Insurance Policy. 
Sense of Security
The most important benefit is the sense of security in your mind. On the two wheelers, you are moving on the road always. You do not know what will happen next. It gives you peace of mind that I have an insurance policy and I can move on the road with confidence. It provides financial security in case of any damage also it will provide you protection against imposing a fine in case you found without policy by the traffic police.
Protection Against Man-made Calamities
Renewing an insurance policy of two wheeler helps you a lot in case of damages that occur due to manmade activities such as theft, accident, strike, war, burglary. During these activities, there are many damages occur with a two wheeler which is covered by the policy such as a replacement or repair of parts according to the situation.
Must Read: How To Know My Two Wheeler Insurance Policy Number? 
Protection in Case of Natural Disasters
Nature is playing the role of both friends of a human of the enemy of the human. You do not know what nature will give you in the next few moments or next days. If there are situations that come in the picture such as an earthquake, cyclone, landslides, floods, storm, self-ignition and fire. You two wheeler also may be damaged in these situations. 
Then it becomes hard for you to make the two wheeler repair according to its original condition. Here the insurance policy comes in a picture. Policy will bear all the expenses and the cost of repairing damages caused by any situation mentioned here above. 
Discounts and Perks
There are a lot of more benefits also there for the policy renewal on time. Onside it gives you the financial security in case of any incident happens with a two wheeler. It also gives you the benefits of some discounts and perks during the on-time renewal of the policy. When you renew the policy on time, then you will get the benefit of "No claim Bonus as well" in the form of less money in an actual premium.
Being a Law Follower Citizen
One side insurance policy makes you safe in many cases another side it has benefits for you as well. Keep your policy renews from time to time will help you to avoid the penalties according to the Motor vehicle act in the country. If you have a valid insurance policy and renew from time to time, that means you following the laws implies there. It will be beneficial for you in many terms.
Amendments In Motor Vehicle Act 2019: The implementation of the motor vehicle act 2019 from September 1, 2019, is like a storm among the citizens of India. It has brought several changes in traffic laws and regulations. It has become the main concern of the public that what will be charges fined in case they break any of the traffic rules or road laws.
The transport ministry generated a notification on 28 August 2019 mentioning all the laws that came into effect from September 1, 2019. There were several sections in the motor vehicle act that did not mention specific fines one is charged with, in case of violation of rules. For example, a range of Rs.100 to Rs.500 for first offense and Rs.300 to Rs.1500 for second offense had been mentioned with no specification.
Therefore, thinking of the welfare of the public the ministry of transport has updated the old motor vehicle act. 


The table shows all the penalties, fines, imprisonment a two-wheeler vehicle is subjected to, according to the Motor Vehicle Act 2019 (Implemented on September 1, 2019) :
Penalty

Old Penalty Scale (before September 1, 2019)

New Penalty Scale (From September 1, 2019)

Penalty for an offense (No penalty specified)

1st offense- Rs.100

2nd offense and further- Rs.300 

1st offense- Rs.500

2nd offense and further- Rs.1500

Road Regulation Violation

---------

Rs. 500 to Rs.1000

Disobeying the traffic authority

Rs.500

Rs.2000

No Driving License

Rs.500

Rs.5000

Illegal use of a vehicle and no driving license

Rs.1000

Rs.5000

Driving regardless of disqualification

Rs.500

Rs.10,000

Over Speeding

Rs.400

Rs.1000 to Rs.2000 and addon fines for license and other offenses 

Rash/Dangerous Driving






----------

First offense:

Imprisonment- 6 months - 1 year.

Fine: Rs.1000 to Rs.5000

Second Offense:

Imprisonment- up to 2 years

Fine: Up to Rs.10,000

Drink and Drive





----------





First offense:

Imprisonment- 6 months 

Fine: Up to Rs.10,000

Second Offense:

Imprisonment- Up to 2 years

Fine: Rs15,000

Racing/speeding

 




----------

First offense:

Imprisonment- 1 month

Fine: Rs.500

Second Offense:

Imprisonment- up to 1 month

Fine: Up to Rs.10,000

Uninsured Vehicle

Rs.3000 fine and/or imprisonment up to 3 months

First offense:

Imprisonment- up to 3 months

Fine: Rs.2000

Second Offense:

Imprisonment- up to 3 months

Fine: Rs.4000

Obstructing traffic

Rs.50

Rs.500

Seizing motor vehicle by force or taking a vehicle illegally

Rs.500

Rs.5000
 Expiry of Driving License: The license can be renewed one year before the expiry date and one year after the expiry date. And in case of failure, one has to give a driving test once again to get the driving license issued. Suppose the driving license is expiring in September 2021 then new can be requested from September 2020 to September 2022.
Change in Residence Address: The residence address mentioned in the driving license can be changed online. One can give an application for this to any registered authority within the state.
In Case Minor Kid Is Held Driving Motor Vehicle: If a minor child is caught driving a motor vehicle then he and the parents will have to go through the following circumstances:

Registration of the vehicle can be canceled for 1 year.
After on year fresh application for registration of the vehicle is necessary.
Under Section 199A & 199B of Act, a fine of Rs. 25,000 and face imprisonment of 3 years can be charged.
An annual increase of these fines up to 10%
No issue of learners driving license to the minor child till the age of 25 years.
The amendments are done with the hope of decreasing the frequency of accidents on a daily basis and to tackle the heavy flow of traffic, especially in metropolitan cities. If the citizens of India understand their responsibilities and follow traffic rule then we can easily tackle the traffic jams to a limit.


Protects Against Legal Interest
Even if you have a third party insurance policy for your two wheelers which is mandatory under the motor vehicle act. It will help you in case of any damages to the property or injures a person. Then it will save your expenses on third-party liability. 
Here till now you may realize and visualize the benefits of policy renewal. It helps you in many cases as described above here. 
At the end…
Having a motor insurance policy will help to protect you from legally as well it ensures your two wheelers from any damages. A two wheeler insurance policy will help you a lot in case of damages by managing your expenses. A policy helps you and your family in terms of financial helps as well as makes you feel proud that you are following the rules implies here on the land. So keep your policy renew on time always.
Related Article: How to Check Two Wheeler Insurance Policy Status?