We all know very clearly that every month you may have several other financial responsibilities to handle, which also include car insurance.
Car insurance is like protection for anyone that owns a vehicle because sometimes many individuals do not have enough resources to pay for an accident and the expenses related to it. So, in this article, you will find the answers to all these questions regarding car insurance is wastage or value for money.
About Car Insurance
Car Insurance or motor insurance is an insurance policy that protects the owner of the vehicle against any financial loss arising out of damage or theft of a vehicle. Car insurance also includes damage caused by a third party or property. Now, firstly we talk about
Is Car Insurance Necessary. If Yes, Why?
See, we cannot decide whether car insurance is necessary for us or not. To know this, we have to take the help of a few points and only then we can tell whether car insurance is wastage or value for money. First, we talk about the Importance of car insurance.
Yes, car insurance is mandatory for drivers in all over India. Most drivers have car insurance because it is the law and we cannot break the law, but that doesn't mean you should only buy the minimum required coverage. There are many reasons to buy car insurance. 
Importance of Car Insurance
1. Peace of Mind - Everyone makes mistakes, Sometimes the mistake of other driver's is very expensive for us. If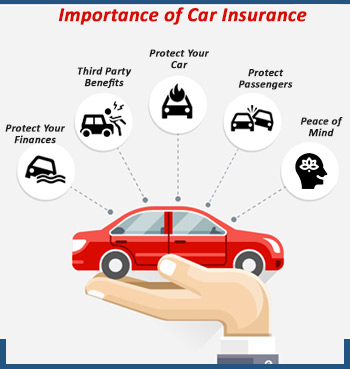 we have the right car cover, then we should not take any other tension. But if we do not have a car cover, then we have to bear a lot of expenses. So this point shows car insurance is a value for money. 
2. Supplement Your Health Insurance - Generally many people take health insurance. Car insurance takes health insurance to an additional height. The good car insurance policy can help cover medical expenses in case of an auto accident. So this point also shows that car insurance is a value for money. Ya I know this is not a big reason to buy but small-small step leads to a greater chance in life. 
Now to understand more about why is it necessary, I have a real-time case study for you.
June 2009, when Mohamed Ibrahim's Honda City top model was stolen from the top most reputed hospital's parking lot, the Delhi State Consumer Commission instructed his insurance agency to pay him approximately Rs 7.00 lakh, the total value of his car. The State Consumer Commission ordered that the company cannot reduce the claim amount in the event of theft because the loss incurred by the owner is on the total value of the vehicle. It also refuted the agency's argument that the hospital should be held liable to pay the compensation.
Now I will not say anything because I have complete confidence that you must have read this fact and understood that car insurance is a waste of money or value for money. 
Now, from the above facts, we conclude that car insurance is necessary and it is a value for money.
3. It Helps To Protect Your Finances - If you cause a car accident, you may be responsible for costs and other expenses associated with it. So, through Liability coverage, it may help you to pay for these costs. Without liability coverage, you would have to pay these costs out of your pocket and that directly affects your savings and budget.
4. It Helps To Protect Your Car - If your car is damaged in a storm or say you accidentally hit a mailbox and damaged your precious car's bumper or say if your car is stolen. Comprehensive cover may help pay for repairs and replacement. Without comprehensive coverage, you would have to use your money to get your car in previous situations.
5. It Helps To Protect Passengers - Proper Coverage may help pay for hospital visits, doctor bills and surgery due to the accident.
Now, at that time you have a question in your mind if my car meets an accident without insurance then what happens. 
What Happens If Your Car Meets an Accident Without Insurance?
Driving without protection/insurance is illegal in many states. You could face some punishments, for example, fine, loss of your license, imprisonment of 3 months and it depends upon the state to state.
Even if you buy car insurance from the next day when you purchase your car, that policy would apply from the same day when you buy it but if we compare car insurance with other insurances we see that other insurances are applicable after spending some time this is the main factor that I think car insurance is mandatory to all car owner's.
Now, the Government is currently reviewing penalties for uninsured drivers who kill or are involved in accidents and also the police have the authority to seize any kind of vehicle being driven without cover.
Penalties When You Caught Without Insurance: Whether your car is an accident or not if you're caught without insurance or other proof, you could face a wide range of consequences. For example  - Fines (maximum fine is unlimited), plus you'll receive six to eight penalty points on your license, Your license may be suspended  and also the police have the power to seize and destroy any vehicle being driven without cover
Sometimes You Have Insurance But No Proof: Then, that's a problem too. If your car is an accident but you have no proof of insurance, it's less serious than being uninsured. You may get a citation ( हवाला) but could potentially get it dismissed by showing proof of insurance in court. So you should keep proof of insurance, such as the policy ID card, name of the company, etc. Some states may also allow you to show proof of insurance on your Smartphone. It means you have to put all your documents in the digital wallet.
While considering all these points I think to have car insurance is not the wastage of money.
Key Points You Should Remember
The car insurance policy is usually an addition of different coverage options
Many consumers may see their car insurance policy as a waste of your hard-earned money, especially since insurance is not a tangible item but that's not true I think Car Insurance is a smart way to protect your vehicle and your money
However, the car insurance cover is designed to protect you from the costs of an accident, whether physical, financial, or medical costs
It's important to remember that car insurance is compulsory in most states, meaning you must have to carry  coverage as required by law
And buy that insurance covers that fulfils all your expectations at a good amount of premium
And Car Insurance is mandatory in India, if you are caught without your Insurance you will have to pay some good amount of fines.
Conclusion
So after considering all these points, we come to the point that car insurance is no wastage of money and also remember that your car insurance coverage is protection for the losses.
When trying to decide how valuable your insurance coverage is, make sure you have to review your policy coverage to find out first what is not covered, what is covered, and any essential changes you could make to maximize your protection.
You can also speak to your current insurance provider to learn more about your policy coverage, your available options or about your limits
If you feel that your current coverage is insufficient, or you aren't getting enough value, look at other insurance providers to see what they can provide you and buy that policy coverage that covers maximum ground as possible.
And if you want to get more benefits and get more information about other insurances, plans, policy covers so go to (PolicyX.com) and avail information that is beneficial for you.
Related Articles:-
Essential Factors While Purchasing or Renewing Car Insurance