About Audi
Established in the year 2007, Audi India is a division of Volkswagen Group Sales India. Audi cars have been represented across the globe in 110 countries; however, it was only in 2004 that Audi started to sell its products in the Indian market. After establishing its headquarters in Mumbai 2007, Audi made a goal of becoming the number one automobile luxury brand in India. It most definitely has reached that milestone since 2015. The major factors that have contributed to it are its investments, marketing, branding, exclusive dealership, manufacturing, and after sales services. Today, Audi India Pvt Ltd has 12 models for sale in India.
The Top 4 Audi Models
Out of the 12 models that are for sale in India, some of the top four Audi cars in India are:
1. Audi Q3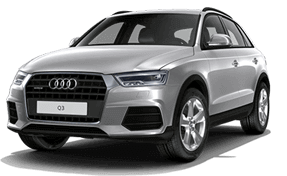 With one diesel engine and one petrol engine to offer, the SUV provides 1968cc of displacement in the former and 1395cc of displacement in the latter. It provides 7-speed S-Tronic gearbox along with automatic transmission. As for its performance, it manages a mileage of 15.17kmpl to 18.51kmpl, which varies depending upon the variant and fuel type. Furthermore, the top speed it can touch is 219kmph. In terms of dimensions, the Q3 has 5 seats and is of 4388mm in length and 1831mm in width. A few notable features of this luxury SUV are engine start stop button, alloy wheels, power steering and anti-lock braking system among others.
2. Audi A3
This luxury sedan offers two engine variants—one diesel that comes with a displacement of 1968cc and another petrol engine that provides a displacement of 1395cc. With a 6-speed gearbox, it also offers automatic transmission. Considering the mileage depends upon the variant and fuel type, the A3 offers it from 19.2kmpl to 20.38kmpl. It also manages to touch the top speed of 215kmph. The dimensions of this 5-seater sedan are 4458mm long and 1796mm wide. However, there are also certain key features that make this sedan special—2 Zone auto climate control, power steering, and foldable rear seat with 60:40 split.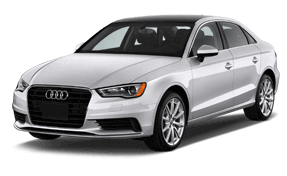 3. Audi Q7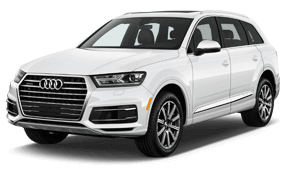 This luxury beauty comes in one diesel engine offering 2967cc of displacement and two petrol engines offering 2967cc and 1984cc of displacement. It offers an 8-speed gearbox which comes with automatic transmission as well. In terms of performance, Q7 provides somewhere between 13.55kmpl to 14.75kmpl—this, of course, varies with the fuel type and variant as well. The SUV is 5052mm long and 2212mm wide, and comes with seven seats. Furthermore, it has a few salient features such as engine start/stop button, voice control, steering wheel gearshift paddles, rear seat arm centre arm rest, and a lot more.
4. Audi S5
When it comes to its engine variants, Audi S5 has one petrol engine to offer that provides a displacement of 2995cc. With 8-speed gearbox, it also provides automatic transmission for the smooth ride everyone desires to wheel. It offers a mileage of 12.28kmpl in terms of performance, and touches the top speed of 250kmph. As for its dimensions, this 4-seater sedan comes at a length of 4752mm and width of 1843mm. Adjustable steering, 3-zone automatic climate control and air quality control are some of this car's salient features.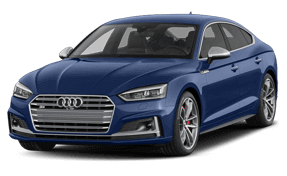 Audi Car Insurance Price
Even though the car insurance plans vary its premium from companies to companies, some factors that are considered to tally up to that price are:
Age of the car.
Its current condition.
Type of insurance coverage.
The terms of the existing policy, if any.
| | | | | | |
| --- | --- | --- | --- | --- | --- |
| Car Model | Variant | Ex-Showroom Price (Lakhs) | IDV* | Zero depreciation (Add on)* | Premium (Basic)* |
| Audi Q3 | 30 TDI Premium FWD(Diesel) | Rs.36,77,200 | Rs.31,23,315 | Rs.14,055 | Rs.61,911 |
| Audi A3 | 35 TDI Premium Plus with Sunroof | Rs.30,21,200 | Rs.26,41,950 | Rs.11,889 | Rs.56,116 |
| Audi S5 | 3.0 TFSI 333PS (2995 cc) | Rs.72,65,200 | Rs.52,96,725 | Rs.23,835 | Rs.88,079 |
| Audi Q7 | 45 TDI Quattro Premium Plus (2967cc) | Rs.72,21,500 | Rs.66,60,450 | Rs.29,972 | Rs.1,04,498 |
*The values are calculated on the basis of city (Delhi) and year of registration (2020).
Audi Car Insurance Inclusions and Exclusions
Inclusions:
Personal accident cover for owner/driver.
Damage caused to the third-party.
Cashless repair at network garages.
Loss due to unnatural events such as fire and explosion.
Cover against theft or terrorism.
Damage caused due to natural calamities such as flood or storm.
Exclusions:
Wear and tear, depreciation and any consequential loss to the car. This includes any electrical and mechanical breakdown or even flat tyres.
Using the car beyond geographical limits.
Losses incurred when driving without a driving license.
Any damage when driving under the influence of alcohol or drugs.
Loss to the vehicle that is not included in your car insurance plan.
Damage caused when used for illegal purposes. For example, racing.
Discounts
The discounts that can be availed on your insurance premium are:
No Claim Bonus: You can avail as much as 50% discount on your Audi car insurance in case of a claim-free year.
Security Devices: Install ARAI approved anti-theft devices as it can fetch you a discount on your premium.
Accident Cover: Teachers and government employees can avail this discount in case of an accident.
Add-ons
Zero-Depreciation cover: allows you to claim damage to your vehicle's rubber, plastic, glass, and fibre parts.
Passenger cover: covers all the car occupants in case of death or disability caused during an accident.
Engine Protection: insures your expenses on engine damage. This is quite useful for car owners who live in regions that are prone to heavy rains.