About BMW
With a wide range of activities under its hood, BMW India started its operations in the month of January 2007. The said activities ranged through manufacturing plant in Chennai, a warehouse for parts in Mumbai, and a centre for training in Gurugram NCR. Along with these, BMW India established its base by developing dealer organisation across major metropolitan cities of the country. On 29th March 2007, BMW India started its production of BMW car models. It now locally produces a total of 11 car models, which include- BMW 3 Series, BMW 3 Series Gran Turismo, BMW 5 Series, BMW 6 Series Gran Turismo, BMW 7 Series, BMW X1, BMW X3, BMW X4, BMW X5 and BMW X7.
The Top 4 BMW Models
Top four BMW Models in India are:
1. BMW X4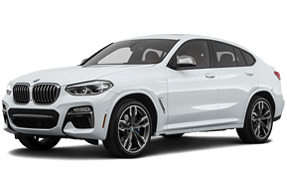 Offering two diesel engines and one petrol engine, the BMW X4 comes in 1995cc and 2993cc of the former and 1998cc of the latter. Both the engine variants are available with automatic transmission. As far as performance is concerned, BMW X4 offers a mileage depending upon the variant and fuel type, which varies from 11.31 to 16.78kmpl. It also manages to touch the top speed of 253kmph. The SUV comes with power steering, anti-lock braking system, multi-function steering wheel, automatic climate control, keyless entry, anti-theft alarm, and alloy wheels amongst its other key features.
2. BMW 5 Series
With two diesel engines and one petrol engine to offer, the BMW 5 Series has 1995cc and 2996cc of diesel engine, and 1998cc of petrol engine. The sedan is available with automatic transmission irrespective of the engine type and comes with 8-speed gearbox. With respect to its performance, the 5 Series provides a mileage of 15.01kmpl to 22.48kmpl, and it all depends upon the variant and fuel type. The 5-seater sedan manages to touch the top speed of 250kmph. As for its dimensions, it is 4936mm in length and 2126mm in width. Some other notable features are power steering, multi-function steering and power windows front amongst others.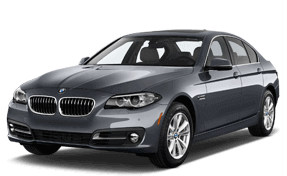 3. BMW 3 Series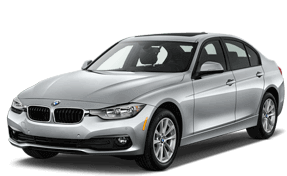 With one diesel and one petrol engine to offer, the BMW 3 Series offers 1995cc of displacement in the former and 1998cc of displacement in the latter. With 8-speed gearbox, this sedan also offers automatic transmission. As for its performance, the 3 Series gives a mileage of 16.13kmpl to 19.62kmpl, which depends upon the fuel type and variant. Being a 5-seater, the sedan has a length of 4824mm and width of 1811mm. Some other key features of this luxury beauty are fog lights, driver airbag and anti-lock braking system amongst others.
4. BMW X3
This SUV comes with the options of one diesel engine and one petrol engine. Where the former offers 1995cc of displacement, the latter provides 1998cc of displacement to their respective engines. Depending upon the fuel type and its variants, the X3 offers a commendable mileage ranging between 13.32kmpl and 18.56kmpl. The SUV comes with five seats and has dimensions of length 4708mm and width 1891mm. Furthermore, it has a few notable features such as alloy wheels, adjustable steering, 3-zone automatic climate control, cruise control, and excellent navigation system amongst others.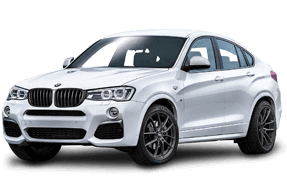 BMW Car Insurance Price
BMW car insurance plans vary its premium from companies to companies and there are various factors that are considered to tally up to that price. They are:
Your car's age.
The current market value of your car.
Your car's current condition.
Type of insurance coverage best for your car and needs.
The terms involved in the existing policy, if any.
| | | | | | |
| --- | --- | --- | --- | --- | --- |
| Car Model | Variant | Ex-Showroom Price (Lakhs) | IDV* | Zero depreciation (Add on)* | Premium (Basic)* |
| BMW X4 | xDrive20d M Sport X (1995 cc) | Rs.62,40,000 | Rs.51,81,300 | Rs.23,316 | Rs.86,689 |
| BMW 5 Series | 530i (2996 cc) | Rs.55,40,000 | Rs.39,50,100 | Rs.17,775 | Rs.71,866 |
| BMW 3 Series | 330I M Sport Edition (1998 cc) | Rs.50,70,000 | Rs.40,44,150 | Rs.18,199 | Rs.72,998 |
| BMW X3 | XDRIVE 20D X Line (1995 cc) | Rs.59,30,000 | Rs.45,48,600 | Rs.20,469 | Rs.79,072 |
*The values are calculated on the basis of city (Delhi) and year of registration (2020).
BMW Car Insurance Inclusions and Exclusions
Inclusions:
Accidental and external damage to the car is covered.
Any damage caused to the third-party is covered.
Own damage cover, including unnatural events such as fire and explosion.
Cover against theft or terrorism.
Cashless repair at network garages.
Coverage in case of damage caused due to natural calamities.
Exclusions:
Wear and tear, depreciation and any consequential loss to the car. This includes any electrical and mechanical breakdown.
Using the car outside the geographical constraints.
Damage caused when driving without a valid driving license.
Any damage caused due to driving under the influence of alcohol or drugs.
Using vehicles that are not included in your car insurance plan.
Damage caused due to nuclear war.
Discounts
The following discounts can be availed on your insurance premium:
Accident Cover: This discount can be availed by teachers or government employees in case of an accident.
No Claim Bonus: In case of a claim-free year, you can earn a discount on your BMW car insurance. This bonus can touch as much as 50% in case no claim was made in the past 5 years. The benefit can also be transferred on to a new insurer or a new car.
Security Devices: Installing ARAI approved anti-theft devices can fetch you a good discount on your premium.
Add-ons
Engine Protection: ensures that all your expenses are covered on engine damage. This is quite beneficial for car owners who reside in locations that are prone to heavy rains.
Zero-Depreciation cover: helps you claim damage to your car's rubber, plastic, glass, and fibre parts.
Passenger cover: protects all occupants other than the driver in case of death or disability caused during an accident.