About Bugatti
A subsidiary of Volkswagen AG, Bugatti Automobiles S.A.S is a high-performance French luxury automobile manufacturer. It has established its head office and assembly plant in Alsace, France. It was however in June 1998 when Volkswagen bought the Bugatti trademark and established Bugatti Automobiles S.A.S in 1999. Since then, the luxury car manufacturer has presented several concept cars between the years 1998 and 2000. It was however in the later years when Bugatti developed its first production model, which was known as Veyron 16.4. The first Veyron was sold to a customer in the year 2005. Since then, Bugatti Veyron has been unstoppable, reaching a handful of households in India.
1. The Bugatti Veyron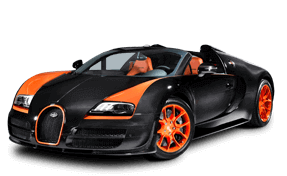 With one petrol engine to offer, the luxury car provides a displacement of 7993cc. The maximum power that it can churn out of its core is 1001bhp and maximum torque of 1250Nm@2200-5500rpm. With 16 cylinders and 4 valves per cylinder, it is of DOHC valve configuration. Furthermore, its automatic transmission comes with a 7-speed gearbox.
Speaking of its performance, as per ARAI, it provides a mileage of 6.8 km/l and fuel tank capacity of 100 litres. It takes about 2.7 seconds to accelerate from 0 to 100kmph and manages to touch the top speed of 407kmph.
A few dominant features of this luxury car are Automatic Climate Control, Air Quality Control, Height Adjustable Front Seat Belts, Navigation System, Cruise Control, Voice Control, Cigarette Lighter, Rain Sensing Wiper, Rear Window Defogger, Convertible Top, and the list goes on.
Bugatti Car Insurance Premium
Bugatti's car insurance premium varies from one company to another, and the various factors that are covered under this price are:
Your Buggati's age.
Current market value of your Bugatti car.
The condition of your car.
The type of insurance you need.
The terms involved in the existing policy, if any.
| | | | | | |
| --- | --- | --- | --- | --- | --- |
| Car Model | Variant | Ex-Showroom Price (Lakhs) | IDV* | Zero depreciation (Add on)* | Premium (Basic)* |
| Bugatti Veyron | 16.4 GRAND SPORT(7993 CC) | Rs.11,36,95,000 | Rs.10,26,09,819 | Rs.359,134 | Rs.1,710,184 |
*The values are calculated on the basis of the city (Delhi) and year of registration (2020).
Bugatti Car Insurance Inclusions and Exclusions
Inclusions:
Accidental and external damage.
Any type of damage caused to the third-party.
Damage caused due to fire and explosion.
Damage caused due to theft or terrorism.
Hassle-free cashless repairs at network garages.
Damage caused due to natural calamities.
Exclusions:
Electrical and mechanical breakdown of your car.
Wear and tear, depreciation and any consequential loss to the car.
Damage caused to your car when used outside the geographical constraints.
Damage caused to your car when driven without a valid driving license.
Any damage caused to your car after alcohol or drug abuse.
Using vehicles apart from the ones included in your car insurance plan.
Damage caused due to nuclear war.
Discounts
You can avail any of the following discounts on your insurance premium upon eligibility:
Accident Cover: Teachers or government employees can avail this discount in case of an accident.
No Claim Bonus: In case you haven't claimed insurance since the past one year, you are eligible for a No-Claim Bonus. The percentage of discount increases by the number of claim-free years. It can touch as much as 50% in case no claim was made in the past 5 years. The benefit can also be transferred on to a new insurer or a new car.
Security Devices: If you install ARAI approved anti-theft devices in your car, it can fetch you a decent discount on your premium.
Add-ons
Engine Protection: With this, you can ensure that all your expenses are covered in case of any damage to your engine. This is quite beneficial for car owners who reside in locations that are prone to heavy rains.
Zero Depreciation: Any repair for the consequential damage to your car's rubber, plastic, glass, and fibre parts will be covered with this add-on.
Passenger Cover: It protects all occupants other than the driver in case of death or disability caused during an accident.