Comprehensive Car Insurance
A comprehensive plan in car insurance is an all-inclusive plan which provides coverage for own damage as well as third party losses and damages. Securing your car with comprehensive car insurance is a great way to safeguard your vehicle from damages resulting from accidents and mishaps on the road. The coverage of the plan can be extended by selecting add-ons like medical expenses, engine protector, accessories cover, depreciation cover, etc.
Coverage Offered by Comprehensive Car Insurance
A comprehensive plan is a protective shield that your car needs against losses involving an accident. Comprehensive coverages are popular with vehicle owners as these plans include a superfluity of coverages.
Comprehensive car insurance covers the vehicle against the following:
Damages Due To Accidents
Mishaps on the road may lead to hefty damages for your car, fixing which can be an expensive affair. Having comprehensive car insurance is the best way to surpass such dire straits as it covers damages for your car in the event of an accident.
Third Party Losses
A comprehensive plan covers complex legal liabilities which arise out of injuries following an accident where the policyholder is involved.
Car Thefts
If you are a proud car owner, you would certainly want to secure your beloved vehicle against theft. Buy the best comprehensive car insurance and get the benefit of coverage for car thefts.
Damages Due To Fire
Damages to the car or its parts caused due to fire are covered by comprehensive plans. Thus, damages to your car due to fire will not put you in financial jeopardy with comprehensive car insurance.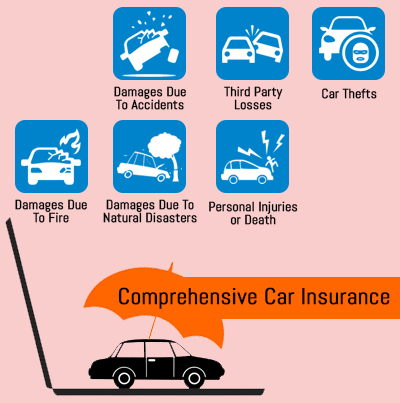 Damages Due To Natural Disasters
If your vehicle is damaged due to natural furies such as flood, hurricane, hail storm, tornado, etc. comprehensive coverage has your back. Comprehensive coverage is all the financial security you need against damages to your vehicle owing to natural disasters.
Personal Injuries or Death
Comprehensive coverages allow you to make a claim if you happen to meet with personal injury or even death involving an accident.
Comprehensive Coverage Add-ons
To increase the cushion of coverage, you can invest in a few different add-ons. Add-ons offer additional coverage for your car lest your car should be underinsured. Listed below are some of the most commonly known add-ons offered by various General insurance companies.
Zero Depreciation Cover
A zero depreciation cover allows you to avoid the car's general depreciation being subtracted from the insurance claim amount received. Zero depreciation coverage is an assurance that you do not have to squeeze out money if the shove comes to push.
Tyre Protect Cover
Tyres are the components which are subjected to more abuse than most other parts of the car. With a tyre protect cover, you can easily avoid the cost of replacing, removing, refitting and rebalancing the tyre.
Engine Gearbox Protection
Even under regular circumstances, your car engine is subjected to wear and tear which can result in a complete engine failure if not checked in time. Therefore, buying an Engine Gearbox Add-on cover provides coverage to all the major components of the engine and the gearbox. This add-on also covers the cost of consumables used during the repair of the engine such as coolant and lubricant oil.
Breakdown Assistance
Mishaps on the road are vexing, not to mention expensive. To avoid any hassle in relation to your car breaking down on the road, you must secure your vehicle with a breakdown assistance add-on. Having a breakdown assistance add-on is an easy way to avail roadside assistance 24x7. Let your insurer take care of your conveyance and labor costs should there be any such misfortune.
Consumable Cover
The consumables in your car demand continuous attention as they need replacement and maintenance at regular intervals. The cost of consumables is not covered in your regular insurance policy. However, you can always purchase an add-on cover and let your insurance take care of the replacement costs of consumables like nuts, bolts, screws, coolants, lubricants and oil.
Return to Invoice Cover
The Return to Invoice cover is a unique add-on applicable for cars which are less than 5 years old. Should your car be damaged or stolen, the insured can receive full compensation which is the last invoice value of the car.
Passenger Cover
This add-on covers for the injuries and damages to the person riding with the insured.
What's Not Covered?
There are some exceptions to what's covered by comprehensive insurance policy. These exceptions are listed in points below:
Driving Drunk: Damages or injury caused owing to driving drunk is not covered by comprehensive insurance plans.
Driving Without A Valid License: Coverages for comprehensive car insurance is not applicable where the driver is driving without a valid license.
Contributory Negligence: Damages caused to the car due to sheer negligence of the driver are exempted from coverage.
Consequential Damages: Your regular car insurance does not cover you for consequential damages unless you have the respective add-ons to cover your vehicle for damages after the accident.
Comprehensive Car Insurance vs. Third Party Insurance
Having third party insurance is not left to your discretion as the Indian Motor Vehicles Act makes it compulsory to have a third party liability plan to be able to run on Indian roads. However, investing in comprehensive insurance is entirely a choice.
While you may find comprehensive insurance an expensive affair, it is a cost-friendly option for the coverage that it offers. Comprehensive insurance covers own damage as well as third party liability with just a little difference in the price. Comprehensive car insurance is an all-inclusive package that offers coverages like no other insurance plan. Comprehensive car insurance is also flexible enough to allow the insured to enhance the coverage by purchasing various add-ons. Hence, comprehensive car insurance is the panacea of every woe. Know More
Which Insurance Cover is Right For You?
There are various underlying factors which determine whether comprehensive or third party insurance is best suited to your requirements. Some of these factors are elaborated below:
Value Of The Car
Third Party Liability Insurance is best taken if the value of your car is low since the amount spent on repairs/damages can be managed easily. On the other hand, if you are a proud owner of a swanky new car, comprehensive insurance is everything you need to keep your car secure from unforeseen damages and losses.
Coverage
If having your damage coverage is not your priority, you may take up third party insurance. Often, the cost of comprehensive car insurance overshoots the benefits. Thus, we must consider our insurance requirements and even make a cost-benefit analysis before making a purchase decision.
Expense
A comprehensive insurance is more expensive than a third party cover. Therefore, we must take a note of the budget when choosing between comprehensive and third party insurance.
Majority of car insurance providers allow you to switch from third-party to comprehensive can insurance. Thus, you can easily upgrade your third party plan to a comprehensive plan if you reconsider your purchase decision at any point of time.
Where Can You Buy Comprehensive Car Insurance Online?
Buying comprehensive insurance for your car online is simple. Visit PolicyX.com, sign up with your credentials and get free quotes before you finalize on a particular policy. We will help you to compare and buy insurance to make the most bang for your buck.