Ducati Bikes Insurance
Ducati Bikes addressed as the best racing bike brand worldwide. Ducati bikes made space in indian economy in 2008 where it launched a variety of models for the Indian population. If you own a brand new Ducati bike and wanted to protect it from uncertain losses, then purchasing Ducati bike insurance is a perfect choice.
Bike insurance will provide financial help at the time of natural calamities, fires, thefts, ignition, losses during transit, etc. Additionally, you will get discounts on premium if you regularly renew your Ducati bike insurance. Also, if there is any external damage to the vehicle, the insurer will cover you by giving repair service or compensation against the loss.
Ducati Bike Models
1. Ducati Panigale 959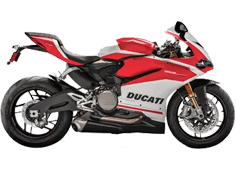 The most popular Ducati bike that starts from Rs 13.9 lakhs to Rs 15.2 lakhs. Features include- 955 cc engine capacity, 156.13 ps power, 14 Kmpl mileage, 2 cylinders, disc front & rear brake, 17-inch alloy wheel size, Aluminium chassis, etc.
Variants : 959, 959 Corse
2. Ducati Panigale V4
Starting prices is Rs 20 lakhs to 53 lakhs that vary on the variant chosen. Features include- 1103 cc engine, 16L fuel capacity, 4 cylinders, 214 ps @13000 rpm, 1469 mm wheelbase, tubeless tyres, etc.
Variants : V4, V4 S, V4 R, V4 Speciale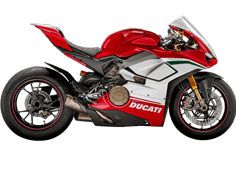 3. Ducati 1299 Panigale R Final Edition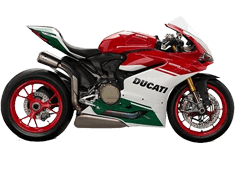 The prices start from Rs 51,87,000. The features include 1285 cc engine, 209.3 ps power, 15 Kmpl mileage, tubeless tyres, 17L fuel tank capacity, 1443 mm alloy wheelbase, LED headlights, fuel gauge, EBS, ABS, etc.
4. Ducati Scramble
This model is available under Rs 7.8 lakhs to 9.7 lakhs. Features include- 803 cc engine, 73.41 ps power, dual-channel ABS, tubeless tyres, 13.L fuel tank, L-Twin, Desmodromic distribution engine type, 1436 wheelbase, etc.
Variants : Full Throttle, Classic, Icon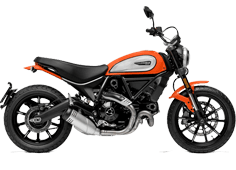 5. Ducati Diavel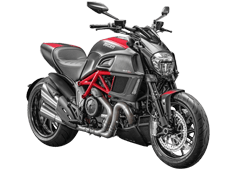 Starting price is Rs 21 lakhs. Features generally include - 1198 cc engine, diesel engine, 152.27 ps @9000 rpm power, 10 Kmpl mileage, tubeless tyres, 2 cylinders, power and riding modes, 17L Fueltank, etc.
Variants :1260, 1260 S
6. Ducati XDiavel
The starting price is Rs 21.7 lakhs. Features include- 1198 cc engine, 152.27 PS power, 10kmpl mileage, double disc brake, tubeless tyres, 17L fuel tank capacity, 1580mm alloy wheelbase, Power Modes, Front Turn Signals With Guidelight, Billet Mirrors, etc.
Variants :XDiavel, XDiavel S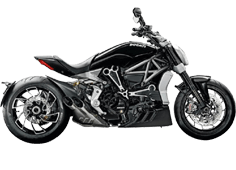 7. Ducati Monster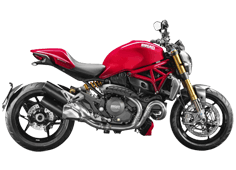 The prices range starts from Rs 8 lakhs to 20.15 lakhs. Features include 803/821/1,199 cc, 75/107/133 bhp, 6 gears, chain drive transmission, low fuel indicator, Anti Lock Braking System, Electric Start, 16.5 liters fuel tank capacity, tubeless tyres, etc.
Variants : 797, 821
8. Ducati Multistrada
The price of this bike model is Rs 14 lakhs to 22 lakhs. Features include- 1262 cc engine, multi-plate clutch, 6-speed gearbox, low oil indicator, LED headlights, liquid cooling system, etc.
Variants : Enduro, STD, S, Pikes Peak, 1260, 950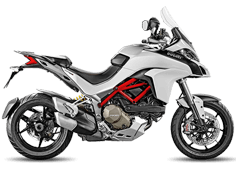 9. Ducati Hypermotard 950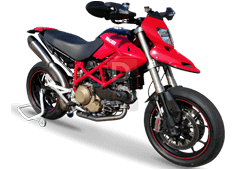 The prices start from Rs 10.1 lakhs. Features include- 821 cc engine capacity, 110 ps power, tubeless tyres, 16 liters fuel tank, 1500 mm wheelbase, tubular steel trellis chassis, passenger footrest.
Features Of Ducati Motor
Racing Bike
Ducati Motors is one of the premium manufacturers of racing sports bikes. All the bike models are equipped with Desmosedici Stradale engine giving higher displacement and maximum power & torque.
Wider Presence
The company is presently operating in multiple countries such as Brazil, UK, USA, Thailand, Australia, Spain, Italy, India. The customer can easily reach their nearest dealers to book their Ducati.
Original Spare Parts Services
The company gives you the 24 months warranty with no limits for mileage for spare parts which are embedded with high quality standards. All the spare parts are examined in development centres and are then approved.
Network of Dealer
If a customer wanted to obtain information about the bike/ accessories/ apparel, or wanted a test drive, then he/she can easily reach the nearest dealer located in their country. You can find your nearest dealer by visiting Ducati website.
Safety Factor
Every bike has been designed by giving attention to a safety feature. Features like Anti-Brake system, Quick Shift (DQS) up/down, Ducati Wheelie Control (DWC), cruise control, anti-theft alarm, passenger footrest, etc.
Customer Support
This motorcycle brand has been offering its customer support service in about 93 countries and has 746 dealers in these countries.
Inclusions & Exclusions
Damages That get Compensation
Natural disasters: If you live in the area which is highly prone to earthquakes, landslides, floods, cyclones, hurricanes, etc then the damages are paid.
Thefts/Burglary: Theft of vehicles is a common crime but bother not. As you will certainly get covered from such circumstances through the return of complete worth of the bike.
Fires/Explosions/Self Ignition: The ruins created by fire/explosion can never be revived. That is why bike insurance understands the need to provide financial support during the period.
In Transit Damages: The process of transferring your bike from one place to another can result in serious damage to the vehicle called transit damages. The insurer will cover you for any losses.
Riot/Strike/Malicious Act: Ducati Two wheeler policy will also provide coverage from man-made activities like riots, strikes, terrorist activities
Damages That Don't Get Compensation
Drinking and Driving: The damages arising to the insured vehicle at the time when the insured is drunk and is controlling the steering of the bike.
Wear and Tear: The commonly formed damages to seats, plastic material, mirrors, fiberglass, tires, tubes, etc are not covered under Ducati bike insurance.
Mechanical breakdown: The mechanical or electrical breakdowns in the engine or gears of the vehicle will not be entertained by your Ducati Two wheeler insurance.
Limitation of Use: If your insured vehicle has been used for commercial purpose if it has been insured for private use, then damage arising will not be covered.
Wars/Rebellions/Military Attacks: Harmful activities such as wars, rebellions, military attacks, bombing, etc are not compensated if any loss occurs to the vehicle.
Steps to Buy & Renew Ducati Bike Insurance
Online Buying Process
Go to Online Portal: First, compare the bike policies offered by insurers on PolicyX web compare portal by clicking on 'Get Quote' mentioned on the right side of the page. Fill in the bike details you want to insure along with personal information.
Compare the Quotes: The portal will display you several bike insurance policies with their premium and benefits. The customer must check which will give the best value for their beloved Ducati bike.
Proceed To Pay: Once you are sure that you want to buy particular bike insurance, hit the payment button. The payment is accepted through credit cards/debit cards/net banking/e-wallets.
Fill Proposal Form: A proposal form will flash on the screen where you have to fill some information like vehicle information as well as personal information for the verification process.
Issue of Policy: The policy will be issued in a minute and confirmation of the same is dictated through a mail on the registered email ID.
Online Renewal Process
Fill Your Ducati Bike Details: Jump to the upper section of the page and you will find a free quote section by PolicyX. Fill in the form by submitting your two-wheeler details plus personal contact details.
Check the Premium: PolicyX online portal will give you a specific list of insurers who provide Ducati bike insurance. Select the one who is giving better premium prices, claim settlement ratio, IDV value, coverages.
Fill Previous Policy Details: Next is to fill the details of your policy like policy number, and other personal information to continue the process of renewal.
Premium Payment: After deciding to buy the policy, the bike owner must be ready with credit/debit cards to make an online payment. A payment receipt is mailed to the email address of the customer.
Factors On Which Premium Calculation Depends
| | |
| --- | --- |
| Vehicle Registration State | Manufacturer Name |
| Model and Variant of the Ducati Bikes | Body Type |
| Manufacturing Year and Month | Date of Purchase |
| Region of Registration | The vehicle is financed or not |
| Type of Coverage | Add-on covers |
| NCB Discount | Insured Declared Value |