Ducati Bikes Insurance
Ducati is one of the most famous motorcycle manufacturers in the world. The company, based in Bologna in Italy was founded in 1926 by Antonio Cavalieri Ducati and his sons. The company is presently owned by Audi and is a part of the Lamborghini division. The company's motorbikes have been used in bike racing extensively. The company has successfully sold more than 50,000 units worldwide for five successive years. Its turnover in 2019 was 716 million Euros.
Ducati started offering its bikes in India from 2018. The company offers sports bikes, off-road bikes, and cruiser bikes. The Hyperstrada 939, Multistrada 1200, and Hypermotard 939 are some of the popular bikes sold in India. Ducati is offering a range of new bikes with The Panigale V4, Scrambler, Monster 821, and Diavel 1260 due for release in 2020 and 2021.
Types of Ducati Bike Models
Some of the top bikes that Ducati is offering in India are:
1. Ducati Hyperstrada 939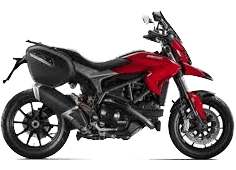 The Hyperstrada 939 has a 937 cc liquid-cooled engine paired with a 6-speed gearbox. The top features of this bike include its higher ground clearance, a tapered tail, narrow sides, and a tubular steel trellis frame. It has ABS and a pillion grab rail for safety.
2. Ducati Multistrada 1200 Enduro
The Multistrada 1200 Enduro comes with a 1198.4 cc engine that delivers a top power of 150 bhp. The 19" front wheel and 17" rear wheel with the rear Sachs suspension ensures superior comfort on the road. The higher handlebar and narrower seats define this bike's look.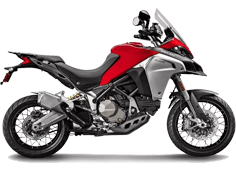 3. Ducati XDiavel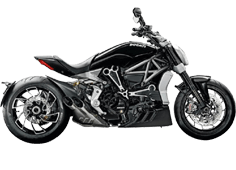 The XDiavel has a 1262 cc engine with a 6-gear transmission. Popularly referred to as the power cruiser, this bike has ride-by-wire technology with top-class styling elements like machine allow finish, LED cluster lights, infotainment system, and cruise control.
4. Ducati Hypermotard 939
The Hypermotard 939 comes with a 937 cc engine mated to a 6-speed gearbox that delivers 109 bhp power @9000 rpm. It is the only 'supermoto' bike offered in India. The multiple riding modes and its advanced display system are the key features of this bike.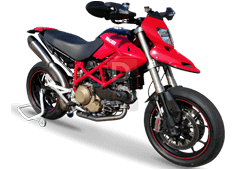 5. Ducati Monster 1200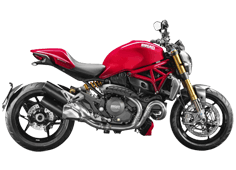 The Monster 1200 has an 1198 cc engine that delivers 145 bhp power. Its secondary air system ensures optimal operation and does not affect emissions. Its ergonomic structure and redefined styling ensure that it is truly a monster on the road.
Ducati Two Wheeler Insurance Premium Calculation
The premium you pay for your Ducati bike insurance depends on the bike model, engine capacity, place of registration, the year of registration, among other important factors. The following table shows bike insurance premium rates for some of the top models of Ducati:
| | | | | |
| --- | --- | --- | --- | --- |
| Bike Variant | Ex-showroom price of the bike | IDV* | Zero Depreciation (Add On)* | Estimated Premium* |
| Ducati Hyperstrada 939 | Rs.12,15,000 | Rs.11,58,050 | NA | Rs.34,794 |
| Ducati Multistrada 1200 Enduro | Rs.17,99,000 | Rs.17,00,000 | Rs.6,389 | Rs.30,878 |
| Ducati XDiavel STD | Rs.16,48,000 | Rs.15,70,350 | NA | Rs.42,541 |
| Ducati Hypermotard 939 | Rs.11,12,000 | Rs.9,48,195 | Rs.10,380 | Rs.40,382 |
| Ducati Monster 1200 | Rs.20,10,000 | Rs.19,14,250 | NA | Rs.49,003 |
*The price is calculated for the 2020 model registered in New Delhi.
Ducati Bike Insurance: Add-ons
Your bike insurance will have many exclusions that limit the amount you can claim. If you want to enhance the scope of your policy, you can buy an add-on cover. Choose from any of the following:
Zero Depreciation Cover: Normally depreciation is calculated on the bike parts. This reduces its value and the amount you can claim. This cover ensures depreciation is calculated as zero so you get a higher payout.
Personal Accident Cover: In case you meet with an accident while driving, this cover will help you get compensation in case of disability or death of the driver.
Loss of Key Cover: If you lose your bike key, then this add-on will allow you to claim the costs involved in getting a duplicate key.
Consumables Cover: Your policy will exclude the cost of consumables used in repair after an accident. This add-on cover will allow you to claim the cost of all consumables used.
Renewal Process For Ducati Two Wheeler Insurance
You can choose PolicyX.com to get a trouble-free experience while renewing your Ducati bike insurance. Here's how the renewal process works:
Search for the option 'Free Quotes from Top Companies' listed at the top-right corner of this page.
Fill the form with all details provided and select 'Continue'. Enter your name, city, and phone number. You will then need to provide the verification code, after which you can see renewal premium prices quoted by top insurers.
Compare quotes offered by different insurers and select the best one.
You can complete the renewal process on the insurer's website, to which you will be redirected once you select a quote.
Once you finish the payment, you will get an email as confirmation. You will also get a copy of the bike insurance policy by email that you can print and keep in your bike.