About Ferrari India
Ferrari is a well-known name in the world of sports and racing cars. The company is also known for its range of luxury cars. Ferrari is an Italian luxury sports car maker founded by Enzo Ferrari. The brand has been rated as one of the most powerful ones in the market in a study. The 250 GTO sold for $70 million in 2018, making it the most expensive car ever in history. In India, Ferrari at present has dealers in Delhi and Mumbai and is in the process of expanding its dealer network.
Top 4 Ferrari Car Models
The top car models offered by Ferrari in India are:
1. 488 Spider
The Ferrari 488 Spider is a luxury coupe with a 3.9 litre twin-turbo engine that allows the driver to race the car from 0 to 100 km/hr in the space of just three seconds. The car's top speed is 325 km/hr. It offers a mileage of 11.4 kmpl. The car chassis uses 11 alloys of aluminium improving chassis performance. The petrol vehicle from Ferrari has alloy wheels and a ventilated disc brake. The car has luxurious interiors with features like hill assist, cruise control, leather upholstery, keyless entry, and climate control.
2. California
The Ferrari California is an automatic convertible with a 4.3 litre V8 engine. It has a seven speed dual clutch gearbox and has an AWD system. It goes from 0 to 100 km/hr in 3.6 seconds and has a maximum speed of 315 km/hr. The 3855 cc petrol engine delivers a mileage of 9.52 km/l. It has two doors, seating capacity of 2, and a 240 L boot space. Its top features include xenon lights, tractional control, ABS, hill assist, lumbar support, push start stop button, keyless entry, engine immobilizer, and automatic climate control.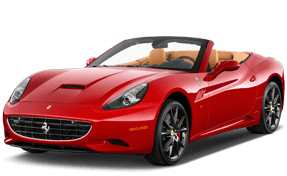 3. 488 GTB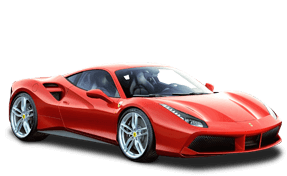 The Ferrari 488 GTB has a wide front spoiler and even though it has been compared to the old 458 model, it has a number of new additions that make it a great car to own. It has the V8 turbo dry sump engine with 3902 cc. It has ventilated disc brakes and a suspension with stabilizer bar. The mileage is 8.77 km/l and the capacity of the fuel tank is 78 litres. 3 seconds is the time needed to race from 0 to 100 km/h, with the car being able to achieve top speeds of 330 km/hr.
4. GTC4 Lusso
The Ferrari GTC4 Lusso has a 6262 cc petrol engine. It has a seating capacity of 4. The boot space is 450 litres capacity. The fuel tank can hold up to 91 litres of petrol and the mileage is 4 km/l. It can accelerate from 0 to 100 km/hr in just 3 seconds. The car has safety features like an anti-lock braking system, brake assist, central locking, power door locks, 4 airbags with side airbags, anti-theft alarm, child safety locks, and traction control. The car comes with attractive features like Automatic climate control, air quality control, heated seats, keyless entry, leather steering wheel and seat, rain sensing wiper, and a sun roof.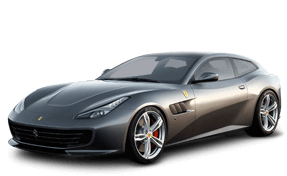 Ferrari Car Insurance Price
Ferrari car insurance premium is calculated keeping in mind the car model, engine capacity, year of manufacture, and other such factors:
| | | | | | |
| --- | --- | --- | --- | --- | --- |
| Car Model | Variant | Ex-showroom Prices | IDV* | Zero depreciation (Add on)* | Premium (Basic)* |
| Ferrari 488 Spider | 3902 cc Petrol | Rs.3,67,61,413 | Rs.3,31,74,000 | Rs.1,49,283 | Rs.4,23,721 |
| Ferrari 488 GTB | 3902 cc Petrol | Rs.3,67,61,413 | Rs.3,31,74,000 | Rs.1,49,283 | Rs.4,23,721 |
| Ferrari California | 3855 cc Petrol | Rs.3,12,66,150 | Rs.2,97,02,843 | Rs.1,78,217 | Rs.3,30,838 |
| Ferrari GTC 4 Lusso | 6262 cc Petrol | Rs.4,20,00,000 | Rs.4,94,00,000 | Rs.2,96,400 | Rs.5,34,113 |
*Prices quoted at Delhi prices for 2020 basic model
Ferrari Car Insurance Inclusions & Exclusions
Inclusions
A Ferrari car insurance policy would include the following in the scope of the insurance policy:
It includes losses that you incur due to the theft of the car.
It covers your liability towards third party damages caused to people or property as a result of an accident.
Natural disasters like floods, cyclones, earthquakes are covered under the policy.
Hazards that are caused by humans like terrorist attacks are covered in this policy.
Fires and explosions are covered under this policy.
Damage during transit is also covered under the policy.
Exclusions
The following are excluded from the policy and claims made will not be entertained:
Damage caused to the engine or any of its parts is not covered.
The cost involved in replacing consumables like engine oil, coolant, nuts, etc. are not covered.
Damage caused to the car that is not a result of an accident will not be covered.
Deliberate damage caused to the car will not be covered.
If a person without a valid driving license drives the car, claims will not be entertained.
Using the car for commercial purposes is not covered under this policy.
Damages to the tyre and tube are not covered.
Mechanical and electrical failure is not covered.
General wear and tear of the vehicle cannot be claimed under the policy.
Damages caused as a result of war or an invasion by enemies or a military rebellion are excluded.
Accidents due to driving under the influence of drugs and alcohol will not be covered by the policy.
Discounts
Make sure to avail of discounts when you get your insurance policy. The following discounts can be obtained for your Ferrari car insurance policy:
No Claim Bonus-- This is a discount offered for those who do not make any claim on their policy. The bonus adds up for every year of no-claim and can extend to 50%.
Security Devices- When you install a security device approved by ARAI, you can get a discount on the premium
Deductible discount- If you opt to pay a voluntary deductible amount at the time of making a claim, then this feature will entitle you to a discount on your premium.
Add-ons
The following add-ons can be obtained with your Ferrari car insurance:
24 x 7 road assistance: This add-on entitled you to on-road assistance for breakdown services, tyre change, car towing, etc and is available 24 x 7.
Zero-depreciation cover: If you avail this add-on, depreciation charges are not calculated, thereby ensuring you get a complete 'bumper to bumper coverage' for all parts of the car, including tyres and batteries.
Engine protection cover: This add-on entitled you to claim for damages to the engine, which is otherwise not allowed.
NCB protector: This add-on ensures that you do not lose your no-claim bonus even if you make a claim on insurance.
Consumables cover: When you take this add-on, the cost of consumables is also covered by the policy.