Harley Davidson Bike Insurance
Harley Davidson is one of the leading American motorcycle companies that has become an iconic brand worldwide. The company (that is more than a hundred years old) operates in India through a fully owned subsidiary Harley Davidson India. They commenced their operations from 2010, selling their well-known motorcycles in India. Having completed 10 years of operations in India, the company has achieved sales of 25,000 units.
Street 750 is one of the top models sold by the company in its network of 33 dealers all over India. They have a total of 11 models on offer for the Indian market. Harley Davidson has started a production plant in Bawal, Haryana, which is the only factory that manufactures their motorcycles outside the US. They also export the bikes they manufacture in India to Europe and other Asian countries. Let's check out the popular Harley models in India.
Types of Harley Davidson Bike Models
Some of the top two-wheeler models offered by Harley Davidson Auto include:
1. Harley Davidson Street 750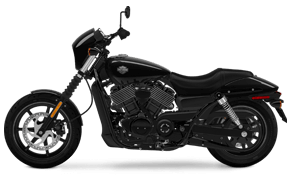 Harley Davidson Street 750 is one of the first BS6 compliant bikes offered in India. It has a 749 cc liquid-cooled engine. Its low weight and low centre of gravity make it easy to lift off from the stand. The dark and aggressive look makes the bike a stunner on the road.
2. Harley Davidson Iron 883
The Iron 883 has an 883 cc 'evolution' engine that gives great power to the bike. The low seat and slammed suspension ensures comfort for riders and offers a responsive ride. The 9-spoke wheels and the drag-style handlebar gives it a unique look.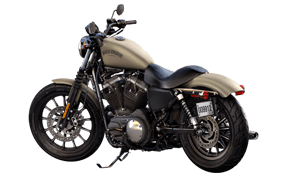 3. Harley Davidson Forty Eight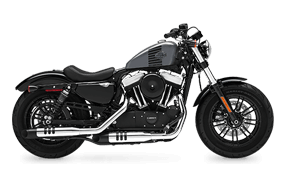 The Forty Eight is a bike for those who want attention on the road, which comes from its unique design. It has a 1200 cc air-cooled V-twin engine. The fat front wheel ensures a smooth ride. The foundation brake system ensures safety for riders.
4. Harley Davidson Fat Boy
The Fat Boy has a 1746 cc engine with an ESPFI fuel system. The Milwaukee-eight engine brings power with an awesome rumble. The satin chrome finish and the Lakester wheels give the bike a unique style. It has a signature LED forward lighting.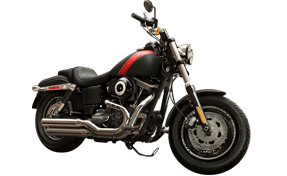 5. Harley Davidson Street Rod
The Street Rod delivers an urban riding experience through this hot rod model. It has a liquid-cooled 749 cc engine. The high-output engine gives more power than other models. It has drag-style bars with bar-end mirrors and a stylish teardrop fuel tank.
Harley Davidson Bike Insurance Premium Calculation
The premium rates for some of the top models of bikes offered by Harley Davidson Motorcorp are listed in the table below. The premium depends on the variant of the model, engine capacity, year & place of registration, among other factors. 
Bike Variant

Ex-showroom price of the bike

IDV*

Zero Depreciation

(Add On)*

Premium*

Harley Davidson Street 750

Rs.5,30,000

Rs.5,28,505

Rs.1,057

Rs.23,922

Harley Davidson Iron 883 STD

Rs.9,26,000

Rs.8,22,653

Rs.8,328

Rs.28,846

Harley Davidson Forty Eight 1200 cc

Rs.10,61,000

Rs.9,88,320

Rs.3,714

Rs.23,523

Harley Davidson Fat Boy 1746 cc

Rs.18,25,000

Rs.18,00,570

Rs.3,151

Rs.49,679

Harley Davidson Street Rod 749 cc

Rs.5,99,000

Rs.4,86,314

Rs.1,661

Rs.8,128
**Last Updated on 13-11-2020
*The price is calculated for a 2020 model registered in Pune. 
Harley Davidson Two Wheeler Insurance : Add-ons Benefits
If you want to ensure extended coverage for your Harley Davidson bike, you can consider buying an add-on cover. The following are some of the add-on covers that you can consider buying for your bike:
Zero depreciation cover: Depreciation charges are calculated every year that lead to your bike value reducing. You can increase the value and the amount you get in a claim by opting for this cover, where depreciation is calculated as zero.
Passenger assistance cover: This is a cover that will help you get assistance for the pillion rider in case of an accident. Medical expenses and medical transport assistance can be availed through this cover.
Return to invoice cover: Claim calculation is done based on the IDV of the bike. If you want to get a higher claim, then you can buy this cover that will ensure the invoice price of the bike is used for calculations.
Tyre damage cover: This add-on will ensure that you can claim for damages to tyres like puncture, tyre burst, tyre cut, etc.
Harley Davidson Two Wheeler Insurance Renewal Process
You can renew your Harley Davidson bike insurance easily and conveniently through PolicyX.com. The procedure to do this is as follows:
You can start the renewal process by choosing the option 'Free Quotes from Top Companies' at the top of this page.
Enter your details in the form and choose 'Continue'. You can then provide your name, city, and phone number in the form. You can see the quotes from different insurers once you type in the verification code.
Compare quotes from different insurers and choose the one you find the best.
On selecting the quote, you will be transferred to the insurer's website, where you can pay the premium.
Once you complete the renewal, you will get a confirmation email. You will also get a copy of the policy by email that you can print and keep in your bike.