About Jeep India
Jeep is one of the most well-known brands in the world and in India. Jeep was earlier owned by the American Motor Corporation and was later taken over by the Chrysler Group. Jeep offers SUVs or sports utility vehicles. It is one of the most popular brands in North American, particularly in the USA. In India, Jeep has established a good dealer network through which its SUVs are sold all over the country. Apart from the existing brands, it is expected that Jeep will come out with six new models in the coming two years.
Top 2 Jeep Car Models
Some of the car models offered by Jeep in the Indian market are:
1. Compass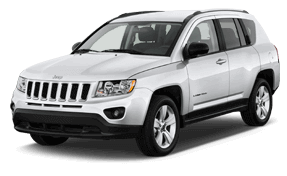 In its very first year after release, the Compass sold 25,000 units with a market share of 40% in its segment. It is offered in five different models – Sport Plus, Longitude, Longitude Plus, Limited, and Limited Plus. With a BS VI Compliant Engine, it has 4 x 4 capability for off-roading. Engine stop-start, cruise control, electronic parking brake, reverse park assist, and an anti-lock braking system are the key features of the Compass. It has the UConnect with a 7-inch touchscreen. All-wheel disc-brake and side-mounted airbags are available in this car. A premium design with luxurious interiors makes this an SUV owner's delight.
2. Wrangler
The Jeep Wrangler is the classic vehicle that reminds you of the iconic old Jeep vehicles with a new design. It is available in two models – Unlimited and Rubicon. It has rugged exteriors with a new design that makes the vehicle future-proof. LED headlamps make the vehicle a pleasure to drive at night. The interiors are comfortable and have excellent space for storage. The 32-inch tyres, 4 x 4 system, and rugged skid plates made of steel make this one of the best off-roading vehicles in the market. It is the perfect blend of a classic heritage car with technology and safety.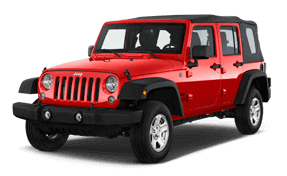 Importance of Buying Jeep Car Insurance
When you buy your new Jeep, you are buying a heritage brand. You must protect your car and yourself by buying insurance. The importance of doing so is because:
Insurance covers you against the loss of your car due to theft or any damage caused due to accidents.
In case of any third party injuries or death claims, you get unlimited liability.
Damage to property belonging to a third party is also covered under Car insurance.
You are also protected against fire and other disasters that may occur.
In case of death, benefits are available to the nominees.
Jeep Car Insurance Price
Insurance premium depends on the car model, the year of manufacture, and the condition of the car. The following are insurance prices for select Jeep models.
| | | | | | |
| --- | --- | --- | --- | --- | --- |
| Car Model | Variant | Ex-showroom Prices | IDV* | Zero depreciation (Add on)* | Premium (Basic)* |
| Jeep Compass | 2.0 Sport Diesel 1956 cc | Rs.20,13,000 | Rs.14,79,653 | Rs.11,646 | Rs.39,145 |
| Jeep Compass | 1.4 Sport Petrol 1368 cc | Rs.15,65,000 | Rs.13,45,500 | Rs.10,626 | Rs.22,415 |
| Jeep Wrangler | Unlimited Diesel 3778 cc | Rs.67,60,000 | Rs.61,20,945 | Rs.27,544 | Rs.98,003 |
| Jeep Wrangler | Unlimited Petrol 3600 cc | Rs.63,94,000 | Rs.56,53,260 | Rs.25,440 | Rs.92,372 |
*Prices quoted at Delhi prices for 2020 basic model
Inclusions
When you buy a jeep car insurance, the following are included in your policy:
Any damage to the car from accident, theft, natural disasters, fire, explosion, or damage during transit.
Losses occurred due to theft of the vehicle.
Any damage to a third party's person or property due to an accident caused by your Jeep.
Cyclones, floods, and earthquakes are the natural disasters covered in the policy.
Fires and terrorist attacks are also covered by the policy.
Malicious acts are also covered under the policy.
Exclusions
There are some exclusions you need to be aware of. These are not covered by your policy:
Wear and tear in the vehicle that occurs normally is not covered.
Losses due to depreciation are not covered by the policy.
Breakdown of the car due to any electrical or mechanical fault cannot be covered under the policy.
When an accident is caused by a person driving without a valid license, this is not covered.
When the driver is under the influence of alcohol or drugs and was driving the car at the time of the accident, claims are disallowed.
If you use your car for commercial purposes or for racing, then your claim can be denied.
Damages due to war are not allowed.
If damages caused in a riot and you are involved, it will not be covered.
Deliberate damages are not allowed.
Damage to the tyres and tubes, and engine damage are not covered.
Discounts
When you get your Jeep car insured, you can expect the following discounts:
No Claim Bonus-- If you do not make a claim on your insurance policy, you are entitled to a discount on the policy. This discount can be carried forward from your previous vehicle too. Up to 50% NCB discount is allowed.
Security Devices- The ARAI or Automobile Research Association of India has approved certain security devices for the protection of your car. If these devices are available, you can get a discount.
AAI membership- Members of the Automobile Association of India can get a special discount.
Add-ons
Add-ons are available for your Jeep insurance policy. Common add ons include:
Zero-depreciation cover: With this add-on, cost of all body parts (bumper to bumper) is included and depreciation will not be calculated.
Engine protection cover: This add-on will ensure you get coverage for damage to the engine, which is usually not allowed.
Key and lock replacement: Costs involved due to loss of car key is covered by this add-on
Personal belongings cover: This add-on will cover the cost of personal belongings that are lost due to theft. Items belonging to your and your family members are allowed.
Daily allowance cover: If your car has been stolen or undergoing repair due to an accident, this add-on will entitle you to a daily allowance to cover costs of renting another vehicle.