Kawasaki Bike Insurance
India Kawasaki Motors Pvt. Ltd. (IKM) is one of the reputed manufacturers of motorbikes in India. The company is a subsidiary of Kawasaki, Japan and was incorporated in 2010. Kawasaki earlier used to make bikes with Bajaj and marketed it under the Kawasaki Bajaj brand name. Their agreement was terminated in 2016 and they started manufacturing motorcycles on their own since then. The company's Ninja and Versys brands of motorbikes are popular.
The company is offering a total of 27 models in its dealer network (more than 30 dealers). In the financial year 2019-20, India Kawasaki Motors was at tenth in the list of two-wheeler companies in terms of sales, having sold 3,115 units, growing at 74.15% over the previous year. The company is mainly targeting the export market with a target of achieving 5,000 sales by 2020.
Types of Kawasaki Bike Models
Some of the top two-wheeler models offered by Kawasaki Auto are:
1. Kawasaki Ninja 650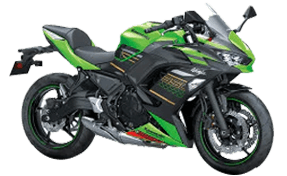 Kawasaki Ninja 650 has a 649 cc engine with double disc brakes and tubeless tyres. It has a six-speed gearbox. The new Kawasaki Ninja 650 comes with a digital TFT instrumentation and provides smartphone connectivity. It is available in two colours.
2.Kawasaki Z900
The Z900 has a 948 cc powerful liquid-cooled engine with a 6-speed gearbox. Its features include four riding modes, traction control system, 'Z' LED tail light, all-new Trellis frame that allows for easy handling of the powerful bike, and a TFT instrument console.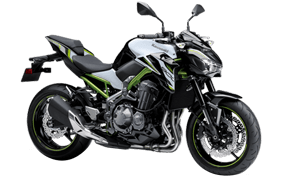 3. Kawasaki Versys 1000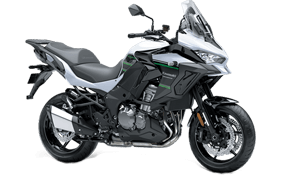 The Versys 1000 has a 1043 cc engine paired with a 6-speed gearbox. The high tech design of the bike gives it a top-class appearance. It has LED headlamps, adjustable windscreen, and the Kawasaki Intelligent Anti-lock brake system to ensure safety.
4. Kawasaki Ninja 300
The Ninja 300 comes with a 296 cc engine and is available in four colours. It has a diamond frame for high strength and durability. It has the world's smallest ABS unit offering safety. The design is elegant and ensures excellent heat management of the bike.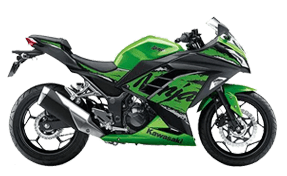 5. Kawasaki KX 100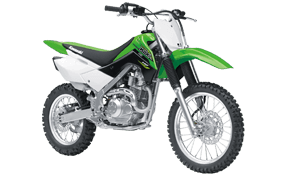 The Kawasaki KX 100 is a race bike meant for recreational purposes. The bike has a 99cc engine with a 6-speed transmission. It is ergonomically designed and has an adjustable handlebar. It has a 19" front wheel and a 16" rear wheel.
Kawasaki Two Wheeler Premium Calculation
The premium rates for some of the top models of bikes offered by Kawasaki Motors corp are listed in the table below. The premium depends on the variant of the model, engine capacity, year of registration, place of registration and other factors.
Bike Variant

Ex-showroom price of the bike

IDV*

Zero Depreciation

(Add On)*

Estimated Premium*

Kawasaki Ninja 650 STD

Rs.5,89,000

Rs.5,69,587

Rs.1,123

Rs.18,348

Kawasaki Z 900 STD

Rs.7,99,000

Rs.7,78,607

Rs.2,926

Rs.21,356

Kawasaki Versys 1000 STD

Rs.10,89,000

Rs.10,09,080

Rs.3,793

Rs.23,739

Kawasaki Ninja 300 STD

Rs.2,98,000

Rs.2,66,760

Rs.957

Rs.8,359

Kawasaki KX 100 STD

Rs.4,87,800

Rs.4,86,314

Rs.1,661

Rs.8,128
*The price is calculated for the 2020 model registered in Kolkata.
Kawasaki Two Wheeler: Add-ons Benefits
An add-on is an additional cover that allows you to enhance the scope of your insurance policy. The following are some of the add-ons that you can consider buying:
Road Assistance Cover: When you are driving in and around the city, you may require assistance on the road like towing of the vehicle, tyre change, etc. This add-on will help you get this assistance free of charge.
NCB Protector: The NCB or no claim bonus is given for not making an insurance claim. Buying the NCB protector will allow you to retain the NCB even if you make a claim.
Engine and Gear Cover: Sometimes, the engine of the bike may be damaged due to consequential damage (caused by the driver's actions). This add-on will help you get this covered under your insurance policy.
Key Loss Cover: This add-on will cover the cost involved in replacing a lost key/replacement of the bike lock.
Kawasaki Bike Insurance Renewal Process
You need to renew your Kawasaki bike insurance on time to ensure that your bike remains under coverage. Renewing your policy is easy when you do it using PolicyX.com. This is how it can be done.
Look for the option 'Free Quotes from Top Companies' at the top of this page.
Provide all the details in the form and select 'Continue'. You then need to enter your name, city, and phone number. Once you enter the verification code, you will be able to see the quotes from different insurers.
You can go through all the quotes and choose the best one.
Once you choose the quote, you are redirected to the insurer's website, where you can complete the renewal process.
On completion of renewal and payment, you will get a confirmation email with a soft copy of the bike insurance policy.