About Lamborghini
Automobili Lamborghini is an Italian manufacturer of luxury cars which was founded back in 1963. Named after its founder, Ferruccio Lamborghini, the luxury brand of cars, initially started with manufacturing of tractors. Over the years, Lamborghini has launched various high-performance car models. The brand also manufactures V12 engines which are used for offshore powerboat racing. Automobili Lamborghini is headquartered in Sant'Agata Bolognese in Italy. The brand currently manufactures four models in India.
Top 4 Lamborghini Models
Lamborghini markets a 5-seater luxury SUV, two 2-seater coupes and a 2-seater convertible in India. Let's know more about the cars which are manufactured under the Lamborghini banner.
1. Lamborghini Urus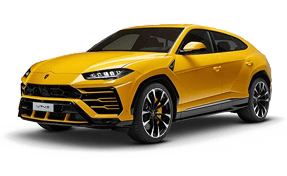 The Lamborghini Urus has 1 Petrol Engine on offer. The vehicle has V8 bi-turbo engine which boasts of having displacement of 3996 cc with maximum torque of 850Nm@2250-4500rpm and maximum power of 641Bhp@6000rpm. The Urus comes with automatic transmission. The high-performance vehicle is capable of going from 0 to 100 KPH in only 3.2 seconds. The 5-seater SUV has maximum mileage of 8.0 KMPL. Four wheels steering, multiple driving modes, sports seats for rear passengers, automatic climate control, anti-lock braking system, front fog lights, sunroof and alloy wheels are some of the key features of Lamborghini Urus.
2. Lamborghini Aventador
The Lamborghini Aventador has 3 variants on offer, all of which comes with 1 petrol engine with displacement of 6498 cc. The Aventador is available in automatic transmission. The 2-seater coupe comes with a mileage that varies between 5 to 7.70 KMPL, depending on the fuel type and the variant. The maximum power offered by the Aventador is 770Bhp@8500rpm and the maximum torque that the vehicle comes with is 720Nm@6750rpm. Dual Hydraulics front and rear brake system, power door lock, central locking, headlamp beam adjuster, engine immobilizer, passenger airbags and side airbags, rear parking camera and sensor, climate control and GPS navigator are some of the special features of the Aventador.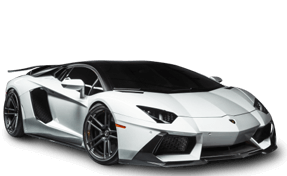 3. Lamborghini Huracan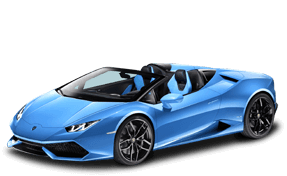 The Huracan under the Lamborghini banner has 1 petrol engine on offer, the displacement of which is 5204 cc. The vehicle comes with automatic transmission and offers mileage up to 11.24 KMPL. The 2-seater coupe comes with maximum torque of 600Nm@6500rpm and maximum power of 640Bhp@8000rpm. Steering mounted audio, automatic climate control, electronic brakeforce distribution, central locking, power door lock, GPS navigation, keyless entry, and rear parking sensor and camera are some of the special features of the Lamborghini Huracan.
2. Lamborghini Huracan EVO
The EVO offers 1 petrol engine with displacement of 5204 cc. The vehicle is available in an automatic transmission with maximum power of 600Nm@6500rpm and maximum power of 630.3Bhp@8000rpm. The EVO offers a mileage of 7.19 KMPL. Headlamp beam adjuster, power outlets 12V, electronic stability program, rain sensing wipers, drive and passenger airbags, side airbags, power door lock, engine immobilizer, automatic climate control, and GPS navigation are some of the special features of the Lamborghini Huracan EVO.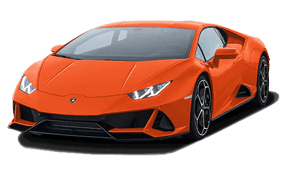 Lamborghini Car Insurance Premium
The table below lists down the approximate amount of premium for Lamborghini models considering the IDV and Zero Depreciation add-on. The table also includes the ex-showroom price for the models.
Car Model
Variant
Ex-Showroom Price (Lakhs)
IDV*
Zero depreciation (Add on)*
Premium (Basic)*
Urus
Twin Turbo, V8
3996 cc, Automatic, Petrol
3.1
2.28
76,220
214,856
Aventador
S Roadster,
6498 cc, Automatic, Petrol
5.79
3.66
122,578
330,750
Huracan
RWD Spyder,
5204 cc, Automatic, Petrol
3.45
2.95
98,832
271,386
Huracan EVO
5.2 V10
5204 cc, Automatic, Petrol
3.22
2.21
73,934
210,119
*The values are calculated based on city (Mumbai) and year of registration (2020).
Lamborghini Car Insurance Inclusions & Exclusions
Inclusions:
Third-Party Liability
Own damages cover
Loss due to theft
Loss due to fire
Cashless repairs at garages within the network
Exclusions:
General wear and tear
Loss due to driving drunk
Damages to tyres (without tyre protection add-on)
Loss due to contributory negligence
Driving without a valid license
Discounts
It is imperative for the car owners to identify the different car insurance discounts to knock off bucks off the amount due to the premium. Listed below are some of the important car insurance discounts available at the owner's disposal.
Reduced Third Party Coverage: Policyholders have the option of asking their car insurance service provider to reduce the amount of coverage for the third party insurance. Reduced third party coverage amounts to the rebated premium amount.
Installation of Security Devices: Installing security or anti-theft devices approved by the Automobile Association of India (AAI) or Western India Automobile Association is a surefire way to get discounts on your car insurance premium. Your insurance service provider is likely to reward you with discounts on the amount of premium for your vehicle.
Discounts Based on Age: Drivers between the ages of 25 and 65 are more likely to receive the maximum discount on car insurance premium, provided that the driver has a good driving record and a default-free credit history. Since new drivers and teenagers have higher risk of having road accidents than experienced drivers, they are charged a higher car insurance premium as compared to experienced drivers.
Add-ons on Lamborghini Car Insurance
Including add-ons in your Lamborghini car insurance plan will help you safeguard your beloved vehicle from unforeseen circumstances which are not covered by general insurance. Below listed are some of the most common Lamborghini car insurance add-ons.
Zero Depreciation: Zero Depreciation add-on covers for the amount of depreciation which is subtracted from the claim amount during the disbursal of the claim. The Zero Depreciation add-on covers rubber, nylon, plastic parts and batteries. The add-on also covers fiberglass components and metallic parts. However, one cannot get zero-depreciation coverage for cars that are more than 5 years old.
No Claim Bonus: No-Claim Bonus is the amount of bonus that a policyholder is eligible to receive for every claim-free utility. With the No-Claim Bonus add-on, you can get a 20-50% discount on premium amount for your Lamborghini car insurance.
Emergency Road Assistance: Emergency road assistance add-on takes care of unprecedented on-road breakdowns. With this add-on coverage, you can get instant services including towing, battery jumpstart, flat tyres, re-fuelling facilities and even taxi service and medical facilities if and when you need them. The road assistance covers repairs and maintains minor breakdown in zero wait time.
Return to Invoice Cover: With the returns to insurance cover, you can bridge the gap between the market value of the car and the IDV. In the event of complete loss or theft of the car, the return to invoice add-on cover will ensure that you are eligible to receive the original value of the car, including the road tax paid and the registration charges.
Key Replacement Cover: Key replacement cover ensures that you are covered in the event of theft or loss of car keys. It covers the cost of carrying the vehicle to a nearby service center and duplicating the car keys or replacing keys and locks in the car.