About Nissan India
A wholly-owned subsidiary of Nissan Motor Co. Ltd. Japan, Nissan Motor India Pvt. Ltd. was incorporated in the year 2005. It offers innovative products in MUV, SUV, hatchback and sedan segments. Together with Datsun, Nissan has created a portfolio of the two brands. It has also signed a Memorandum of Understanding along with its global alliance partner Renault in the month of February 2008, with the Government of Tamil Nadu. This allowed them to set up a manufacturing plant in Oragadam, Chennai. There are now a total of four Nissan models that are popularly sold in India since 2010.
The 4 Nissan Models
As mentioned before, the four Nissan models that are being manufactured in India are:
1. Nissan Micra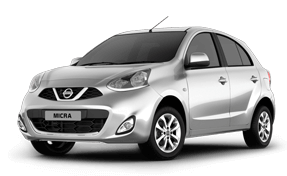 Well-equipped as a B-segment hatchback, Nissan offers 1.5-litre diesel engine and 1.2-litre petrol engine options for you to choose from. Where the former generates 63bhp at 4000rpm, the latter makes its mark with 76bhp at 6000rpm. The most admired fact about this car is that it is perfect for both- city streets and highways. Apart from its AT variant, all other variants come with a five-speed manual transmission. The rear of this car gets its own wiper and fog lamps. And if you consider its performance, the petrol variants return an impressive economy of 19.34km/l, whereas the diesel manual variants deliver 23.8km/l.
2. Nissan Sunny
With excellent dynamics in terms of driving, engine and design, this compact sedan is a favourite of many in its class. It is available in 1.5-litre engine of four petrol and three diesel variants. Except for Sunny XL CVT, all the others come with a five-speed manual transmission. The petrol-engine variants develop 98bhp of power and the CVT variant provides 101bhp. The K9K diesel unit makes as much as 85bhp. Its cabin has a fancy finish with multi-information display, adjustable headrests and drive computer amongst others. Taking its performance into consideration, the petrol variant is rated 16.95km/l and the CVT variant seems to deliver 17.50km/l.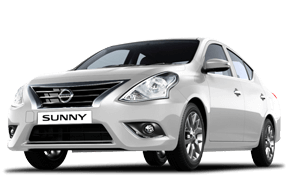 3. Nissan Terrano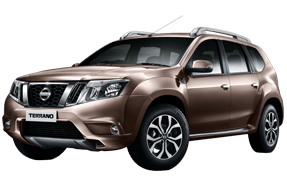 Launched in the year 2017, this car introduces 22 new features. A few significant ones are the new 7-inch touchscreen infotainment system, electrically operable ORVMs, navigation, voice recognition, hill climb assist and cruise control. This SUV comes with a 1.6 petrol engine variant that develops as much as 103bhp and the two 1.5-litre diesel variants that make 84bhp and 108bhp each. The interiors of this car are blessed with fabric seat covers and leather upholstery. As for performance, the diesel powered engine will impress you with the delivery of 19.87km/l and the petrol variants can provide 13.04km/l in their standard conditions.
4. Nissan Kicks
Launched in the year 2019, the SUV has an edgy look with a sharp and upright style of design. It offers an admirable 8-inch touchscreen infotainment system, auto climate control, cruise control, brake assist, hill climb assist and 4 airbags amongst several other sought-after features. It beats its biggest rival, Creta in size. It is interesting how Kicks can accommodate as much as 400 litres of luggage in its boot. It comes with a 1.5-litre petrol engine and 1.5-litre K9K diesel engine, making as much as 108bhp. Where the former gets a five-speed manual transmission box, the latter comes with a six-speed unit.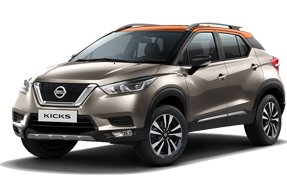 Importance of buying Nissan Car Insurance
One must consider having Nissan car insurance as they can avail the following benefits:
It covers the loss of car or damage that has occurred to your car.
It provides unlimited liability in case of the death or injury of third-party.
You can opt for hassle-free cashless or instant settlements in case of Own Damage Claims.
Protection against the loss of third party property damage.
Coverage against personal accidents that applies to you, your paid driver and the occupants in the car.
Nissan Car Insurance Price
The premium rates for Nissan car insurance plans vary from company to company. It is still important to understand what factors tally up to that price. They are:
The age of your car.
Your car's current market value.
The current condition of your car.
The type of coverage you need.
The terms of your existing policy, if any.
| | | | | | |
| --- | --- | --- | --- | --- | --- |
| Car Model | Variant | Price of the Car | IDV* | Zero Depreciation(Add On)* | Premium* |
| Micra New MC | 1.5 XL D (1461cc) | 7,47,004 | 5,52,447 | 3,714 | 23,637 |
| Sunny | 1.5 XE (1461cc) | 8,60,997 | 7,91,311 | 5,781 | 29,735 |
| Terrano | XE D (1461cc) | 9,99,900 | 9,32,520 | 7,087 | 33,340 |
| Kicks | 1.5 XL (1498cc) | 11,09,000 | 9,76,500 | 6,259 | 25,114 |
*The values are calculated on the basis of city (Delhi) and year of registration (2020).
Nissan Car Insurance Inclusions and Exclusions
Inclusions
The following are the various benefits that are included in your Nissan car insurance:
Coverage against accidental and external damage of the car.
Third-party liability cover.
Cashless repair at network garages.
Own damage cover, including the case of unnatural events such as fire and explosion.
Cover against theft or an act of terror.
All losses covered in case of natural calamities.
Exclusions
You will not be able to cover any loss or damage to you or your property under your Nissan car insurance in case of the following:
Use of the car outside geographical constraints.
Wear and tear, depreciation and any consequential loss to the car, including any electrical and mechanical breakdown.
Driving without a valid driving license.
Driving under the influence of alcohol or drugs.
Damage caused to the tyres of your car.
Using vehicles that are not included in your car insurance plan.
During the times of nuclear war.
Discounts
You can avail the following discounts on your insurance premium:
No Claim Bonus : you can earn a discount on your Nissan car insurance in case of a claim-free year. This bonus can go up to 50% in case no claim was made in the past 5 years.
Accident Cover : For those in the teaching profession or are working for the government, this discount is available for them.
Security Devices : If your car has ARAI approved anti-theft devices, you can get a good discount on your premium.
Add-ons
Zero-Depreciation cover - that can help you claim damage to your car's plastic, rubber, fibre and glass parts.
Passenger Cover - that protects all the other occupants other than the driver in case of death or disability due to an accident.
Engine Protection - that can protect your expenses on engine damage. This is especially beneficial for owners residing in areas prone to heavy rains.