About Skoda India
Established in the year 1895, Skoda Auto, formerly known as Laurin & Klement is a Czech automobile manufacturer. In 1925, it was acquired by Skoda Works and was bought by Volkswagen Group in 2000. It was in 2001 when Skoda Auto India Pvt. Ltd. started its operations in India and launched its first car, Octavia premium saloon, in early 2002 for the domestic market. Currently offering a total of four car models, it comprises three sedans and one SUV. These are sold at a total of 67 dealerships that are spread across 51 cities in India.
The 4 Skoda Car Models
The four Skoda car models that are currently in the Indian market are:
1. Skoda Octavia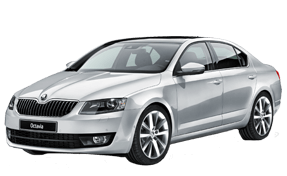 After a number of facelifts, the 2017 Skoda Octavia was launched in India, and it goes up against the likes of Toyota Corolla Altis and Hyundai Elantra. The few visible updates of the new car including the new signature face design have smitten the market. It has visibly moved away from the single headlamp cluster and has opted for a split headlamp unit, calling them QuadraLED headlights. The diesel and petrol variants of the same have engine upgrades as well. The 1.8-litre engine gives 178bhp and 1.4-litre one makes 147bhp.
2. Skoda Rapid
It was launched in the year 2011 and has received a number of changes to date. Bestowed with a fresh dose of updates, Skoda Rapid is a perfect rival of Honda City, Volkswagen Vento and Maruti Suzuki Ciaz. The exterior has received much sharper facelift until recent times, changing the front profile. What adds onto its appeal is the automatic headlights, touchscreen infotainment system and cruise control. The 1.5-litre TDI engine makes it all the better by giving a much higher output than before.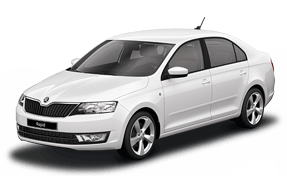 3. Skoda Kodiaq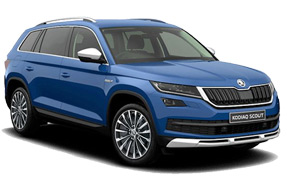 Skoda launched its first 7-seater SUV in India with Kodiaq, which comes only with a diesel engine. Even though it offers seven seats, the seating space in the last row is usable, considering even adults can sit, as opposed to other 7-seaters. It is quite appealing with a large touchscreen infotainment system on the dashboard that contains navigation features. It also comes with a great amount of rear leg space and headroom in the last row of seats. The 2-litre diesel engine manages 148bhp and 340Nm of peak torque. It also comes with a 7-speed automatic gearbox, which makes it perfect to drive on all kinds of terrains.
4. Skoda Superb
After several upgrades, Skoda Superb has emerged with a much larger and cosier version in its third generation model. Originally launched in 2009, it received a feeble response from the Indian buyers. However, the recent change could make all the difference. The increase in length has especially stirred the crowd as the styling seems to be inspired from Skoda's Vision C concept. The interiors are appealing with heaps of room for passengers seated both in the front and the back. There is a notable change in the design of the cabin as well. Superb comes with two engine choices of 1.8 and 2 litre TDI diesel units. This upgrade sure has contributed to the improved performance.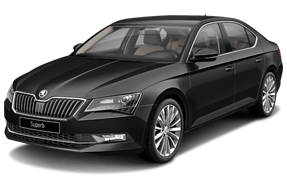 Importance of buying Skoda Car Insurance
It's always better to have comprehensive car insurance even though you have third-party insurance. Here's why:
You can avail cashless repairs at any of the network garages across the country.
The damages and losses caused to both you and third-party will be taken care of.
You can save a whole lot of money with zero-depreciation.
The claim assistance that you will receive will be a hassle-free experience.
You can cover yourself in case of accidents.
Skoda Car Insurance Price
The premium rates of the insurance plans vary from company to company. However, it is important to understand the various factors that contribute towards the calculation of those rates. They are:
Your car's market value
The age of your car
The current condition your car is in
The terms of your existing policy, if any
The type of coverage you need
| | | | | | |
| --- | --- | --- | --- | --- | --- |
| Car Model | Variant | Price of the Car | IDV* | Zero Depreciation (Add On)* | Premium* |
| Octavia | 2.0 TDI MT Ambition (1968cc) | 17,99,599 | 14,44,494 | 7,584 | 59,088 |
| Rapid | Active 1.5 TDI CR MT (1498cc) | 8,99,599 | 8,50,699 | 4,466 | 29,084 |
| Superb | 1.8 TSI Manual Transmission (1798cc) | 25,99,599 | 19,01,205 | 9,981 | 63,546 |
| Kodiaq | 2.0 TDI Style (1968cc) | 35,36,599 | 29,49,323 | 15,484 | 85,179 |
*The values are calculated on the basis of city (Delhi) and year of registration (2020).
Skoda Car Insurance Inclusions and Exclusions
Inclusions
Own damage cover, including accidental loss such as fire or self-ignition. This covers natural calamities and accidents caused due to external means such as theft, terrorism, etc.
Any liability caused to third parties that arise out of bodily injury, death or property damage.
Personal Accident Cover in case of owner-driver death and/or permanent total disability out of an accident.
Exclusions
Driving outside the geographical constraints.
Mechanical and electrical breakdown caused due to wear and tear.
Driving under the influence of alcohol.
Damage caused to the tyres.
Driving without a valid license.
Nuclear war.
Use of vehicles other than the ones specified in the policy.
Add-ons
There are various add-ons you can benefit from when availing your Skoda car insurance. Some of them are:
Passenger cover- Allows you to protect the passengers against death or disability caused in an accident.
Zero-Depreciation Cover- It ensures that you can get a full claim for any damage caused to plastic, fibre, rubber and glass parts.
No Claim Bonus- In case you have a claim-free year, which will earn you discounts of up to 50% on your insurance premium.
Engine Protection It will allow you to claim insurance in case of damage to your engine. Especially beneficial for those who reside in areas that are prone to floods.