Suzuki Bike Insurance
Suzuki Motorcycle India Pvt. Ltd. (SMI) is a subsidiary of Suzuki Motor Corporation, the leading Japanese automobile manufacturer. Earlier Suzuki had collaborated with TVS Motor Corp and was selling vehicles under the brand name TVS Suzuki. Their arrangement came to an end in 2001. Subsequently, SMI commenced in 2006. They have a production plant in Gurgaon that has a capacity of producing more than 5 lakh units of two-wheelers annually.
SMI is ranked seventh among the top-selling two-wheelers in India as of 2019, with sales of 668,787 units. It showed a 33%+ growth over the previous year demonstrating the highest growth among all motorcycle companies. It also showed a 5.7% growth for 2019-20 and rolled out its 50th lakh two-wheeler from its plant in 2020. The Gixxer and the Intruder are the top motorbikes offered by the company in India.
Types of Suzuki Bike Models
Take a look at the popular Suzuki two-wheeler models in India:
1. Suzuki Gixxer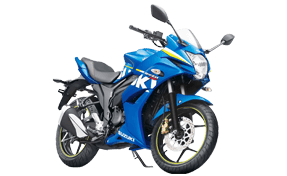 The Gixxer is one of the top bikes offered by Suzuki. It has a 155 cc engine with a 5-speed gearbox. It is well-known for its muscular street fighter-style with flat and wide handlebars. It has a single-channel ABS that ensures complete safety on the road while braking.
2. Suzuki Intruder
The Intruder is a cruiser from Suzuki that has a 155 cc air-cooled engine with a 5-speed manual gearbox. The Intruder has disc brakes and produces a power of 14.14 PS. The bike design with the prominent front cowl with a double-barrel exhaust presents a stylish appearance.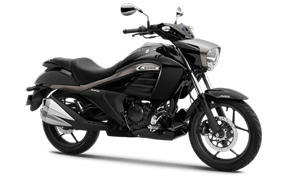 3. Suzuki Hayabusa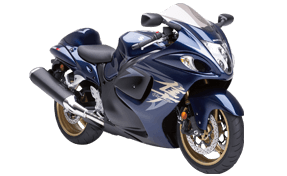 The Hayabusa is a superbike from Suzuki. It has a 1340 cc liquid-cooled four-cylinder engine that delivers the power needed for highway driving. The aerodynamic design of the bike is its hallmark. It has a dual-channel ABS to ensure safety on the road.
Suzuki Two Wheeler Insurance Premium Calculation
The premium you would be paying for your Suzuki bike insurance depends on the variant of the model you are buying, the engine capacity, the year you register the bike, the place of registration, among other noticeable factors. Some of the top bikes of Suzuki and their premium prices are listed below:
Bike Variant

Ex-showroom price of the bike

IDV*

Zero Depreciation

(Add On)*

Premium*

Suzuki Gixxer STD

Rs.1,17,000

Rs.1,08,360

Rs.190

Rs.7,197

Suzuki Intruder Fi-STD

Rs.1,26,000

Rs.1,24,000

Rs.149

Rs.6,158

Suzuki Hayabusa

Rs.13,74,941

Rs.10,44,955

Rs.3,927

Rs.24,108
**Last Updated on 13-11-2020
*The price is calculated for a 2020 model registered in Chennai.
Suzuki Bike Insurance: Add-ons
You can get certain exclusions in your policy covered by buying add-on covers. The following are some of the popular add-on covers that would enhance the scope of your insurance policy:
Zero depreciation cover: Depreciation is calculated on all bike parts to account for wear and tear. This reduces the claim you may make. Buying the zero depreciation cover would allow you to get a higher claim since depreciation is counted as zero.
Key loss cover: In case you lose your bike key, then you need to get the key replaced, which will be expensive. Buying this cover will allow you to claim for the cost of replacing the lost key.
Consumables cover: Consumables like screws, oil filter, etc. are billed during the repair. These expenses are not covered under the basic insurance policy. This add-on cover will allow you to claim for the costs of consumables used for your bike repair.
Accessories cover: Any accessories that you include in your bike are not covered in your insurance. Buying this add-on will allow it to be covered under insurance, so any damages to the accessories can be covered in your insurance policy, allowing you to make a claim.
Suzuki Two Wheeler Insurance: Renewal Process
You must renew your bike insurance policy on time to ensure continued coverage. You can do this conveniently through PolicyX.com by following the below steps:
You will find the option 'Free Quotes from Top Companies' on the top of this page.
Provide the details asked and choose 'Continue'. You need to then provide your name, city, and phone number. You need to enter the verification code after which you can view quotes from different insurers.
Go through all the quotes, compare the prices and coverage and then select one of them.
Once you select a quote, you will be transferred to the website of the insurer, where you can complete the renewal process.
On payment of the premium and completion of renewal, you will get a confirmation email as well as the soft copy of the insurance policy.