TVS Bike Insurance
TVS Motor Company is one of the leading automobile companies in India and is part of the respected TVS group of companies. TVS manufactures scooters, mopeds, three-wheelers, electrical vehicles, and motorbikes. It is the third-largest manufacturer of two-wheelers in India. The company has three plants in India with a total production capacity of 4.95 million vehicles. The company had revenue of 18,217 crores for the year 2019-20. The company had a 14.8% market share in the two-wheeler sector with sales of more than 3 million units in FY 2019.
TVS earlier had a tie-up with Suzuki and marketed bikes under the brand name TVS-Suzuki. The arrangement ended in 2001 after which TVS started offering its two-wheelers under its own brand name. The company's TVS Apache and Sport series of bikes are popular.
Types of TVS Bike Models
The following are some of the bikes offered by TVS:
1. TVS Apache RR 310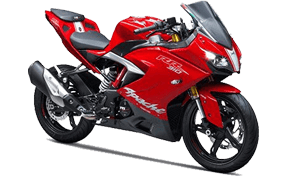 The RR 310 was earlier known as the Akula. The muscular trendy bike has a 312.2 cc reverse-inclined engine mated to a 6-speed gearbox. This sports bike has racing style body graphics and has dual-channel ABS for safety. The TFT dashboard is the highlight of the bike.
2. TVS Sports
The Sport has a 109.7 cc engine that delivers 8.29 PS power. It has a 4-speed gearbox. The Sport is a lightweight bike meant for the urban rider. It is available in six different colours. It is available in kick-start and self-start modes. It comes with a single long seat.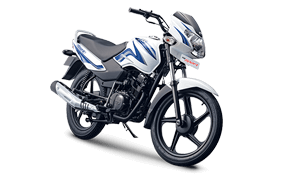 3. TVS Radeon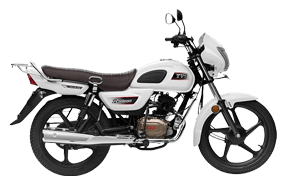 The Radeon comes with a 109.7 cc engine with drum brakes, tubeless tyres, and alloy wheels. It is available in kick and self-start modes. The Radeon is available in eight colour variants. It has alloy wheels with tubeless tyres.
4. TVS Star City Plus
The Star City Plus has a 109.7 cc engine with ET-FI eco thrust fuel injection technology. This technology ensures better performance, greater power, and ensures the best fuel economy. Star City Plus has dura grip tyres and synchronized braking technology for greater safety.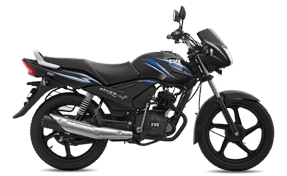 TVS Two Wheeler Insurance Premium Calculation
The premium you would be paying for your TVS bike insurance depends on the variant of the model you are buying, the engine capacity, the year and place of registration, among others. Some of the top bikes of TVS and their premium prices are listed below:
Bike Variant

Ex-showroom price of the bike

IDV*

Zero Depreciation

(Add On)*

Estimated Premium*

TVS Apache RR 310

Rs.2,40,000

Rs.2,31,102

Rs.693

Rs.9.461

TVS Sport STD

Rs.52,335

Rs.45,304

Rs.81

Rs.3,676

TVS Radeon STD

Rs.58,992

Rs.53,935

Rs.243

Rs.3,528

TVS Star City Plus 110 cc

Rs.61,788

Rs.50,989

Rs.92

Rs.3,725
**Last Updated on 13-11-2020
*The price is calculated for the 2020 model registered in Bengaluru.
TVS Two Wheeler Insurance: Add-ons
The add-on covers for your bike insurance policy will help you enhance the scope of your insurance policy. The following are some of the add-ons you can consider buying:
Roadside assistance cover: This cover entitles you to get roadside assistance for your bike, like towing of the bike, tyre change, battery jump-start, etc. This assistance is provided free of cost, subject to the limits specified.
Engine protector: Consequential damages to the engine of your bike and other engine parts are not included in the basic insurance policy. Buying this policy will ensure it is included, so you can claim for engine damage.
NCB protector: The NCB or no claim bonus is a reward given by the insurer for not making a claim. If you make a claim, you lose the bonus. Buying the NCB protector will ensure that you will retain the NCB and continue to get a discount on the premium (even if you make a claim).
Zero depreciation cover: Depreciation is calculated on bike parts, which reduces your bike value every year. This will reduce the amount you get as a claim. If you buy this add-on cover, it ensures that depreciation is calculated as zero, which is beneficial when you make a claim.
TVS Bike Insurance Renewal Process
PolicyX.com offers a simple, transparent, and convenient way of renewing your TVS bike insurance policy. The following is the procedure for the same:
Locate 'Free Quotes from Top Companies' on the top of this page.
You need to enter the details provided in the form, after which you need to select 'Continue'. After this, provide details like your name, city, and phone number. You will get a verification code, which you need to enter to access the quotes.
You can go through the quotes from different insurers, compare prices, and then choose the best quote.
You will then be redirected to the insurer's website, where you can complete the renewal process and make the payment.
Once the renewal process is done, you will get an email with the confirmation of renewal, followed by an e-mail with a copy of the policy.