About Volvo
Volvo is a Sweden based automobile manufacturer parented by a Chinese automotive company called Geely. It is a luxury car producer which manufactures and markets sports utility vehicles, station wagons and other luxury sedans. It has been the pioneer of new innovative technologies in India. Along with a strong build, it is popular for its comfortable style and on road efficiency. Volvo has, at present, a total of 8 models in India with the price range starting from 26.75 Lakhs. Recently, the company has seen a rising popularity curve in the Indian market which inspired them to introduce new models to appeal to the customers.
Top 3 Volvo Car Models
Below are the top 3 Volvo cars in India.
1. Volvo XC90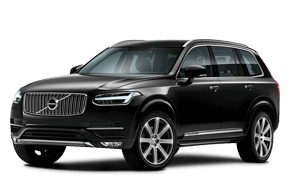 It has great specifications like 8-speed automatic transmission and Direct Injected Turbocharged Engine. XC90 is available in 2 variants - 2.0L diesel engine and 2.0L petrol hybrid engine. The petrol variant offers 640Nm and 400Ps, whereas the diesel engine offers 480Nm and 235Ps. It offers a mileage of 42 and is loaded with tons of luxury features such as Premium Sound System by Bowers & Wilkins, lumbar support on the seats, Wi-Fi Tethering to connect the vehicle to the internet and much more.
2. Volvo S60
A premium luxury car with a powerful 2.0L petrol engine, the Volvo S60 is an all-weather all-terrain luxury car. It offers a max torque of 467 NM and max power of 367Ps. With an All-Wheel Drive feature, it has great speed, amazing acceleration capacity capable of taking it from 0 to 100 Kmph in just a matter of 4.7 seconds. With its 8-speed automatic transmission, it is able to reach a super-fast top speed of 230 km/h.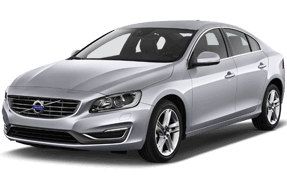 3. Volvo V90 Cross Country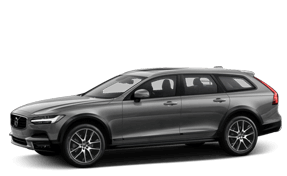 Launched in India in the year 2017, the Volvo V90 cross country is undoubtedly the biggest seller from the brand in India. With a 2.0L Turbo-changed diesel engine, it produces a max torque of 480Nm and power of 235 Ps. It comes with 8-speed automatic transmission and also has all-wheel drive option.
Volvo Car Insurance Price
The amount of premium that you have to pay for your Volvo Car Insurance depends on a variety of factors, such as:
Insured Declared Value (IDV) of the Car
Model and Manufacturing Year
City of Registration
Fuel Type
Claim History
Type of Coverage
Add-on covers
No-Claims Bonus, if any
Cubic Capacity of the Engine
Profession of the car owner
| | | | | | |
| --- | --- | --- | --- | --- | --- |
| Car Model | Variant | Price of the Car | IDV* | Zero depreciation (Add on)* | Premium (Basic)* |
| XC 90 | 3.2 AWD Petrol (3192 cc) | Rs.80,90,000 | Rs.76,85,500 | Rs.36,878 | Rs.1,21,213 |
| S60 | Inscription Diesel (2400 cc) | Rs.44,26,000 | Rs.37,62,525 | Rs.24,456 | Rs.89,020 |
| V90 Cross Country | D5 Inscription Diesel (1968 cc) | Rs.65,31,000 | Rs.53,55,000 | Rs.25,704 | Rs.97,990 |
*The values are calculated on the basis of city (Delhi) and year of registration (2020).
Volvo Car Insurance Inclusions & Exclusions
Inclusions
The car insurance policy covers any loss or damage caused to your Volvo vehicle due to the following natural and man-made calamities:
Fire & Explosion
Accidental & External Damage
Burglary, housebreaking or Theft
Riot & Strike
Earthquake
Landslide
Malicious Act
Storm and Flood
Terrorism
Exclusions
The following list of damages and repairs are not covered under car insurance:
Wear and tear, depreciation or any consequential loss.
Mechanical/electrical breakdown.
Damage caused by a person driving the car without a valid license.
Damage caused by a person driving the car under the influence of alcohol or drugs.
Other exclusions as per the policy terms and conditions.
Discounts
You can obtain different kinds of discounts along with your Volvo Car Insurance, including:
No Claim Bonus: no claim bonus is provided in case the insured doesn't claim any withdrawals in a year. This provides you with a reduction in your premium rate.
Voluntary Deductibles: You can get some discount in your premium amount by voluntarily paying a part of the admissible claim amount.
Anti-Theft Device: Installing anti-theft devices in your vehicle will help you get a discount on the premium as well.
AAI Membership: If you have a membership with Automobile Association of India, you will get a discount on the premium.
Add-On Covers
To give yourself some additional protection, you can take add-on covers on top of the insurance cover. Though they are optional, it would be a good idea to get them by paying some extra amount over the base premium. Here are a few options you could go for:
Zero-Depreciation Cover: This add-on cover will save you from the depreciation caused due to replacement or repair of parts like fibre, glass, plastic or rubber.
Roadside Assistance Cover: This add on will give you protection in case you get stranded anywhere on the road due to car breakdown. You will be able to fetch for help anytime and get access to towing service, changing flat tyres, emergency refueling and repairs.
Medical Expenses: This cover helps pay for medical expenses in case the driver or the passenger get injured due to an accident.
Key Replacement: You can get reimbursed for the cost incurred due to loss or theft of key or car lock.
Consumables Cover: Expenses incurred on parts and consumables including bolts, nuts or oil can be reimbursed using this add-on cover.
Volvo Car Insurance Renewal Process
You can renew your Volvo car insurance via PolicyX.com just by following the below-stated steps-
Go to the top-right corner of this web page and fill the form.
Fill your car details, choose the 'renewal option' and click 'continue'.
Enter the required details and you will land on our quotes page.
Compare different plans and select the one that matches your needs.
Pay the premium and you will receive its confirmation on your registered email id.
If you have any doubt regarding the renewal process, you can freely speak to our representatives on 1800-4200-269.