The worldwide survey in 2017 says 8.8% of the population is diabetic. In the coming years, it's even at higher risk to intensify. The major reason for the same can be a lack of awareness. Since the cause of diabetes is an increase in glucose, it's also known as "Sugar".
A common myth among people is diabetes occurs because of eating sugar. The fact is there are ample factors causing diabetes. Increasing stress, lifestyle habits, heredity are some of the common reasons. There are different kinds of diabetes. The cure for diabetes at an initial stage can prevent the occurrence of many other diseases.
Preventing and managing diabetes is easy with the help of medical science. First, you must know whether you are diabetic or not through medical tests. Frequent medical checkups can help in early diagnosis of diabetes. We are living in an era of health insurance, that can manage all the expenses. It can help people taking steps for diabetes management without any stress.
Causes of Diabetes
Awareness of diabetes causes may help in its timely prevention. Lack of knowledge can make you vulnerable. You must be proactive in managing this disease after understanding the reason. Some of the common causes of diabetes can be as follows.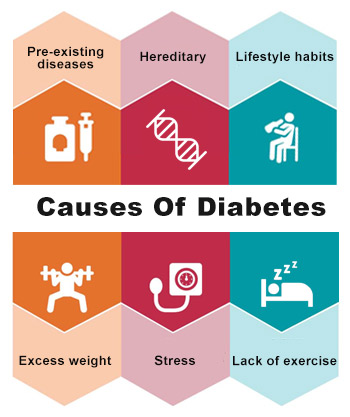 Lifestyle habits
Stress
Hereditary
Lack of exercise
Pre-existing diseases
Excess weight
Damage to insulin cells is a common reason for diabetes. An immune system that safeguards us from many diseases cause its destruction. According to scientists, an external virus is a common reason for such behavior. Heredity can also lead to diabetes. Stress can also create a certain type of diabetes. Anxiety can make your immune system weak, making it exposed to viral infections. Some of the other technical reasons that can cause diabetes in subtle ways are.
Genetic Alterations -At times, due to a change in genes, the pancreas is not able to produce enough insulin required by our body. The major reason for that can be hereditary factors. It can eventually cause diabetes.
Hormonal Diseases -Certain hormonal diseases can cause diabetes. Pre-existing hormonal diseases can lead to its growth. It can affect Insulin and cause diabetes.
Pancreases Malfunctioning - Damage in the pancreas can affect the production of insulin. In the absence of an insulin-glucose level can go high which can result in diabetes.
Medicines - At times excess of certain medicines intake can also increase the risk of diabetes. Drugs for curing diseases like asthma, psychiatric disorder, arthritis can lead to diabetes.
Types of Diabetes & Symptoms
A disease like diabetes is often followed by some common symptoms. Usual signs of diabetes are as follows.
| | |
| --- | --- |
| Sno | Common Symptoms |
| 1. | Frequent urination |
| 2. | Increase in thirst |
| 3. | A sore throat |
| 4. | Regular nausea and vomiting |
| 5. | Sudden loss of weight |
| 6. | Skin Infections |
| 7. | Vision blurredness |
| 8. | Fatigue |
These symptoms further enhance blood sugar levels. An increase in glucose and other chemicals due to lack of insulin can lead to diabetes. Fasting blood sugar tests can further confirm the presence of diabetes. Besides that, you must also be aware of various types of diabetes. It can help in it's outspread.
Type 1 Diabetes
Lack of insulin in the body is the major reason for type1 diabetes. Damage to Insulin happens by the immune system. Beta cells in the pancreas secrete insulin. The common reason for such kind of diabetes is the virus and heredity.
Type 2 Diabetes
This is one of the most common types of diabetes. It is usually caused because of lack of exercise and other lifestyle-related issues. The most common cause of these kinds of diabetes is obesity and lack of physical sites.
Gestational Diabetes
This kind of diabetes is most common during late pregnancy. This kind of diabetes occurs when pancreases can't produce enough insulin. The most common symptom of this kind of diabetes is excessive weight gain. The reason for this kind of diabetes is hormone changes during pregnancy.
How to Prevent Diabetes
| | |
| --- | --- |
| S.no | Diabetes Prevention |
| 1. | Lifestyle changes |
| 2. | Regular workouts |
| 3. | Controlling excess weight |
| 4. | Managing Stress |
| 5. | Nutritious diet |
Prevention is anytime better than cure. After staying aware of the causes, we can make lifestyle amendments. At times, diabetes may not be controllable. It is more visible in the kids who get sugar at a very young age. In such cases, appropriate precaution can prevent its further expansion. A diabetic patient has to incur a huge cost for its treatment and medical tests. The best way to manage these expenses is by buying a good health insurance plan. It can manage all the costs of treatment. Diabetic patients can also lead a normal life with some caution.
Common diabetes like type 2 can be prevented by exercise and diet. Certain lifestyle changes may also help in the prevention of diabetes. The easiest way is to do regular exercise and eating right. It can help us in controlling or reducing weight. The most common reason for diabetes is excessive weight. By following some steps we can always prevent it.
Managing the Diabetes
The patient suffering from diabetes can lead to a normal life after taking certain precautions. They must take diabetes medicines as prescribed by the doctor. Diet restrictions are must to follow as well. Regular sugar tests are also mandatory to keep it in control. Timely Insulin injection can help in controlling the blood sugar level. Last but not least, the management of diabetes is possible by taking a good health insurance plan. It can help in managing all the expenses incurred during tests. A diabetic patient can take timely treatment without thinking about the cost. All these steps can help in managing the risk associated with the spreading of diabetes.
| | |
| --- | --- |
| Sno. | Diabetes Management |
| 1. | Restricted diet |
| 2. | Timely medication |
| 3. | Insulin intake |
| 4. | Medical tests |
| 5. | Health Insurance Plan |
How can Health Insurance plans help in Diabetes?
In spite of common causes, diabetes can also occur in a very subtle way. The best way to check the risk for diabetes is regular medical tests. Once it is diagnosed, timely medication can help in controlling it. The spread of diabetes can affect other body parts like kidney and liver as well. The risk of a heart attack is also there. With proper management of diabetes, you can handle other health issues as well. Certain Health insurance plans also offer the benefits of free tests.
Usually, people are reluctant for the timely treatment of deadly diseases like diabetes because of a lack of funds. There can be nothing more precious than life. We work and earn money to lead a better life. The key to living a blissful life is staying healthy. Timely medication & treatment can help anyone live a normal life. Everything comes with a cost, many people may not be able to afford costly treatment. They can act smart by managing it with Health Insurance.
The annual premium of any health insurance is way too less than the cost of treatment of diseases like diabetes. Before buying a health insurance plan you can compare the features and quotes of various health insurance companies. It can be easily done on any online comparison site. Half of the disease is cured when we have a solution to managing it. The best way of doing is buying a health policy. It can bear all the timely expenses to keep diabetes in control. Timely treatment of diseases can always lead to a happy and blissful life.