Investment Plans
Investment Plans are a combination of both investment as well as insurance. A part of the premium you pay is used to provide you insurance coverage (Life cover) and the remaining part is invested in the financial instrument as per your risk taking capacity. Such plans help you fulfil your Short-Term as well as Long-Term Financial Goals. Investment Plan is a good option if you want to enhance your wealth and save taxes.
Life insurance is regularly used as a form of funding and is therefore additionally referred to as the best investment plans. First of all, they offer the protection of insurance wherein the insured and his/her nominee or family gets the essential cover to guard towards any potential risks, and secondly, they get a funding product that they could use to meet their desires whether short-term or long-term.
Investment plans are of two types, Unit Linked Insurance Plans or ULIPs that gives returns based on overall market performance, and traditional endowment plans that provide a lump sum or annuity payout when the life insurance coverage funding policy matures. Each of these forms of financial savings schemes or best investment plans offers a policyholder life insurance coverage and a financial savings option.
Looking for that perfect investment plan to multiply your wealth?
Confused about what are these mutual funds?
Have excess money and want to go for a plan that can set you up for the future and your retirement plans?
What about your kid's education and their marriage?
Are you prepared enough?
Are you aware much?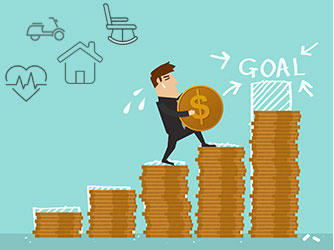 If that sounds like a bunch of complex questions, you have hit the right page!
Investment plans are a mechanism for multiplying your funds. It can not only help you accumulate a lump sum but also provide that security cover that we wish for. Be it a simple life insurance plan or a provident fund, those intense ULIPs or a regular and simple Systematic Investment Plan, investing should be a habit.
No sooner than ever, we as individuals plan to save, but it's the temptation of the entire world that keeps coming back in the form of lucrative sales and offers. How often have you walked into that store that flashed that banner saying "FLAT 50% OFF!!!?"
You love those new shoes but do not have the surplus to invest in it. Imagine saying no to your favourite pair! Don't you just want to reach out to that credit and spend it all? Of course you do, and honestly, most of us are guilty of doing that.
Therefore, all of us need that perfect investment plan which not only makes us keep that vow of "saving money from this month" and seeing those extra zeroes at the end of the amount, but also be prepared for a rainy day.
The internet is already swarming with a plenty of options. mid cap funds, balanced funds, growth funds, provident funds, which one should you opt for? Good news for you is that tax savings are also possible when you are investing in the right plans. If you belong to the 30% tax slab audience, it becomes highly essential to cut down on taxes too. But with the limitations of Section 80C and others, doesn't it become just too challenging? You do not want to keep visiting a CA and end up paying that saved amount now, do you?
ULIPS are an excellent investment option as they invest a part of your money in the markets, namely- debt or equity with a chance of high returns. While, an endowment plan offers lower but safer returns. However, a purchaser does not get to see where his money is being invested due to the opaque nature of endowment plans, unlike ULIPs in which they realize wherein their cash is being put. Ulips are popular as high-quality investment plan.
Endowment plans have their benefits. Where ULIPs delivers the investment of policyholder with lots of flexibility and transparency, endowment plans act as a guaranteed financial savings option as they provide definite returns.
Analyse Your Risk Profile
Find out how much you are willing to lose. Are you a market player who gets befuddled with all the smattering of how the stocks perform? Does it bother you if you do not get the returns you wished for? Are you willing to wait long enough to see your funds perform better?
You need to answer these questions before you pick out an investment plan which is ideally advised by your financial advisor.
Budget
It hardly makes any sense to pool all your money and put in a fund. You need to pay the rents and utilities, remember? So how do you decide?
Find out how much of excess funds you would have at the end of the month! Figuring out a decent number can prepare and set you up for a plan. Start off with baby steps where you can afford a couple of losses. No one wins big with a smaller amount!
Investment Plans
What investment plan do you want to go for? Is it a retirement fund or a short-term goal? Is it going to be for your own wedding or for your children's? Figuring out a financial goal can give you a clear picture of what kind of fund you would wish to invest in.
Whether you want to play it safe or be an aggressive or demanding investor, it all depends on the kind of budget and risk appetite you have. All that said and done let's find out the best investment plans India has to offer to you as a whole!
The Entire Investment Arena Can Be Divided Into 9 Major Categories
Fixed Deposits

As the name suggests, it is a fund that needs to go into an account which has a fixed rate of interest and is not eligible for a withdrawal unless it hits the maturity date.

As the oldest investment scheme known in India, the fixed deposit is one of the easiest investment plans. Even if it has a minimum block of 5 years, it offers that interest up to 7.5% per year which is also subjected to the taxes. Yes!!!!! If the entire interest accumulated on your FD account is more than 10,000 INR, TDS or Tax Deducted at source becomes a reality. Get hold of that online interest calculator and invest wisely.

TDS issues, lowering returns have taken a toll on its popularity. But the principal amount deposit by you is free from any taxation policies. Moreover, it is a classic investment option which is recommended by one and all irrespective of opinions.

However, of late FDs have started losing out in the rat race of investment plans due to their reducing interest rates. Once looked upon as a mechanism to multiply the wealth has now been replaced with concern with respect to the returns anticipated.

Customers can also avail loans on the Fixed Deposits. When you check with your bank, you will find out that you are indeed eligible to take a loan of up to 90% of the entire FD amount! But the tenure of loan cannot be more than the fixed deposit tenure for obvious reasons. The interest rate is slightly higher too. But at the end of the day, you could insure your FD account too. Did you know that the RBI lays down certain rules that explain the various protection features that need to be offered to all FD accounts across the country?

Bonds

Have you ever lent your friends any money with interest? Bonds are a similar deal; it's just the friend here is the bank. The issuer is liable to pay you the debt it owes you in form of these government bonds. It is more or less like a contract which aims at repaying the borrowed money with an interest rate which is paid out at fixed intervals.

It is a long-term financial investment which allows the bondholders to make the creditor liable. Are you wondering how it is different from the stocks or the stock market? The stockholders have an equity stake in an organisation. It simply means that you are a partner who doesn't sit in the boardrooms, but you are a part of the team. However, in, the case of bonds, you are the exclusive boss.

Bonds; however an outstanding proposition it might be, it comes with a maturity date and cannot be extended beyond that time. There are different bonds one can invest in. Capital Gain Bonds, for example, are the ones that offer you tax exemption and benefits. However, the bonds have to be invested in capital assets if you want to bask in the benefits of tax exemption under Section 54EC. With a minimum investment of 10,000 INT and a maximum of 50, 00,000 INR, one can go for bonds for a good three years before it matures. These bonds belong to the NHAI (National Highway Authority of India) and the RECL (Rural Electrification Corporation Limited).

Additionally, there are other government bonds which can be held by individuals, Hindu United Families, institutions or universities. Even if there is no maximum limit on the investment amount, the minimum deposit needs to be at least 1000 INR, and then the face value multiplies in the same denomination.

Interest on bonds is taxable. But the entire bond amount is exempted under the Wealth-tax Act. One can always subscribe to the bonds in the form of cash, Drafts, Cheques. If you intend to invest in the bonds, you can always go for a Bond Ledger Account which is tracked manually by the creditor. Walk into any nationalised banks, and they would issue the bonds on behalf of the Reserve Bank of India. Bonds can be issued for minors, but it does not allow any nomination facilities. However, every nomination needs to be registered with the issuing office for better management of funds.

The bonds cannot be traded, it cannot be used as collateral for loans, and they are eligible to generate an interest rate of 8% annually. In case you want to opt for bonds through a broker, they are certified to charge 1 INR for every 100 INR invested. However, if the broker is not registered with the Receiving office, the bonds offered stands invalid and void.

Endowment Plans

We are all aware of the life insurance plans, and they are one of the best investment options. But are we considerate enough about the endowment plans? Are we even aware of the benefits that an endowment plan has to offer ? Let's find out.

An endowment plan is similar to an insurance plan which is basically paying out a lump sum after the death of the policyholder. An endowment is slightly different. It works in the same way, but there is a catch. The payout is made to the policyholder if they survive until the maturity of the plan. This is termed differently across various institutions. Some call it the endowment term plan, some call it a maturity term, some call it survival term. Nevertheless, if you contract a critical disease before the maturity, you are still eligible for a payout.

But what are the benefits of an endowment plan ? Well, there are too many to even count!

An endowment plan can provide you with the insurance that is essential.
It sets you up for a huge amount once it hits the maturity date.
Long-term investment and an insurance deal, you don't get that everywhere now, do you ?
Additional tax benefits.
You can also extend the coverage up to the age you anticipate !

It is like an insurance plan that you can avail payouts even when you are alive! Not only that but also an investor can choose from the ULIP options. In case you are looking for higher returns, you could go for other investment options like the PPF or mutual funds. One needs to understand that endowment policies are insurance plans, to begin with. It is only an added benefit that you get additional returns on the amount invested.

Pick out from the Unit Linked Endowment, Full Endowment or the Low-cost endowment. Sign up for a calculator, and you could have a lot of data going for you. The investment amount, age, policy term are the basic inputs which are used to calculate the premium amount, maturity value, returns and other factors which become the foundation of that decision.

Life Insurance Corporation has been a pioneer in rolling out the endowment plans, and other institutions followed suit by rolling out different plans. All you need to do is fill out an application with the KYC information details such as a photograph, address proof, identity proof, and medical reports. Not only these plans make you eligible for tax exemptions under Section 80C but also have assured sums which are paid out at the end of term insurance.

Public Provident Funds

An attractive interest rate and tax saving scheme the PPF is a go-to option for almost more than 50% of the salaried population. If you are one of the investors who look forward to a safe and slow plan, the PPF might just be the one for you.

A major lucrative feature of the Public provident fund is its tax-free return at maturity. Did you know that the amount deposited in your PPF account also qualifies for the income tax rebate under section 80C of the income tax act?

Even if it has a lock-in period of 15 years, it has not deterred investors from choosing it as an ideal option. PPF allows withdrawal facilities from the 6th year of investment and a loan at a rate of 2% per annum above the interest paid can be availed from the 3rd to 5th year of investment. Pay that minimum amount of 500 per year to keep your PPF account is active. The maximum limit terminates at 1.5 lakhs. The PPF is a safe investment and is often treated as a retirement option by most Indians.

In July 2017, the RBI announced that the interest rates for all PPF accounts would be 7.8% which will be compounded annually. Even if a lot of investors were disappointed at the falling interest rates, others still had a reason to cheer. Public Provident funds account is easy to open too.

All you need to do is walk into your banks nearest branch. Fill out a form with a copy of your PAN card and any address proof and a photograph. Link it to an account that allows you to set up a standing instruction. It is like signing an authorization form with the bank to debit your account directly. The PPF account gets activated within 24 hours of the application.

Simple, easy, hassle free, good interest rates, loan facilities, better tenures make it a very popular investment option among the chunk of the population who likes to play safe when it comes to analysing investment options.

Unit Linked Investment Plans

A lot of economic forum have unanimously declared ULIPs as the best investment option when it comes to saving taxes. But what are ULIPs? It is an abbreviation for Unit Linked Insurance Plan.

How does a ULIP work? As a policyholder, you could pay a monthly or annual premium. This amount is partly used to secure insurance and part of it is used to invest in mutual funds. Now, you have the liberty to invest for as long as you want, be it 5 Years, a decade or even longer than that. It is totally the investor's prerogative when it comes to choosing the tenure.

Again, there might be a couple of questions hovering regarding the security and safety of the investment. Investors can choose the mutual fund's investment while signing up for the ULIP. Pick out a debt fund if you want a low profile risk or if you want to lock horns with the market standards, go for the riskiest profiles such as equities which clock the highest returns without a doubt.

When it comes to tax savings mechanisms, only 10% of the entire amount is eligible for exemption. So if you plan to invest 10,000INR, then only 1000INR is allowed for deduction under Section 80C.

National Savings Certificate

We tend to undermine post office savings schemes a great deal. But that which misses the big picture is actually the hidden gold behind all the deals. National Savings Certificates are paper-based deposits that are issued by the Post Offices when you make a proper deposit. Not only is it an investment option but also a tax savings document.

There are multiple certificates which are available in denominations issued by the Government of India. So the customer can choose the denomination and pick out the ones whichever suits them. At a towering interest rate of 8.8%, NSC comes in two different forms. NSC issue VIII and NSC issue IX have their respective advantages.

Issue VIII can be availed by everyone except a HUF and a trust. Available in denominations of 100 to 10000, these mature at the end of 5 years. On the other hand, Issue IX has a maturity term of 10 years. With a minimum investment of 100INR, one can embark on the investment journey.

Non-resident Indians, Hindu United Families, and trusts are not eligible to buy NSCs. Contrary to the popular belief; NSCs can be purchased in the name of minors. No premature withdrawal is allowed for this investment, but one can always choose a nominee.

NSC is a lucrative deal for the interest accrued is virtually tax-free until the penultimate year, there is no capping limit for the maximum investment amount, and it can be used a collateral to acquire loans too.

National Pension Scheme

A nominal amount of 6000 INR per year could be possibly your next big retirement plan! Don't believe us then you should probably go for the national pension scheme which is one the underrated investment options in the country.

Even if it was decided that it would be applicable only to the government employees, the NPS eventually gained traction and popularity, when it was offered to the regular citizens as well.

Did you know that it is available in two types of accounts? Have a look!

Tier 1 Accounts

It is a general Pension Account. Even if it limits the withdrawal from the account of the holder, the various terms and conditions allow the account holder to draw 20% of the amount. The rest of the amount can be buying an annuity from a life insurer. But why would anybody do that?

This is doneso as tocertifythat the complete insured income is cleared until the death of the policyholderor till the plan had matured. Not just this but after reaching the age of sixty years also the guarantor is entitled to withdraw only sixty percent of the total amount. The remaining amount has to be insured over by insurance companies. It reverberatesgenerally with the non-withdrawal account where the deposited principal is meant for retirement only.

Tier 2 Accounts

Tier 2 accounts were introduced in the NPS to simplify the transactions. A voluntary savings account, it allows the benefactor to make limitless withdrawals from the account. Even if it is not eligible for any tax exemption, this account requires a minimum balance of 2000 INR to be maintained at the end of every year. Moreover, you NPS reaps you a lot of additional benefits:

Reap those Tax benefits

NPS is available for tax exemption benefits. Section 80CCE allows an amount of 1, 50,000 INR to be savedin the form of taxes. Contribute as an employer or an employee; the NPS has been one of the most inquired schemes in the recent times.

Intermediary fees that make your life simple

Fund managers who manage your NPS are entitled to a fee, and currently, they have raised the fee to 0.25% against the initial 0.10%. Walk into any points of presence, which is ideally the first point of interaction for you, and they are entitled to collect 100 INR as registration fees. You can contribute to the upload which ranges from 20 INR to 25,000 INR depending on the investment amount. Additionally, they also attract a minimum cost of 20 INR as service charges.

Taxation on Maturity

NPS funds are exempted from taxation on withdrawals by The Direct Taxes Codes. However, ambiguity still exists with regards to tax handling. Flexible in its exposure to the equities market, the NPS has performed better than other investment options in the long run.

Tax Saving Mutual Funds

One of the best investment options which have withstood the test of all times, ELSS or Equity Linked Saving Schemes is the best tax saving mutual funds. The best part about it is the higher rate of payback which also helps you save the additional tax.

Even if the returns are known to fluctuate and are not guaranteed, it does not matter if you take up a little bit of risk that suits your appetite. One of the lowest lock-in period that is capped at three years, the entire invested amount under ELSS is tax-free. Do not go for a one-time investment plan; instead, go for a plan that allows SIP to get the maximum benefits out of this particular investment plan.

However, for a long-term plan such as the marriage of your kids, funding their education requires capital appreciation in a shorter time frame. That is when a diversified portfolio that guarantees higher returns to come into play.

Mutual funds can be treated as a long-term safety net when it comes to dealing with the tax based plans. Tax saving investments such as equity-linked saving schemes which enable you for tax rebates under Section 80C of the Income Tax Act are the regular ones that customers tend to choose.

Mutual Funds

Mutual funds are undoubtedly the most advertised investments in the recent times. Want to buy that car? Every smiling uncle in the television advertisement would suggest you go for Mutual Funds! Planning for that exotic honeymoon?Planning for a leisure trip? Want to go on that adventurous trip like your friends did? Mutual funds might be the best possible solution that you have right now!

Safe and guaranteed returns, multiple plans and schemes are available for all kinds of investors. Even if it was not so popular in the past few years, it is indeed notable that many new age investors have been interested in knowing about the different funds and their asset values. Risk and the fear of losing money aside, it is indeed fun and exhilarating once you start off with those investments!

Equities

Even if they top the charts in terms of risk, mutual fund calculators still recommend equities. Large-cap, mid-cap, and small-cap stocks are listed under equities and are often open-ended schemes.

Balanced Funds

A combination of equities and debts is the inception of balanced funds. If an investor wants to be adventurous with a particular fund but still want to play it safe, balanced funds are the go-to options.

Hedging the funds together balances out the profits and losses and gives the investors an optimised return which is highly desirable. Be smart and hedge the right options.

Debts Funds

An alternative option for fixed deposits, debt funds are the most recommended form of mutual funds who wish to maintain a low-risk profile.

Do not feel that the fund is performing too well? Redeem all your invested cash and put it some other fund that floats your boats. It's your money. Be responsible when it comes to monitoring that growth fund.

Birla SunlifeFrontline Equity Fund

It is the most popular among most of the naive investors. With a large cap open-ended growth fund, the portfolio is so diverse that asset owner is known to boast about the variety. One can start off with a minimum investment of 1000 INR. Top notch market performance and better returns in the long term make it a more lucrative fund. Invest all at once or go for a SIP model, the call is absolutely yours.

Mirae Asset India Opportunities Fund

What if someone told you that you could put in a minimum investment of 5000 INR to aggravate that aggressive investor in you? Mirae does exactly that. One of the best among the large-cap funds, Mirae is dedicated to giving you the best ever returns that you ever wished for.

If your sole focus is accumulating wealth, then go ahead and invest in wealth growth plans such as debt Mutual Funds. Touted to have a diversified portfolio of commercial bonds, securities, and papers the returns here are defined based on the market performance. Choose a combination of short term, long term, hybrid and liquid funds to invest in for better results, and you would be anything but disappointed.

Taking in to account the financial goals of the customers, many financial institutions funds offer customised a plan that suits the needs of the investors. It is important to have a customer-centric attitude and enforce the trust quotient which makes it reliable.

Asset management needs experience and expertise. Get hold of those brilliant and talented financial managers who can take care of your money. So which one do you wish to choose?
Why Investment Plan Comparison is Required?
There is no doubt in saying that the market is full of investment offers. You may ask for one and there will be several other offers that can confuse you easily. Just because of this, it will be hard for you to understand which is the best investment plan and which one you should choose. Investment is something that a person does to earn more funds with the help of existing one.Thus, a wrong choice can lead you in trouble, that's why it is essential to do a comparison so you would be able to get the best plan out of all.
By doing investment comparison online it will be easy for you to clear your doubts and confusion related to your investment needs and search for the best plan. By comparing investment plans online you get several options on a single page, where you can compare their features, benefits, disadvantages and prices as well. With all this helpful information, it will be easy for you to choose the best plan for yourself that provides good returns on time. So take advantage of investment plan comparison service and get the best plan in a few minutes.
Importance of Investment Policy

Financial Protection
Your Short and long term goals such as Child's marriage, education, etc can be fulfilled in a planned manner
---

Good Returns
Returns on investment plans are usually better if you consider post-tax yields compared to other investment options (especially in Unit-Linked insurance Plans)
---

Tax Benefits
You get a tax deduction for the premium you pay under Section 80C and the money you realize on maturity is tax-free under Section 10 (10) D of the Income Tax Act
---

Riders Benefits
You can add riders like Critical Illness, Accidental death, waiver of premium, etc.
---

Loan
You can also avail a loan on the investments in case you need money at a later stage. Rate of interest differs from company to company
---

Dual Benefits
You get the benefit of saving your money for future needs as well as increasing your wealth by investing in the stock market.
Types of Investment Plans in India
Things to Check Before Investment Planning
Investment objective
Normally, people invest their funds with a sole objective f getting returns. The time period to meet the desired result may vary from months to years.
Recognize The Fund House
While you put money into a fund, you provide permission to the fund house to use your money on your behalf. The fund house will take care of your investments.
Fund overall performance
The ultimate purpose is returns. Investors ought to look at returns given by means of the fund at some stage in intervals and compare them with the benchmark, commonly an index, and much more. For equity mutual finances, take a look at the long-time period (3-5years) performance, at the same time for debt funds observe returns over the short to medium time period.
Charges
Those small prices may have a huge effect on returns in the long run. A difference of 0.50% in ordinary price over a extended duration of, say, 10 years can make a huge distinction.
However, many people don't have a look at the fund house's claim ratio before making an investment. People should check the same as well.
Research On Fund Manager
It is critical to recognize the fund supervisor as well. One could do so via analysing the overall performance of price range managed by him, specifically all through periods when markets went through tough times.
How to choose best Investment Policy & Buy Online ?
Nowadays there are several investment companies that promise you good returns. They are also offering several useful plans and with so many of them you may get confused. Thus it is essential for you to compare the available plans online. To get the best investment option online, you must take help of an online portal that allows you to compare investment plans from the comfort of your home.
With the help of free comparison service and quotes you will be able to differentiate and understand which is the best for you. It is really essential for you to investyour money in the right investment plan. You can purchase online as that will save you money and time as well.
Tips To Get The Best Investment Policy
Selecting the best investment plan is an important decision. In the same, you will be the individual decision maker. As an individual, you have to bear all the risks that are associated with an investment plan. Thus, you have to take decision properly and wisely as well. Unless you carry sufficient funds aside and getting a secured income regularly, it is advisable not to go for a plan which is a higher risk investment plan. They can bring problems for you.
You must always keep in mind about the golden rules linked with an investment plan
There is no investment plan which is completely secure. There is always a level of risk which is associated with it.
Returns and risk always work in a parallel way. The more the risk the more will be the return and lower the risk the lower will be the return, but with additional safety.
You must first understand the plan thoroughly, then go for it.
The most effective element that you want to do is place an aim before funding. "What exactly it is and what you want to obtain through your investment?" is the question that needs to be answered before making any investment choice, there are several desires that are a solution to the above query. A few may work for a selected purpose, while a few opt for a mixture of desires. Discover below the kind of purpose that exists:
Protection: When the character is choosing this goal, he/she wishes that the threat associated with the authentic funding shoul investment is maximum.
Income: On this type of funding aims, the individual is targeting a constant go with the flow of income via his investment by means of making some normal payment. In this case, there might or won't be a decrease in the unique investment accomplished.
Growth: Here the man or woman goes for a long time investment. Also, the risk is higher than above two. He might get a dividend on the invested amount or won't. He wants to take the gain of the appreciation of the market value.
Consequently, you need to create a right blend of your return and risk. If you have Rs.100, make investments Rs.60 in protection, Rs.20 in income, Rs.10 in growth and Rs.10 in speculation. This will help you in getting a stable return.
Factors To Keep In Mind
Do not invest all the money which you have. Hold a part of it to take care any emergencies
Trust yourself as the final selection maker, in choosing a funding plan
Take advice from straightforward, professional and certified advisor
Before investing in any company, have a have a look at its track record. Don't just make investments because it promises high returns
Before investing make a plan for it
Never make an investment choice simply on the idea of any unsolicited information obtained
Never pick a funding plan from an unknown person
Buying Process
Hassle free place that assist you in buying the desired plan
It will save your time and money as well
Simple process, just enter some basic requirements and details to find the best insurance plan
Compare plans provided by top insurance companies through PolicyX.com
Choose a plan that suits your requirements.
Fill the proposal form that requires some basic information.
Upload your documents online. Make the payment through selected mode
Documents Required To Buy Online Investment Plans
Birth Certificate, 10th or 12th mark sheet, Driving License, Passport, Voter ID, etc.(Any one)
Driving License, Passport, Voter ID, PAN Card, Aadhar Card, which proves ones citizenship
Income proof specifying the income of the person buying the insurance
Electricity Bill, Telephone Bill, Ration Card, Driving License, Passport, should clearly mention the permanent address
Watch Video- Best Investment Plans in India 2021