How To Check SBI Life Insurance Policy Status?
SBI offers various life insurance plans for its patrons including term insurance plans, child education plan, unit-linked insurance plan, endowment plans, pension plans and group plans.
The plans under SBI are customized to suit the insurance requirements of salaried individuals, professionals, business persons, and self-employed individuals. In addition to several benefits offered by the Life Insurance Plans by SBI, the investors can also avail the benefits of easy and hassle-free access to checking the policy status via online and offline methods.
Let's learn more about how to check the policy status of SBI Life Insurance Plans.
Life Insurance Companies
Compare and buy the most suitable Life Insurance Plan from the below-mentioned IRDAI-approved Life Insurance companies.
Steps To Check SBI Life Insurance Policy Status Online
SBI Life Insurance policyholders can check the premium payment status of their insurance policies 24/7 and 365 days in a year, right from the comfort of their homes.
To check the policy status of your SBI Life Plan, follow the steps mentioned below:
1 Step 1
Go to the official website of SBI and look for 'Login' option at the top right-hand corner. Tap on it and click on 'Customer'.

2 Step 2
Register yourself on the portal by entering policy details like birth date, customer ID and policy number. Log in to the portal by entering your credentials on the login page.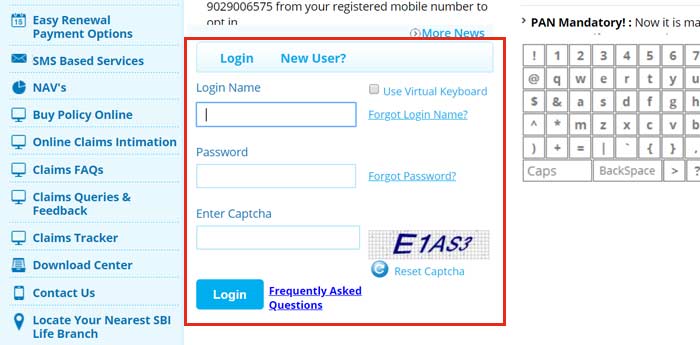 3 Step 3
After you log in, you will be redirected to a new page that will have the option of viewing enrolled policies. You must click on the policy that you need the details for.
4 Step 4
Once you click on a particular policy, you will be presented with the details of the policy like a vested bonus, enrolment date and the amount of premium. Click on the policy number to check the policy status online.
Offline Process for Checking Policy Status of SBI Life Plans
The policyholders can also check the details of their respective SBI Life Plan by using SMS service and call support. The offline process is an easy and quick alternative to the online policy status checking process for those who are not registered with the official website of SBI or have a problem signing up with the website.
Check your Policy Status via SMS

Known among the patrons for its customer-centric approach, SBI has made it easy for SBI Life Policyholders to check the status of their SBI Life Plan even without having to commute to the nearest SBI Life branch. Get easy access to every possible detail on your SBI Life plan via SMS. All you have to do is send an SMS to 9250001848 or 56161 with POLSTATUS <<space>> (Policy Number) written in the body of the message.

Check SBI Life Policy Status Over Call

The 24x7 customer support service offered by SBI ensures that the policyholders get instant updates and information in regards to their SBI Life insurance policy by dialling the toll-free customer care number of SBI. You must keep your policy number handy to be able to extract the details of your SBI Life plan.

Besides the aforementioned options, you can also mail your queries concerning your SBI Life plan via e-mail. Send an e-mail to mysupport[at]sbilife[dot]co[dot]in and get premium related details in a quick and hassle-free manner.