Key Features of Liberty Health Insurance?
With the availability of a number of plans in the industry, choosing the right and the best plan is quite a difficult task. The main concern of a customer is: What plan to choose? One should always be aware of the terms and conditions of the availed policies.
To make the process of choosing an ideal Health Insurance company easier for you, PolicyX.Com has ranked all the 29 health insurance companies on several factors such as market share, network hospitals, claim support, etc.
Considering all such parameters, we can say that Liberty Health Insurance is one of the most trusted and ideal health insurance companies. Let's discuss the key features of the company that makes it class apart.
1

Network Hospitals

Every insurance company is empanelled with a network of hospitals, clinics, and medical professionals who charge a lower fee to their policyholders. So selecting a health insurance company with a wide network of hospitals in your vicinity helps you during medical emergencies. It is one of the important parameters that give you a deep insight into how easily you can access the cashless facility when you need it the most.

Liberty health insurance has a tie-up or agreement with 5000+ network hospitals for offering cashless facilities to the insured person where you are not required to pay any amount to the hospital. All your medical expenses are borne by the insurer so that you can focus on the treatment and recovery of your family members.

Network Hospitals of Liberty Health Insurers and other health insurers 2019-20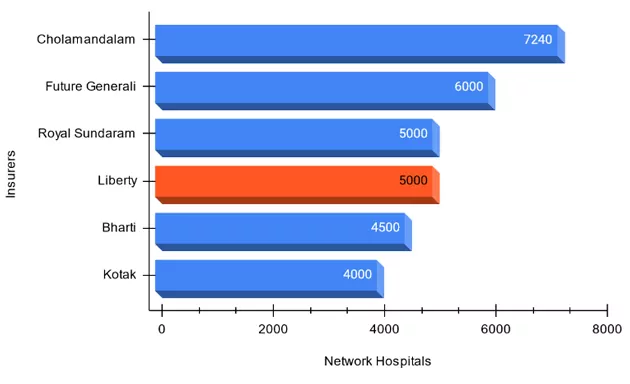 **Data from IRDAI Annual Report 2019-20
The next concern is how to search for network hospitals enlisted with Liberty Health Insurance Company. We have made it easier for you. You can check the Liberty Health Insurance Hospital list with PolicyX.Com as per your state/region.
But, what if you couldn't find a network hospital at the time of a medical emergency? Or are you hospitalized in a non-network hospital that is not enrolled with your insurer?
Worry Not! Liberty offers the option of reimbursement that allows you to file for the refund of the treatment cost you have paid to the hospital.
2

Annual Gross Premium

In the past few years, Liberty Health Insurance has shown significant growth, indicating a rise in business volume based on the consumers' preferences for a product over other similar products. Business volume refers to the total number of policies that are sold by an insurance company and the premiums collected.

As per the IRDAI Annual Report, the market share of Liberty Health Insurance is Rs. 243.62 Crores in 2019-20, whereas, in 2017-18, it was Rs. 136.13 Crores that shows a sizable grip of the company on the insurance sector. However, there was a little decline from 2018- 20 in its annual gross premium but the company has managed to grow its business in this competitive insurance market.

Annual Gross Premium of Liberty Health Insurance From 2016-20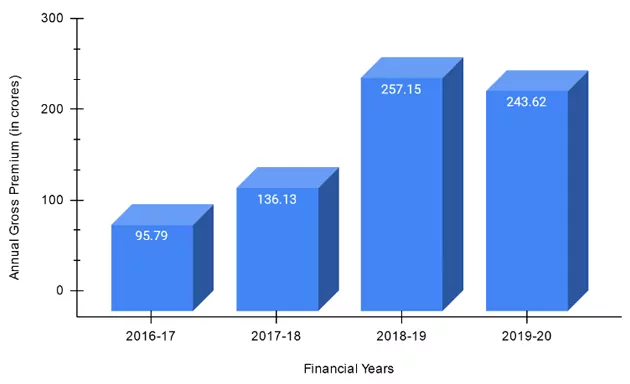 **Data from IRDAI Annual Report 2019-20
It is always important to compare your insurer with other general insurance companies in terms of annual gross premiums. Here is a graph representing the same, have a look.
Annual Premium of Liberty Health Insurance and Other Public Sector Insurers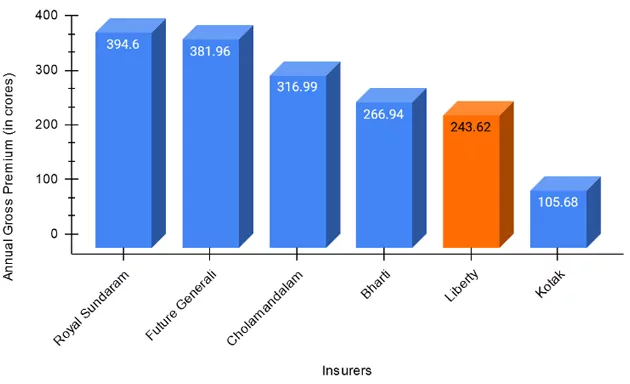 **Data from IRDAI Annual Report 2019-20
3

Claim Support (within 3 months)

Having health insurance from a company that doesn't settle your claim at the time of a medical emergency is useless. Therefore, before buying health insurance, ensure that the company you choose has good claim support. This factor assesses the claim settling ability of an insurer, thus it is an important rating criterion used to rate the company based on its claim settlement.

According to the IRDAI Annual reports 2019-20, the claim support of Liberty Health Insurance is 97.84% that means out of 100 claims Liberty is able to settle 97% of claims in 3 months.

It is always advised to consider claim support within 3 months before choosing any health insurance company. Have a look at the Liberty general health insurance claim status

Claim Support (within 3 months) of Liberty Health Insurance and other top Companies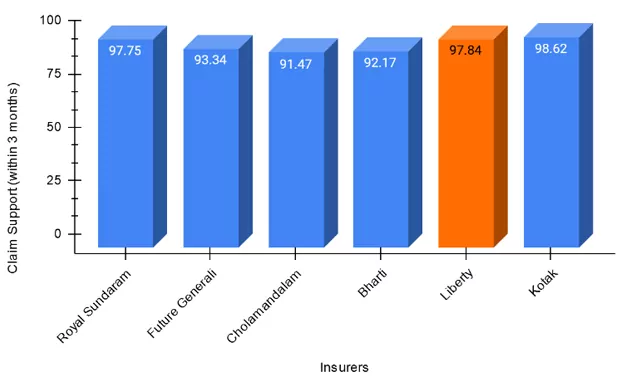 **Data from IRDAI Annual Report 2019-20
The company has witnessed significant growth in the last four years, i.e., 2016-20.
Claim Support of Liberty Health Insurance for FY 2019-20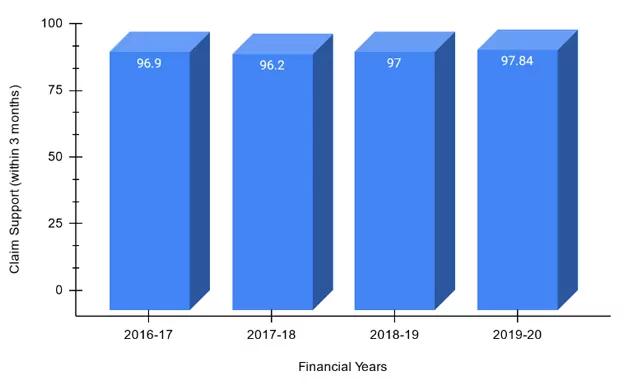 **Data from IRDAI Annual Report 2019-20
4

Solvency Ratio

Apart from Network hospitals and Annual Premiums, another important factor that should be taken into consideration while choosing health insurance is checking the financial background of the insurer. And, for this, customers should check the solvency ratio that helps measure the company's ability to meet its long-term financial obligations, thus indicating the reliability of a company.

The solvency ratio is published in the IRDAI annual reports and, as per the regulatory authority, it is mandatory to maintain a solvency ratio of 1.50 for every insurance provider. Liberty Health Insurance has a solvency ratio of 2.21, which means it very well fulfils the criteria set by the IRDAI and has a good claim paying ability.

Solvency Ratio of Liberty Health Insurance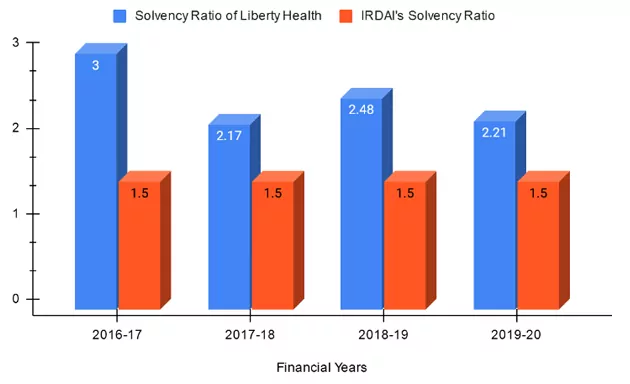 **Data from IRDAI Annual Report 2019-20
The graph states the assessment of the solvency ratio of the last four years i.e., 2016-2020. This indicates the financial soundness of the company with sufficient resources to pay off the claims to the customers. IRDAI publishes the solvency ratio of the year in a quarterly cycle from June 2019 to March 2020.
Solvency Ratio of Liberty Health Insurance 2019-20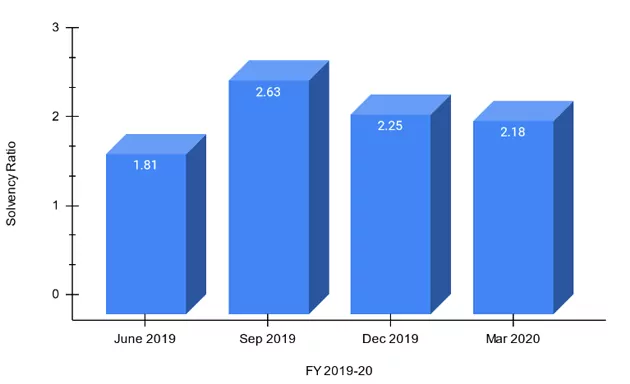 **Data from IRDAI Annual Report 2019-20
Before selecting an insurance company, it is also very important to compare the parameters of that insurer with other public sector insurers to lead a financially secure life.
Solvency Ratio of Liberty Health Insurance and with other top general companies
**Data from IRDAI Annual Report 2019-20
| | |
| --- | --- |
| Network Hospitals | 5000+ |
| Annual Gross Premium 2019-20 | 243.62 Crores |
| Claim Support (within 3 months) | 97.84% |
| Solvency Ratio | 2.21 |
| Market Share | 0.47% |