About HDFC Ergo
HDFC ERGO General Insurance Company is a joint venture between HDFC Ltd. and ERGO International AG. ERGO International AG holds 48.231% stake while HDFC holds a 51.769% stake, making HDFC Ltd the major shareholder in the venture. The company has 126 branch offices across 106+ cities with 3600 employees in India.
It offers a wide range of health insurance products for individual, family, senior citizens, specially-customized plans for women, critical illness and top-up plans to meet all your health expenses.
Highlights of HDFC ERGO Health Insurance
| | |
| --- | --- |
| Incurred Claim Ratio | 62% |
| Renewability | Lifelong |
| Cashless network hospitals | 10,000+ |
| Waiting period | 3 years |
| Grievances solved | 100% |
Table Data updated on 21-09-2020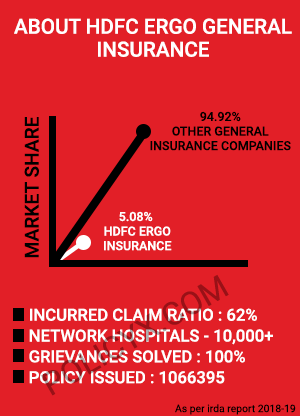 What Are the Types of HDFC ERGO Health Insurance Plans?
1. HDFC ERGO Individual Health Insurance
HDFC ERGO Individual health insurance aims to offer wider cover without any restrictions. It is an effective healthcare plan which takes care of all your medical needs at an affordable premium.
Variants
my: health Suraksha Insurance - Silver Smart Plan: The plan provides a sum insured of Rs. 3 to 5 lakhs and acts as needful support to deal with the growing medical bills. There are no caps on room rent, free health check-up every year and much more.
my: health Suraksha Insurance - Gold Smart Plan: It is a simple yet effective healthcare product which aims to serve your health care needs for over a decade by offering a sum insured ranging from Rs. 7.5 to 15 lakhs.
my: health Suraksha - Platinum Smart Plan: This plan is rightly designed for those who want maximum coverage with a sum insured ranging from Rs. 7.5 to 15 lakhs. It effectively reduces the high financial burden. Other benefits include maternity coverage, pre-existing disease coverage post 3 years and no restriction on entry age.
my: health Medisure Super Top-up: This plan comes into the picture when your basic health plan is not sufficient to deal with big medical emergencies. It provides the required additional assistance in the hour of need when your basic plan's limit meets an end. The plan ensures that you get the best cover without any restrictions and limitations.
Features & Benefits
The plan provides pre-hospitalisation cover for 60 days. The expenses like doctor consultant, check-ups, prescriptions, etc are covered under the same.
It offers 180 days post-hospitalization expenses cover which makes this a unique feature of the plan.
It offers day care procedures under which if the policyholder is admitted even for less than 24 hours, the expenses shall be covered.
If the policyholder requires organ donation from someone, then the organ transplant expenses caused to the donor are also covered.
Coverage for AYUSH treatment (in which Ayurvedic, Unani, Siddha, and Homeopathy medicines are there).
2. HDFC ERGO Family Health Insurance
HDFC ERGO Family Health Insurance plan comes out with a 360-degree protection cover ensuring financial security during health emergencies and hospitalisation of all the family members under a single plan. It provides health cover to your parents, in-laws, niece, nephew, spouse and kids under one umbrella.
Variants
my: health Suraksha Insurance- Silver Smart Plan: There is no limitation on the parameters like room rent, minimum age of the policyholder and illness covered. It also offers add-on covers like the maternity cover to take care of your family at utmost priority.
my: health Suraksha - Gold Smart Plan: It is a simple yet wholesome health insurance cover. The plan is designed with a robust thought and strong base cover that offers integrated wellness services and protection against lifestyle diseases.
my: health Suraksha - Platinum Smart Plan: It is an ideal health cover as it offers a higher sum assured of up to 75 lacs which provides mental health care to cure mental illness of the patient along with the benefit of air ambulance services apart from all healthcare needs during hospitalisation.
my: health Suraksha Medisure Super Top-up: Super Top-up is very important as it offers additional cover to the existing insurance policy with a broader aspect. There is no medical check-up required up to 55 years of the policyholder. If more than 2 members are covered, you can avail a 10% discount under the plan.
Features & Benefits
This insurance policy offers cover for newborn babies in the family. You can also get up to Rs. 25,000 cover for Ayurvedic treatment annually for the entire family.
Convalescence benefit, i.e., if hospitalisation exceeds 10 days, you will get a lump sum amount to deal with household needs.
E-opinion for Critical illness service under which you will get a chance to interact with a special panel of doctors and healthcare experts to seek advice on critical illness.
The plan offers pre and post-hospitalization cover to deal with expenses related to treatment that occurs before and after hospitalization such as consultation charges, checkups, prescriptions and much more.
In-patient treatment together with day care treatment up to 586+ procedures is also available under the policy.
3. HDFC ERGO Parents Health Insurance
HDFC ERGO Parents health insurance helps you to take care of your parents and their health even without hampering your savings. There are many lifestyle diseases that cause problems in the daily life of your parents. This plan offers wellness benefits like the right kind of diet, fitness regime, nutrition, health-related tips that assist your parents.
Variants
My: health Suraksha Insurance - Silver Smart Plan : It is the ideal plan with adequate health insurance cover ranging from Rs. 3 lacs to Rs. 5 lacs. On exceeding 10 days of hospitalisation, the plan pays a lump sum benefit of Rs. 5000 as a recovery benefit to meet the household expenses.
My: health Suraksha - Gold Smart Plan : It is one of the most recommended plans for your parents as it offers a higher sum insured option and a lump sum benefit of Rs. 15000 if the hospitalisation is more than 10 days. In addition to this, the plan offers rebound benefits up to a maximum limit of the base sum insured.
My: Health Medisure Super Top-up : It is an affordable top-up plan that offers lifelong renewability. This plan is designed to enhance your already existing policy. There is no increment of the premium amount after 61 years; the benefit of this plan will continue to be active by paying a constant premium and your parents will get the required extra cover on time.
Features & Benefits
No pre-policy medical check-ups are required for buying the policy up to 55 years age of the policyholder.
There are no sub-limits on any disease, room rent, hospital charges and doctor's fee for the policyholder.
Along with pre and post-hospitalization expenses for 60 and 90 days respectively, other benefits such as day care procedures, costs incurred at home towards the treatment of the patient (domiciliary) and other such related expenditures are covered.
Ayush Benefits for parents, i.e., treatment expenses for Ayurvedic, Siddha, Unani, Yoga, Naturopathy and Homeopathy are covered.
4. HDFC ERGO Senior Citizens Health Insurance
HDFC ERGO Senior Citizens health insurance takes care of medical expenses that arise during unplanned circumstances at the time of old age, i.e., after 60 years where the body becomes less immune and more prone to diseases. The plan is customized for senior citizens that make the post-retirement journey peaceful.
Features & Benefits
Under this, the policyholder can choose the desired sum insured options ranging from Rs. 3 lakhs to 15 lakhs as per requirement and needs.
This insurance also syncs with the technologically advanced healthcare and helps you treat better.
The policy offers treatment for day care procedures along with expenses for AYUSH treatment as well.
Provision of coverage for lifestyle diseases that may cause a dent to your pocket.
Large savings for your retirement life as this plan is liable to pay the income tax benefits up to Rs. 60,000 as per section 80D of the Income Tax Act, 1961.
5. HDFC ERGO my: Health Women Suraksha
HDFC ERGO Women Suraksha is a newly launched plan that is built with a purpose to provide protection to women against various health contingencies. The plan guarantees to provide comprehensive cover under a single plan which offers financial security for different surgical procedures including critical illnesses as well.
Variants
Women Cancer Plus Plan: This variant is a crucial health plan for women to fight against women-specific cancer at all stages along with major illnesses. The plan ensures financial planning is in place even during pregnancy, post-diagnosis support, new-born complications as well as the loss of employment.
Women Critical Illness Essential Plan: This variant of the Women Suraksha policy is liable to secure you against major critical illnesses, cardiac ailments, and other major surgeries. The plan will pay a lump sum benefit in a single transaction instantly upon the claim.
Women Critical Illness Comprehensive Plan: As the name suggests, this plan provides complete safeguard to women for treatment expenses against minor as well as major illnesses, surgeries, and 41 listed critical illnesses. The plan offers 25% of the sum insured to a maximum of Rs. 10 lacs for early-stage cancer in breast and cervix uteri and 100% sum insured for all stage breast, cervix, uterus, fallopian tubes, ovary, vagina/vulva and all major cancers.
Features & Benefits
Multiple sum insured options are available under the plan ranging from Rs. 1 lakh to Rs. 1 crore.
The plan offers long-term policy choices for up to 3 years.
Unique features like reduced premium benefit and coverage for loss of a job.
Provision of wellness benefits such as fitness discounts on renewal, health incentives and health coach for maintenance of good health.
6. HDFC ERGO Critical Illness Insurance
HDFC ERGO Critical Illness Insurance is designed in a specific manner so that it can financially assist the policyholder even during life-threatening diseases such as cancer, asthma, stroke, etc and enables the same from draining your hard-earned savings.
Variants
Critical Illness Silver Plan: The plan pays a lump sum benefit upon diagnosis of any specified critical illness and it provides coverage to following 8 specific illnesses with policy term 1 or 2 years-
Heart Attack
Stroke
Multiple Sclerosis
Cancer
Major Organ Transplantation
Coronary Artery Bypass Surgery
Paralysis
Kidney Failure
Critical Illness Platinum plan: The plan provides comprehensive coverage to the policyholder for as many as 15 specified illnesses, namely -
Multiple Sclerosis
Heart Attack
Aorta Graft Surgery
Major Organ Transplantation
Stroke
Kidney Failure
Cancer
Parkinson's disease
Coronary Artery Bypass Surgery
Paralysis
End-Stage Liver Disease
Primary Pulmonary Arterial Hypertension
Benign Brain Tumour
Parkinson's disease
Alzheimer's disease
Heart Valve Replacement
Eligibility
Anyone who is a minimum of 5 years old and a maximum of 65 years old is eligible for Critical Illness Silver Plan and Critical Illness Platinum Plan cover.
**Note: Eligibility conditions are the same for both the variants.
Features & Benefits
The policy provides coverage against 15 major critical illnesses.
It offers a lump sum benefit to the policyholder post-diagnosis of critical illness.
The policyholder will get the benefit of income tax savings up to Rs.50,000 on the premiums paid for the policy.
Affordability to ensure quality treatment at best hospitals that will get you up and no need to worry about the costs for treatment.
7. HDFC ERGO my: Health Medisure Super Top-up
HDFC ERGO Medisure Super Top-Up health insurance ensures the cushion of ample cover to get the best of medical treatment without any restrictions and limitations to fulfil the skyrocketing prices of treatment.
Features & Benefits
The policy covers in-patient hospitalisation expenses, day care procedures, domiciliary hospitalisation, hospitalisation due to an accident, maternity and newborn baby benefits, ayurvedic treatments, and pre-existing diseases after the waiting period.
It provides health cover to your parents, in-laws, niece, nephew, spouse and kids. Hence you can cover all your loved ones under one plan.
If the policyholder opts for a long-term policy of 2 years tenure, he/she is eligible to avail a 5% discount on the premium amount paid for the top-up plan.
You can enjoy the benefits of this plan after 61 years of age also without paying extra as the premiums will remain constant.
If you wish to cover a family of more than 2 members on an individual Sum Insured basis, you can avail a 10% discount.
Any child (from 3 months of age) can get the policy cover if either of his/her parents is already covered under the insurance plan.
How To Purchase HDFC ERGO Health Insurance Plans From PolicyX.com?
Visit the official website of PolicyX.com and enter the details asked in the application present at the top-right corner of the page.
Tap on 'Proceed' and the 'quotes' section will appear in front of you for all the health plans.
Choose the HDFC health insurance plan as per your needs and click on the 'Buy' option.
The final step is to make the payment.
Once the transaction is successful, a soft copy of the policy document will be shared with you on your registered email id.
How To Renew HDFC ERGO Health Insurance Plans From PolicyX.com?
Step 1: First, you need to click on this 'link' to renew your existing HDFC health insurance policy online.
Step 2: Then choose the category as 'Health'; provide the basic details like name, email, phone, city, etc. and tap on 'Submit'.
Step 3: Select the plan you want to renew from the drop-down list together with the name of the company name and click on 'Renew Now'.
Step 4: You will be directed to the website of HDFC ERGO. Scroll down and select 'Renew' present at the top of the page and then 'Health Insurance'
Step 5: Provide the policy number and click on the 'Renew Now' option.
Step 6: Make the payment. You will be provided with the soft copy of the renewal confirmation on your registered email address.
What Is the Claim Process of HDFC ERGO Health Insurance Plans?
In case of hospitalization, intimation should be immediately provided to the company (not later than 7 days) and documents should be submitted within 15 days of request or discharge from Hospital or completion of treatment, whichever is earlier.
Cashless Claim:
The policyholder has to fill the pre-authorization form present at the hospital's insurance help desk.
Then the policyholder has to submit the form.
The Claim Management team will contact you for the verification process of your claim.
You will receive an approval letter from the claim management team upon successful verification.
The details of the claim will be shared on your registered email id and phone number.
If you have any queries regarding the claim, you can directly contact the company's customer service.
Reimbursement Claim:
The policyholder has to fill the required claim form after paying the hospital bills and submit along with the required documents, according to the policy terms and conditions.
Necessary documents may include discharge summary, prescriptions, and bills, etc. which will be processed along with the form.
HDFC shall call you to proceed with the verification process.
You will receive the notification of successful completion of the verification procedure in your registered email id.
The reimbursement claim will be processed and you will get the same within 3 business days.
What Are the Documents Required During Claim Settlement?
Duly filled Claim Form.
Original documents associated with discharge.
KYC details - ID, Age and Address Proof (e.g. Aadhaar card, passport, driving license, voter ID, etc).
Original bills with a detailed breakup, original invoices with prescriptions and payment receipts.
NEFT details or cancelled cheque for payment of the claim in your bank account.
What Is Not Included Under HDFC ERGO Health Insurance Plans?
Any injury that is caused due to any participation in adventurous activities that can give policyholders an adrenaline rush, and that may result in something hazardous.
The policy does not cover any expense that occurs during the accidents that are caused due to wars or riots.
Any treatment of obesity, cosmetic surgery or any weight loss programme.
Any loss or damage that occurs due to terrorist activity.
Any damage or injury accidents while the policyholder is participating in any defence (Army/Navy/Air Force) operation.
Any expense that arises due to any type of slimming treatment, obesity or cosmetic surgery or plastic surgery.
Any self-destructive act performed consciously or subconsciously such as suicidal attempt, consumption of illegal drugs which are not prescribed by an authorised doctor and any other act which causes loss or damage to the policyholder.
How To Contact HDFC ERGO General Insurance Company?
Contact Address:
HDFC ERGO General Insurance Company Ltd.
D-301, 3rd Floor, Eastern Business District ( Magnet Mall), LBS Marg,
Bhandup (West) Mumbai-400078
Customer Service:
1800 2666 400 (To buy a new policy);
022 6234 6234 / 0120 6234 6234 (For claim, renewal, queries related to existing policy)