HDFC Ergo My Health Medisure Super Top Up
In the current market fluctuations having a rise in inflation, the health insurance cover of Rs. 2 or 3 lakh, provided by your health insurance company may not be sufficient for the hospitalization or a simple medical procedure. Simultaneously, buying a large insurance cover within an existing policy either may not be pocket-friendly or probably not available in the market.
In such cases, the HDFC Ergo My: Health Super Top Up Insurance plan comes as a best option. The My: Health Super Top Up plan provides a good option of buying top-up insurance that works with your existing health insurance policy. HDFC Ergo My Health Medisure Super Top Up is a prominent health insurance policy that may significantly enhance your current insurance plan to provide you a greater coverage at a much lower premium. In other words, if you think your existing policy is unable to meet your medical expenses, this policy helps increase the sum insured and offers wider coverage. It works alongside your current health insurance policy to make sure that all your medical needs are fulfilled.
For example: If your current health insurance cover is of Rs. 2 lakhs availed from any health insurance company, then, in that case, you can buy this additional cover of Rs. 8 lakhs through HDFC Ergo My: Health Medisure Super Top-up plan that makes your total health insurance of Rs 10 lakhs. The first Rs. 2 lakhs of a claim amount will be paid by your existing policy at the time of claim submission and the remaining amount of Rs. 8 lakhs will be paid by HDFC Ergo. So you can claim a total of Rs 10 lakhs from both the insurers (via one claim or multiple claims in a year).
Let's discuss this plan in detail for a better understanding,
What are the Key features of HDFC Ergo My: Health Medisure Super Top Up?
You should buy a health insurance plan after checking all the features and the coverage. So It is always advisable to go through the policy documents carefully or read the below points to avoid the wrong selection. We at PolicyX.com have listed some points that will help you in choosing the right plan-
Higher sum insured at lower premiums along with the option of choosing from a large number of deductibles.
It includes the coverage of expenses incurred during the daycare treatments and pre & post hospitalization expenses
Instant response on every cashless claim
What are the Benefits of HDFC Ergo My: Health Medisure Super Top Up
Health insurance is crucial for you and your families to feel secure and a sense of confidence when you or one of your family members is facing health related problems. To help understand the benefits of health insurance, here's a quick features rundown:

Discounts
You're likely to get a 5% off on the amount of premium, if you take the policy for a continuous period of two years. Also, if you cover more than 2 family members on an individual Sum Insured basis, you can grab 10% off on premium.

Affordability
This plan offers high sum insured at lower premiums.

Pre and Post-hospitalization
Comprehensive coverage including the expenses incurred on pre and post-hospitalization for 30 and 60 days respectively.

Free-Look Period
If you are not satisfied with the coverage and terms of the policy, you may easily cancel it within 15 days from the date of receipt of policy documents. When you do so, the company will adjust the amount spent on stamp duty charges and medical examination to refund the premium paid.

Daycare Treatments
It also includes daycare treatments/procedures with no sub-limits. This plan covers around 141 daycare treatments. You can check the listings of treatments in the policy document.

Less Response Time
Instant response on every cashless claim (response within 6 hours).

Renewal benefit
This plan allows you to renew your policy annually or for 24 months throughout your life. So you can renew your policy after 2 years rather than doing it every year.

Pre-existing illness
Get coverage for the expenses incurred on diseases that you have prior to availing of the policy.

Individual and Floater Sum Insured Options
When it comes to your family, you want the best. This plan provides you the option of a family floater. So now you can also cover your family (spouse, parents, 2 dependent children, and even parents-in-law) with ownself.

No Claims Experience Loading on Renewal
Even if you claim during the policy year, you don't need to pay an extra charge on the premium at the time of renewal.

Loading charges
The loading charges under the plan (applicable on illnesses like asthma, diabetes, etc.) range between 10-40%.

Tax Benefits
By paying continuous premiums for the plan, you are liable to get tax benefits under section 80D of the Income Tax Act, 1961.
Summary of Key Features
In- patient hospitalisation
Expenses covered for the following
Room rent/ICU/Therapeutic unit, Anaesthetist fees, Medical Practitioner fees, nurse fees, oxygen, blood, and anesthesia.
Pre and Post hospitalization
Covered for 30 and 60 days
Daycare Procedures
Expenses are covered
Pre-existing diseases
After 3 years
**Last Updated on 18-03-2021
Eligibility Criteria
Entry Age
Adult - 18-65 years
Child - 91 days - 23 years
Health Screening
After 55 years
Members covered
Self, spouse, children, parents
**Last Updated on 18-03-2021
Sum Insured and Aggregate Deductible
Aggregate Deductible
Sum insured
2 lakhs
3 lakhs
8 lakhs
3 lakhs
7 lakhs
12 lakhs
4 lakhs
6 lakhs
11 lakhs
16 lakhs
5 lakhs
5 lakhs
10 lakhs
15 lakhs
20 lakhs
**Last Updated on 18-03-2021
Why Should You Choose HDFC Ergo My Health Medisure Super Top Up Plan?
Care for your loved ones - This is a holistic cover that provides a health cover to you and your family members(parents, parents-in-law, niece, nephew, spouse, kids).
Constant premiums from 61 years of age - This plan offers you to pay constant premiums after 61 years of age. Enjoy this health cover that makes your old age hassle-free and peaceful.
This plan offers no medical health check-up to 55 years of age
If you are opting this plan for the long term, then you can get a discount of 5% on premiums. If you want to cover your family (family of more than 2 members) based on individual sum insured, then you can avail a discount of 10%.
How does HDFC Ergo My Health Medisure Super Top-up Plan Work?
Supposedly, you choose a sum insured of Rs. 10 Lakh and an aggregate deductible of Rs. 3 Lakh. However, If you make 3 claims in a year and the total claim amount is Rs. 8 Lakh, then after the initial aggregate deductible i.e. Rs.3 Lakh is either paid by you or your current insurance policy (if you have already chosen any) while the additional Rs. 5 Lakh will be paid by the company.
Note: The company is not liable to pay any expenses over the sum insured. To understand better, let's take a look at the below table.
| | | | | | |
| --- | --- | --- | --- | --- | --- |
| | Deductible | Sum insured | Claim amount assessed | Deductible Exhaustion | Balance Deductible |
| At beginning | 3 lakh | 10 lakh | - | - | 3 lakh |
| Claim 1 | 3 lakh | 10 lakh | 1 lakh | 1 lakh | 2 lakh |
| Claim 2 | 2 lakh | 10 lakh | 3 lakh | 2 lakh | - |
| Claim 3 | 2 lakh | 10 lakh | 5 lakh | - | - |
**Last Updated on 18-03-2021
Note: This plan offers pre-policy health check-ups for individuals having age more than 55 years.
For the insured having the following medical/ health illnesses, the proposal may be accepted with permanent exclusions. Acceptance will be given after submitting the reports related to treatment and subsequent medical examinations.
Cancer - Fully cured
Polio Mellitus (not listed on treatment)
Fracture because of the insertion of a foreign object
Hysterectomy (operated before a year from the date of a proposal)
Sample Rates of Premium
My Health Medisure Super Top-up Plan is available in individual and family floater options. This table illustrates the premium payable by individuals for a 1-year policy at different ages and sum insured options (6 lakhs, 11 lakhs, and 16 lakhs) with a deductible of 4 lakhs. You can get your premiums using My Health Medisure Top Up Premium Calculator on HDFC Ergo company's website or at PolicyX.com.
Sum insured (in lakhs)
Age
6 lakhs
11 lakh
16 lakh
30
990
1540
1980
40
1210
1760
2420
50
2750
3300
4400
**Last Updated on 18-03-2021
*Premiums are without taxes
Now let's understand them with the help of a graph,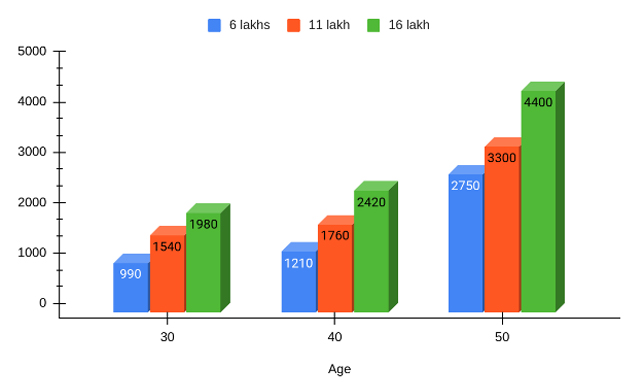 Based on certain factors such as age, medical expenses, treatment cost, medical history, gender, profession, and any addiction, the insurer develops a profile of clients and offers various benefits through the plans. Above we have discussed in detail the benefits of this plan so in continuation with that, we have compared premiums paid by individuals at different ages and sum insured. So with the increase in age, the premiums are increasing on their basis of medical/health conditions. This is an ideal plan for an individual where you can avail the benefits to protect you financially.
As we have discussed above that this plan offers a family floater plan. But every policy has some pros and cons. Likely, My Health Medisure Super Top-up plan does not issue family floaters online. You can visit their nearest branch or can contact them for offline applications.
Note - My Health Medisure Top-up Plan does not issue family floater online
What's not included in HDFC Ergo my: Health Medisure Super Top Up?
Here are the things that are not included in the plan.
Sports Injuries

Adventure sports are arguably vulnerable to accidents and consequently, they could be life-threatening. This policy, however, does not cover accidents encountered if you are involved in adventure sports.

Participation in War

If you are in defense operations like Army, Air Force, or Navy, this policy does not cover accidents.

Injury to Self

If you think doing an injury to yourself will make you liable to make a claim, you're probably wrong! This policy doesn't cover self-inflicted injuries.

Surgery or Obesity treatment

Under the insurance policy, the treatment of obesity or cosmetic surgery is not entitled to coverage.

Sexually Transmitted Diseases

Although STD is a critical illness, this policy still doesn't cover sexually transmitted diseases or something similar.
How to buy HDFC Ergo My Health Medisure Super Top Up?
If you want to buy the policy, make sure to follow these simple steps:
Go to the official website of HDFC ERGO and click on 'Health Insurance'.
You'll then see a 'Buy Now' option. Click on it after choosing the SI.
You'll then need to enter the requested details and click on 'Calculate Premium'.
Make sure you thoroughly check the amount and then make the payment online.
After making the payment, the policy document will be mailed to your registered email address.
Note: You can even buy this plan offline by visiting the nearest branch of HDFC ERGO.
How can I file a claim for HDFC Ergo My Health Medisure Super Top Up?
HDFC ERGO allows its customers to file a claim via two means. Let's take a look at it.
Cashless Hospitalization
If you want to avail of the cashless facility, you must visit the network hospital of HDFC ERGO and simply follow these steps:
Contact the company and inform them about the treatment.
In the network hospital, show your ID proof along with the health card to avail yourself cashless medical treatment without any delay.
The hospital will then contact HDFC ERGO for authorization and approval.
Once the hospital has the approval, you can undergo the treatment.
After the discharge, HDFC ERGO will take care of your treatment expenses.
Reimbursement
If you couldn't visit the network hospital, you can easily claim for reimbursement using the following steps.
Visit your nearest hospital for treatment.
Once your treatment is done, pay the bills and collect all your hospital bills, medical prescriptions, discharge sheet, etc.
You will then need to fill out the claim form and send all the requested documents to the company's office. Make sure you submit original invoices, bills, receipts, and prescriptions to support the claim.
After sending the documents, the insurer will verify the documents.
The insurer will update you through emails and SMS regarding the status of your claim. On approval, the company will process the reimbursement claim by transferring the money directly to your bank account through NEFT.
Documents required to submit a claim
Here is the list of documents that you need to submit for a claim.
A claim form that's duly filled and signed.
Summary of original discharge.
Hospital bills and receipts including all the medical expenses (duly signed by the insured).
First consultation letter and subsequent prescriptions.
Medical reports of investigation along with prescriptions.
Others requested by the company.
Reviews of HDFC Ergo My Health Medisure Super Top up Plan
As per our above discussion, The Medisure Super Top-up Plan is an amazing option that can enhance your current health cover. HDFC Ergo dedicatedly provides you all the required support through their 24x7 active customer care. One of the important considerations of a policyholder is the response time. 90% of the pre-authorised cashless claims related to health are instantly responded within 20-22 minutes and the reimbursement claims are approved within 3 days by the company. So this is a "Go-To" plan that helps you to be financially secure and stable. We always suggest you to go through My Health Medisure Super Top up policy brochure/documents to be fully aware about its terms and conditions.