My Health Medisure Super Top Up
My Health Medisure Super Top Up is a prominent health insurance policy that may significantly enhance your current insurance plan to provide you a greater coverage at a much lower premium. In order words, if you think your existing policy is unable to meet your medical expenses, the policy helps increase the sum insured and offers wider coverage. It works alongside your current health insurance policy to make sure that all your medical needs are taken care of.
Eligibility Criteria:
Entry Age

Adult: 18-65 Years

Child: 91 Days to 23 Years

Health Screening

After 55 years

Members Covered

Self, spouse, children, parents, among others
**Last Updated on 18-12-2020
Coverage Provided:
In-patient hospitalisation

Expenses for the following are covered:




Room rent/ICU/Therapeutic Unit, Anaesthetist fees, Medical Practitioner fees, nurse fees, oxygen, blood and anesthesia

Pre and post-hospitalisation

Yes, 30 and 60 days

Day care procedures

Expenses are covered

Pre-existing diseases

After 3 years
**Last Updated on 18-12-2020
Sum Insured and Aggregate Deductible
Aggregate Deductible

Sum Insured 

2 lakhs

3 lakhs

8 lakhs

 
 

3 lakhs

7 lakhs

12 lakhs

 
 

4 lakhs

6 lakhs

11 lakhs

16 lakhs

 

5 lakhs

5 lakhs

10 lakhs

15 lakhs

20 lakhs
**Last Updated on 18-12-2020
What are the key features & benefits of the Medisure Super Top Up plan?
The following are the features and benefits of the policy. Let's take a look at them.
Discounts: You're likely to get a 5% off on the amount of premium if you take the policy for a continuous period of two years. Also, if you cover more than 2 family members on an individual SI basis, you can grab 10% off on premium.
Pre and post-hospitalisation expenses- All the medical expenses that incur before 30 days of getting admitted to 60 days after discharge are covered by the plan.
Free-Look Period: If you are not satisfied with the coverage and terms of the policy, you may easily cancel it within 15 days from the date of receipt of policy documents. When you do so, the company will then adjust the amount spent on stamp duty charges and medical examination to refund the premium paid.
Tax Benefits- By paying continuous premiums for the plan, you are liable to get tax benefits under section 80D of the Income Tax Act, 1961.
Individual and Floater Sum Insured Options: Under the policy, you may easily cover your spouse, parents, 2 dependent children, and even parents-in-law.
No Claims Experience Loading on Renewal: Even if you claim during the policy year, you don't need to pay an extra charge on the premium at the time of renewal.
Loading charges- The loading charges under the plan (applicable on illnesses like asthma, diabetes, etc.) range between 10-40%.
How Does My Health Medisure Super Top Up Work? 
Supposedly, you choose a sum insured of Rs. 10 Lakh and aggregate deductible of Rs. 3 Lakh. If you, however, make 3 claims in a year and the total claim amount is Rs. 8 Lakh, then after the initial aggregate deductible i.e. Rs.3 Lakh is either paid by you or your current insurance policy (if you have already chosen any) while the additional Rs. 5 Lakh will be paid by the company.
Note: The company is not liable to pay any expenses over the sum insured. To understand better, let's take a look at the below table. 
| | | | | | | | |
| --- | --- | --- | --- | --- | --- | --- | --- |
| | Deductible | Sum Insured in HDFC Ergo Super Top up Policy | Claim amount assessed | Deductible Exhaustion | Balance Deductible | Claim Amount Payable by Other Savings/Policy | Claim Amount Payable by the Policy |
| At beginning | 3 Lakh | 10 Lakh | - | - | 3 Lakh | - | - |
| Claim 1 | 3 Lakh | 10 Lakh | 1 Lakh | 1 Lakh | 2 Lakh | 2 Lakh | - |
| Claim 2 | 2 Lakh | 10 Lakh | 3 Lakh | 2 Lakh | - | 2 Lakh | 1 Lakh |
| Claim 3 | 2 Lakh | 10 Lakh | 5 Lakh | - | - | - | 5 Lakh |
**Last Updated on 18-12-2020
What's not included in my: Health Medisure Super Top Up?
Here are the things that are not included in the plan.
Sports Injuries: Adventure sports are arguably vulnerable to accidents and consequently, they could be life-threatening. This policy, however, does not cover accidents encountered if you are involved in adventure sports.
Participation in War: If you are in defense operations like Army, Air Force, or Navy, this policy does not cover accidents.
Injury to Self: If you think doing an injury to yourself will make you liable to make a claim, you're probably wrong! This policy doesn't cover self-inflicted injuries.
Surgery or Obesity treatment: Under the insurance policy, the treatment of obesity or cosmetic surgery is not entitled to coverage.
Sexually Transmitted Diseases: Although STD is a critical illness, this policy still doesn't cover sexually transmitted diseases or something similar.
How to buy Medisure Super Top Up?
If you want to buy the policy, make sure to follow these simple steps:
Go to the official website of HDFC ERGO and click on 'Health Insurance'.
You'll then see a 'Buy Now' option. Click on it after choosing the SI.
You'll then need to enter the requested details and click on 'Calculate Premium'.
Make sure you thoroughly check the amount and then make the payment online.
After making the payment, the policy document will be mailed to your registered email address.
Note: You can even buy this plan offline by visiting the nearest branch of HDFC ERGO.
How can I file a claim for my: Health Medisure Super Top Up?
HDFC ERGO allows its customers to file a claim via two means. Let's take a look at it.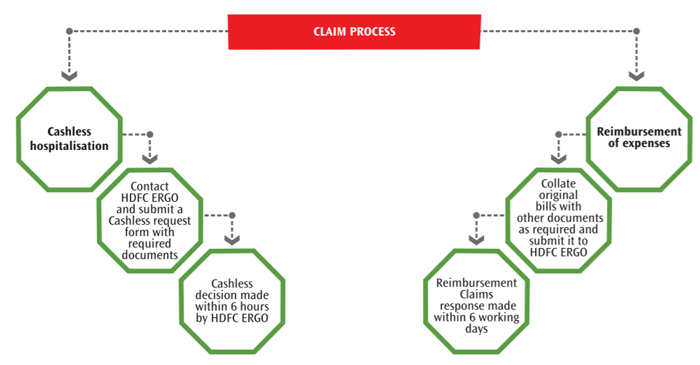 For cashless hospitalization:
If you want to avail the cashless facility, you must visit the network hospital of HDFC ERGO and simply follow these steps:
Contact the company and inform them about the treatment.
In the network hospital, show your ID proof along with the health card to avail cashless medical treatment without any delay.
The hospital will then contact HDFC ERGO for authorization and approval.
Once the hospital has the approval, you can undergo the treatment.
After the discharge, HDFC ERGO will take care of your treatment expenses.
For reimbursement:
If you couldn't visit the network hospital, you can easily claim for reimbursement using the following steps.
Visit your nearest hospital for the treatment.
Once your treatment is done, pay the bills and collect all your hospital bills, medical prescriptions, discharge sheet, etc.
You will then need to fill out the claim form and send all the requested documents to the company's office. Make sure you submit original invoices, bills, receipts, and prescriptions to support the claim.
After sending the documents, the insurer will verify the documents.
The insurer will update you through emails and SMS regarding the status of your claim. On approval, the company will process the reimbursement claim by transferring the money directly to your bank account through NEFT.
Documents required to submit a claim
Here is the list of documents that you need to submit for a claim.
A claim form that's duly filled and signed.
Summary of original discharge.
Hospital bills and receipts including all the medical expenses (duly signed by the insured).
First consultation letter and subsequent prescriptions.
Medical reports of investigation along with prescriptions.
Others requested by the company.