Senior Citizen Health Insurance
This is a type of Health Insurance that offers medical coverage to individuals lying between the ages of 60 and 80 years (depending on the insurer). With a separate health insurance plan for aged individuals, not only one can secure his/her health while dealing with old-age health issues, but can also avail several benefits such as coverage for pre and post-hospitalisation, in-patient hospitalization, no pre-screening, among others.
Top Health Insurance Plans For Senior Citizens
We have selected 5 top plans that are listed below, based on the lowest premium amount for an average coverage of Rs. 5 Lakhs (age is 65 years). Let's take a look at them: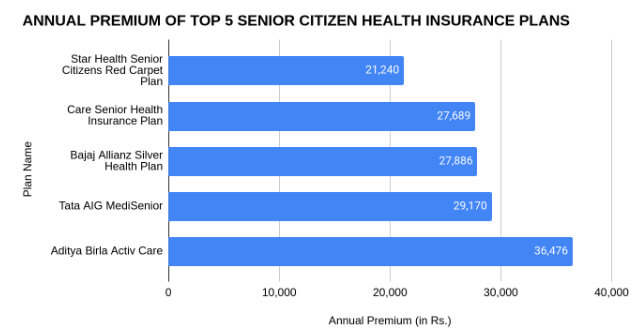 Star Health Senior Citizens Red Carpet Plan (Premium starts from Rs. 21,240/year)

Star Health Senior Citizens Red Carpet Plan offers coverage to the elderly people who are above 60, and looks after their medical needs. With no pre-medical test required, the plan covers the cost of health check-up for every claim-free year (up to the limits specified). It also provides coverage for modern treatments such as Uterine artery embolisation and HIFU, Deep Brain Stimulation, Intra vitreal injections, Robotic surgeries, etc.

Criteria

| | |
| --- | --- |
| Entry Age | 60-75 years |
| Maximum Coverage | Rs. 25 Lakhs |

**Last Updated on 31-03-2021

Care Senior Health Insurance Plan (Premium starts from Rs. 27,689/year)

Care Senior Health Insurance Plan is a comprehensive health insurance plan that provides coverage to the individuals against hefty medical expenses in the second innings of life. With more than 15,500 network hospitals, one can avail of cashless hospitalization without worrying about the treatment cost. Not just this, the plan comes with various add-ons such as co-payment waiver, no claim bonus super, among others.

Criteria

| | |
| --- | --- |
| Entry Age | 61 years-lifelong |
| Maximum Coverage | Rs. 10 Lakhs |

**Last Updated on 31-03-2021

Bajaj Allianz Silver Health Plan (Premium starts from Rs. 27,886/year)

Keeping the healthcare needs of elders in mind, this plan functions to meet them in every manner. It provides a cumulative bonus of 10% of the sum insured for every claim-free year (up to a maximum of 50% of the sum insured). Along with this, the plan offers a family discount of 5% if two or more members are covered.

Criteria

| | |
| --- | --- |
| Entry Age | 46 years-70 years |
| Maximum Coverage | Rs. 5 Lakhs |

**Last Updated on 31-03-2021

Tata AIG MediSenior (Premium starts from Rs. 29,170/year)

Tata AIG MediSenior works to satisfy the healthcare needs of those citizens who are above the age of 60 years. It comes with benefits like a family discount, home treatment, among others.

Criteria

| | |
| --- | --- |
| Entry Age | Above 61 years |
| Maximum Coverage | Rs. 50 Lakhs |

**Last Updated on 31-03-2021

Aditya Birla Activ Care (Premium starts from Rs. 36,476/year)

The plan is designed to meet the healthcare needs of aged individuals. Along with health care check-up and coaching sessions by a personal health coach, the plan grants HealthyReturns program, where one can earn up to 21% of the premium. The plan comes in three variants- Standard, Classic & Premier.

Criteria

| | |
| --- | --- |
| Entry Age | Minimum: 55 years |
| Maximum Coverage | Rs. 25 Lakhs |

**Last Updated on 31-03-2021
Watch Video For Detailed Review of Best Senior Citizen Health Plans
How Is Senior Citizen Health Insurance Different From Standard Health Insurance?
Though standard health insurance is suitable for most people, however, old citizens may not always benefit from it. Not only the entry age is restricted to 60- 65 years (in general), but the benefits and coverage they provide may not be enough for old age.
Generally, looking at your growing age, a standard health insurance policy may ask for medical check-ups, and may deny you the health coverage. However, even if you get the coverage, you will end up paying higher premiums.
Therefore, if you want to spend your money in the right place, it's a safe bet to invest in senior citizen health insurance. Without burdening your wallet, you can avail of an ideal coverage, plus the maximum entry age is close to 80 years (depending on the insurer). Such plans are designed to target old age health problems and give the insured peace of mind during a medical need.
What Are The Benefits Of Medical Insurance For Senior Citizens?
With this health insurance, an aged individual can avail multiple benefits. Some of the crucial ones are mentioned below:

Comprehensive Coverage
With this health insurance plan in your pocket, you don't have to worry about paying for pre & post hospitalization expenses, daycare expenses, ambulance charges, domiciliary hospitalization expenses, among others.
Cashless Treatments
With the availability of cashless facilities,one can easily avail of the cashless medical treatment from any of the network hospitals that are a part of the respective insurer's network.With this, an individual can get the best treatment possible without paying for the expenses (as per the policy).

Life-long Renewability
Many senior citizen health insurance plans come with a lifetime renewability benefit, which offers you the advantage of getting a lifetime cover, without any restrictions or age bar.

Pre Medical Tests
Most insurers don't ask for pre-medical tests in these specially designed senior citizen plans. People who would otherwise opt for a normal health insurance plan at the age of 60+ would most likely have to go through a pre-screening test. This is one very important benefit because in old age, most people have pre-existing diseases and therefore land up not getting any company to offer them a standard plan.

Tax Benefits
Premiums paid under such policies are eligible for tax benefits (Rs.50,000) under Section 80D of the Income Tax Act, 1961. An additional rebate of Rs.5,000/year for preventive health-check is also available.
What's Excluded Under Medical Insurance For Senior Citizens In India?
Below are some of the clauses that are generally not covered:
Pre-existing injuries/diseases (before the waiting period).Self-inflicted injuries.Injuries due to drug or alcohol abuse.Cosmetic surgery. Injury due to war, an act of a foreign army, etc.
To know more about them, get in touch (1800-4200-269) with the experts of PolicyX.com.
Why Should You Choose Medical Insurance for Senior Citizens? Should All Parents Go For It?
As you age older, you get more prone to diseases. Without the backing of a health cover, it'll take a matter of days to finish up your savings. To avoid doing that, health insurance is an absolute necessity. However, as we discussed earlier, there is one minor issue. Standard health insurance comes with a few limitations- maximum entry age of 65 years (generally), the long waiting period for pre-existing conditions, and sometimes even a higher co-payment clause. If you are a person above 66 years, need a low co-pay clause, low waiting period and large coverage, then senior citizen insurance is your best companion.
And before you ask, not all individuals/parents need to go for this type of Health Insurance. If you're looking for health insurance plans for parents with age less than 45 years and a family to cover, then you can consider a family floater health plan. It will cover the entire family under a single sum insured.
What to Keep in Mind Before Buying a Health Insurance Policy For Senior Citizens?
A health insurance policy acts as a legal guardian of your health. You should spend considerable time researching before making a decision. The below-pointers should be a part of your research when you are buying a Health Insurance for aged individuals. Let's learn about them.

Network Hospitals
It's hard to travel when you are old. And it's even harder at the time of a medical emergency. It's convenient to partner with an insurance company whose network hospital is near your residence, so that when a medical emergency arises, you can go to your nearby hospital and avail cashless treatments.

Waiting Period
These plans comes with a waiting period for pre-existing diseases, which means you can avail of coverage for a certain listed illness after a pre-defined number of days. Here, the smart move will be to compare different plans and choose the one that has the lowest waiting period.

Free Medical Check-ups
Old age requires extra prevention and protection in terms of health. And medical check-ups can help you achieve that. If you agree with this statement, then going for an insurance company that offers free medical health check-ups can be a treat for you.

Co-payment
In general terms, co-pay is a predefined amount that the insured promises to pay at the time of a claim. As most of them don't have a regular income, it's not easy to pay up a large claim amount. That's why it is recommended to go for a plan that asks for a small co-pay in return. It puts less pressure on your wallet.
How Can I Decide An Ideal Coverage Amount For Senior Citizens?
Buying a health insurance plan and choosing an ideal coverage for your old age is a simple task if you take all the crucial points into the consideration. Let's briefly discuss a few of them-
Age
Medical costs for the treatment of aged individuals are considerably higher than those of younger individuals. Therefore, they would be needing a plan that offers high coverage. For example, with your grandparents deteriorating age, they may require to visit the doctor more often. Hence, the coverage of Rs.1-2 Lakhs won't be enough.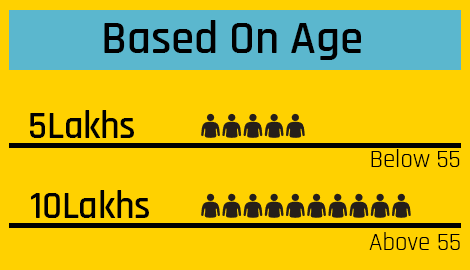 Premiums
What's the point of going for coverage of Rs.20 Lakhs if you can't afford to pay its premium? It will add unnecessary stress on your wallet. Rather, the smart decision will be to opt for a coverage whose premium amount matches your budget.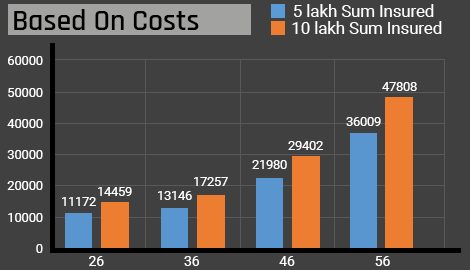 Medical History
Before you decide your ideal coverage amount, do consider if your parents or grand-parents have any medical history. If yes, then analyse the treatment cost by keeping all the factors in mind, and then decide on a coverage amount. For example, the sum insured of Rs.5-10 lakhs won't be enough to take care of your knee replacement expenses.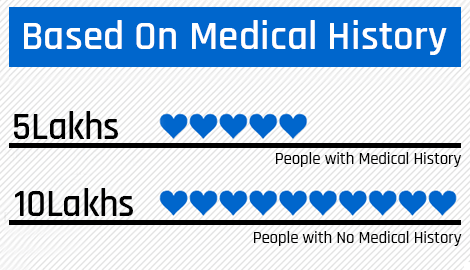 Geographical Location
The coverage amount varies depending on your area of residence. Since healthcare differs from state to state, one living in a metropolitan city would be needing higher coverage. For example, expenses to treat brain surgery in Mumbai would be higher as compared to Ranchi.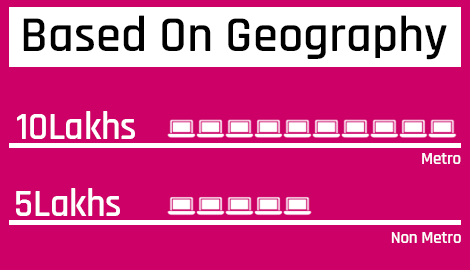 How to Buy Health Insurance For Seniors With PolicyX.com?
With so many insurance buying options available in the market, the risk of fraud also increases. For a safe, quick, and time-saving process, PolicyX.com comes with an easy and user-friendly buying process that allows you to purchase your policy from the comfort of your home.
Step 1
Get quotes from top insurers by filling up a form given on the top of this page.
Step 2
Compare quotes of different insurers and select the desired plan as per your requirements.
Step 3
Submit all the required details and documents.
Step 4
Make the online payment and Congratulations! Your Health is now secured.
How to File a Claim For Health Insurance For Senior Citizens?
Insurance companies allow policyholders to claim for such policies via two means- cashless and reimbursement. Let's discuss both the procedures:
Note: These are general guidelines. It may vary from one insurer to another.
For availing cashless treatment, you need to get admitted to a network hospital associated with the insurance company.
Intimate the company about your hospitalization as soon as possible.
Submit the authorization form along with the photo identity and health card copies at the hospital desk.
The hospital will send these documents to the insurance company for approval.
Once it's approved, you can take the treatment and its expenses will be looked after by the insurance company.
Generally, people who get treated in non-network hospitals file for reimbursement. Below is the process-
Inform the insurance company, avail treatment, settle all the bills and file for reimbursement.
Do collect and submit all the chemist bills, hospital reports, doctors' prescriptions, pathological reports, etc. to the insurance company.
The insurer will verify all the information and process the claim.
If approved, you will receive the reimbursement amount in your registered bank account.
Policy document (Photocopy).
Duly filled claim form.
Attending physician's statement.
Medical records.
Others requested by the company.