Dental Insurance - Covers and Benefits in India
When we pack our luggage for a long road trip, we always take care of our essentials like clothes, Beauty products. We never forget to check the tank of a car and to keep extra food and oil In the can so that in the hour of need we will have our safety plan ready.
This is the human tendency, we try to avoid problems as much as we can from every direction.
Just like this when we take insurances, we try to cover up each and every valuable thing and life of our loved ones along with our life. Moto insurance, health insurance, home insurance, travel insurance, and other life insurance are all matters of human need and we choose everything as per our needs and requirement of the situation.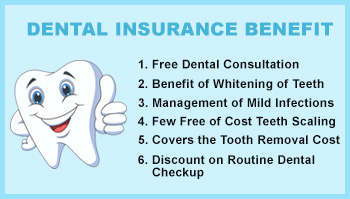 In between the big things of life, we often miss out the small but important things. Same as that if we talk about the insurance we miss basic like dental insurance. And one does not understand the pain until it is of their own. We all have the habit of eating junk food and that results in tooth problems. A single cavity in teeth can result in a chain of problems in the life of a person. If we are not in taking any food because of our teeth problem, it will result in low energy. And it will lead to enormous problems mental economic and physical. A small hole in the teeth can cause a big hole in the pocket of the policyholder.
This is the thing with insurance, we often miss small but important things in life while we are ensuring our assets. And one of such insurance is dental insurance. Sadly, dental insurance is neglected not only by the clients but even the various companies turn their cold shoulders towards Dental insurance and this is not included in the health insurance policies. Dental insurance is the cover that provides a cover for the dental procedures which are arranged by some medical professionals. These dental procedures differ from plan to plan such as root canal, carries filling, dentures and tooth extractions procedures and other. But, one needs to read and be aware of the different clauses in dental Insurance and one needs to make up the mind before buying any policy.
Dental Insurance Benefit And Covers in India
The dental problem cannot be neglected and assumed to be easy in your pockets. They not only need investment but proper consultations and guidance, Dental insurance help one to do so. With dental insurance, the policyholder is much aware of his or her dental health and he or she is motivated to visit the dentist more often. With regular visits, teeth of the policyholder will get long life and there is a need for motivation and awareness in the society as dental health cannot be neglected. There are various benefit of dental insurance in India and some of them are-
Dental Insurance provides Unlimited free dental consultation to the policyholder
Dental Insurance covers the Unlimited digital X-Ray and OPG facility for the policyholder
Policyholder enjoy Discount or few free of cost teeth scaling
The policyholder enjoys the benefit of the whitening of teeth.
Policyholder enjoys Assured benefit at the time teeth bracing and teeth implantation.
Dental Insurance provides a Discount on the routine dental checkup procedures
Dental Insurance Policyholder get the benefit of amalgam and composite teeth filling
Dental Insurance provides facility the policyholder to befit from the steel crowns on the primary teeth
It gives Benefit for the treatment of the infected tooth nerves to the Policyholder.
Dental insurance also covers the tooth removal cost of the policyholder.
Even some minor surgical procedures such as a biopsy of teeth tissue and drainage of minor oral infections are also covered in dental insurance.
Management of mild infections and lesions are covered by dental insurance.
If any existing denture and bridge need some repairing, it is also included in the dental insurance plan.
Few dental plans do not cover facilities like invisible bracing, lingual braces or even transplant, so the above-mentioned benefit and cover are generalized and they are not strictly followed by each and every insurance company. Policy benefit depends On the nature of the plan provided by the company and one should keep a check on the terms and conditions of the policy before buying it.
Western countries are well aware and they treat a dental problem as seriously as any other disease. But, In India, even today the topic of oral health care is not well structured and articulated and because of that As of now, there are no great number of companies that facilitate the policyholders with dental insurance and all the insurances like health insurance, have their own limitations. There are not many Insurance Policies but yes, there are few companies that also accommodate the policyholder with the benefit of dental insurance plans along with other benefits.
Some of The Dental Insurance Providing Companies Are As Follows
Apollo Munich Maxima Health

This plan covers dental treatment and injury but the hospitalization cost is excluded.

Bharti Axa Smart Health

This plan covers any dental injury while the policyholder suffers from any kind of accident.

LIC Health Protection Plus

It provides cover to all dental expenses.

Chola MS Travel Insurance

It covers damage to the dental health of the policyholder while on any travel route.
We need to realize that dental care is as important as any other health care. On one hand, you have to pay lump sum of money for even the minor treatment of your dental care, on the other hand, we have facility of dental insurance that not only help to ease your pocket in hour of need and it will give you the advantage to explore dental care from a better point of view.
Last Updated : December, 2019