About ACKO Health Insurance
Established in 2016, ACKO General Insurance is a newly introduced private sector general insurance company in India. It adopts a completely online-based method for selling its products to the customers and is, therefore, recognized as India's first digital insurer. The company deals in a variety of insurance products ranging from health insurance plans to car, and bike insurance products.
Within just a few years of its inception, ACKO Insurance Company has grabbed significant space in India's insurance industry and become one of the fastest growing insurance companies in the country. At present, this insurance company has served more than 50 million customers across India. The company partners with some of the world's leading digital business groups such as Ola, redBus, Amazon, and OYO. Besides, it has launched several innovative products including trip insurance, electronics cover, and hotel-stay insurance alongside its partner companies.
The company has also received a few achievements and rewards recently. This includes the Golden Peacock Innovative Product award for the unique Ola Trip Insurance product by the company last year. The company was also selected as the winner of the Insurance and Savings category by Financial Express.
To find out more information about ACKO Health Insurance Company and why you should lay your trust in this company, read the sections given below.
Read along to find more about the plan:
Why Buy Health Insurance from ACKO General Insurance Company?
Given the increasing medical expenses in India, getting medical treatment without the help of a health insurance policy can cost you a fortune. That is why buying a health insurance policy has become all the more important nowadays. A health insurance plan sticks by your side in difficult times; offers support by paying your treatment expenses in case of any medical emergency which in turn, protects your savings. But in order to enjoy maximum benefits from a health insurance plan, it is important to select a suitable plan as well as an ideal insurance provider for yourself.
At present, there are 29 health insurance companies in India and all of these companies offer a variety of health insurance products. Due to multiple options available in the market, customers often feel confused while buying a policy. So, to save the customers from facing this confusion and help them in deciding if ACKO Health Insurance is the right choice for them or not, we've listed below the key features of this company. These key features will provide a detailed overview of the company's performance and help in answering the question - 'why to buy health insurance from ACKO General Insurance'.
| | |
| --- | --- |
| Annual premium (2019-20) | Rs. 23.36 crores |
| Claim settled within three months (2019-20) | 93.49 |
| Solvency ratio | 3.39 |
| No. of cashless hospitals | 5000+ |
| Head office | Mumbai |
| No. of employees | 400+ |
Given below is a brief explanation of these features. Let's understand.
1

Network Hospitals

One of the major roles of a health insurance policy is to provide the policyholders with complete financial protection during their difficult times. And a very important feature that helps the most in this regard is cashless hospitalization. This feature allows policyholders to get their treatment done in any of the network hospitals as listed by the insurer. The customer does not have to worry about the hospital bills as the insurance company takes care of them. While selecting a company on the basis of its network hospitals, remember to go for the one that has a wide network of hospitals across the country to offer extensive coverage to its customers.

Fortunately, ACKO health insurance company offers cashless hospitalization benefits in all of its health insurance plans. At present, the company is empanelled with more than 5000 network hospitals across India that allow customers to enjoy hassle-free cashless hospitalization.

For your convenience, we've created a chart below that highlights ACKO's network hospitals list and shows its comparison with other insurers.

Network Hospitals of ACKO Health Insurance Company and other Insurance Providers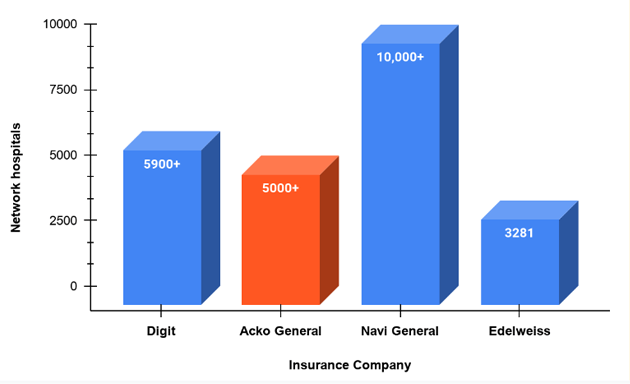 **Data from IRDAI Annual Reports 2019-20
2

Annual Premium

As discussed above, ACKO General Insurance started its operations in 2016 and is a new player in India's insurance market. Due to this, the annual premium figure of the company is not very big but the company has made significant growth in its annual premium amount. The premium amount of this company stood at Rs. 0.1 crores during 2017-18 but later on, it increased to Rs. 23.36 crores in 2019-20. To help you understand better, we've created a graph below that compares the annual gross premiums for the year 2019-20 of ACKO Insurance Company with its other competitors from the insurance market. Let's have a look at it.

Annual Premium of ACKO and other Health Insurance Companies for the year 2019-20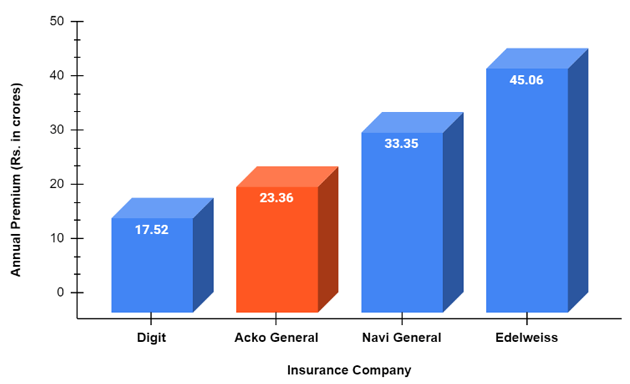 **Data from IRDAI Annual Reports 2019-20
3

Solvency Ratio

Checking the financial background of the insurance provider helps a lot in building trust in that company. And to check this, customers should always pay attention to the solvency ratio of the company. The solvency ratio is a helpful parameter that is used as an indicator to determine the ability of a company to meet its financial obligations. As per the norms set by IRDAI, every insurance company in India is obliged to maintain a solvency ratio of at least 1.5. Thankfully, ACKO General Insurance has performed well in this regard and has maintained a satisfactory record of its solvency ratio. As per IRDAI, the solvency ratio of the company for the financial year 2019-20 was 3.39. This figure can be considered as a healthy solvency score and highlight the fact that this company has the good financial capacity to pay the claim of its customers.

We've created a graph below that highlights the solvency ratio of ACKO Insurance company for the last 3 years. Refer to this chart for a better understanding of the financial soundness of the company.

Solvency Ratio of ACKO Health Insurance Company from 2017-18 to 2019-20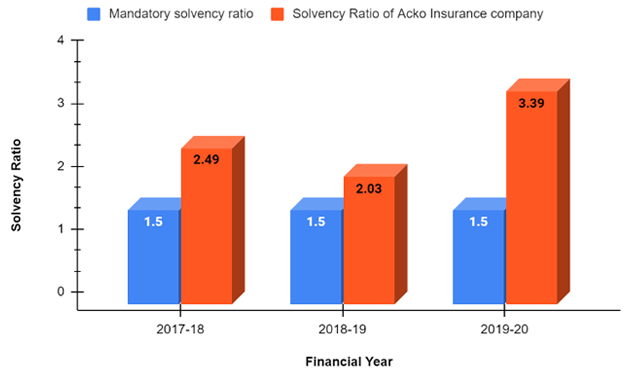 **Data from IRDAI Annual Reports 2019-20
4

Claim Support Ratio

One of the major concerns that customers have while buying a health insurance policy is to make sure that their insurance provider will provide them with the claim benefit whenever an emergency happens in their lives. And to determine the claim paying ability of an insurance provider, it is important to check its claim support ratio. The claim support ratio is a very useful parameter that shows the number of claims settled by the insurance provider within the last three months and helps in determining its claim paying ability. While selecting any insurance provider on the basis of its claim support ratio, customers are advised to opt for an insurance company that has a good claim support ratio.

As per the IRDAI report of 2019-20, the claim support ratio of ACKO General Insurance stood at 93.49% in the financial year 2019-20. The company recorded the highest claim support ratio of 98.80% during the year 2018-19.
Health Insurance Plans by ACKO General Insurance Company
ACKO Health Insurance offers two different types of health insurance plans to help its customers stay financially protected in medical emergencies. Both of these plans are carefully designed to fulfill the diversifying insurance needs of the present customers. Let's have an overview of these plans.
Arogya Sanjeevani Policy

Arogya Sanjeevani is a standard and affordable health insurance product launched by ACKO General Insurance to safeguard the medical requirements of the customers. The plan offers a myriad of features that are extremely helpful to the policyholders.

Key Features

Hospitalization expenses arising due to treatment of COVID-19 are covered 30 days after the start date of the policy.
The plan provides coverage for the ICU and ICCU charges up to 5% of the sum insured or Rs. 10,000 per day.
The policy also covers pre and post hospitalization expenses (up to 30 days and 60 days respectively).
Cover for cataract treatment of each eye is provided under the policy. The coverage offered equals up to 25% of the sum insured or Rs. 40,000.

Eligibility Criteria

Criteria
Minimum
Maximum
Entry age
18 years
65 years
Sum Insured amount
Rs. 1 Lakh
Rs. 5 Lakhs
Product Type
Individual/ Floater
Policy Period
1 year

Group Health Insurance Plan for Employees

Group health insurance is a modern employee benefits plan that provides coverage for medical expenses arising out of hospitalisation to a group of employees/workers of a particular organisation. The plan aims at keeping employees physically and mentally healthy and offers tons of healthcare benefits that are designed for the modern healthcare needs of employees.

Key Features

The plan offers policyholders the freedom to customise their plan benefits and coverage options.
Employees can easily connect with Google Fit/Apple Fitness and track their fitness activities on the ACKO mobile app.
The company partners with more than 35,000 specialist doctors and employees can avail of unlimited free virtual consultations with these doctors.
The policy also offers exclusive pharmacy discounts to the policyholders while ordering prescribed medicines.

Eligibility Criteria

Criteria
Minimum
Maximum
Number of employees that can be covered
20
No limit
Policy Term
The time period for which an employee works for the company
Exclusions of ACKO Health Insurance Plans
While ACKO's health insurance plans cover most of the hospitalisation expenses, there are still a few treatments and medical conditions that are not covered. Given below is a list of exclusions that highlights such conditions. Let's have a look.
Expenses related to any admission primarily for diagnostics and evaluation purposes.
Obesity treatment expenses
Change of gender treatment or surgeries
Treatment necessitated due to participation in hazardous or adventure sports
Any injury or illness that is directly or indirectly caused by war, invasion, any terrorist act, or riot.
Medical treatment expenses related to childbirth or miscarriage
Expenses related to sterility and infertility
Any expenses incurred on Domiciliary Hospitalization and OPD treatment
Treatment has taken outside the geographical limits of India
How to Purchase ACKO Health Insurance Plans?
There are two methods by which customers can purchase ACKO health insurance plans. First, the insurance policy can be bought from the ACKO company's website. Secondly, customers can purchase it by getting in touch with third-party intermediaries like agents and brokers who deal in selling ACKO Health insurance plans.
Out of these methods, the safest and most convenient way to buy ACKO health insurance is by purchasing it online from the company's website. This is one of the best things about ACKO that the company sells its plans in a very easy, effortless, and 100% digital way. There's no need for any paperwork as customers can have access to all the services of the company with just a few clicks only.
For your convenience, we've listed below the steps of buying an insurance policy from the company's website. Let's take a look at it.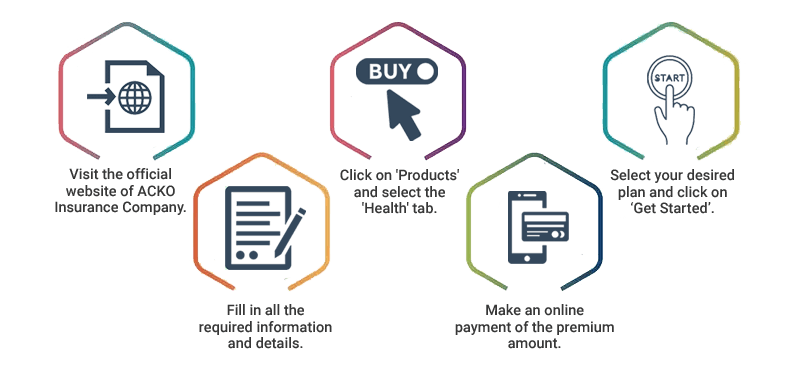 Once the payment is received by the company, it will instantly send your policy documents to your registered email address.
What Is the Claim Procedure of ACKO Health Insurance Plans?
The policyholders of ACKO health Insurance can raise claims for their health insurance policy through following two ways:
Cashless Claims process Under this process, the insurance company settles the medical bill directly with the hospital. It works as a great way to lessen the burden of the customers.
Reimbursement Claims process With this method, policyholders are required to clear their medical expenses arising out of hospitalisation first and then raise a reimbursement claim by submitting proper medical bills and documents.
The claim procedures for both these methods are described below.
Procedure for Cashless Claims
Check whether the selected hospital falls under the list of network hospitals as the cashless claim facility can be availed only at one of the ACKO's network hospitals.
Provide or show the medical insurance policy's ID card to the hospital authorities.
Duly fill the cashless request form and submit it to the hospital.
After verification, the company will issue a pre-authorization letter to the hospital.
At the time of discharge, the insured person has to verify and sign all the medical bills and pay for any non-medical and inadmissible expenses.
Procedure for Reimbursement Claims
Settle all the medical bills.
Collect all the documents provided by the hospital such as discharge summary and bills.
Submit all these documents to the Third-Party Administration or ACKO company.
The company will verify all the documents. On approval, the claim amount will be released.
Notification of Claim
The claim notification with full particulars and important documents should be sent to the ACKO Insurance company or TPA within the prescribed time limit as specified in the table below:
| | | |
| --- | --- | --- |
| S.No | Type of Claim | Prescribed Time limit |
| 1. | Reimbursement of hospitalization, daycare, and pre hospitalization expenses | Within 30 days of the date of discharge from the hospital |
| 2. | Reimbursement of post hospitalization expenses | Within 15 days from completion of post hospitalization treatment |
| 3. | Planned cashless hospitalization | At least 48 hours prior to admission to the hospital |
| 4. | Emergency cashless hospitalization | Within 24 hours from the date of hospitalization or before the insured person's discharge from the hospital |
Documents Required for Filing ACKO Health Insurance Claim
Given below is the list of documents that are required while raising a claim with ACKO company.
Duly completed health insurance claim form
Photo ID proof of the patient
Medical practitioner's prescription advising admission
Original bills and payment receipts
Discharge summary including complete medical history of the patient
Investigation/ Diagnostic test reports supported by the prescription
NEFT Details (to enable direct credit of claim amount in the bank account) and a cancelled cheque.
KYC (Identity proof with Address) of the proposer, where claim liability is above Rs. 1 Lakh as per AML Guidelines
Legal heir/succession certificate
Any other relevant documentation as required by Company/TPA for assessment of the claim