Family Health Insurance
Family health insurance offers coverage to the whole family under a single insurance plan. This is a type of health insurance, that can be customized as per your family's needs. You are free to cover yourself, your spouse, dependent children/parents, among others under the plan. With this type of insurance in your pocket, you can be rest assured that expenses related to accidental injuries or illnesses of all members (including COVID-19) are covered.
What Is The Importance Of Family Floater Health Insurance?
The importance of having a mediclaim for a family can't be underestimated because of the following reasons:

Protection To The Entire Family
Instead of taking separate health plans for all members, you can buy one family floater plan and cover all members under the same. It's hassle-free and inexpensive at the same time.

Affordable
The premium payable for health insurance for families is cheaper than the premium payable for individual health plans. For example, you have a family of 4 members, and you want to buy health insurance for everyone. In such a case, buying an individual policy for each member would be costlier than buying a family floater plan, covering the 4.

Additional Benefits
Companies allow individuals to go for add-ons to boost the coverage of their existing family health plans. Such add-ons include maternity & newborn cover, critical illness cover, etc.

Tax Benefits
One can avail of tax benefits under Section 80D of the Income Tax Act, 1961 by paying premiums of family health plans.
What Is Not Covered Under Family Health Insurance?
The exclusions of health insurance for families differ from company to company. Generally, the following situations are not covered under such plans:
Expenses incurred on plastic surgeries.
Overseas treatments (unless included in the plan).
Any illness or injury resulting due to war conditions.
Any injury due to indulging in unethical activities or adventurous sports.
Complications at the time of pregnancy or childbirth (unless mentioned in the plan).
Self inflicted injuries or injuries caused due to overdose of alchohol or drug abuse
Family Health Insurance or Individual Health Insurance - Which One To Buy?
We know that family health plans cover the entire family under a single sum insured. Whereas, under an individual health plan, there is seperate policy for every person. This means, if there are 5 members in a family, you have to buy 5 health policies and manage them all today. That's not convenient, isn't it? Luckily, you won't face this problem in family health insurance. All 5 members can be covered under a single plan.
Now, let's talk about cost. The premium payable under a family health plan is less than the premium payable for individual policies. Let's explain this with the help of an example.
There are two families - Mr. Verma and Mr. Arora.
Mr. Verma bought HDFC ERGO Optima Restore Family Floater health plan that covers 2 members of his family (himself and his spouse) under a single plan. Whereas Mr. Arora bought HDFC ERGO Optima Restore Individual health plan for himself, and his wife, and hence, has to pay a separate premium for each policy.
Under the Optima Restore Individual Health of Rs. 50 Lakhs (SI), Mr. Arora needs to pay Rs. 44,950 for 1 year.
| | |
| --- | --- |
| Mr Arora | Rs. 22,475 |
| His Wife | Rs. 22,475 |
| Total | Rs. 44,950 |
Under Optima Restore Family Floater Health of Rs. 50 Lakhs (SI), Mr. Verma needs to pay only Rs. 31,466 to cover himself, his spouse and his child for 1 year.
Mr Verma
Rs. 31,466
His Wife
Total
Rs. 31,466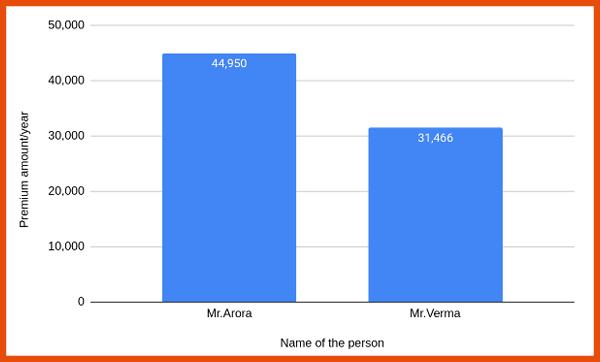 Therefore, Mr.Verma saved Rs.13,484 by opting for a family cover instead of individual policies. Due to this reason, more than 95% of the people in India opt for a family floater cover.
Given the fact that family floater is more convinient and cheaper, there is one thing that you need to keep in mind. People who buy family health plans have to share the sum insured. Meaning, if a husband and wife are covered under Rs.10 Lakhs sum insured, anyone can use that amount. But if both need medical aid of Rs.10 Lakhs at the same time, only one of them can use that amount. Since this kind of situation rarely arises, it makes sense to go for a family floater plan only.
Who Should You Include In Health Insurance For Families?
Most insurers offer coverage of upto 2 adults and 4 children in a family floater policy. Children age limit could vary from 18 to 21 depending on insurer to insurer. There are some plans that also allow extended families to be covered under a single plan. These plans allow more than 2 adults and can cover relations like father, mother, children, self, spouse, uncles, aunts, brothers, sisters, etc. However, such plans are very rare in the market and therefore most of the people go for separate policies to cover specific families
Is it a good idea to include your extended family under family health plans?
The short answer is no. There are multiple reasons for this. The first and the foremost one being that the health insurance requirement varies as per age requirements. For example, if you include your grandparents in a single policy, you will land up having same sum assured for the entire family whereas we usually recommend going for a higher sum assured for elder people. Secondly, the premium cost in a lot of plans are calculated based on the age of the eldest member, so in such a scenario, you would land up paying much more. Third reason is that such plans are very rarely available in the market so you would not have enough choices. Fourth would be that there is a very high chance of exhausting your sum assured if the members increase. For example, if you share a sum assured with only your spouse and children, there is a very rare chance that more than 1 member will require medical treatment at the same time, but if members in the plan increase, the chances of falling ill together increases which also increases the chances of exhausting the sum assured limit.
Therefore, it's better to buy a senior citizen plan for your grandparents and cover your wife, kids, etc. under a family floater plan. Also, there is one more thing to remember here. Mostly, family floater plans cover dependent children up to 21 years. After that, you need to buy a separate health policy for them.
Things To Keep In Mind Before Buying Mediclaim For A Family
Below are some of the key pointers that one should consider before buying a family health policy. Let's take a look at them.

Coverage
Before finalizing the health insurance policy for your family, do check the benefits offered by the insurer. Confirm what type of expenses does it cover, the sum insured it offers, and whether the premium is competitive with other insurers in the market.

Requirements
In several family health plans, you can cover yourself, your spouse, dependent children, and your parents. However, if you have a bigger family and wish to cover your brother or parents-in-law, a few family health plans can meet this requirement. For example, Royal Sundaram Family Plus can cover up to 19 members. However, as mentioned earlier, we usually recommend going for a seperate plan for extended families. Only your immediate family should be covered in a single plan

Claim Process
At the time of need, everyone wants to get their claims settled without any hassles. Therefore, understand your company's claim settlement process thoroughly to avoid any confusion at the time of a medical emergency.
Cashless Hospitalization
Before buying health insurance for your family, make sure that the network hospitals of that company are in your vicinity so that at the time of a medical emergency, you don't have to travel long distances to get the treatment under cashless benefits. Please note that if you get a treatment done from a non-network hospital, then you will have to pay the treatment costs from your own pocket and then go for a re-imbursement claim

Flexibility
If you are not sure about the sum insured and wish to increase it in the future, consider a family health plan that gives you such flexibility. Get in touch with the chosen insurer for more information.
Best Family Health Insurance Plans of 2021
When people search for family health insurance plans, one of their top priorities would be to go for a good company. Defining a good company or a best company is a daunting task as the criteria of a good company may vary from person to person. Keeping this in mind, our research analysts have narrowed down on few parameters to decide the list of best companies to choose from the list of 29 insurers offering health insurance in India. We have shortlisted companies based on thier market share, cashless network and claim experience. We have narrowed down from 29 to 15 top health insurance companies in the market. From them, we have listed 10 companies based on market share and premium charged for 5 lacs and 10 lacs sum assured. Let's learn about them.
| | | | | |
| --- | --- | --- | --- | --- |
| Company Name | Annual Premium (Rs. Cr.) | Plan Name | Premium/year (SI- Rs.5 Lakhs) | Premium/year (SI- Rs.10 Lakhs) |
| Star Health | 6,718.99 | Comprehensive | Rs.17464 | Rs.24686 |
| HDFC ERGO | 3623.49 | Optima Restore | Rs.18261 | Rs.22847 |
| ICICI Lombard | 2695.15 | Complete Health | Rs.16973 | Rs.20208 |
| Care Insurance | 2151.25 | Care Plan | Rs.16613 | Rs.21690 |
| Bajaj Allianz | 2,138.53 | Health Guard (Gold) | Rs.16501 | Rs.19191 |
| Reliance General | 1365.92 | Health Infinity | Rs.15347 | Rs.19572 |
| Max Bupa | 1177.56 | Health Companion | Rs.17217 | Rs.21631 |
| Tata | 835.42 | Medicare | Rs.19221 | Rs.23273 |
| Aditya Birla | 755.5 | Activ Health Platinum-Enhanced | Rs.15610 | Rs.20275 |
| ManipalCigna | 567.29 | ProHealth Protect | Rs.13453 | Rs.19468 |
**Last Updated on 31-03-2021
Annual Premium data sourced from IRDA Annual report 2019-2020
Note: The numbering of the plans is done based on the highest market share of the companies.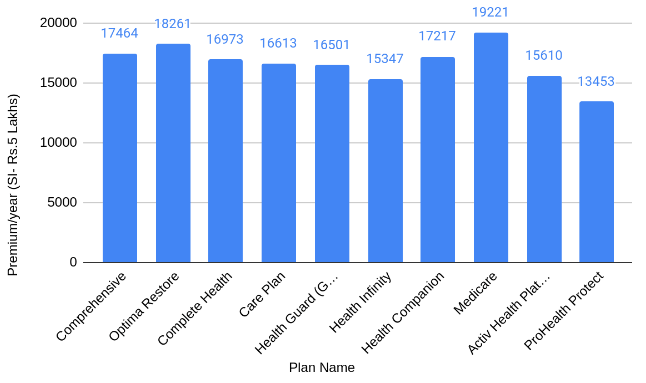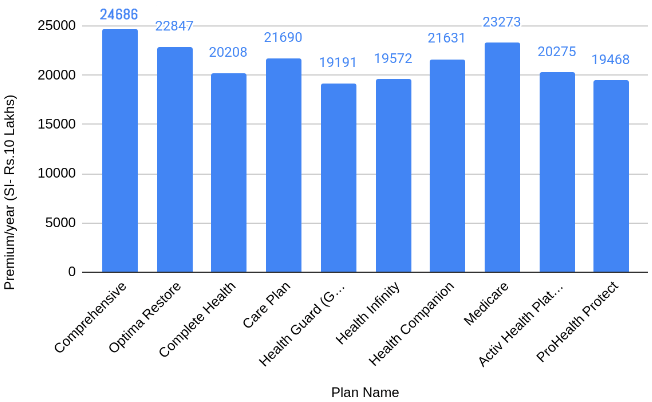 Star Health Comprehensive Plan

Star comprehensive policy comes with a family floater option, which helps to cover a maximum of 2 adults and 3 dependent children against financial problems resulting from medical uncertainties. The plan doesn't require individuals to go for pre-medical screening during the buying process.

Eligibility

| | |
| --- | --- |
| Entry Age | 3 months-65 years |
| Maximum Sum Insured | Rs. 1 Crore |

**Last Updated on 31-03-2021

If addressing the medical needs of your family is your no.1 priority, then optima restore can help you with that. The plan comes with a 2x multiplier benefit, where you get 100% SI enhancement (as NCB) if you don't make any claim in a year. Also, get complimentary health check-ups (up to Rs.10,000) at the time of renewals.

Eligibility

| | |
| --- | --- |
| Entry Age | 91 days-65 years |
| Maximum Sum Insured | Rs. 50 Lakhs |

**Last Updated on 31-03-2021

ICICI Lombard Complete Health Plan

By choosing a family floater option under this plan, you can grab benefits like maternity cover, OPD cover, donor expenses cover, among others. Apart from these, the plan provides some golden features like no co-pay, 2 complimentary health check-up coupons/year and no pre-medical screening for up to 45 years.

Eligibility

| | |
| --- | --- |
| Minimum Entry Age | 18 years |
| Tax Benefits | Yes |

**Last Updated on 31-03-2021

With a wide range of benefits, Care Health Insurance offers safety against the financial risks that arise out of a medical emergency. The plan covers the expenses incurred during hospitalization, pre and post-hospitalization, domiciliary hospitalization, day-care treatments, health check-up, and much more. Not just this, the plan also provides coverage for modern treatments like robotic surgery, HIV/AIDS, etc.

Eligibility

| | |
| --- | --- |
| Entry Age | 91 days upwards; no maximum entry age |
| Maximum Sum Insured | Rs. 6 Crore |

**Last Updated on 31-03-2021

Bajaj Allianz Family Floater Health Guard covers the entire family including you, your spouse, dependent children, parents, parents-in-law, grandchildren, dependent siblings, etc. Under this plan, one can avail coverage against the expenses incurred due to hospitalisation, doctor's consultation, ambulance services, and pre and post hospitalisation expenses. Maternity expenses and medical expenses towards the treatment of a newborn baby are also covered under the plan.

Eligibility

| | |
| --- | --- |
| Entry Age | 3 months-65 years |
| Maximum Sum Insured | Rs. 50 Lakhs |

**Last Updated on 31-03-2021

Reliance Health Infinity Plan

Health infinity plan can offer coverage to up to 8 members (2 adults and 6 dependent children) against the wrath of hefty medical expenses. In case you fully exhaust your sum insured, the plan allows you to restore it up to the policy's TnCs.

Eligibility

| | |
| --- | --- |
| Entry Age | Adult: 18-65 years, Child: 91 days-25 years |
| Maximum Sum Insured | Rs. 1 Crore |

**Last Updated on 31-03-2021

Known for its unique features, the health companion grants a safeguard rider to the policyholder, which allows the annual boost to the coverage (based on inflation rate) and protection against non-payable items. Along with this, you can opt for a hospital cash benefit, where you'll get a maximum of Rs.4000/day.

Eligibility

| | |
| --- | --- |
| Tax Benefits | Yes |
| Maximum Sum Insured | Rs. 1 Crore |

**Last Updated on 31-03-2021

Tata Medicare Plan

With a promise to unlock useful benefits, Medicare grants coverage for bariatric surgery, global cover, etc. to safeguard the financial interests of a family at the time of a medical emergency.

Eligibility

| | |
| --- | --- |
| Tax Benefits | Yes |
| Maximum Sum Insured | Rs. 20 Lakhs |

**Last Updated on 31-03-2021

Aditya Birla Activ Health Platinum-Enhanced

It's one of a kind plan that grants useful features like cover for modern treatments, sum insured reinstatement and a chronic management program to a family. In case any family member is diagnosed with COVID-19, the plan will pay for its expenses.

Eligibility

| | |
| --- | --- |
| Minimum Entry Age | 91 days |
| Maximum Sum Insured | Rs. 2 Crores |

**Last Updated on 31-03-2021

Being a family floater plan, Prohealth Protect is an ideal choice for your family against protection from hefty medical expenses. You can grab a bag full of benefits like health maintenance to cover your out-patient expenses, worldwide protection in case of an emergency, among others.

Eligibility

| | |
| --- | --- |
| Entry Age | 18 years-no limit |
| Maximum Sum Insured | Rs.50 Lakhs |

**Last Updated on 31-03-2021
How Can You Buy Family Floater Health Insurance?
With the advancement of technology, many insurance providers allow their potential customers to buy family health policy via their websites. But there are chances of online frauds, poor site navigation or high reload times.
If you want to save time and need a smooth buying experience, trust no one else than PolicyX.com. With strong privacy settings, amazing UI and quick navigation, you won't regret your decision. Apart from this, our insurance experts will always be on standby to address your queries. It usually requires 30 seconds to get a quote from top providers. Our experts are available for you to help you decide and explain plan features. Once you select a plan depending on your requirements, we help you with proposal form filling which usually takes 10-15 minutes. After that if there is a requirement for medical test, our team will help you schedule it and if not, you can get your policy instantly within minutes to your inbox.
Here is how you can buy family health plans from PolicyX.com:
Enter the details in the 'Get Quotes from Top Insurers' form.

The next page will show you all the quotes from different companies. Choose your desired 'Family Health Plan'.

Fill in the necessary details, pay the premium online and your policy document will be shared on your registered email address.
How To File A Family Health Insurance Claim?
Every insurance company offers two ways of filing a claim-
Cashless ClaimReimbursement Claim
For cashless claims, a policyholder needs to get admitted to any of the network hospitals (one can check the list of network hospitals on their insurance company's website or on the most comprehensive list of health insurance network hospitals on PolicyX.com), and then follow the below steps. These are standard steps, which may vary depending on the chosen insurance company.
One needs to show his/her health card provided by the respective insurance company along with one identity proof at the hospital insurance desk.
After validating your identity, the network hospital will submit the pre-authorization request form to your insurance company.
The company will review the request and provide the confirmation to the network hospital and share the same with you via text or email.
After the treatment, the company will settle the claim with the hospital.
If you are admitted to a non-network hospital, you need to inform the respective insurance company at the earliest (the timeframe may vary from one company to another). After the treatment is done, you need to pay the bills and then file a claim for reimbursement. The insurance company will review all the documents and provide the judgment (approval/rejection) after the same.