Family Health Insurance
A single health insurance for you and your family! Family health insurance offers financial assistance against hospitalization and any health emergency for both you and your loved ones. Only a single premium payment on an annual basis is required for a family health plan and can safeguard all the members of a family. Provisions to include your parents and parents-in-law are also offered by many companies. This health insurance is one solution for all family members.
A family health plan usually consists of 5 members of the family, i.e., individual, spouse and children up to 4 no.s. The family health insurance covers your whole family for a fixed sum assured. It is cost-effective as there is no need to buy individual plans for every member of the family. A family with a good family history must purchase a family health insurance plan.
Why Is Family Health Insurance Necessary?
When it comes to family, we often get more conscious and caring about them and so is the case with their health too. A family health insurance is a security for our loved ones during any emergency health situation and that is why it is necessary to buy a family health plan to prepare ourselves to face any type of circumstances where financial safety is needed.
Have you ever thought of your future?
There is no doubt in saying that the increasing inflation rate in the healthcare industry is causing a lot of issues and can easily wipe off your entire savings. And for sure, you don't want that for your family. Taking care of your loved ones, your spouse, parents, and children are the topmost priorities and cover their medical costs with the help of a family health insurance plan.
Types of Family Health Insurance Plans
A family health insurance plan has the capability of providing cover to the entire family under a single policy with a single premium. The plan is divided into two parts:-
1. Medical Insurance
Medical Insurance provides coverage against the hospitalization expenses related to your treatment. Under the same, the person gets the required coverage in the form of cashless benefits or reimbursement.
2. Critical Illness Insurance Plan
Critical Illness Insurance Plan is specially designed in a way that can offer the required coverage against critical diseases such as heart attack, stroke, kidney failure, etc. However, companies do not provide this as a family health plan; you have to buy it as an additional cover.
Features of Family Floater Mediclaim Policy
Many insurance companies are offering a variety of features to its customers at affordable prices. The features are designed as per the needs of the customers.
Under one policy, the policyholder can cover all the members of the family.
No need to deal with different policies for every family member.
Single premium policy, insured can relax after paying a single premium annually.
The policyholder can change and add family members to the policy anytime.
Many insurers also provided the option to cover in-laws and siblings as well.
Cashless hospitalization is offered by a few insurance providers.
Benefits of Family Health insurance
In India, the cost of medical facilities has embraced an ascending trend in the last few years. Consequently, it is becoming difficult for a common man to gather funds on an emergency basis. However, Family Health Insurance can save your money, relieve your tension, and provide funds during an emergency. Check out the following benefits of a family health insurance plan:
Hassle-free Coverage
It reduces the task of selecting the individual health plan for each member of the family and manage the same. It reduces the need for paying the separate premium of health insurance for each member of the family separately.
Increase in Sum Assured
The costs for hospitalization and medicines are going on increasing with the cost of living that makes a family health plan necessary to increase the amount of the sum assured for individuals as well as family members.
Availability of Discounts
Under the family floater plan, you can get discounts and incentives as per the norms of the insurance company. It is one of the easiest ways to secure the health of your family.
Add New Family Member Easily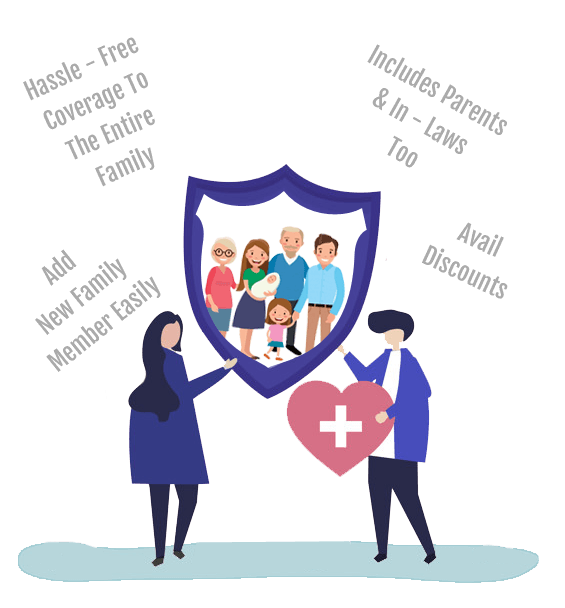 In this medical plan, you can add a new family member easily. In case of the unfortunate death of the senior-most member of the family, other members can continue with the plan without losing any benefit. This is one of the most significant benefits of this plan.
Includes Parents and Parents-In-Law too
Some insurers allow customers to add siblings and in-laws by paying a little extra cost.
Top Family Health Insurance Plans in 2020
There are multiple plans offered by insurance companies to its customers. Insurance Regulatory and Development Authority of India (IRDAI) listed some insurance companies and plans every year and rate them as per some crucial features such as claim settlement ratio, performance, benefits, different facilities, etc. Let us look at the following top plans as per our survey:
Plan Name
Features
Cover For
Premium (Rs 5 lakhs)
Star Health Family Optima
100 percent restore benefit
Free health checkup
No co-pay
Lifetime renewal
No claim bonus
Adults (30, 28 yrs) - 2
Children (5,3 yrs) - 2
Rs. 11055/y*
No Pre-Existing Diseases
HDFC ERGO General Optima Restore
High sum assured for the entire family
No co-pay
No limit on room rent
Existing disease are covered after 3 years
Adults (30, 28 yrs) - 2
Children (5,3 yrs) - 2
Rs. 15274/y*
No Pre-Existing Diseases
ManipalCigna Prohealth Plus
Single Private room
Free health checkup
Maternity cover
Wider coverage
Pre-existing diseases are covered
Adults (30, 28 yrs) - 2
Children (5,3 yrs) - 2
Rs. 16063/y*
No Pre-Existing Diseases
Max Bupa Health Companion Family Floater Plan
Lifelong renewability
No claim bonus
Daycare procedures are covered
Free health checkup
Non-allopathic treatment covered
Adults (30, 28 yrs) - 2
Children (5,3 yrs) - 2
Rs. 13718/y*
No Pre-Existing Diseases
Oriental Insurance Happy Family Floater Silver
Domiciliary hospitalization
Allopathic treatment covered
Wider coverage
Lifelong renewability
Pre-existing disease covered
Affordable premium
Adults (30, 28 yrs) - 2
Children (5,3 yrs) - 2
Rs. 9297/y*
No Pre-Existing Diseases
TATA AIG Mediprime
Free health checkup
No co-pay
No room rent limit
Pre-existing disease covered
Affordable premium
Adults (30, 28 yrs) - 2
Children (5,3 yrs) - 2
Rs. 15488/y*
No Pre-Existing Diseases
Bharti Axa Smart health
Coverage for the pre-existing disease
Higher sum assured
No co-pay
No limit on room rent
Wider coverage
Adults (30, 28 yrs) - 2
Children (5,3 yrs) - 2
Rs. 12064/y*
No Pre-Existing Diseases
Table Data updated on 19-11-2020
Difference Between Individual and Family Health Plan
Individual and Family health insurance are indemnity plans that give coverage during the hospitalization/ treatment process for a particular disease. However, the major difference between the both is that individual health plans offer a unique sum insured for each member of the family whereas family health insurance offers a single sum insured to all the family members included in the coverage.
Individual Health Insurance
Each member has a separate sum insured.
Premium is higher even after the discount and is calculated based on the age of individuals.
This is best for young families and people carrying any critical illness/ailment.
Suppose you have purchased an individual health plan and have included your spouse and a child. The sum insured opted is Rs 2 lakhs for yourself, Rs 1 lakh for the spouse, and Rs 1 lakh for your child. However, if you make a claim only your sum insured will get affected. Sum insured of spouse & child will remain unaffected.
Family Health Insurance
All the members are covered under single sum insured
Premium is generally lower and is calculated by keeping the age of the eldest member in focus.
This is suitable for families that large in number and are less prone to diseases.
If you purchase a sum insured of Rs 5 lakhs for self, spouse and a child, then it is applicable to all the members. The single premium is paid and if you make a claim of Rs 1 lakh, the whole sum insured will squeeze to Rs 4 lakhs. The remainder sum insured can be used for future claims.
How PolicyX Can Help You?
PolicyX is one of the most trusted web insurance aggregators of India. There are many web portals but here at PolicyX, you will be getting excellent unbiased quotes as per your health requirements. Top insurers offering a variety of plans which may be confusing at times but PolicyX is one platform where you can analyze and compare different plans in one place and purchase online without any hassles sitting at home.
The team and sales executives of PolicyX will assist and guide you in every step so that you don't need to face any hurdle while buying any plan. You can write to us at helpdesk@policyx.com or call on 1800-4200-269 (Toll-free) anytime. We are here and happy to help you!
Step 01: PolicyX is an Insurance Regulatory and Development Authority of India (IRDAI) approved company and hence offers efficient and suitable plans that can go well with your needs.
Step 02: Free comparison services are provided by PolicyX and you do not need to pay a single penny for it.
Step 03: PolicyX.com display a number of plans offered by the most rated best insurance companies of India like Star Health, Max Bupa, Tata AIG, Religare Health, Bharti Axa, HDFC ERGO General, etc. so that you will pare better and choose the more suitable plan for you.
Step 04: The services and the process of purchasing with PolicyX are completely online, you can buy a plan within a few clicks. Also, the mode of payment to purchase a policy is online. So do not bother just contact us!
What Is Covered Under a Family Health Insurance Plan?
Family health insurance is there to provide coverage of all expenses that occur out of in-patient hospitalization, pre-hospitalization, post-hospitalization, daycare, health check-up, emergency ambulance service, etc. Let's look at each in detail:
In-patient Hospitalization: All the medical expenses that take place because of hospitalization will be liable to get cover. If any of the insured family members are hospitalized for more than 24 hours, then the insurance company will pay all the medical expenses related to the same.
Pre-hospitalization Expenses: The insurance company will also pay for the expenses that occur before hospitalization are termed as pre-hospitalization expenses. For example, X-ray, MRI, blood test, urine tests, sonography results, etc. done before hospitalization are covered.
Post-hospitalization Expenses: Any medical expenses after getting discharged from the hospital would be liable to get cover. For example, medicines, or any medical tests done after the discharge to check the improvement.
Hospital Cash: The insurer offers a daily cash allowance. The same amount can be used for transportation or other basic requirements of the person attending the patient.
Restore Benefit: Several health insurance companies provide the restore benefit feature under a family health insurance plan. It assists in reinstating the basic plan cover in case the coverage gets exhausted.
Daycare Treatment: Daycare treatments which do not require 24 hours of hospitalization. For example, medical expenses related to cataract which can be treated within a few hours.
Ambulance Charges: Most of the insurance companies offering family health insurance plan covers emergency ambulance charges. The amount of emergency ambulance charges varies from insurer to insurer.
Eligibility for Family Health Plan
Entry Age for the Policyholder/Proposer
When it comes to family, the eldest member of the family become the policyholder, and he/she should between the age group of 18 to 65 years. But there are a few insurers as well that offers the policy up to the age of 70 years and above.
Entry Age for Family Members
For Adults: The minimum entry age is 18 years, and the maximum is 65 years, while some insurers also acknowledge a person of 70 years and above.
For Dependent Children: You can insure a baby of 90 days (this may vary, some insurers may allow it from 30 days and some may have different entry age) to 25 years.
Medical Tests
There are a few insurance companies that can ask you for medical tests. While there are a few companies that can entertain you without a medical test for up to 45 years.
Eligibility for Renewal
Most of the insurance companies are providing a lifelong renewal option. You need to renew the same on time to keep it active. After the due date of renewal, the insurer offers a grace period of 30 days. If you want to keep the policy in force, you must renew before the grace period ends or else the policy terminates.
Family Health Insurance Plans That You Can Consider
Several insurance companies provide the facility to choose the family health insurance plans. You can choose after comparing various policies from PolicyX.com, and you can easily get a quote for the policy you are searching for. The following are some insurance companies from which you can compare and buy the plans for the safety of your family.
Family Floater Health Guard by Bajaj Allianz Health Insurance
It covers the family members from age 18 to 65 years.
For dependent children, it covers them from 3 months to 25 years.
There is no limit for the amount of room rent expenses and you can renew the policy up to 80 years of age.
Rs.1000 compensation per hospitalization.
Family Health Optima Insurance Plan by Star Health
It provides a safety cover with the facility of lifelong renewability to the policyholder.
It covers pre and post-hospitalization expenses.
Restoration benefits at zero extra costs up to 100% sum insured.
Covers newborn baby from the 16th day of birth.
Family Floater Mediclaim Policy by New India Assurance
It can cover up to 6 members including 4 children and 2 adults of the family.
This covers the dependent children of the family and the old people from age 3 months to 60 years under different policy plans and covers.
Completely owned by the Indian Government.
Provides health check-up facilities after completion of 3 claim-free years.
Smart Health Insurance by SBI General Insurance
It covers the hospitalization expenses of the policyholder that cover the room expense, hospitalization fees, doctor consultation fees from age 3 months to 65 years.
Offers a range of additional covers in a policy such as ICU charges, operation theatre costs, etc.
Provides 24/7 customer support to the clients.
The policyholder can renew the policy online sitting at home.
Wellsurance Family Insurance Plan by Tata AIG
It is a family coverage plan and it comes in three different variants, viz. classic plans, supreme plans, and the elite plans.
The plan provides a facility of a double claim to the policyholder.
If the policyholder has filed any claim in the other health insurance policy, even then he/she can file one more claim.
Offers hospital cash benefit daily.
Heartbeat Health Insurance Plan by Max Bupa
It covers the inbuilt maternity, and it provides a cover for the newborn children.
There is no upper or lower age group for availing the benefit of the Family Health Insurance.
Premium discount on choosing 2 years policy term.
3 variants are available, viz. Gold, Silver, and Platinum.
Exclusions of Family Health Insurance Policy
Insurance Policies cover a vast range of needs of the common man. Still, few restrictions and exclusions remain for most of the Family Health Insurance policies. So, one needs to check the column and lists of the exclusions in their insurance policies. Some of the exclusions of the Family Health Insurance policy are as follows:
Family Health Insurance Policy does not cover any health disease that is caused by excess intake of alcohol or drugs that are not prescribed by any doctor.
Sexually Transmitted Diseases (STDs) like AIDS or HIV are excluded from the Family Health Insurance Policy.
Any treatment for complications in pregnancy like infertility, abortion or miscarriage or any treatment related to childbirth is not covered under any Family Health Insurance Policy.
Non-allopathic treatments are not reimbursed or assisted under the Family Health Insurance Policy.
Any assistance for dental or oral treatment is not provided.
Any reimburse for any loss or damage caused due to mental disorder is not entertained by the Family Health Insurance Policy.
No diagnostic fees will be reimbursed if the policyholder has no positive sign of the disease, but he or she wants to undergo the medical tests.
Any harm or loss caused because of any suicidal attempt of the policyholder is strictly excluded from the Family Health Insurance Policy.
Claim Process of Family Health Insurance
Family Health Insurance Policy follows the same claim reimbursement process. But, you should not forget to check the terms and conditions of the claim process of the company they owe the health insurance policy. The policyholder should understand the claim settlement process of the insurance policy and should check the settling of policy claims.
Please go through the following steps while filing a claim:
STEP 1: You need to fill a claim settlement form along with all the information required that should be true to your knowledge.
STEP 2: Originals of medical bills, receipts, and doctor's prescription.
STEP 3: The originals should be duly attested from the hospital itself where the treatment will be done.
STEP 4: Necessary documents like patient's Identity card, policy documents, insurance card, and other documents asked by the insurer should need to be submitted during the claim settlement process.
STEP 5: After proper verification from the insurer's end your claim will be settled by them.
STEP 6: Make sure to claim for individual health insurance first if you have any, this will benefit you in a much more convenient way.
Is There Any Waiting Period in a Family Health Insurance Plan?
An Initial Waiting Period: It refers to the waiting period of 30 days that may vary from insurer to insurer. Some also have it of 90 days instead of 30 days of the policy issuance. However, any medical expenses that occur because of an accident will be covered from day one.
Specific Waiting Period: Almost every family health insurance plan offers a list of specified illnesses that would not be liable to get the coverage for initial 1 or 2 years of the policy which is popular by the name of the waiting period. For example, arthritis, benign ear, nose and throat disorders, cataract, hernia, kidney stones, etc.
Pre-existing Waiting Period: If any of the insured family members have any pre-existing disease such as hypertension, diabetes, heart ailments or any other ailment at the time of purchase of family health insurance plan is not covered for a specific period. They will get the required cover after the waiting period. The pre-existing waiting period may vary from 1 year to 4 years depending on the insurer. But, in most of the cases, the period for pre-existing diseases under a family floater plan is 4 years.