What is Health Insurance?
Health Insurance is a type of insurance that safeguards you and your family against medical expenses that arise due to an accident, illness or critical disease. Most health insurance policies come with benefits like cashless treatment, coverage for pre and post-hospitalisation expenses, ambulance cover, etc.
Why is Health Insurance Important?
As per the economic survey report of 2018-2019 by the Government of India, medical inflation in the country stood at 7.14% which was twice the CPI for the same period. A decent hospital has the potential to sweep away your savings in a few days, and most of the time, a situation arises where one can't even afford good hospitals or doctors due to costs. In such situations, having a health insurance plan can prove to be a saviour. You can invest your entire energy in the recovery from illness, instead of worrying about the hospital bills.
Moreover, the cashless facility offered in network hospitals is a real great feature as you don't need to worry about arranging the money. The bills are directly settled by your insurer to the hospital. You can approach any of the network hospitals, which has a tie-up with your insurance provider to avail cashless facility
Top Health Insurance Plans in India
On the basis of lowest premiums for a coverage of Rs. 5 Lakhs, we have mentioned a few of the top plans available in India. You can check the complete list of best health insurance plans, and then choose accordingly.
Plan Name
Minimum Entry Age
Premium Amount(in Rs.)
Unique Features
Care Health Insurance
Adult- 5 years
Child- 91 days
16,613

The Plan offers coverage for Modern Treatments like Robotic Surgery, etc.
Allows the policyholder to choose from a wide range of add-on covers.

ICICI Lombard Complete Health Insurance Plan
Adult- 5 years
Child- 91 days
16,973

With this plan, one can avail of reset benefits under which the plan will reset up to 100% of your base sum insured in case it gets exhausted.
The plan offers a complimentary health check-up to each insured for every policy year.

Star Family Health Optima
Adult- 18 years
Child- 16 days
17,063

The plan offers Automatic Restoration of 100% Sum Insured.
The plan offers a new born baby cover, that starts from 16th day after birth

HDFC Ergo My: health Suraksha Silver Smart
Adult- 18 years
Child- 91 days
18,277

The plan pays for Medical Expenses in case of hospitalization for any Mental Illness.
The plan offers cumulative bonus, where one can avail upto 25% of Basic Sum Insured.
**Last Updated on 20-09-2021
Health Insurance Premium
Health insurance prices depends on the number of members you want to cover in a single policy, the age of the eldest member,sum assured and the type and features of the plan you choose. To get an approximation of prices, we have compiled plans of top 6 health insurance providers for various age groups and sum assured in the following table. This will give you an idea of how much a plan of 5 lac or 10 lac sum assured will likely cost per annum for a person aged 26, 36, 46 and 56. So if you are 30 years old, you can approximate the premium by taking an average of 26 and 36. For exact premium and plans offered by various companies you can calculate premium using the form at the top of this page. Usually takes less than 30 seconds.
Age
Sum Assured
1A
2A
2A+1C
2A+2C
Average Premium
26
5L
7844
11172
13539
16491
12,262
10L
9999
14459
17539
21014
15,753
36
5L
8938
13146
15534
18225
13961
10L
11563
17257
20291
23436
18136
46
5L
14145
21980
24097
27061
21821
10L
18527
29402
32010
35476
28854
56
5L
24025
36009
38395
41899
35082
10L
31274
47808
50984
55302
46342
Average Premium
15789
23904
26549
29863
24026
**Last Updated on 20-09-2021
For better understanding, we have also compiled a few plans from some of the providers for a 30 year old person with a coverage of 10 lacs for himself, his wife (aged 28) and two children (10 & 5 years old). As you can see the premium varies significantly across companies and plans. This is due to various factors like plan features, companies claim experience, etc.
**Last Updated on 20-09-2021
Premium Amount Of 6 Health Insurance Plan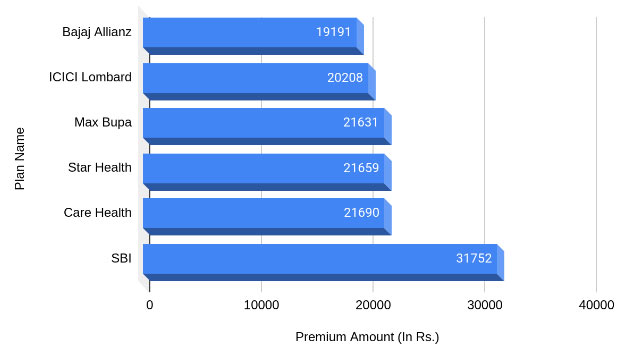 Types of Health Insurance Plans
There are various types of health insurance plans available in the market. We have categorized the plans into 4 broad buckets:-
What Are The Benefits Of Health Insurance?
Health insurance plans come with numerous benefits and offer comprehensive coverage to you and your family. We have listed a few crucial benefits below that will help you understand health insurance in a better manner.
Cashless Treatment
A policyholder can avail of required treatment in any network hospital (registered with his insurance provider) without paying the treatment expenses (up to the sum insured limit). How? The company pays on his behalf and allows him to focus on his treatment.

Pre & Post Hospitalization Expenses
The expenses before hospitalization and after discharge from the hospital (up to a specific period) are covered by health insurance, provided the treatment agrees with the terms and conditions of the chosen policy

Tax Benefits
Health insurance premiums provide tax benefits under Section 80D of the Income Tax Act, 1961. If you are below the age of 60 years, you can get an exemption of up to Rs. 25,000 per year, and if your age is above 60 years, then the benefit increases up to Rs. 50,000.

Daily Hospital Cash
It provides daily cash (to a certain limit) to take care of the additional expenses incurred in hospital like food, traveling to and forth, etc. For example, Star Comprehensive plan provides up to Rs.2500 hospital cash for a maximum of 7 days per occurrence & up to 120 days per policy period.

No Claim Bonus (NCB)
NCB is a discount that you will receive from the insurer for every claimless year. It helps to reduce the payable premium (by a certain percentage) at the time of renewing the policy.

Free Health Check-Ups
To motivate the policyholders towards a healthy lifestyle, many insurance companies provide free medical check-ups. Depending on the company and the type of policy, you will be eligible for the same.

Domiciliary Hospitalization
In case you are unable to get treatment at a hospital due to the unavailability of a bed or if the doctor advises medical treatment at home, insurance companies are liable to look after its expenses.

Lifetime Renewability
These days, several health insurance plans are offering a feature of 'Lifetime Renewability'. With this, one can ensure that his policy can be renewed lifelong without any age limit or other restrictions.

AYUSH Treatment
As per IRDAI's guidelines, insurance companies are liable to cover Ayurveda, Yoga and Naturopathy, Unani, Siddha and Homeopathy (AYUSH) treatments availed by the policyholder, provided the treatment happens at a government-approved hospital accredited by the Quality Council of India of National Accreditation Board.

Restoration of Sum Insured
Under this feature, you don't have to worry once your sum insured is exhausted. Most of the health insurance plans come with sum insured restoration bnefit, which restores the sum insured as per the policy's TnCs.

Coverage for Coronavirus
Your standard health insurance offers coverage against Coronavirus. The insurance will pay off in-patient and outpatient expenses incurred during the treatment of COVID-19.
Additional Benefits Of Having A Health Insurance
To extend your coverage, you can add additional benefits by paying additional premiums at the time of purchase of a new policy or renewal of your existing policy.
Some of the add-ons offered by health insurance companies are listed below:-
Maternity Cover

It is specially designed for those policyholders who are planning to start their family. After a certain waiting period (varies from insurer to insurer), one can get coverage for pre and post-natal care, child deliveries, and vaccination expenses of the newborn babies.

Hospital Cash

The insurer provides coverage against the additional cash expenses that may incur during the hospitalisation such as transport costs, attendant costs, and others. The amount and time period varies from one health plan to another.

Personal Accident Cover

One can ensure a cover against uncertainties such as accidental deaths, permanent partial disablement or permanent total disablement. Your insurance policy will pay you a certain amount depending upon the nature of the incident.
What Are The Exclusions of Health Insurance Policies?
Health plans are indeed comprehensive in their scope of coverage. However, some things are excluded from them. However, these exclusions vary from company to company. Below are some of the common exclusions that aren't covered under health insurance-
Pre-existing Illnesses (before the waiting period): At the time of purchase, you need to disclose if you have any pre-existing illnesses like Diabetes, Depression, etc. These declared illnesses are excluded for a certain period, which is also called the 'Waiting Period'. This may range from 2 to 4 years depending upon the insurer.After the waiting period, all illnesses are covered.
Self-inflicted injuries: A self-inflicted injury is where a policyholder deliberately tries to harm themselves. These type of expenses are not covered by most of the health insurance companies.
Injuries caused due to alcohol or drug abuse: Injuries caused by an overdose of drugs or alcohol are not covered under the health insurance plans.
Cosmetic treatments: Generally, cosmetic treatments to enhance the body parts are not covered. However, in some instances like an accident causing disfigurement of body parts, is liable to get coverage under the policy. This varies from one insurer to another.
**To know all the exclusions of your plan, refer to the product brochure or directly get in touch with your respective insurer.
How To Choose an Ideal Health Insurance Plan?
Health needs vary from person to person, and what may be best for one may not suit the other. However, to meet your ever-changing requirements, you need to be vigilant while selecting your ideal health plan.
At PolicyX.com, we have listed down a few steps that may help you to choose a perfect health plan for yourself and your family.
Step 1
Choose your Ideal Health Insurance Company
Go with a company that offers a cashless facility, has good customer service, comes with a decent market share and offers a wide range of health products that will cater to the different needs of customers.
You can also check the list of all the Health Insurance Companies You can check the complete list of health insurance companies, with all relevant selection parameters to decide which ones to consider for your needs.
Step 2
Evaluate your needs and Requirements
Once you have chosen your ideal company, evaluate your family's health needs thoroughly, and decide the type of plan you want to buy. For example, if you have a nuclear family (yourself, wife and a kid), a family floater plan with Rs.5-10 Lakhs coverage will be enough (generally speaking). However, if you want to cover your parents (above 60 years) under health insurance, senior citizen plans will be a good option.
Step 3
Compare Coverage and Premiums
After you have shortlisted a few plans on the basis of your needs and requirements, just compare their benefits with each other. Ideally, it's recommended to go with a plan that offers maximum benefits (including decent coverage) and doesn't hurt your wallet.
For your convenience, we have prepared a complete list of top health plans available in the market, that will help you to make an informed decision.
What Is Arogya Sanjeevani Plan? Why Is It Called A Standard Health Plan?
The Insurance Regulatory and Development Authority of India (IRDAI) directed all insurers to launch the Arogya Sanjeevani Health Insurance Policy by April 1, 2020. The main objective of this plan is to make health insurance more accessible, affordable, and less confusing for policy buyers.
IRDAI has now allowed all general and standalone health insurers to offer Arogya Sanjeevani Policy as a group insurance product as well.
Although the plan offers similar features and benefits that are offered by most insurers in thier existing plans, this standard plan lays down the bare minimum benefits that the insurer must offer in these plans. This is to protect policyholders from adverse clauses and surprises at the time of claim.
Key Features/Benefits
Pre & Post Hospitalization Cover: The plan provides coverage against pre and post-hospitalization expenses associated with any medical treatment caused by an illness/injury.
No Health Checkup: To invest in this plan, there is no need for any medical screening up to the age of 45 years.
COVID-19 Cover: It also offers coverage against coronavirus treatment.
AYUSH Benefit: It offers coverage against hospitalization expenses incurred on getting alternate treatments such as Ayurveda, Homeopathy, Siddha, etc.
Free Look Period: Free look period of 15 days is only applicable at the inception of the policy and not on renewals or at the time of porting/migration.
Lifelong Renewability: The plan comes out with the lifelong renewability option.
ICU/ICCU Charges: The plan pays up to 5% of charges (up to Rs.10000/day) for the treatment taken in the ICU/ICCU. The coverage is based on the total sum insured.
Eligibility
| | |
| --- | --- |
| Product type | Individual/family |
| Sum insured (In Rs.) | 1-5 lakhs |
| Policy tenure | 1 year |
| Entry age | 18 years to 65 years |
**Last Updated on 20-09-2021
Can I Change my Health Insurance Policy? (Health Insurance Portability)
Nowadays, many health insurance companies are offering a feature of portability. In simple terms, it means that you can switch from your existing provider to another one or from one plan to another (within the same insurer) if you are not satisfied with it. And the best part is that you don't have to lose the continuity benefits (like the waiting period). We have written a comprehensive article on the pros & cons of health insurance portability that might help you decide whether to go for it or not.
Why Choose PolicyX.com?
PolicyX.com is a one-stop-shop for all your insurance-related needs. It is the Insurance Regulatory and Development Authority of India (IRDAI) certified web insurance aggregator company (License Number: IRDA/WBA 17/14).
You can compare health insurance plans from top insurance companies with us, and buy the best plan as per your needs. Our systems and teams are well-equipped to help you with the buying procedure (from starting till the end). Let us look at the following key highlights about PolicyX.com:
PolicyX.com offers a free comparison service with unbiased quotes.
Allows a person to compare health insurance plans from over 15 companies within 30 seconds. You can buy the best medical insurance policy according to your needs in 5 minutes.
By providing basic information, we will search for the most suitable health plans for you and offer relevant quotes based on features, cost, riders, exclusions, benefits, and much more.
Most health plans are available online and you can get your policy instantly by making an online payment.
We help you with your documentation, medical tests if required, policy issuance and claim assistance. Our customer service executives are available 24x7 to help clarify your doubts and most importantly help you at the time of claim.
You pay the same premium as if you were to directly buy from insurance company. In other words, we don't charge from our customers for our services.
Buying Process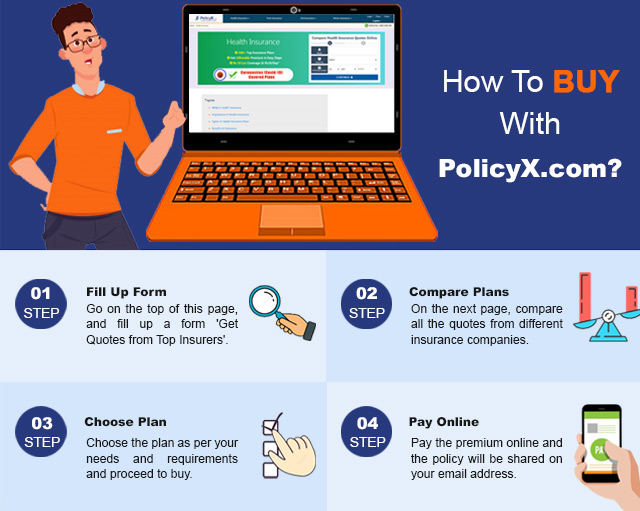 Documents Required For Buying
Following is the list of documents needed to buy health insurance:
Proof of Age: PAN Card, Driving License, Passport, Voter ID, etc.
Photo Identity Proof: Aadhaar Card, PAN Card, Driving License, Passport, Voter's ID, etc.
Proof of Address: Ration Card, Bank A/C Statement, Electricity Bill, Passport, Voter's ID, Telephone Bill, etc.
Proof of Income: Employer's Certificate, Salary Slip, Form 16, etc.
Medical Checkup: If asked by the insurance company.
Photo Proof: Passport size photograph of the policyholder.
If needed, the company may ask or other documents.
Health Insurance Claim Settlement Process
The most important part of an insurance policy is the claim settlement process. Some insurance companies offer a direct claim settlement process, while others take the help of TPAs (Third Party Administrators) for claim settlement. The claim settlement process takes place in two forms, which is mentioned below. These are general steps and may change from one insurance company to another.
Cashless Claim
You can avail of cashless treatment facility only in the network hospitals of the insurance company. Stick to the below-listed steps for the same.
Inform the insurer/TPA (for planned treatment- before 48 to 72 hours of hospitalisation, as per insurer's timeline) through a call or email. For emergency treatment, inform within 24 hours of hospitalisation.
Show the health card (provided by your insurer) along with the identity proof at the hospital.
The hospital will examine the identity of the policyholder and submit the pre-authorization form to the insurer/TPA.
The insurer/TPA will check all the documents and share their approval (if everything is ok).
After the treatment is done, the insurer will settle the treatment bills of the hospital.
There are likely to be exclusions i.e., expenses that the TPA/insurer won't pay. Such expenses must be settled by the patient/family directly at the hospital.
Reimbursement Claim
The insurer can avail of the treatment in a hospital and pay the bills. Once that is done, (s)he can file for reimbursement via the below steps.
Inform the insurance company about your hospitalization as per your insurer's timeline.
Keep all your documents ready with the hospital bills.
Submit the documents along with the claim form.
The insurance company will check all the submitted documents.
After the completion of all formalities, the claim is settled as per the terms and conditions of the policy. The amount will be transferred into the claimant's bank account.
Note- If the insurance company doesn't respond through any mode of communication, contact PolicyX.com. Call at our toll-free number 1800-4200-269 or write an email to helpdesk@policyx.com. We will help and guide you to settle your claims without facing any troubles.
Documents Required For Claim Settlement
Below is the list of documents you need to submit for filing a health insurance claim:
Duly-filled claim form.
Medical certificate that is issued by the doctor and authorised by the hospital along with an attached diagnosis report.
ID proof of the claimant.
Prescription and cash invoice from pharmacy/hospital.
FIR (In case of an accident).
*The insurance company may ask for other documents (if required).