Health Insurance for Women in India
When we talk about health insurance, it is a necessity for every individual be it a child, working man, and Senior citizen, but when it comes to women, we are not having as much as women-specific health insurance as the other countries.
Playing the most important and versatile roles from taking care of their home and family to being a good performer at the workplace and so on, women tend to play each role with full dedication and zero complaints.
Apart from society and their family, Women in India neglect themselves and caught in taking care of their family whether for financial reasons or being dependant on the husbands, whatever may be the reason, it is time that we sit and think about the well-being of the most important pillar of the society and our families, making them financially and physically strong.
Women's health insurance in India may be a concern but thankfully, more and more insurance companies are coming up with amazing women-spending plans. These plans are designed with keeping women's health issues and needs in mind and mostly focus on pregnancy, childbirth, and related covers. These covers are made for illnesses that women are more prone to get after a certain age.
Importance of Woman's Health Insurance in India
According to the Insurance Awareness Survey Report released in 2012 by IRDA, fewer women opt for health policy in India. Even when the possibility of women being hospitalized is almost the same as men. Modern lifestyles and rising stress levels with dual responsibilities and physical stress, women are more prone to some diseases than men.
Whether you are single, married or retired, here some of the main reasons why being the leading lady, you must opt for a health insurance policy
Are you a homemaker? great! You are doing a full-time job that can cost your family if you were not doing all the stuff with full activeness. In an unfortunate event or medical emergency, your family will have to bear the added burden of taking care of the home, which means that your spouse or children may have to work harder for taking care of the house your health and so on. But if you are secured with a health insurance plan, they cannot only take good care of your but the stress of increased expenditure can be reduced.
As mentioned earlier, women need more preventive assistance than men due to the need for reproductive care and a higher possibility of chronic illness and disability. Moving further, women take major accountability for adjusting for a family member, annual health care expenses, and are more likely to encounter inconsistent insurance coverage as compared to men. Hence, having women-specific insurance can help them live a stress-free life.
Women who work may get a good financial future, but to make sure that they are stress-free in the most crucial years of their lives, either you as a child, spoke or women themselves should get medical insurance for availing health care benefits.
Things ToKnow Before Buying Health Insurance Plan Women?
There are so many customized health insurance plans for women that one may get confused while choosing among all. Though these policies are designed after considering women-specific diseases, and health issues that are common in women, but you should only go for the suitable one.
Normally, you calculate the premium, policy limit tenure and benefit while purchasing a health plan, but when it comes to women's health insurance plan the needs and factors are a bit different. Following are the things to consider while choosing a health policy for a woman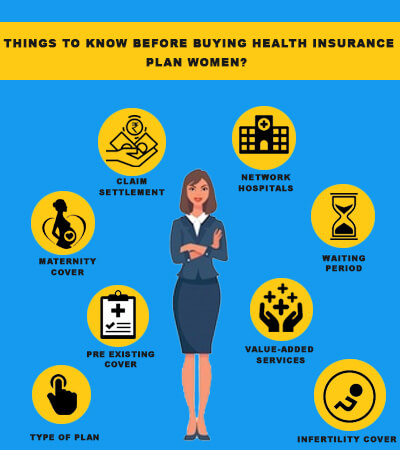 Type of Plan

First of all, check if the plan is a woman-specific plan having all the benefits of you can be covered with a family floater plan with required health benefits for reproductive health care and maternity cover.

Pre Existing Cover

Most of the plans do not cover pre-existing disease so it is important to find a plan that can offer pre-existing disease coverage.

Maternity Cover

In case you planned for pregnancy, there are special plans which shield maternity for ladies. Few companies offer maternity coverage, but most of them come with a waiting period. Hence, it is advisable to buy a separate plan which includes only maternity.

Claim Settlement

Find an insurance company that offers a good claim settlement ratio and an easy claim process. Both the factors surely give you peace of mind and speedy reimbursement when needed.

Network Hospitals For Women Health Issues

Circumstances of medical emergencies can occur at any time. So, make sure you have chosen insurance with a wide range of network hospitals available nearby. This will help in saving time and energy in case the lady has no one to look after. It is also important to offer a hassle-free hospitalization and medical environment where the patient can get health treatment, especially for women.

Waiting Period

Today, young girls at the age of 15 are having diseases like thyroid or other hormonal difficulties. And most of the insurance plans have a pre-existing disease waiting period of 2-5 years. Consequently, it is important to buy a health policy when you are young.

Check Value-added services

In addition to other benefits included in the health policy for women, some insurers give free medical check-up and add-on covers which is beneficial for women who are likely to have illnesses after a certain age.

Infertility and Maternity Cover

Competing against everything, women are battling for their spaces at work, home, and maternal space and leading a stressful life. Opting for health insurance can help them fight against maternity and infertility related illnesses and most of the plans cover.

Anemia screening
Gestational diabetes screening
Gonorrhea screening for all women at higher risk
Syphilis screening
Urinary tract or other infection screening

Other Benefits

Breast cancer genetic test counseling (BRCA)
Breast cancer chemoprevention counseling for women at higher risk
Diabetes screening for women with a history of gestational diabetes
HIV screening and counseling
Top Health Insurance Plans for Women in India
PLAN
POLICY TERM
ENTRY AGE & RENEWAL
CLAIM SETTLEMENT RATIO
HIGHLIGHTS
HDFC Life Smart Woman Plan
10-15 years
Female life assured (18-45 years)
For spouse (21-50 years)
Risk cessation (31-60 years) / Within 2 years
94.01%
Coverage of pregnancy complications or the birth of a child
Female-specific cancers
Sum assured of up to 40 times the annualized premium.
Pre and post hospitalization expenses
Tata-AIG's Wellsurance Woman Policy
1 year
18 years to 65 years/lifetime
96.01%
11 critical illnesses covered
Expenses for hospitalization, ICU Cover, convalescence, cosmetic reconstruction surgery
Ambulance charges
Health helpline with a personalized health tracker
Bajaj Allianz Women Specific Critical Illness Insurance Plan
1 year
21 years to 65 years/lifetime
91.67%
More than 8 women-specific critical illnesses covered
Congenital disability benefits
Loss of employment cover
Child education cover
Star Wedding Gift Insurance Policy
1-2 years
18 years to 40 years/ up to 45 years
60.51%
No pre-medical tests required
Maternity cover and new-born baby cover for up to 2 deliveries
inpatient care, pre & post hospitalization, emergency ambulance
Daycare
Pre-existing coverage
Religare Joy Maternity Health Insurance Policy
3 years
18 years to 45 years/ lifetime
51.97%
Maternity and childcare coverage
No Claim Bonus with Add ons
pre & post hospitalization, emergency ambulance covered
Day Care treatment
pre-existing illness covered with a waiting period
New India Asha Kiran Policy
1 year
16 years to 65 years/lifetime
103.19%
11 critical illnesses covered
Specified day care treatments, pre & post hospitalization, are covered
Critical care, organ transplantation, emergency ambulance expenses.
Personal accident cover
Discount for including a daughter in the policy.
Hospitalization expenses for the family
Reliance HealthGain Policy
1 year/ 2 years
5 years to 65 years ( children 91 days to 4 years)/ lifetime
106.54
5% discount girls/single women
Coverage of expenses for inpatient care
Pre & post hospitalization, accidental injuries, critical illness, organ donor covered
Specific diseases, pre-existing diseases, and emergency ambulance allowance.
Online services including preventive appointment booking, personalized nutrition plan, and health risk evaluation.
Accidental death cover for no-claim restoration.
Restoration of the sum insured
Bonus for the claim-free year
How to Pick the Best Health Insurance Policy for Women?
While there are many incredible health care companies out there, how will you decide which one is the best option? Here are a few factors to lead you through the method of choosing the right health care policy for a woman.
1

Choose The Right Sum Assured

Health care expenses are rising day by day. So, you must go with a policy which offers the right sum assured. If you have difficulty in estimating how much sum assured on the health insurance you need, you can use multiple online tools which can suggest you the right health insurance cost.
2

Read Reviews

This is the best thing to get the right insights even for the best policy available in the market. You can read women's health plan reviews if they are satisfied with the plan and its benefits or not.
3

Compare Plan

If you are confused between two of the best health insurance, the best way is to compare both the plan and see which one is closer to your needs and budget. If you are looking for a reliable platform where you can get an honest and unbiased comparison of health plan for women. PolicyX can help you make the right decision just by filling your details and needs.

Whether you are a single mother looking for financial security for your health treatment or young professional planning your future on your own, it is very important to read and understand the policy document as deeply as you can. And if you find any problem or question you must ask the agent so that you don't regret your decision.

Though almost every health plan covers maternity benefits such as pre and post hospitalization, ambulance cover and a wide range of women related health issues and critical illnesses, it is better to revisit the website and see what are the exclusion of the policy, you are planning to sign up for.