Life Insurance
Life insurance is a mutual contract between the policyholder and the insurance company, where the company promises to pay a pre-specified amount to the nominee in case of death of the policyholder or after a predetermined period, and in return, the insured needs to pay the premium for a certain period.
How does it work?
Such policies offer financial coverage to the insured or his family in the contingency linked with human life, like death, disability, accident, retirement, etc. The insurer needs to pay the premium for a specific time, and in return, your insurance company will offer you a Life Cover.
Moreover, along with financial protection, one can avail of tax benefits under Section 10(10D) & Section 80C of the Income Tax Act, 1961.
Why A Life Insurance Policy Is Important?
Our lives are uncertain and full of risks. In an unfortunate event where something happens to anyone, the entire family suffers. And if that person is the only bread earner then the suffering worsens. Here comes the role of Life Insurance. Though human life can not be measured, a monetary sum can help the dependants continue their lives without sacrificing their needs and requirements.
Moreover, a life insurance plan is also an investment tool where you can avail of the maturity benefits provided you survived the policy term. The amount can help you attain your life's milestones such as your daughter's marriage, your child's higher studies, etc. Along with protection, a life insurance plan offers peace of mind.
Let's understand the importance of life insurance with an example.
Varun and Amar are childhood friends. Amar decided to buy a life insurance policy and suggested Varun invest in the same but he refused. 20 years later, Amar's daughter wishes to pursue higher studies while on the other hand, Varun plans to get his elder daughter married. As Amar has invested in the life insurance policy which has matured by now. He can use that lump-sum amount to fulfil his daughter's dreams. Whereas Varun has to sacrifice all his life-long savings to meet the wedding expenses. Had Varun purchased a life insurance plan earlier, he would have saved his money for uncertain times.
What Are The Benefits of Life Insurance?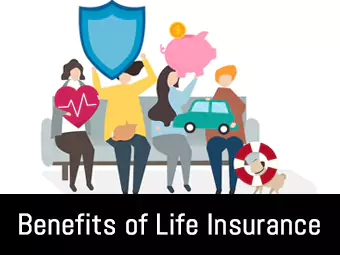 How Much Life Cover is Needed?
The sole purpose of having life insurance is to keep your family financially independent in your absence. However, the answer to this question varies from person to person depending on their lifestyles and necessities. You need to evaluate your income, liabilities, dependents, etc. to fix the required life cover amount.
If we go by the financial expert's thumb rule, your life insurance coverage should be at least 10-15 times the annual income.
For better understanding, let's look into the two scenarios of two different families.
Family
Mr Verma, a 30-year-old working professional, lives with his wife, his parents and has a 3-year-old child.
Mr Sharma, a 30-year-old working professional lives with his wife and 2 children.
Expenses
Monthly: Rs. 50,000
Annual: 6 Lakhs
Monthly: Rs. 60,000
Annual: Rs 7.2 Lakhs
Liabilities
An outstanding home Loan of Rs. 50 Lakhs
No loans
Money Needed for Children's education and Marriage
20 Lakhs
30 Lakhs
Retirement Corpus for spouse
40 Lakhs
40 Lakhs
Coverage Required
90 Lakhs (monthly expenses*15) + 50 + 20+ 40 Lakhs=Rs. 2,00,00,000 Approximately
1.08 crore (monthly expenses*15 + 30 + 40 Lakhs)=Rs. 1,78,00,000
Keeping in mind the expenses, liabilities, and responsibilities towards his child, Mr Verma would need a life cover approximately of Rs. 2 crores, whereas, Mr Sharma would need a cover of Rs. 1.78 Crores.
Top 5 Life Insurance Plans in India
Listed below are the 5 Best Life Insurance Plans:
Key Features of Top 5 Life Insurance Plans
| | |
| --- | --- |
| LIC Tech Term Plan | A pure life cover that comes out with two death benefit payout options such as Level Sum Assured or Increasing Sum Assured. |
| HDFC Life Sanchay Plus | With several other benefits, the plan offers guaranteed returns to the insured and their family. |
| SBI Shubh Nivesh plan | A traditional savings plan that comes out with two investment option - Endowment plan & Whole Life Plan. |
| ICICI iProtect Smart | Offers 360-degree protection to your family, allowing in case of your unfortunate demise |
| Max Life Online Term Plan Plus | An online term insurance plan that looks after your family's needs and offers 3 payout options for the family - lump sum one time, lump sum along with a monthly income, or lump sum with increasing monthly income. |
What Are the Types of Life Insurance Policies?
Term Insurance

It is the most basic form of life insurance. Simply put, the beneficiary will avail of the death benefit only if the insured dies during the policy tenure. Once the policy matures, the insurance company is not liable to pay any benefits.

A term insurance plan is beneficial for those who want to secure the financial future of their family at affordable premiums.

Whole Life Insurance

Whole Life Insurance Plans remain in force till the policyholder is alive, provided required premiums are paid. On the policyholder's death, the plan pays a sum assured and bonus (if any) to the nominee. A Whole Life Term Insurance can help you to leave a legacy for your children.

Endowment Plan

Also known as traditional life insurance plans, the Endowment policy is a combination of a life coverage plan and savings plan. Along with life coverage, a policyholder can also save their funds regularly for a specific period. In case the policyholder outlives the policy term, the insurance provider offers a maturity benefit to him/her.

Such policies can be used to build a risk-free savings corpus, and on the other hand, will provide financial protection to your family in case of an unfortunate event.

Also read Term Life V/s Traditional Life Insurance

Child Insurance Plan

It is a combination of insurance cover and investment that secure multiple stages of your child. In other words, it provides financial coverage to your child's future needs and allows you to plan his/her future in a better and stabilized way. With a child insurance plan, you can create a corpus to fulfil all your child's needs and ensure that your child doesn't have to sacrifice their dreams because of any financial crunch.

Pension Plan

This plan assists you in securing your post-retirement life financially. The benefits are given annually or once after reaching 60 years (depending on the insurer/policyholder). The plan offers a vesting benefit (maturity benefit) if the policyholder outlives the policy term.

Unit-Linked Insurance Plan (ULIP)

Unit-Linked Insurance Plans offer a combination of investment and insurance. Under the same, a small portion of your money is used for life coverage, whereas, the rest of the money is invested in the market.

Investment Plans

An investment plan allows the policyholder to invest small amounts (in a periodic manner) to boost his/her savings. The frequency of investment can vary- weekly, monthly, and quarterly. Along with savings, you get the benefit of insurance coverage.

Money-Back Plan

In a money-back plan, the policyholder is eligible to get a specified percentage of their sum assured at regular intervals. This type of life insurance is ideal for those who want to invest with the benefit of liquidity.
What Are Life Insurance Riders?
Riders are the add-ons that provide additional financial coverage to the policyholder. Some plans come with the in-built additional cover, however, generally, the riders need to be purchased separately by paying an additional premium.
Having additional coverage enhances protection for you and your family in case of death, disease, or disability.
Popular life insurance riders are:
1

Critical Illness Rider

Critical Illness Rider benefits the policyholders in case they get diagnosed with any of the critical illnesses listed in the policy document. The rider pays out the critical illness sum assured and allows the policyholders to concentrate on their treatments without worrying about the finances.
2

Accidental Death Benefit Rider

With the help of Accidental Death Benefit Rider, if the policyholder dies in an accident during the policy term, then a percentage of this additional sum along with the sum assured will be paid to the beneficiary by the insurance company.
3

Accidental and Total Permanent Disability Rider

This rider comes in force if the policyholder meets with an accident and is declared partially or permanently disabled. The rider pays the predetermined percentage amount and can be relied upon as the income source.
4

Accelerated Death Benefit Rider

If the policyholder is diagnosed with any life-threatening terminal illness such as leukaemia, cancer, AIDs, etc., this rider will pay a part of the death benefit and can be used for the treatment of the policyholder.
5

Waiver of Premium

Under this rider, if the policyholder is unable to pay his premiums due to the loss of income because of any unfortunate accident or injury, or disability, then all the future premiums will be waived off, and the policy will continue with no restrictions.
6

Term Rider

Term rider pays a fixed or monthly income to the beneficiary in case of the policyholder's demise. This rider offers extra coverage for death in addition to the base sum assured that is predetermined by the insurance company.
7

Surgical Rider

Surgical Rider assists the insured by providing financial coverage in case the policyholder undergoes an unavoidable surgery in India.
What Are The Factors That Affect Life Insurance Premium?
A life insurance premium is an amount that is paid by the policyholders for a specified period and lets them enjoy the life insurance benefits. One can select their premium payment mode as per their needs.
Below are the few important factors that are considered by life insurance companies and can affect the life insurance premiums:
Age: Age is a significant factor while calculating the life insurance premium. As per the insurer's perspective, a young individual is less likely to suffer from age-related disease and pass away prematurely, and also has a higher chance of continuing their insurance policy for years. This makes younger individuals eligible for low premiums.
Lifestyle: If a person smokes/drinks/leads a stressful lifestyle, (s)he needs to pay higher premiums. This happens because such habits lead to life-threatening illnesses, lowering your life expectancy.
Gender: According to some surveys done in India, it is proven that women tend to live longer than men. Due to this disparity, women generally pay fewer premiums than men.
Medical History: If a person has a medical history of critical illnesses or is prone to health issues, then in such cases the insurance companies charge a higher premium.
Policy Tenure: The longer your policy tenure, the higher is the risk to insurance companies. Therefore, life insurance plans with shorter-term have lower premiums than long-term life insurance policies.
Why Should You Compare and Buy Life Insurance With PolicyX.com?
IRDAI CertifiedGet Online DiscountsOverall TransparencyOffers Simplified Buying Process
How to buy Life Insurance from PolicyX.com
Check out the below steps and buy your life insurance now:
What Are The Documents Required To Buy Life Insurance?
If you have decided to buy life insurance, there are a few documents that you need to provide:
1
Age Proof
Driving License, 10th or 12th mark sheet, Birth Certificate, Passport, Voter ID, etc.
2
Identity Proof
PAN Card, Passport, Driving License, Voter ID, or Aadhar Card.
3
Address Proof
Electricity Bill, Telephone Bill, Ration Card, Driving License & Passport.
4
Income Proof
Latest form 16, salary slips of last 3-6 months, ITR (2-3 years), etc.
**Some plans require a medical check-up to make sure that the insured does not suffer from any chronic illness. The company may ask for other documents as well.
How To File A Life Insurance Claim?
If a claimant follows all the required steps, then filing a claim and getting a sum assured can become a very convenient and hassle-free task. Read ahead to find how a claimant can file a claim in India under the following scenarios:
In case of the insured's death, the nominee of the deceased will be able to claim in the following way:
Intimate the insurer about the death as soon as possible with all the important details such as time, place, and cause of death.

Submit needful documents and proof to the insurance company. This will consist of the insured's death certificate along with the claim form provided by the insurance company.

If the policy was assigned, the assignee will have to provide the documents. If someone else (apart from the nominee or assignee) is filing a claim, (s)he has to submit the legal proof of his/her relation with the insured.

If required, post-mortem, hospital, and attending doctor's reports have to be submitted.

In cases involving police inquiries, an investigation/survey report will have to be submitted.

Once the investigation is over, the insurance company will approve/disapprove the claim. The details of the same will be shared with the claimant.
In Case The Policy Is Matured
If the insured outlives the policy term, then he/she is eligible to avail all the maturity and surviving benefits, provided all the premiums have been duly paid. The procedure for filing a claim is as follows:
When the maturity date of the policy is near, the insurance provider will send an intimation to the policyholder with a discharge voucher (at least 2-3 months prior to the date of maturity).
The policyholder has to sign the voucher and send it back to the provider with the original policy bond.
If the policy is assigned to someone else (individual/entity), the amount will only be paid to the assignee who will give the discharge.