In today's era of uncertainty, all of us must be insured. Not only is it important to safeguard the future for ourselves but it is also important to safeguard the future of our near and dear ones.
There are so many people whose life depends on us. If anything happens to us we need to ensure that our family members are at least financially protected. Therefore, opting for a life insurance policy is important in India.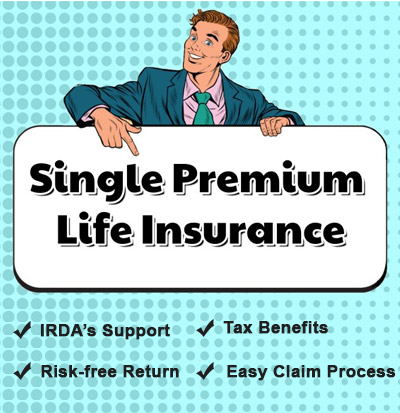 The usual life insurance policies have recurring premiums payable on a monthly, quarterly, half-yearly or yearly basis. A lot of people who do not want to go for a recurring obligation and opt for a single premium policy payment option. As the name suggests, in this case, the insured needs to pay only once a lump sum amount and gets coverage throughout the chosen policy period. A lot of people are also known to look for single premium insurance plans as it is far more cost-effective than the regular recurring ones.
Here are some more benefits of Single Premium Policies
Less hassle as you do not need to remember the premium due date year after year
Ideal for those, who do not have a steady flow of income
Ideal for those who have a lump sum in hand and can afford to invest at one go
Here are a few of the best single premium insurance plans in India that you can look out for if you planning to invest in one.
Aviva Life Bond Advantage
This is another great Single premium policy with ULIP features that make it an attractive option for investors who want to save money as well as save tax on it. The premium amount is as low as INR 50,000 and there are no maximum limits on the same. The sum that is insured is as much as five times the premium amount paid and has a lock-in period of 5 years, as a result, one gets tax benefits under the IRDA guidelines. This is a great vehicle to save money as it has a LifeBond advantage. The plan also comes with an accidental death benefits scheme. The insured person can also opt for partial withdrawal once the initial lock-in period of 5 years. It also has attractive top-up features like additional life cover.
LIC Jeevan Vriddhi
LIC is the pioneer and ruler in single premium policies. They have various famous single premium policies that insurers have benefited from time to time. Among their single premium schemes, the one that has the best features is Jeevan Vriddhi. The amount of guaranteed maturity sum depends upon the sum of premium paid and the age of the insured. The best feature is that you can surrender the policy even after one year with as much as 90 % of premium return facility. It also boasts features like loyalty additions that one gets on maturity if they hold on to the scheme.
India First Smart save Plan
This is another most opted single premium plan that is offered by the leading life insurers in India. The India First brand is known for its unique features in insurance that has a gamut of features to boost of. It is a ULIP scheme that has a fixed policy term of 15 years. That does not restrict the insured to make a partial withdrawal if the need arises. One can choose to invest in any of the five funds available under it which allow the funds to grow. The insured gets the benefit of allocating the premium proportionately in all the 5 funds and also enjoy the liberty of switching from one scheme to another if required. The minimum sum insured is 125 % of the single premium and the maximum is 500% of the same as the case might be.
Max Life SMART Steps Single Premium
This is an amazing single premium life insurance policy that one can opt for to ensure that your child has a bright and secured future. SMART steps are children specific ULIP scheme that provides liquidity and flexibility to the insured. The investment is done in many equity schemes and dynamic bonds and floor funds. The insured also gets tax benefits under Section 10 (10D).
HDFC Life Single Premium Pension Super
HDFC is a renowned brand and their life insurance policies are indeed unique and reputed. It has a single premium pension super plan which is a pension ULIP option. The main advantage of the plan is that the minimum sum assured is the highest of either 101 % of the sum of the premium paid or the fund value. In either scenario, the insured benefits.
The policy can be surrendered after the initial lock-in the phase of 5 years that gives this policy tax benefits. The insured person can also opt for various top-ups of the amount as low as INR 10,000 making it an easy option for low-income group people to invest.
ICICI Prudential, I Assure Plan
The iAssure endowment plan is a single premium option that ensures that the insured gets risk free return along with coverage on life. So, in case the insured dies while the policy is active the beneficiary can claim complete or at least the guaranteed maturity sum whichever is higher., The guaranteed maturity value is calculated based on gender, age, tenure and amount of premium.
Bajaj Allianz New Risk Care II
This New Risk Care plan from Bajaj Allianz is another famous single premium insurance plan. At a low premium, it is known to provide a high amount of insurance cover. It is a pure term plan and has nil benefits from maturity. It has additional riders that can be added on. As an insured person, you get the advantage of deciding on the sum assured and the policy tenure also.
These are a few of the best known single premium life insurance policies in India that you can benefit from in the long run. All are backed by reputed companies.