SBI Life Insurance
Founded in 2001, SBI Life is one of the most trusted life insurance companies in India. SBI Life insurance has a varied product portfolio with traditional life insurance plans, child plans, pension plans, and savings plans, amongst others. SBI Life is one of the most trusted names in the insurance industry. It is a joint venture between the State Bank of India and French Financial Institution BNP Paribas Cardif. SBI has a 55.50% stake in the company and BNP Paribas Cardif owns a 0.22% stake including other investors. SBI Life has an authorized capital of ?20 billion (US$260 million) and a paid-up capital of ?10 billion (US$130 million). The AUM is Rs. 2,441.8 billion.
There are various benefits of investing in SBI Life Insurance Policies. Being one of the key players in the Indian Insurance Industry they have access to more than 100 million accounts throughout India and offers products and services to people of all economic strata in the country. SBI Life Insurance products and policies are so diverse that the needs of all consumers are fulfilled.
This joint mission has excelled in presenting insurance solutions to cater to the multiple needs of its customers.
The company is designed to cater to the needs of individual customers in every walk of life.
The company is committed to enhancing digital experiences for its customers, distributors, and employees with its extensive presence across the country. With its hard work and commitment towards providing the best services to its customers, the company has achieved many awards and accolades. Let's take a look at some of the company's achievements.
Awards & Achievements
SBI life insurance company operates with an extensive presence across the country through its 947 offices, 17,466 employees, 28,000+ partner branches, 111 brokers, 1,69,006 individual agents, and 57 corporate agents.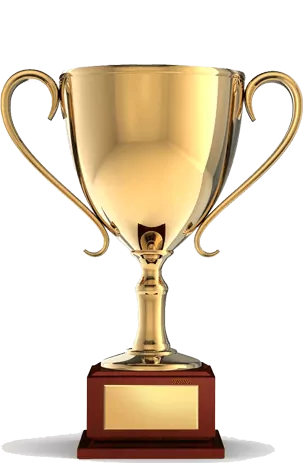 Gold Award under the category Life Insurance Provider of the Year in 2020
VCCircle Award for 2020 under the category 'Financial Services Company of the Year
Company Performance Award under the category 'India's Leading Life Insurance Company - Private' at the BFSI Summit & Awards by Dun & Bradstreet
Gold Shield from the Institute of Chartered Accountants of India (ICAI) for excellence in Financial Reporting for FY 2018-19.
SMART Award-Life Insurance in Large Category at the ET Insurance Summit held in Mumbai in 2019
Best Life Insurance Company Award at ICC Emerging Asia Insurance Conclave & Awards in 2019
Gold Award in Best Content Marketing Launch (National) Foxglove Awards 2019 for the inspiring story of Pabiben taking her 'Main Se Hum ka Kadam'
Silver Award in the 'Best Brand Film: BFSI' Category at the Indian Television BrandVid Awards 2019
Key Features Of SBI Life Insurance Company
With the availability of so many Life Insurance companies, choosing the right one for you and your family is a bit tricky. You have to be very cautious while comparing different companies on multiple performance parameters to make a wise decision.
To simplify the comparison process for you, we at PolicyX.Com have determined the key factors that should be considered while selecting a company. These are Market share, Solvency ratio, Affordability, Claim settlement Ratio. Refer to the IRDAI annual reports to check an insurer's performance data to determine the reliability and financial soundness of an insurance company.
Take a look at the Key Features of SBI Life Insurance Company that will give you a clear picture and will help you to find out the answer of: Why SBI Life?
1

Market Share

For understanding the financial background and business reputation of any insurance company, it is important to evaluate its market share. Talking about SBI Life Insurance, the company has witnessed significant growth in its annual premium over the past few years which in turn has increased its market share.

Over the years, SBI Life Insurance has been able to acquire almost 20% of the market share in the overall life insurance market.

Market Share of SBI Life Insurance Company
*Data from IRDAI Annual Reports
With its comprehensive range of life and pension products, the company has maintained a good reputation.
The Graph below shows the Annual Premium of SBI Life Insurance over the past 3 years.
Annual Premium of SBI Life Insurance Company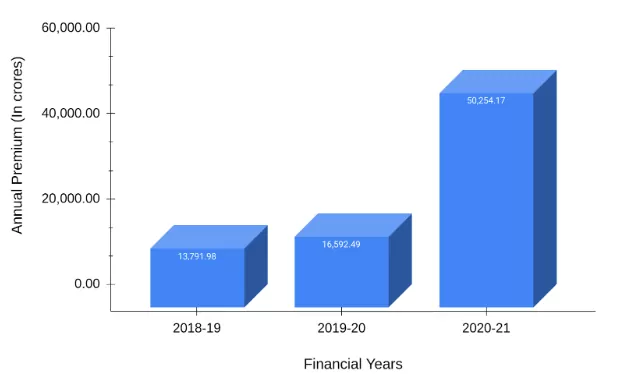 *Data from IRDAI Annual Reports
2

Solvency Ratio

As per the insurance experts, the solvency ratio of the company helps an individual to ascertain the company's ability to meet its long-term financial obligations.

It has now been mandated by the IRDAI for every life insurer to maintain a solvency ratio of 1.5.

Having an equal or above solvency ratio indicates that the company is reliable and can be trusted. When it comes to the solvency ratio of SBI Life Insurance company, it has maintained its solvency ratio that gained the trust of lakhs of customers. You can take a look at the below graph, depicting its solvency ratio for the last three years.

Solvency Ratio of SBI Life Insurance Company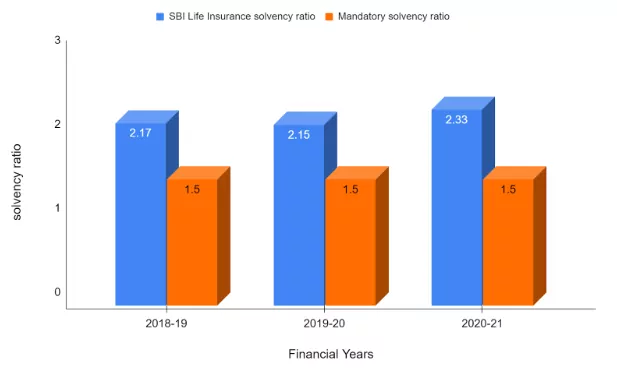 *Data from IRDAI Annual Reports
3

Claim Settlement Ratio

What good is your life insurance if you or your family cannot get benefits from it at the time of need? Therefore, it is important to select an insurance company that has a good claim settlement ratio (CSR) as a higher ratio indicates better claim credibility of the company.

As per the IRDAI report of 2020-21, the claim settlement ratio of SBI Life Insurance was 94.52, which clearly indicates how dedicatedly the company ensures that you or your family members don't have to go through any hassles while getting their claims.

Claim Settlement Ratio of SBI Life Insurance Company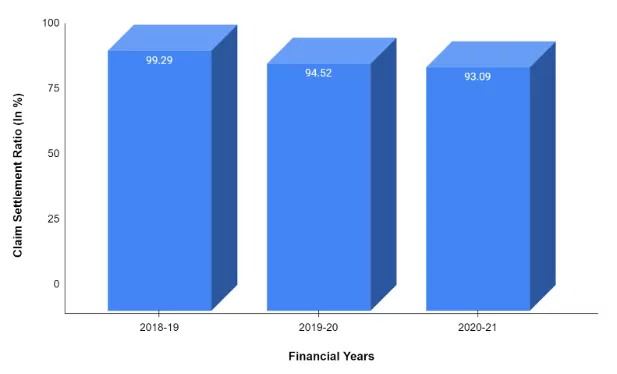 *Data from IRDAI Annual Reports
4

Operating Network

Another distinguishing feature of SBI Life Insurance is that the company operates across the country with 947 offices, 17,464 employees, a large and productive individual agent network of about 170,096 agents, 57 corporate agents, 28000+ partner branches, and other insurance marketing firms.
How To File A Claim For SBI Life Insurance?
SBI LIfe Insurance company ensures a hassle-free death (including rider claim) and maturity claim process. With a claim settlement ratio of 94.52** SBI Life Insurance makes sure that you & your family can easily get their claims settled. For the same, you just have to follow the below-mentioned steps
For Offline Process:
Visit the nearby branch of SBI Life Insurance Company. Submit the duly filled claim form along with the supporting documents. The company will verify the details and will inform you regarding the approval/rejection of the claim via mail/phone call.
For The Online Process:
For your convenience, the company offers SBI Life online claim submission process. Below mentioned is the process for online claim submission. Take a look:
Visit the official website of SBI Life Insurance
Take your cursor to the tab "Services for existing customers"
Click on the "Claims & Maturity tab"
Under claim intimation, you have to submit the policy number, date of birth, & claim type. Enter the captcha code and submit.
After submitting the claim form along with all the necessary documents, the company will verify the details. It will share the approval or rejection letter with you through email or message

Note: If the company requires any other information/document to check the admissibility of the claim, the claimant should provide it at the earliest.
Documents Required For Filing Claim
Mandatory Documents
2
Claimant's photo ID proof
3
Original or Attested Death Certificate issued by the local authority
4
Original Policy Document
5
Claimant's current address proof
6
Direct Credit Mandate form
Additional documents (if required)
1
Copy of FIR/Punchnama Report/Post Mortem
2
Hospital treatment certificate
3
Medical attendant's certificate
4
Employer's certificate (for salaried individuals
5
Copy of Police Final Report/Inquest Report/Magistrate's verdict/Chemical Analysis Report