Key Features Of LIC
Given the myriad of options available, it is important to identify the right insurer and the right plan that will best suit the potential needs of the customer and her/his family in the future. Key factors that should be taken into consideration while choosing a plan are companies' annual premium, solvency ratio, and claim settlement ratio. Our team at PolicyX evaluated 24 companies based on the above-mentioned factors. Notably, LIC was found to have ranked as one of the best in terms of financial soundness and claim support service.
Given below are a few highlights about the company's performance. Let's have a look at them:
| | |
| --- | --- |
| Annual premium (2019-20) | Rs. 1,78,276 crores |
| Claim settlement ratio (2020-21) | 98.62% |
| Solvency ratio | 1.66 |
| No. of branches | 2,048 |
In the following section, we provide you with a detailed explanation of these features. Read along to find out.
1

LIC Market Share

Market share is a good benchmark towards understanding the performance, growth, and financial position of a company in this industry. Over the years, LIC has maintained its position as a public sector giant in the insurance space.

In the graph below, we have highlighted the yearly trend in the amount of annual premium generated by LIC, over the past fiscal years. As indicated by the graph, the annual premium increased gradually from FY 2018-19 to FY 2020-21.

Yearly Trend in Annual Premium of LIC (Rs. in Crore)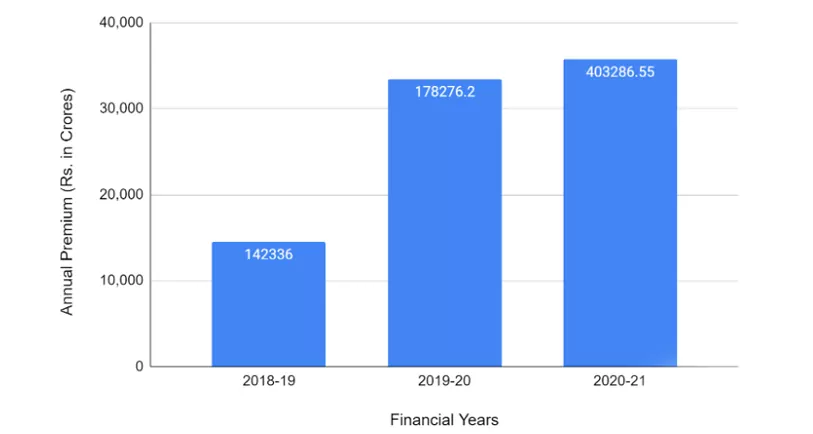 **Data has been sourced from IRDAI's annual report of 2019-20
2

LIC Claim Settlement Ratio

The ratio indicates the number of claims settled by the company out of the total number of claims received by it. It is a principal factor in determining the reliability of an insurance company. Therefore, those interested in investing in an insurance plan should always seek a company with a good claim settlement ratio (CSR).

As per the IRDAI's annual report, the claim settlement ratio of LIC stood at 98.62% in FY 2020-21. The company successfully settled claims that amounted to a total of Rs. 9,33,889 Crore.

In the graph below, we have presented the yearly trend in the CSR of LIC, over the past fiscal years.

Yearly Trend in Claim Settlement ratio of LIC (in %)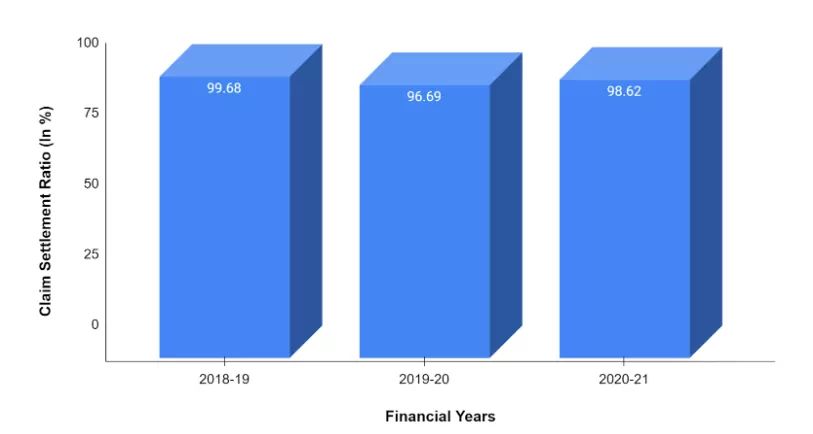 **Data has been sourced from IRDAI's annual report of 2019-20
3

LIC Solvency Ratio

The solvency ratio is another key parameter that underscores the financial trustworthiness of an insurance company. It measures the ability of the company to meet its long-term debt obligations and other monetary commitments. IRDAI dictates that all life insurance companies in India should maintain a solvency ratio of at least 1.5%.

It is worth highlighting that in the last four years, LIC has managed to maintain a solvency ratio of 1.5% and above. The IRDAI annual report FY 2020-21 reveals the solvency ratio of LIC as 1.66.

The following graph illustrates the solvency ratio of LIC over the past few years

Yearly Trend in the Solvency Ratio of LIC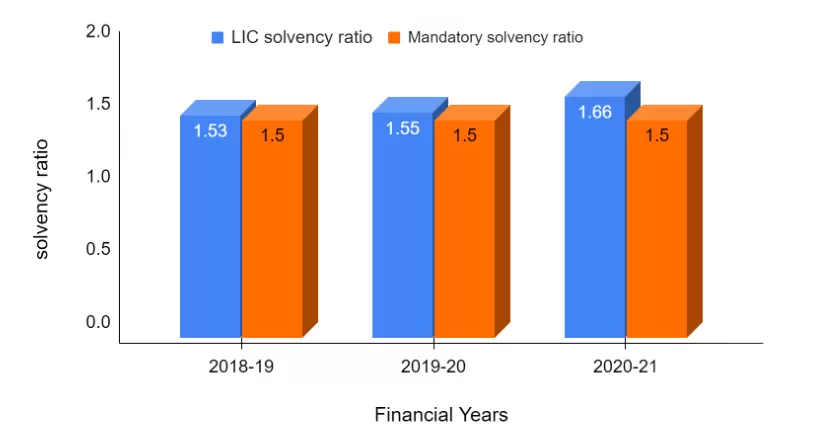 **Data has been sourced from IRDAI's annual report of 2019-20
4

LIC Operating Network

As recorded in 2020, the company has an extensive network of distribution comprising 8 zonal offices, 113 divisional offices, 1,381 satellite offices, 2,048 fully computerized branch offices, 3,354 Life Plus offices, 31,556 Premium Points, and a Corporate office in Mumbai, Maharashtra.

Further driven by its vision to ease access to its policies and improve customer convenience, the company has undertaken initiatives such as:
LIC has teamed up with banks and service providers across selected cities to facilitate an online premium collection facility.
It has commissioned Info Centers to be set up in Ahmedabad, Bangalore, Chennai, Hyderabad, Kolkata, Mumbai, New Delhi, Pune, and many other cities.
It has launched Satellite Sampark offices, which are smaller, leaner, and closer to their customers.
Products Offered by LIC
LIC offers a range of plans, both individual and group, each catering to the needs of the society through competitive features and additional riders. Customers at LIC are assured the best service and products, including health plans, micro insurance plans, pension plans, term insurance, and unit-linked products, among others, which are constantly updated per changing needs and times.
Let's look at a quick overview of insurance plans offered by the company.
Product Categories
Names of Plans
Insurance Plans
Endowment
LIC Bima Jyoti
LIC New Endowment Plan
LIC New Jeevan Anand
LIC Single Premium Endowment Plan
LIC Jeevan Lakshya
LIC Jeevan Labh
LIC Aadhaar Stambh
LIC Aadhaar Shila
Term Assurance
LIC Jeevan Amar
LIC Tech Term
LIC Saral Jeevan Bima
Whole Life
LICs Jeevan Umang
Money Back
LIC Dhan Rekha
LIC New Bima Bachat
LIC Jeevan Umang
LIC New Money Back Plan - 20 YEARS
LIC New Money Back Plan - 25 YEARS
LIC New Children's Money Back Plan
LIC Jeevan Tarun
LIC Jeevan Shiromani
LIC Bima Shree
P&GS(pension and group schemes)
LIC New Group Superannuation Cash Accumulation Plan
LIC New Group Gratuity Cash Accumulation Plan
LIC New Group Leave Encashment Plan
LIC Group Credit Life Insurance
LIC Single Premium Group Insurance
LIC New One Year Renewable Group Term Assurance Plan I
LIC New One Year Renewable Group Term Assurance Plan II
LIC One Year Renewable Group Micro Term Assurance Plan
Group Immediate Annuities
Pradhan Mantri Jeevan Jyoti Bima Yojana
LIC Group Assurance Plan