Health Insurance Claim Settlement Ratio
Health Insurance Claim Settlement Ratio is a direct indication of trust in the insurance sector. Health Insurance Claim Settlement Ratio simply put is the ratio of claims paid In a financial year in comparison to claims applied by insurance holders. What matters most to determine a good claim settlement ratio is if the claim settlement was done within 3 months of filing for claim settlement or not.
A key lesson that the pandemic has taught us and is continuing to, is that Insurance can save us a lot of financial trouble. With growing hospital bills and medical expenses that are associated with Critical Illnesses, the importance of Health Insurance policy at this time cannot be understated. A well-rounded policy has the potential to relieve a lot of stress that comes with unexpected medical emergencies.
Such policies cover Daycare procedures, Hospitalization, medical care at home (Domiciliary charges), Ambulance charges, etc and reimburse your bills as soon as the Insurance Provider is notified.
For your information, some Insurance Companies offer a direct Claim Settlement process, while others take the help of TPAs (Third Party Administrators) for the same.
Updated Health Insurance Claim Settlement Ratio: CSR and Incurred Claim Ratio
The table below lists the Claim Settlement Ratios and Incurred Claim Ratio of Health Insurance Companies, as reported in the IRDAI Annual Report 2021-22.
CSR and Incurred Claim Ratio of General and Health Insurers (%)
| | | |
| --- | --- | --- |
| S.No. | Insurance Companies | Claim Settlement Ratio (within 3 months) |
| 1 | Acko General | 97.20% |
| 2 | Bajaj Allianz | 96.59% |
| 3 | Cholamandalam MS | 93.23% |
| 4 | Edelweiss General | 97.26% |
| 5 | Future Generali | 96.01% |
| 6 | Go Digit | 96.09% |
| 7 | ICICI Lombard | 97.07% |
| 8 | IFFCO Tokio | 89.38% |
| 9 | Kotak Mahindra | 96.90% |
| 10 | Liberty | 97.30% |
| 11 | Magma HDI | 92.34% |
| 12 | Navi General | 99.99% |
| 13 | Raheja QBE | 93.30% |
| 14 | Reliance | 98.65% |
| 15 | Royal Sundaram | 95.95% |
| 16 | SBI General | 95.04% |
| 17 | Tata AIG | 93.55% |
| 18 | Universal Sompo | 95.77% |
| 19 | National | 86.28% |
| 20 | New India | 92.93% |
| 21 | Oriental | 90.18% |
| 22 | United India | 97.25% |
| 23 | Aditya Birla Health | 99.41% |
| 24 | HDFC ERGO Health | 98.49% |
| 25 | Manipal Cigna | 99.90% |
| 26 | Max Bupa | 99.99% |
| 27 | Religare Health | 100% |
| 28 | Star Health | 99.06% |
Health Insurance Claim Settlement Ratio
What does Claim Settlement Ratio (CSR) mean?
Before purchasing a policy, it is important that you check how dependable a Health Insurance provider is. The Claim Settlement Ratio is a good indicator of the claim support offered by a company. It essentially indicates the number of claims settled by a company out of the total number of claims filed. High CSR indicates that the company has a high claim settling ability.
CSR is calculated as - (total claims settled / total claims filed) multiplied by 100.
For instance, a CSR of 95% indicates that an insurer has settled 95 claims out of the 100 filed by policyholders.
Importance of Claim Settlement Ratio in Health Insurance
Indicator of company's reliability
Informs about the company's financial ability to pay claims
Insight into insurer's consistency in claim settlement
Good metric to compare Health Insurers
Measure of a competitor's performance
The IRDAI releases details about the claims settled within 3 months, which gives you a fair idea about the claim support offered by them. The figure below depicts the Health Insurance Companies that have settled the highest number of claims in FY 2021-22.
Top 10 General and Health Insurance Companies in India (Based on Claims Settled, 2021-22)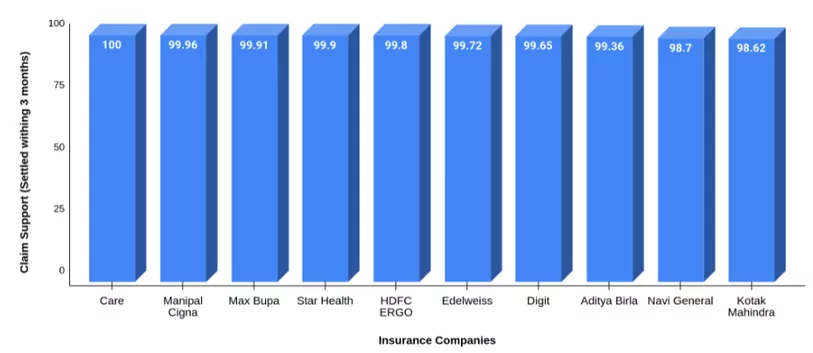 What does Incurred Claim Ratio mean?
In addition to the CSR, the IRDAI also publishes Incurred Claim Ratios of Health Insurance companies.
The Incurred Claim Ratio throws light on the amount paid by the insurer towards settling claims. It basically compares costs incurred on claims versus the income generated by the company through new business premiums.
Incurred claim ratio is calculated as - (total amount paid in claims / total amount received in premiums) multiplied by 100.
For instance, if an Insurance Provider has paid Rs. 55 Crores in settling claims and has earned Rs. 85 Crores through its premiums, its Incurred Claim Ratio will be 64.7%.
Ideally, a good Incurred Claim Ratio should fall in the range of 75% to 90%*. A ratio lower than 50% highlights that the company has set stringent underwriting / claim processing criteria, leading to a lot of claims being rejected. A low ratio could also mean that the premiums charged are significantly higher than the benefits being offered to the policyholders.
* Source - The Economic Times
Does that mean a high Incurred Ratio is a good measure for policyholders?
It is important to note that a higher Incurred Ratio does not always mean that a company is doing well.
For instance, an Incurred Claim ratio above 100% means that the company is spending more on settling claims than the business that they are generating.
Moreover, new players in the domain are likely to have a higher percentage owing to the fact that they may not have sold enough policies.
Therefore, it is always advisable to look at both the ratios to come to a decision.
Claim Settlement Process of Health Insurance
Claim Settlement in case of Health Insurance involves Cashless Claims and Reimbursement Claims. The following sections talks about the two above mentioned types in detail.
Cashless Claim
Such claims can be filed if the Life Insured avails of treatment at the Network Hospitals associated with the Insurance company.
Follow the below mentioned steps to file a Cashless Claim with your Insurer:
Step I: Claim Intimation

Inform the insurer/TPA (for planned treatment- before 48 to 72 hours of hospitalisation, as per the Insurer's timeline) through a call or email. In the case of an emergency hospitalization, you need to inform the company within 24 hours of hospitalisation.

Step II: Documents Approval

Show the Health Card (provided by your Insurer) along with the identity proof at the hospital. Then, the hospital will examine the identity of the policyholder and submit the pre-authorization form to the Insurer/TPA.

Step III: Claim Settlement

The Insurer/TPA will then share the approval (if everything is found in order). After the treatment is done, the insurer will settle the treatment bills directly with the hospital.
Note: There are likely to be exclusions i.e., the expenses that the TPA/insurer won't pay. Such expenses have to be settled by the patient/family directly at the hospital.
Reimbursement Claim
A Reimbursement Claim can be filed by the policyholder if (s)he chooses to avail of treatment at medical centers other than the ones networked with the Insurance Company. In such cases, the policyholder is liable to pay the incurred costs out of their pocket, following which they can file a claim with the insurer for Reimbursement.
The steps below will guide you through the process of filing a Reimbursement Claim.
Step I: Claim Intimation

Inform the Insurance company about your hospitalization as per your Insurer's timeline. Keep all your documents ready along with the hospital bills.

Step II: Documents Approval

Submit the documents along with the claim form. The Insurance company will check all the submitted documents.

Step III: Claim Reimbursement

After the completion of all the formalities, the claim will be settled as per the terms and conditions of the policy. Then, the amount will be transferred to the claimant's registered bank account
Note: If you are unable to reach your Insurance company, you can contact us at PolicyX.com. Call at our toll-free number 1800-4200-269 or write an email to helpdesk@policyx.com. We will help and guide you to settle your claims without facing any troubles.
Documents Required For Claim Settlement
Below is the list of documents you need to submit for filing a Health Insurance claim:
Duly-filled claim form
Medical certificate issued by the doctor and authorised by the hospital along with the attached diagnosis report
ID proof of the claimant
Prescription and cash invoice from pharmacy/hospital
FIR (In case of an accident)
Note: The insurance company may ask for other documents (if required).
Grounds for Claim Rejection
It is important to note the reasons that could lead to your claims getting rejected. The following pointers should help you avoid such a situation in the foreseen future.
Not disclosing pre-existing illnesses
Non-adherence to standard claims process of the Insurance company
Incomplete forms and incorrect information
Wrongfully withholding personal information
The sole purpose of a Health Insurance plan is to better equip individuals to bear finances related to medical emergencies. A legitimate request for claim can never be rejected by your Insurance Provider. Therefore, it is upon you to be careful with important documents and not hide crucial information.