About Cholamandalam Health Insurance
Cholamandalam MS General Insurance Company, a leading insurance company, is a collaboration between Murugappa Group and Mitsui Sumitomo Insurance Company Limited, Japan. The company is recognized and awarded by the Indian government, international entities, and several rating agencies for its innovations in the insurance industry. Cholamandalam Health Insurance provides a significant range of features and benefits to address the medical needs of its customers. The company has come up with 8 health plans, which successfully target all the health care requirements of Indian policy buyers.
With its 132 branches across India and 2,20,000 claims settled per year, the company has become a rapidly growing insurance provider. The health insurance products offered by Cholamandalam are very popular amongst the customers due to their high level of satisfaction through advanced and innovative vision.
Key Features of Cholamandalam Health Insurance
As per IRDAI's report of 2019-20, there are 29 Health Insurance companies in India. With a plethora of insurance providers available in the market, selecting an ideal insurer and plan often becomes a challenging task. So, to make this selection process simpler for the customers and help them decide if Cholamandalam Health Insurance is the right choice for them or not, we've listed below the key features of this company. These key features will provide a detailed overview of the company's performance and help them in taking an informed decision.
| | |
| --- | --- |
| Network Hospitals | 7240+ |
| Solvency Ratio | 1.56 |
| Claim Support (within 3 months) | 91.47% |
| Annual Gross Premium 2019-20 | 316.99 Crores |
Given below is a brief explanation of these features. Let's understand.
1

Network Hospitals

To make sure that your insurance policy provides you with proper protection, it is very important to consider buying a policy from an insurer that offers the benefit of cashless hospitalization. This is because cashless hospitalization is a very useful feature that allows policyholders to get their treatment done in any of the network hospitals as listed by the insurer. The customer does not have to worry about the hospital bills as the insurance company takes care of them.

Cholamandalam insurance company offers cashless hospitalization benefits and has partnerships with more than 7240 network hospitals across India that allow customers to enjoy hassle-free cashless hospitalization.

For more clarification, refer to the chart below that highlights Cholamandalam Company's network hospitals list and shows its comparison with other insurers.

Network Hospitals of Cholamandalam MS Insurance Company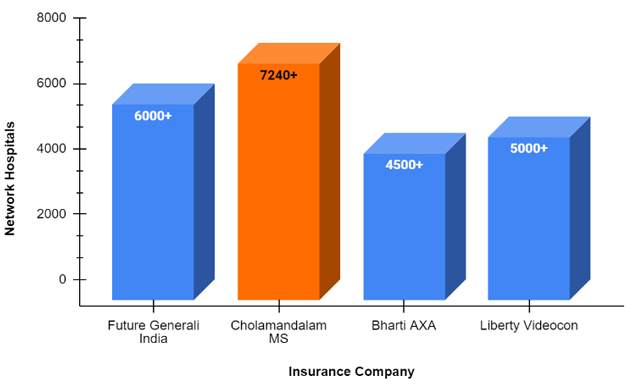 **Data from IRDAI Annual Reports
2

Annual Premium

Before buying an insurance policy, it is highly suggested that a customer should check the business reputation and market performance of his insurance provider. And one of the best parameters for this check is the insurer's annual premium record. In the case of Cholamandalam Health Insurance, the company has witnessed some ups and downs in its annual premium over the past few years. As per IRDAI records of 2019-20, the company had an annual premium of Rs. 316.99 crores.

Let's refer to the chart given below to track Cholamandalam's performance in annual premium from 2016-17 to 2019-20.

Annual Premium of Cholamandalam MS Insurance Company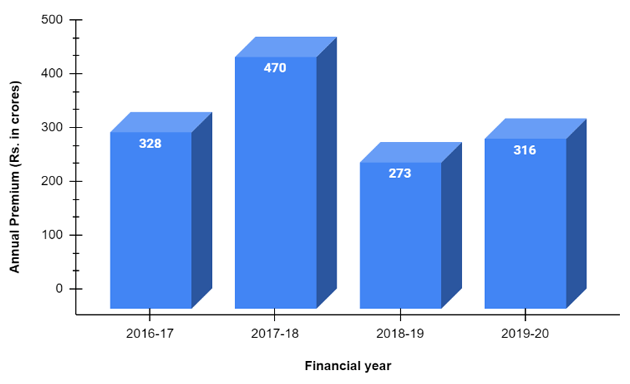 **Data from IRDAI Annual Reports
3

Claim Support

An ideal insurer is always available to assist its customer during his/her difficult times. So while selecting an ideal insurance company, customers should always check the history of claims settled by that company. One should always opt for a company that has a quick and easy claim process as well as a good claim support ratio. The claim support ratio is a useful parameter that shows the number of claims settled by the company during the last three months so that a customer can analyze the company's claim settling ability.

In the case of Cholamandalam, the company has an average claim support ratio of 91.47. Let's have a look at the chart given below that shows a comparison between the claim support ratio of Cholamandalam and its competitors.

Claim Support Ratio of Cholamandalam MS Insurance Company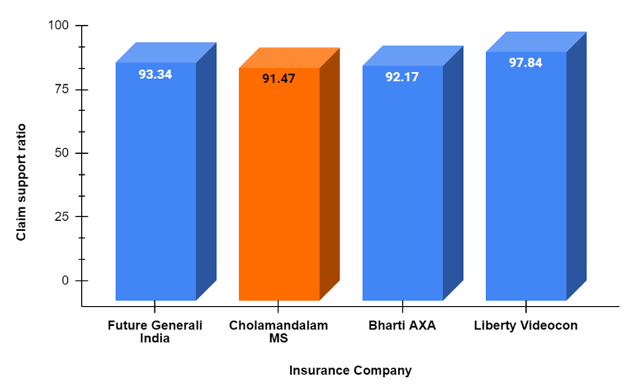 **Data from IRDAI Annual Reports
4

Solvency Ratio

Apart from claim support and market reputation, another important thing that should be considered while buying a health insurance policy is checking the financial background of the insurance provider. And for this, customers should check the solvency ratio as it helps in measuring the ability of the company to meet its long-term debt obligations. As per IRDAI, all insurance companies in India are obliged to maintain a minimum solvency ratio of 1.5, and Cholamandalam MS Insurance company has been able to match this criterion. At present, the solvency ratio of the company is 1.56.

For more details, refer to this graph given below that shows the solvency ratio record of Cholamandalam for the last 4 years.

Solvency Ratio of Cholamandalam Health Insurance Company from 2016-17 to 2019-20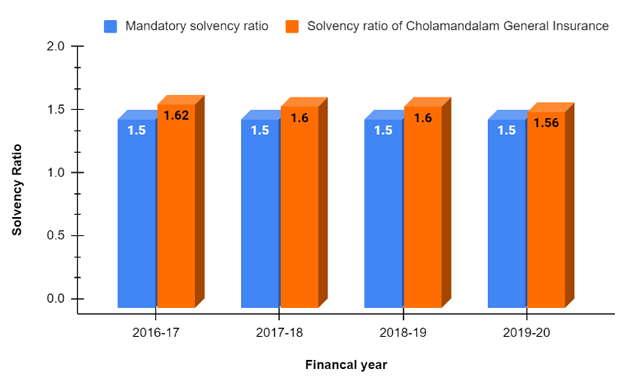 **Data from IRDAI Annual Reports
How To Purchase Cholamandalam Health Insurance Plans?
For customers, there are two methods available for buying Cholamandalam's health insurance policy. First, the policy can be bought from Cholamandalam's company's website. Secondly, customers can buy it from third-party intermediaries like agents and brokers who deal in selling health insurance plans.
One of the most trusted and simple methods of buying Cholamandalam's health insurance is purchasing it online from the company's website. The company has also designed an excellent and convenient way to help its customers buy the policy within a few minutes. Let's check out its process.
Open the website of Chola MS General Insurance and click on the 'Health' icon present on the left side of the page.
You will see the 'Buy' option. Tap on 'Get Quote' to proceed with the purchase.
Choose the plan you want to buy, and click on the 'Buy Now' option.
Enter the mandatory details and tap on the 'Proceed' option.
The company will call you to process your application further.
You can also buy the Chola MS health insurance offline. Just visit the nearest Chola MS branch office for the same.