Term Insurance Calculator
Whenever you buy an insurance policy, you will be required to pay a specified premium to your insurance provider in exchange for the life cover offered by them. The same rule applies for a term insurance policy too. But the premium amount which you need to pay for a term plan is affected by a variety of factors such as coverage amount selected, age of the insured, tenure period of the plan, TnCs of the insurer and many more. To make sure that you don't face any financial hardship with regards to your insurance policy in future, it is important that you must carefully consider your premium amount at the time of selecting a term plan. Hence, term insurance calculators are designed to help customers determine the premium amount which they will be required to pay for their plan and make a right decision accordingly.
What is a Term Insurance Calculator?
Term insurance calculator is an online tool, which helps a person to know the approximate premium cost that (s)he has to pay to buy a term insurance policy from an insurance company. It's quite a handy tool which allows you to do an easy and instant comparison between the different types of term insurance plans offered by the companies to select a suitable one.
Why is a Term Insurance Calculator Important?
Even today, many people prefer buying term insurance via agents. However, there is one thing that they don't understand- buying a policy through an agent results in an increased premium amount. And to avoid paying such high premium costs, it is best to make use of a term insurance premium calculator. The calculator turns the entire process into a hassle-free and time-saving procedure.
Mrs. Vandana plans to buy term insurance for her family. On her sister's advice, she asks for an agent's help. Unhappy with the discussion, she decides to do her research. She comes to know about the 'Online Term Insurance Premium Calculator'. In a matter of a few minutes, the calculator generates top-notch term insurance plans (along with the premium rates ) on her screen. She selects the desired plan and manages to save around 10% as compared to the quotations offered by the agent.
Benefits of Term Insurance Premium Calculator
If you are planning to purchase the best term plan, we strongly suggest that you should take help of a term insurance premium calculator. Why? Given below is the list of benefits of a term insurance premium calculator that will a help you understand its necessity in the present digital age.

Easy comparison
Generally, insurance companies sell multiple term plans to meet the needs of different customers. Using a term insurance premium calculator makes things a bit simple by allowing the users to easily compare the features, premium, and coverage of all different term plans and then make an informed decision.

Time-saving and hassle-free
As everything is done online, there is no need to submit hard documents. You just enter the information, wait for the quote, and select the best among them.

Cost-effective
Buying term plans online is cheaper than the offline mode, as no intermediary is involved. Also, some of the term insurance companies offer special discounts and offers when you buy an insurance policy online.
Types of Term Insurance Calculators
Human Life Value (HLV) Calculator: This online calculator is used to find out the life insurance coverage required by a person. By using this calculator, the policyholder can get an estimate about how much coverage would be enough for him/ her to secure the future of his/her loved ones in case of his sudden demise. The calculator displays results after analysing the basic needs of the policyholder based upon a few factors such as age, gender, when he/she wants to retire, occupation, annual wage etc. It is a very valuable tool as it helps people in determining an adequate coverage amount and then opt for an ideal plan.

Eligibility Calculator: With this calculator, an individual can find out which plan, coverage he/she is eligible to apply for. This calculator is considered a very useful financial tool as it allows people to identify the plans and maximum coverage amount available for them and then make an informed decision accordingly. The calculation is done based on a few parameters such as applicant's age, annual income, qualifications, type of profession and existing life cover amounts (if any).

Refer to our eligibility calculator and find out your eligibility instantly.

Body Mass Index (BMI) Calculator: As the name suggests, a BMI calculator is used to calculate the body mass index of a person on the basis of his weight and height. This calculator is considered useful since the body mass index of a person plays an important role in determining the premium amount which the policy buyer should pay for the insurance policy. Higher the BMI, more will be the premium amount. This is because a person with BMI above average is more prone to health related problems and his medical spendings are bound to be more, which in return, increases his premium amount. People planning to invest in a term insurance plan can use this calculator to get an idea about how much premium their insurance provider should charge them on the basis of their health conditions.

Income Tax Calculator: This calculator is used to calculate taxes payable upon an individual's income. It is a simple and easy to use financial tool that allows people to calculate their taxable income and determine their overall tax liability to know where they can avail tax saving.
Factors To Consider While Calculating Term Insurance Premium
As we've already discussed above, the premium amount for a term insurance plan depends upon a variety of factors. Given below is a list of a few such noteworthy factors. It is important that you should take into consideration all these factors while calculating premium for your term plan-
Age: Age of the policyholder has a direct impact on the premium charged for a term plan. Generally, insurance companies assume that a person is less prone to diseases in their young age and therefore has few chances of filling a claim. So, they charge a lower premium amount from a young person. However, as a person grows old, (s)he becomes more exposed to diseases and the chances of filing the claim are increased. As a result, insurers increase their premium amount for people who take a term plan in older age. This implies that the older you opt for a term plan, the higher premium you have to pay. To see how age affects premium amount in a term plan, refer to this age slider here.

To see how age affects premium amount in a term plan, refer to this age slider here.

Requirements: Before calculating the term insurance premium, it is important to decide your insurance needs and requirements. Every insurance plan offers different benefits, and it's important to choose a plan according to your future financial goals.

Gender: If we go by the data of life insurance providers, women live longer than men. Therefore, women are charged a lesser premium as compared to men of the same age.

Lifestyle: The lifestyle of an individual is also considered while calculating the term insurance premium. If one has smoking habits or is an alcoholic, (s)he will be more prone to life-threatening diseases and will need to pay high premiums.

Policy Term: Policy tenure plays a key role while calculating the term insurance premium. The shorter the duration of the policy, the higher premium you have to pay.

Sum Assured: The chosen coverage amount of your term insurance plan is another factor that affects its premium amount. If you choose a high sum assured, you have to shell out a higher premium in return.
To understand better, refer to the data in the table given below.
Here in this table, we've listed the amount of premium charged for different coverage amounts in a term plan.
| | |
| --- | --- |
| Coverage Amount | Premium per month (in Rs.) |
| 50 Lakh | 509 |
| 1 crore | 908 |
| 2 crore | 1,559 |
| 3 crore | 2,131 |
| 4 crore | 2,842 |
| 5 crore | 3,502 |
**Last Updated on 19-03-2021
*Note- Premium in the table is calculated from the website of Max Life Insurance for a non smoker 30 year male, taking a term insurance policy for a period of 30 years.
Average Premium Cost according to the Coverage Amount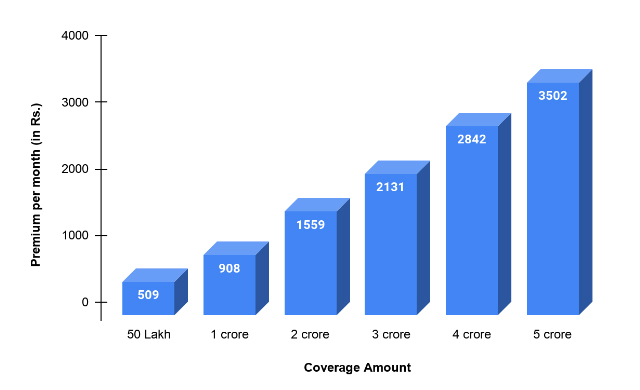 Term Insurance Calculator by PolicyX.Com
The team at PolicyX.Com has designed a dynamic and easy to use term insurance premium calculator to help customers calculate the annual/monthly premiums for their term insurance policy. You can easily compare and find free quotes instantly. The process of using this calculator is explained below. Read along to find out.
Details Required
The process of using a term insurance calculator is very simple and easy. All you need to do is fill in the required details and the calculator will display the results. But you must keep in mind some specific details while calculating premium through a term insurance calculator. Given below is a list of few such details. Let's check them out-
Applicant's name
Contact number
Date of birth
Annual income
Gender
City of residence
Sum assured
Additional riders (if required)
Tenure period
Steps for Using a Term Insurance Calculator
After discussing what all details are required for using a premium calculator, the next important part is knowing how to use this calculator. Generally, the calculator functions in 4 simple steps. Let's take a look at it.
Look for 'Free Quotes From Top Companies' on the top of this page. Enter your personal details and click on 'Continue'.

Fill-in your income, city and click on 'Proceed'.

Select the sum assured amount, policy tenure and riders (if needed).

Within a few minutes, the calculator will display premium details of different term plans offered by the companies.
Are Online Term Insurance Premium Calculator Estimates Reliable?
The term insurance premium calculator indeed eliminates the hassle of lengthy manual calculation, also puts an end to human errors and saves a lot of time and energy. To get the correct estimate of your term insurance premium, you need to enter correct personal details, the desired sum assured, and preferred policy term to enable it to generate the premium amount for different term insurance plans.