Term Insurance for Senior Citizens
Mr Bhatnagar is a 62 years old man living with his wife in Mumbai. He runs a business, upon which his wife & children are largely dependent.
Mr Bhatnagar was greatly shaken by the COVID-19 pandemic and was worried about his wife's welfare in case something untoward happens to him. Moreover, earlier in 2018, he decided to expand his business and took a loan for the same. To secure the financial commitments in his absence, Mr. Bhatnagar started searching for the best Term Insurance for Senior Citizens.
However, considering his age, he had a lot of questions in his mind regarding Term Insurance.A lot of people are still not acquainted with the facts related to Term Insurance for Senior Citizens. Read along to find answers to the most common concerns.
Can I Buy Term Insurance after 60 Years?
If you are thinking about whether there are any specific Term plans for Senior Citizens – the answer is No. There are no specially designed Term Insurance plans for Senior Citizens, however, many Insurance Companies allow customers to buy a Term plan till 60- 65 years which makes it possible for even Senior Citizens to buy Term Insurance. However, the maximum Entry Age depends upon Insurer to Insurer.
The primary condition upon which buying Term Insurance depends is Income. In order to avail the benefits of Term Insurance, you must be an earning member.
Do I Even Need Term Insurance in My Old Age?
If a senior citizen has family members who are not financially dependent upon him/ her or who does not have any pending liabilities, the need of Term Insurance is not significant.
However, there are situations where a Senior Citizen might need Term Insurance. Let's take a look at these scenarios:
Scenario 1: Your Kids are Financially Dependent on you

Term insurance after 60 can be considered important if your family is still dependent on you financially. This situation may arise if your children wish to pursue higher studies for professional courses/ start business of their own & need financial assistance from your side.

Scenario 2: You Don't Want to Financially Burden your Wife

If your wife depends on you financially, then after your death, she would be in a great financial crunch. It's better to have Term Insurance if there is no other source of income. The money received post your death will keep her self-reliant.

Scenario 3: You are working Post Retirement

You might need a Term policy if you are still working post-retirement because of any financial liabilities such as child marriage, outstanding home loans or unpaid debts.

In such a scenario, if something unfortunate happens to you, then your family can use the money received from Term Insurance to pay off the outstanding debts.
Term Insurance Plans for Senior Citizens
Following are some of the popular top term insurance plans for senior citizens. Let's take a look at these plans:
| | | | |
| --- | --- | --- | --- |
| Plan Name | Maximum Entry Age (in years) | Maximum Maturity Age | Minimum Sum Assured (in Rs.) |
| HDFC Life Click 2 Protect Life | 65 years | 75 years/ 85 years/ Whole Life * | 50,000- 2,00,000 |
| ICICI Prudential iProtect Smart Term Plan | 65 years | 75 years/ 85 years/ Whole Life * | Subject to the minimum premium |
| TATA AIA Saral Jeevan Bima | 65 years | 70 years | 5,00,000 |
| LIC Tech Term | 65 years | 80 years | 50,00,000 |
| MAX Life Online Term Plan PLus | 60 years | 85 years | 25,00,000 |
Why Buy Term Insurance for Senior Citizens?
Below mentioned are the few reasons that may help you understand the importance of buying a Term Insurance policy for elderly persons:
Income Replacement for Family
In case you are the sole earning member of your family or have the liability to pay off, it is better to create a financial cushion in the long term. Purchasing Term Insurance for Senior Citizens will work as an income replacement for the family in case of an eventuality.
Financial Corpus
With Term Insurance, you can ensure that your loved ones and dependents have enough funds to look after their financial needs when you're not around.
Death Benefit
Term Insurance plans come with different payout options, which means that after the death of the policyholder, the beneficiaries/ nominees can receive the Death Benefit in the form of a lump sum payment or monthly income.
Inheritance for Children
With an adequate Term Plan, you can leave a substantial sum of money for your children as an inheritance.
How Buying Term Insurance after 60 will affect my Premium?
We all know that Term Insurance is a pure Death Benefit policy that provides Life Cover to the Insured against the risks of sudden or untimely death during the policy term. Generally, the Insurance Company covers an individual maximum up to the age of 75 or 85 or 99(whole-life) years.
One is eligible to buy Term Insurance till the age of 65*. However, buying a Term policy at latter stages of life/ high age will result in higher premiums. With increasing age, there is a higher chance that your health might decline which may result in certain illnesses. This effectively means that a Senior Citizen is more prone to catching major ailments which could result in death.
For a better understanding, we have compared the premiums of the ICICI Prudential iProtect Smart Term Plan (whole life cover up to 99 years) for a cover amount of Rs. 50 Lakhs at different ages. Take a look:
| | | |
| --- | --- | --- |
| Age | Monthly Premium (in Rs.) | Annual Premium (in Rs.) |
| 30 Years | 1552 | 18,160 |
| 40 Years | 2551 | 29,869 |
| 50 Years | 4361 | 51,073 |
| 60 Years | 6,828 | 79,963 |
Take a look at the below graph to get an idea of how the premium increases with increasing age:
Graph Illustrating Rise in Premium with increasing age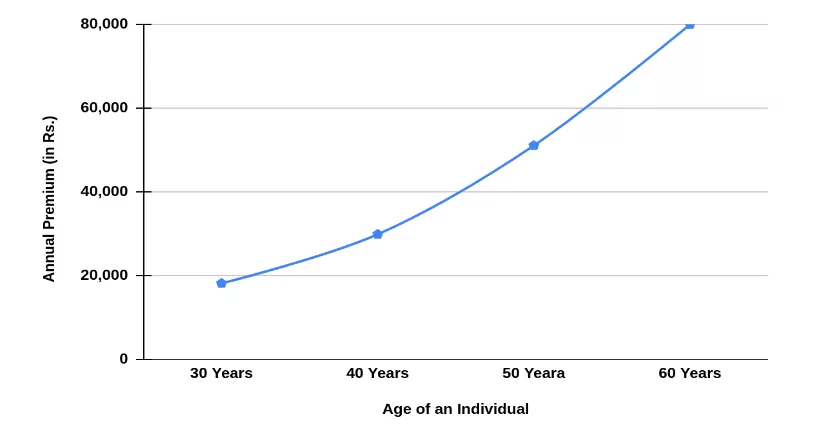 With the help of the above mentioned table & graph, you can analyse that premiums increase with an increase in age.
Factors to Keep in Mind Before Buying Term Insurance for Senior Citizens:
Premium Amount

Buying Term Insurance after 60 years will result in higher premiums. As you grow old, the immunity substantially decreases which increases the chances to catch lifestyle ailments.

Pre Medical Check- Ups

You might have to undergo a Medical Check- Up before you invest in a Senior Citizen Term Insurance plan,

Sum Assured

The Sum Assured offered to the Senior Citizens or the coverage could be lower because of limited policy terms and age factors
**Note- Before buying a Term Insurance for Senior Citizens, go through the policy wording thoroughly and if need arises, you must talk to your Insurer directly. You must carefully read all the terminologies and coverages and then decide to invest in a plan.
With the help of the above mentioned table & graph, you can analyse that premiums increase with an increase in age.
Is Senior Citizen Term Insurance Necessary in India?
No, having Term Insurance for Senior Citizens is not necessary in India. However, with advancements in medical sciences, the average life expectancy in India has increased.
If we go by the records, as per the National Health Profile 2019, the Life Expectancy of Life at Birth has increased from 49.7 years in 1970-75 to 68.7 years in 2012-16; which means that you can work for more years of your life. This effectively means that the chances to be eligible to buy Term Insurance are increasing with time.
Living costs are on a rise. If you're a Senior Citizen, earning at the moment, your family is financially dependent upon you & later, in future, you succumb to death, your financial corpus will diminish over a period of time, which will leave your family in distress.
Thus, it is always better to have a backup plan well prepared in advance and secure your loved ones from any sort of financial crisis after your death.
Summing it up
Being the sole breadwinner of your family, it is your responsibility to secure your family's future. However, one must remember that buying Term Insurance at a late age will require a high premium.
Therefore, you must be very prudent, if you are planning to buy Term Insurance for senior citizens. The purpose of Term Insurance is to ensure that your dependents are not left in the swamp of debts after your death. Choose a plan according to your specific needs and secure your family's happiness.
Last Updated : October, 2021