ULIP - Unit Linked Insurance Plan
A Unit Linked Insurance Plan is a complete package of investment and insurance cover that allows you to do wealth enhancement. Usually, ULIPs are transparent and flexible that allows a person to customize his/her plan as per the requirement. It offers you insurance coverage and allows you to invest a part of your premium in qualified investment options that include stocks, bonds, mutual funds and much more.
A short history lesson- They were first introduced in 1971 by Unit Trust Of India. Since then, the Indian insurance market has appreciated its importance and slowly, major providers such as ICICI Prudential, Bajaj Life & HDFC have introduced their ULIP plans for the Indian consumers.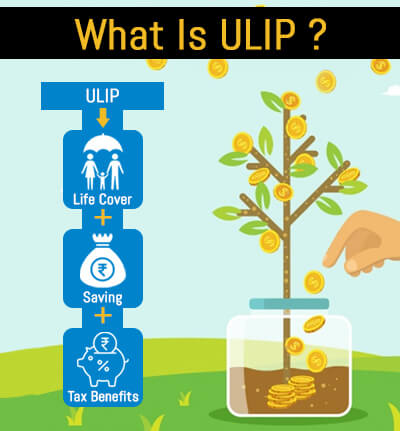 Today, more providers have tapped into the game of ULIP plans and are successfully satisfying the needs of their customers by offering such plans with new-age features at minimal charges. Before you buy them, it's better to get a detailed understanding of ULIP plans.
Types Of ULIP Plans In India
In India, life insurance companies offer different forms of ULIPs. To meet everyone's need, these plans are divided into 3 categories. They are as follows.
Classification By Purpose

ULIP for Retirement

Under this plan, you have to make the payment for a specific period with your employer that is automatically collected as a corpus amount. As an insured, you will get it in the form of annuities after your retirement.

ULIPs for Wealth Collection

It accumulates your wealth for a specific period. This is best suited for those people who are in their late twenties and early thirties. By investing in this plan, they will get the flexibility to fund their financial goal.

ULIP for Child Education

There is no doubt in saying that as a parent you want to secure your child and his/her future from an unforeseen event that can ruin their career. In such cases, choose a ULIP for your child that can help them in different stages of their life.

Classification By Death Benefit

Type 1 ULIP Plans

If an insured dies due to an unfortunate incident, the nominee will receive higher of the fund value/sum assured as a death benefit. But if the death occurs at the start of the policy (when the sum assured > fund value), the insurance provider will pay the amount to the nominee.

Type 2 ULIP Plans

In this plan, if the policyholder suffers an unfortunate death, the nominee will receive both- sum assured & fund value as a death benefit.

Funds of ULIP Plans To Invest in

Cash Funds

These come under the category of 'Safe Funds'. By investing in them, you will get a selected amount of returns upon its maturity.

Equity Funds

They top the list of 'Riskiest ULIP Investment' but offer the highest returns. Company's stock & equities are its domain of investment.

Fixed Interest & Bond Funds

Such funds are famous for giving timely returns and are chosen by those people who prefer close to medium risk with prompt rewards. In other words, these funds are a perfect combination of unsecured & secured investments

Balanced Funds

Such funds are renowned to offer medium risks with decent returns. The amount that you pay via premiums is invested in stock market & corporate bonds.
Advantages Of ULIP Plans

Transparency
One of the best things about investing in ULIP plans is its power of transparency. You will get timely updates about your investments in different funds without breaking a sweat.
---

Tax Benefits
By the grace of the Income Tax Act, 1961, you will be happily stuck in a win-win situation that saves tax, offers coverage and good returns.
---

Choice of Systematic Investment
Apart from the insurance coverage, it is also good at systematic investment planning. It allows you to choose your investment and get good benefits in return.
---

Market Linked Return
It allows you to earn market-linked returns as part of the premium is invested in market-linked funds that are invested in different forms of investment options.
---

Flexibility
It does not force you into investing as it provides complete freedom to choose your investment option as per your risk profile. Also, you can swiftly switch between several fund options offered under the umbrella of a ULIP plan.
---

Partial Withdrawals
Once you cross the lock-in period of 5 years, you can proudly withdraw some amount of money to fight off an emergency.
How Does It Work?
The premium which you pay for your unit-linked insurance plan is used for building wealth and provides insurance coverage as well. In the starting years of the plan, a large amount of the premium is used for the plan expenses. Later on, the premium is divided into two different segments- investment and insurance.
Units are issued for the amount invested in a fund of your choice; it can be debt, equity or a combination of both. The allocation of the units relies on the performance of the original fund. In the initial 2 to 3 plan years, because of the deduction of high expenses, the value of the fund would stay low.
Moreover, the mortality charges will also get deducted monthly. It is the sum assured for offering a life cover to a person and will change as the fund value that you have selected. For the maintenance of these funds, an amount that is referred to as fund management charges will be deducted.
Best ULIP Plans in India 2021
If you want to get superb results, you have to invest in the plan which rules its competitors in the market. Meaning, you have to keep a close eye on the deciding factors (sum assured, premium amount, etc) of a plan. To ease your load, we have listed 7 top ULIP plans in India 2021.
ULIP Plans
Entry Age
Minimum Premium
Premium Allocation Charge
Free Switches
Bajaj Allianz Future Gain
1-60 years
Rs.25000 p.a.
0-2.5%
Unlimited
HDFC Click 2 Wealth
30 days-60 years
Rs.3000 (Quarterly) & Rs.24000 (Single pay)
Nil
Unlimited
PNB Metlife Smart Platinum
7-70 years
Rs.30000-60000
1-5 years- 6%
6-10 years- 2.5%
After 11 years- NIL
4
SBI Life Wealth Assure
8-60 years
Rs.50000
3% of single premium
2
ICICI Pru Wealth Builder II
0-69 years
Rs.24000-48000
3%
None
HDFC Life ProGrowth Plus
14-65 years
Rs.2500-24000
2%
Unlimited
LIC Market Plus- I Growth Fund
18-65 years
Rs.5000-30000
3.3%
4
Table Data updated on 22-01-2021
What Should You Consider Before Finalizing a ULIP Plan?
Like any other investment, ULIP plan will require your utmost attention and of course, a portion of your hard-earned money via premiums. So, it is important to make the right call where looking back is a no-go for you. To do that, you should go through the following factors and spend some time on it. They are as follows:-
All the charges that will be levied on entry/exit of the policy.
Take a look at the plan's performance in the past 3-4 years. You will understand its highs and lows.
You need to understand how a ULIP works. Every single detail should be in your head.
Evaluate & compare every plan in the market based on cost structure, premium payments, returns, etc.
ULIP Plans vs Traditional Plans vs Mutual Funds
| | | | |
| --- | --- | --- | --- |
| Factors | ULIPs | Traditional Plans | Mutual Funds |
| Type | Investment cum insurance plan | Insurance plan | Investment plan |
| Investment | As per the investor's decision, the money is invested in hybrid, debt or equity funds. | As per the investor's decision, the money is invested in debt & equity instruments. | As per the investor's decision, the money is invested in debt, equity funds & money market instruments. |
| Risk | Moderate | Low | High |
| Liquidity | Only if the lock-in period of 5 years is over. | Locked till maturity | No lock-in period |
What Types of Charges Are Home To a ULIP Plan?
Unfortunately, a few charges are closely associated with a unit linked insurance plan. You should memorize them to avoid any confusion in the future. We will list out the top 5 charges for your references.
Surrender Charges: These charges are deducted for partial/full withdrawal of premature units of ULIP documents.
Premium Charges: To avail the benefits of a ULIP, you have to pay a premium. These charges depend on your payment cycle (monthly, quarterly, half-yearly & annually).
Administration Charges: These charges are systematically deducted to compensate for the expenses that are paid by the insurance company for maintaining a life insurance policy.
Fund Switching Charges: Every unit linked insurance plan has different fund options in its arsenal. The insurance company allows investors to switch between funds in return for a fee.
Partial Withdrawal Charges: Once the lock-in period is over, investors are allowed to take out a small amount of money to meet their needs. However, they have to pay a charge for it.
What Documents Do I Need To Buy a ULIP Plan?
Thankfully, there is a short list of documents that are required to be a proud owner of a unit linked insurance plan. They are listed below:-
Driving license, aadhar card, passport, voting card, etc.
Driving license, aadhar card, passport, voting card, etc.
Bank statement, salary slips, etc.
Voting card, PAN card, etc.
How Can PolicyX.com Help You in Buying a ULIP Plan?
Buying a ULIP plan is not a cakewalk. In-depth research, budget planning and negotiating with agents can put a toll on your brain. You need a friendly hand who can take care of the background work and offer you suitable options. PolicyX.com can perfectly blend in this role. With the help of our ULIP calculator, we will offer you a list of companies with their charts of premiums, returns, etc. If you have any doubts regarding the same, our well-trained team of experts can clear them in a matter of minutes. We want your investments to grow and for that, we are willing to step up in any way.