Unit Linked Insurance Plans
A Unit-Linked Insurance Plan is a complete package of investment and insurance cover that helps in wealth enhancement. Usually, ULIPs are transparent and flexible, allowing a person to customize his/her plan as per the requirement. It offers you insurance coverage and allows you to invest a part of your premium in qualified investment options that include stocks, bonds, mutual funds, and much more.
ULIP plans were first introduced in 1971 by Unit Trust Of India and since then these plans have been appreciated by the Indian insurance market.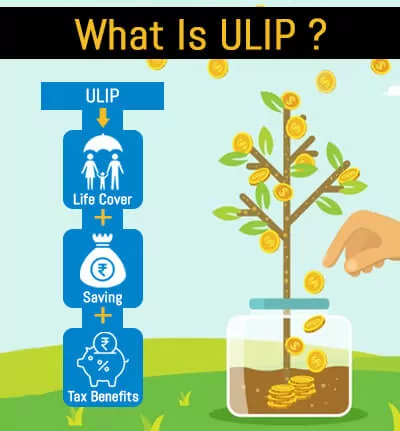 Today, more providers have tapped into the game of ULIP plans and are successfully satisfying the needs of their customers by offering such plans with new-age features at minimal charges. All major insurance companies including ICICI Prudential, Bajaj Life, HDFC, and many more offer myriads of ULIP plans to Indian consumers.
Let's get a detailed understanding of ULIP Plans before making a buying decision.
What is The Importance of ULIP Plans?
ULIP plans allow you to invest early, at 18 years of age. When a policyholder pays the regular premiums for the ULIP plan, the insurer uses a portion of it for the life insurance cover. The remaining amount is used for the different debt and equity investments, thus accumulating enough wealth to financially support your post-retirement life. The most essential part of such plans is that a policyholder can determine the policy's tenure and exit at any time after the lock-in period. ULIP offers the flexibility to decide when to retire and start enjoying life after retirement.
Here is an example for a better understanding of ULIP plans.
Kamal, 30 years old, wants to retire at the age of 60 years with sufficient money to travel with his wife. He is well aware of regular and possible expenses such as household essentials, medical bills, damage, and repair, etc. Thus, he estimated that approximately RS. 5 Crores should be required to lead an independent and comfortable life after retirement. Kamal can now opt for a ULIP plan with a monthly premium of about Rs. 15,000. Upon 60 years of age at his retirement, he can decide to get the returns either as a regular income or lump sum depending on his requirements. ULIP plans work by investing your premiums into the type of fund of your choice while offering you life cover protection.
How Does it Work?
The premium you pay for a unit-linked insurance plan is used to build wealth and life cover. In the starting years of the plan, a large amount of the premium is used for the plan expenses. Later on, the premium is divided into two different segments- investment and insurance.
Units are issued for the amount invested in a fund of your choice; it can be debt, equity, or a combination of both. The allocation of the units relies on the performance of the original fund. In the initial 2 to 3 plan years, because of the deduction of high expenses, the value of the fund would stay low. Moreover, the mortality charges will also get deducted monthly. It is the sum assured for offering a life cover to a person and will change as the fund value that you have selected. For the maintenance of these funds, an amount that is referred to as fund management charges will be deducted.
ULIP Plans vs Traditional Plans vs Mutual Funds
| | | | |
| --- | --- | --- | --- |
| Factors | ULIPs | Traditional Plans | Mutual Funds |
| Type | Investment cum insurance plan | Insurance Plan | Investment Plan |
| Investment | As per the investor's decision, the money is invested in hybrid, debt, or equity funds. | As per the investor's decision, the money is invested in debt & equity instruments. | As per the investor's decision, the money is invested in debt, equity funds, & money market instruments. |
| Risk | Moderate | Low | High |
| Liquidity | Only if the lock-in period of 5 years is over. | Locked till maturity | No lock-in period |
Benefits of ULIP Plans
Life Protection, Savings, and Investment - ULIP plans inculcate the habits of saving and investing at the same time, both of them are important elements for building long-term wealth. ULIP plans offer double benefits of savings at market-linked returns as well as life insurance cover. With this plan, a policyholder can invest in a number of market funds to earn a high rate of returns, thus providing a feeling of security.
Market Linked Returns

It allows you to earn market-linked returns where a part of the premium is invested in market-linked funds that are invested in different forms of investment options such as debt and equity in varying proportions.

Death Benefits

ULIP plans offer death benefits in case of the death of a policyholder during the policy term.

Investment and Insurance Benefits

Unit-Linked Plans also offer the option of triple benefits of tax savings, life cover, and investments. An assured person gets a benefit from a comprehensive life cover based on his/her requirements, budget, and market-linked returns.

Maturity Benefits

ULIP plans come along with maturity benefits in case the policyholder meets the maturity period of the plan. This benefit is provided to the beneficiary in the form of a lump sum of the fund value.

Tax Benefits

By the grace of the Income Tax Act, 1961, you will be happily stuck in a win-win situation that saves tax, offers coverage, and good returns.

Partial Withdrawals

Once you cross the lock-in period of 5 years, you can proudly withdraw some amount of money to fight off an emergency.
Best ULIP Plans In India 2021
Here is a quick list to get you well-versed with the different criterion of some of the major insurance providers in the market:
Premium Comparison of Different ULIP Plans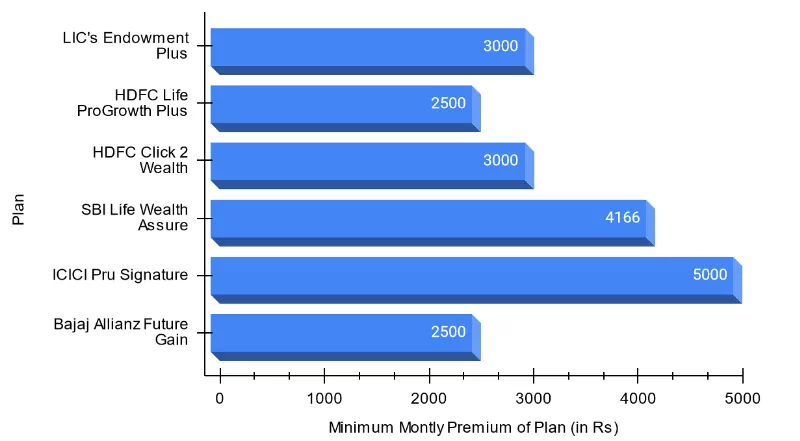 LIC New Endowment Plus

LIC New Endowment Plus is a Unit-linked, Non participating, regular premium, which offers investment and insurance coverage during the policy term.

Key Features:

Flexibility: If offers the option to choose from investment fund options
Death Benefits: An amount equal to the unit fund value shall be payable on the death of the life assured before the date of commencement of risk.
Maturity Benefit: An amount equal to the unit fund shall be payable to the life assured on surviving the set date of maturity.
Tax Benefit: Get the tax benefit on paid premiums under sections 80 (C) and 80(D) of the Income Tax Act, 1961.

Eligibility:

| | |
| --- | --- |
| Minimum Entry Age | 90 days |
| Maximum Entry Age | 50 years |
| Minimum Maturity Age | 18 years |
| Maximum Maturity Age | 60 years |
| Policy Term | 10 to 20 years |

HDFC Life ProGrowth Plus Plan

HDFC Life ProGrowth Plus is a unit-linked insurance and regular premium plan where the premium is invested in the market, thus providing good returns along with various benefits. This plan offers the flexibility to choose investment funds and regular premiums.

Key Features:

The policy offers the flexibility to plan your investment strategy based on return requirements.
The payment-paying process is quite convenient and smooth. It offers access to multiple modes such as credit cards, cheques, internet banking, and auto-debit facility.
Tax benefit on the premiums paid under section 80(C) and 80(D) of the Income Tax Act, 1961
Partial withdrawals to meet unplanned expenses
The plan offers the flexibility to choose from Life and Extra Life option:

Life Option: Death Benefit
Extra Life Option: Death Benefit + Accidental Death Benefit

Assured is allowed to change the frequency of premium payment anytime

Eligibility:

Parameters
Minimum
Maximum
Entry Age (Life Option)
14 years*
65 years
Entry Age (Extra Life Option)
18 years
55 years
Maturity Age (Life Option)
-
75 years
Maturity Age (Extra Life Option)
-
70 years
Premiums
Annual
Rs. 24,000
Rs. 1,00,000
Half-yearly
Rs. 10,000
Rs. 50,000
Monthly
Rs. 2,500
Rs. 8,333
Policy Term
10 years
30 years
Premium Payment Term
10 years
30 years

HDFC Life Click 2 Wealth

It is a non-participating unit-linked life insurance plan that offers market-linked returns and provides valuable financial protection for you and your family at minimal charges.

Key Features:

The plan offers 1% of Annualized premiums to the policyholder's fund value.
Insured can choose out of 10 fund options with unlimited free switching
Flexibility in premium payment options i.e., Single pay, Limited, and Regular pay
Get the advantage of Rupee Cost Averaging using Systematic Transfer Plan Strategy
Three option under this plan helps to maximize the benefits:

Invest Plus Option: Provides you the option of accumulating Fund Value upon vesting of the policy. All the mortality charges will be returned by the insurer.
Premium Waiver Option: Waives off all future payments in case of any unfortunate event like the death of the assured person.
Golden Years Benefit Option: The accumulated Fund Value and other mortality charges received at the end of the policy (maturity) will be added to the fund value when the policyholder turns 70 years.

Eligibility:

Parameters
Invest Plus
Premium Waiver Option
Golden Years Benefit Option
Entry Age
Life Assured: 0 years (30 days) to 60 years
Life Assured: 0 years (30 days) to 60 years
Proposer: 18 years to 65 years
Life Assured: 0 years (30 days) to 60 years
Maturity Age
18 years to 75 years
18 years to 75 years
99 years
Policy Tenure
10 to 40 years
99 minus Age at Entry

SBI Smart Wealth Assure

It is an individual, Unit Linked, Non-participating, Life Insurance Product. It is a single premium product where you are required to pay a premium only one time.

Key Features:

Flexibility to invest in Return Guarantee Fund for a 10 years
Option to choose from a range of funds offering market-linked returns
The plan allows the policyholder to only pay once and enjoy the benefits throughout the policy term
Liquidity through Partial withdrawals after 5 years of policy
Get the Accidental death benefit using the rider option
Flexibility to choose the product with the Accidental Death benefit option

Eligibility:

Entry Age
Minimum : 8 years
Maximum : 60 years
Maturity Age
Minimum : 70 years
Premium Mode
Single premium
Policy Term
Minimum: 10 years
Maximum: 30 years

ICICI Pru Signature

This special savings plan can help you get better returns to protect your loved ones with life cover. The plan comes with systematic withdrawals, where you can make regular withdrawals from the policy.

Key Features:

No premium allocation charges are included under this plan.
Get the tax benefits on the paid premiums under sections 80(C) and 10(10D) of the Income Tax Act. 1961.
Offers wealth boosters at the end of every 5 years, starting from the end of the 10th policy year.
Offers the option of life cover till the age of 99 years.

Eligibility:

Entry Age
0 (30 days ) - 60 years
Policy Term
10 years to 30 years
Maximum Maturity Age
18 - 75 years
For Whole Life Cover: 99 years

Bajaj Allianz Future Gain

Bajaj Allianz Future Gain is a unit-linked endowment insurance plan that allows maximum allocation of funds towards investments that assist you with huge returns. The plan provides the flexibility of unlimited switches.

Key Features:

Offers high insurance cover
Provides the option to choose from multiple policy terms
The plan comes out with the flexibility of two portfolio strategies that you can choose as per your needs.
Offers the option to reduce regular premiums as per your requirements
Provides seven fund options. You are free to choose the desired fund option at your convenience.
Premium payment mode is quite easy and smooth. The plan offers the option to take death and maturity benefits in installments.
The plan offers the option to receive the death/maturity benefit in installments payable on a monthly, quarterly, half-yearly, or yearly basis.

Eligibility:

| | |
| --- | --- |
| Entry Age | Minimum Age: 1 Year, Maximum Age: 60 Years |
| Maturity Age | Minimum Age: 18 years, Maximum Age: 70 years |
| Premium Paying Term | 5 - 30 years |
Types of ULIP Plans in India
In India, life insurance companies offer different forms of ULIPs. To meet everyone's needs, these plans are divided into 3 categories such as:
1

Classification By Purpose

ULIP for Retirement

Under this plan, you have to make the payment for a specific period with your employer that is automatically collected as a corpus amount. As an insured, you will get it in the form of annuities after your retirement.

ULIPs for Wealth Collection

It accumulates your wealth for a specific period. This is best suited for those people who are in their late twenties and early thirties. By investing in this plan, they will get the flexibility to fund their financial goal.

ULIP for Child Education

There is no doubt in saying that as a parent you want to secure your child's future from an unforeseen event that can ruin their career. In such cases, choose a ULIP for your child that can help him in different stages of his life.
2

Classification By Death Benefit

Type 1 ULIP Plans

If an insured dies due to an unfortunate incident, the nominee will receive a higher fund value/sum assured as a death benefit. But if the death occurs at the start of the policy (when the sum assured > fund value), the insurance provider will pay the amount to the nominee.

Type 2 ULIP Plans

In this plan, if the policyholder suffers an unfortunate death, the nominee will receive both- sum assured & fund value as a death benefit.
3

Funds of ULIP Plans To Invest In

Cash Funds

These come under the category of 'Safe Funds'. By investing in them, you will get a selected amount of returns upon their maturity.

Equity Funds

They top the list of 'Riskiest ULIP Investment' but offer the highest returns. The company's stock & equities are its domain of investment.

Fixed Interest & Bond Funds

Such funds are famous for giving timely returns and are chosen by those who prefer close to medium risk with prompt rewards. In other words, these funds are a perfect combination of unsecured & secured investments.

Balanced Funds

Such funds are renowned to offer medium risks with decent returns. The amount that you pay via premiums is invested in the stock market & corporate bonds.
Key Features of ULIP Plans
Choice of Systematic Investment: Apart from insurance coverage, it is also good at systematic investment planning. It allows you to choose your investment and get good benefits in return.
Transparency: One of the best things about investing in ULIP plans is its power of transparency. You will get timely updates about your investments in different funds without breaking a sweat.
Flexibility: It does not force you into investing as it provides complete freedom to choose your investment option as per your risk profile. Also, you can swiftly switch between several fund options offered under the umbrella of a ULIP plan.
Child's Future Protection: ULIP plans offer the ability to invest in market-linked funds to earn a good amount of market-linked type returns. The funds can be used further for the child's education, marriage, and to keep your child's future protected and secured.
What Are The Different Types Of ULIP Plan Riders?
ULIP Plan riders are additional benefits that you can add to your existing policy by paying a small premium. Here is a list of ULIP Plan riders:

Waiver of Premium Benefit Rider
If in case, your regular income is impacted because of some reason such as permanent disability, or not being able to work, or a critical illness, then a waiver of premium rider ensures that all the premiums in the future for your ULIP plan get waived and your investment and life cover will continue without any interference.

Accidental Death Benefit Rider
The nominee gets an additional benefit of the rider sum assured along with the death benefits of the base ULIP plan.

Accidental Permanent Total/Partial Disability Benefit Rider
In case when the life assured is suffered from total or partial disability due to an accident, this rider pays out a lump sum amount.

Critical Illness Benefit Rider
When a serious critical illness mentioned in the policy brochures strikes, policyholders need financial support to get the best possible treatment. Adding a critical illness rider to a ULIP plan helps the insured to get a lump sum amount in case any one of the critical illnesses happens during the policy period.

Family Income Benefit Rider
In case of death of the life assured, accidental permanent total disability or total disability or first diagnosis of any of the specified critical illness, 1% of the rider sum assured is paid monthly under this rider for a minimum of 10 years.
What Should You Consider Before Finalizing a ULIP Plan?
Like any other investment, the ULIP plan will require your utmost attention and of course, a portion of your hard-earned money via premiums. So, it is important to make the right call where looking back is a no-go for you. To do that, you should go through the following factors and spend some time on them. They are as follows:-
All the charges will be levied on the entry/exit of the policy.
Take a look at the plan's performance in the past 3-4 years. You will understand its highs and lows.
You need to understand how a ULIP works. Every single detail should be in your head.
Evaluate & compare every plan in the market based on cost structure, premium payments, returns, etc.
How to Choose The Best ULIP Plans For a Good Investment?
The most important aspect to be taken into consideration is receiving the best possible returns for any investment purpose. ULIPs can be an ideal choice for investors of any risk profile and at any life stage. Given are the points to keep in mind while choosing the most suitable ULIP plans.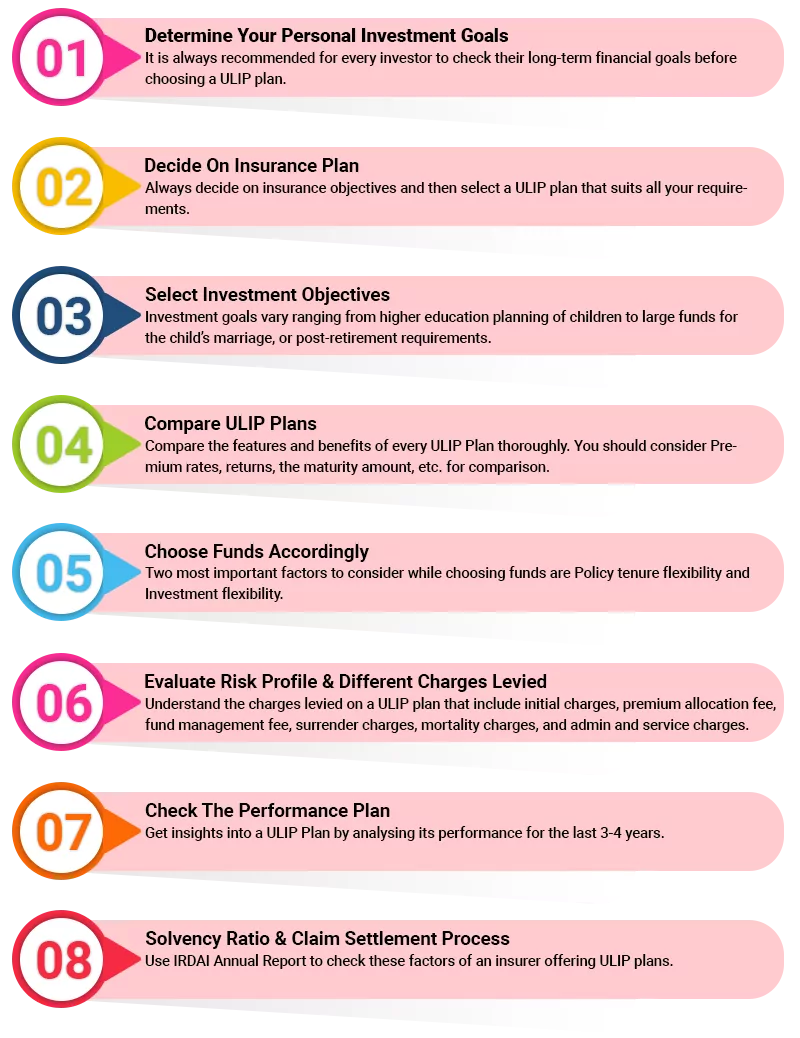 Why Buy ULIP Plans from PolicyX.com?
PolicyX.com helps you find a suitable ULIP policy within a few minutes. You can instantly compare different ULIP plans, evaluate their features according to your needs and find the best one for yourself. With the help of the ULIP calculator, we offer you a list of companies with their charts of premiums, returns, etc.
1
100% Free Quotes
Instantly find free quotes from top insurers
2
Premium Calculator
Calculate the premium amount of different ULIP plans
3
Transparency
Every call is recorded for security purposes
4
Customer Profile
A digital platform where customer can check their journey
5
Easy to Buy
Buy Plans online in just a couple of minutes
6
Experienced Consultants
A digital platform where customer can check their journey
How to buy ULIP plans from PolicyX.com
How To File A ULIP Plan Claim?

Documents Required To Buy ULIP Plan
Driving License, Aadhar card, Voting card, passport, etc.
PAN Card, Aadhar card, voting card, etc.
Salary slips, Income tax returns, bank statements, etc.
Aadhar card, voting card, passport, driving license, etc.