SBI Life Insurance Premium Payment
Being one of the leading life insurance companies in India, SBI Life offers a gamut of insurance plans that suits your financial requirements. SBI Life offers myriad customer-centric plans designed for a child's education, care-free retirement, family protection, financial security and wealth creation.
Not only does SBI Life believe in providing their customers with unparalleled products and services to manage your needs better, but they also believe in educating their existing and potential clients more about insurance.
To make it easier for policyholders, SBI Life has introduced various online and offline gateways for premium payment. Let us know more about some easy and hassle-free premium payment procedures available at policyholder's disposal.
Options For SBI Life Online Premium Payment
SBI Life customers can enjoy the convenience of premium payment without having to walk to their nearest SBI branch office.
Listed below are some of the options for premium payment for SBI Life customers:
1

Internet Banking

SBI Life offers internet banking services for existing customers. You must add SBI Life as your biller to be able to use internet banking services, following which you may provide your policy details. You may also register on BillDesk, the premium payment website promoted by the SBI.
Steps To Pay SBI Life Premium via BillDesk
Log in to BillDesk website.
Select SBI Life Insurance from the dropdown beside 'Insurance Premium'.
Select 'State Bank of India Net Banking' beside the 'Payment Through' column.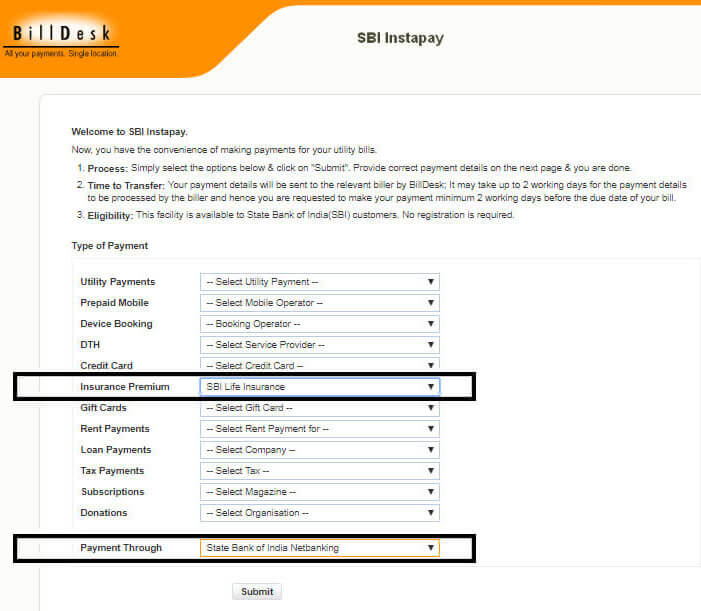 Click on 'Submit' following which you will be redirected to the next page.
Enter Policy Number and Date of Birth to continue.

You will be able to see the due date of premium and the amount of premium after signing in.
You can choose to pay the premium due immediately or schedule it for later.
2

SBI Life Website

SBI has come up with a portal for the customers to have easy access to the policy status and numerous other details about the insurance plans they have enrolled for. New and existing users can register themselves on the official website of SBI.
Steps forPay Premium via SBI Life Portal
Users must visit the SBI Life website login option.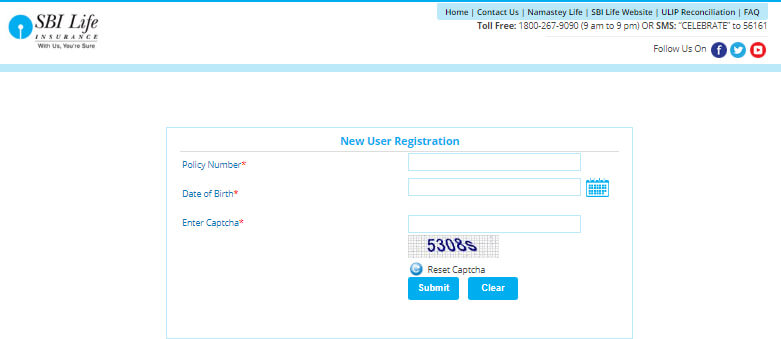 Register at the website by providing details like your policy number, date of birth, and mobile number.
Click on the 'Submit' button to save your details.
On successful registration, you will be able to view the details of enrolled policies like the enrolment date, amount of premium due, and vested bonus.
Pay your premium via debit and credit cards online.
3

Payment via E-Wallets

There are various e-wallets that you can use to pay your due premium on SBI Life plans. You can visit the SBI Buddy website from your mobile, or use other mobile wallets to pay the premium on your SBI Life insurance plans like Jio Money wallet and Paytm wallet.
Steps to Pay SBI Life Premium via SBI Buddy
Visit the SBI Buddy website
Navigate to the Recharge and Bill payment option.
Click on the Bill Pay option.
Select 'Insurance' as the category of the biller.
Select 'SBI Life' as your biller.
Complete the transaction by providing your policy number and date of birth.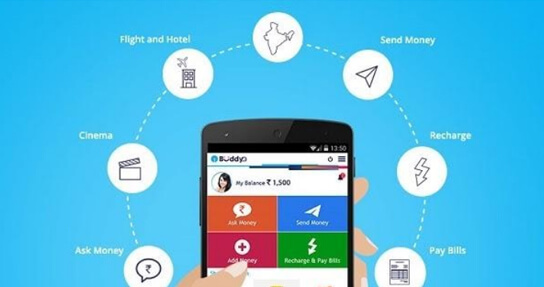 Steps to Pay SBI Life Premium via Paytm App
Download the Paytm App on your smartphone and log in with your registered mobile number.
Go to the 'Insurance' option and click on 'Pay Existing Life Insurance Premium'.
Tab on 'SBI Life Insurance'.
Provide details of your policy number and date of birth to proceed with the transaction.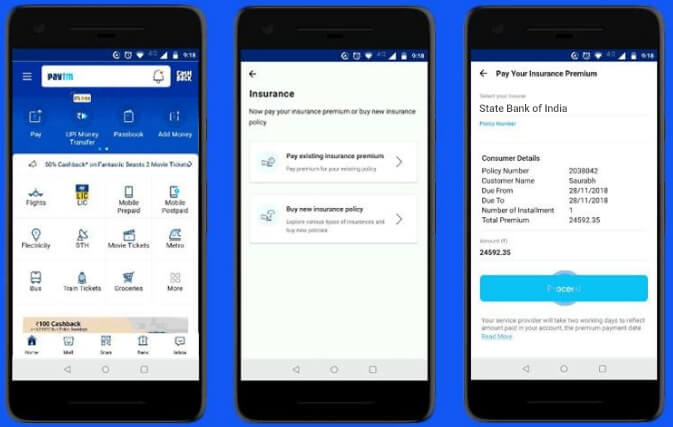 Steps to Pay SBI Life Premium via Jio Money App
Go to the PlayStore to download the Jio Money app on your smartphones.
Select the 'Bill Pay' option in the 'Recharge and Bill Pay' category.
Tab on 'Insurance' and select SBI Life Insurance as your biller.
Complete the transaction by entering your policy number and date of birth.
Offline Methods of Premium Payment
Besides the online mode of premium payment, customers can also home in on some easy offline premium payment methods like direct debits and payment using SBI ATM.
Listed below are offline methods of premium payment for SBI Life customers.
By Courier or Post

You can simply send a demand draft or cheque for the payment of premium to your nearest branch office. As an acknowledgment of your payment, a receipt shall be sent to your communication address.

Auto-debit Through NACH

National Automated Clearing House or NACH allows SBI Life customers to pay the premium using its auto-debit facility. To activate the auto-debit facility, you must submit a mandate form, duly filled, and a bank statement or canceled cheque as proof of bank account.

You can mail your documents in the address below: SBI Life Insurance Co. Ltd, Central Processing Center, 8th Level, Seawoods Grand Central, Tower 2, Plot No: R-1, Sector 40, Seawoods, Nerul Node, Navi Mumbai- 400706

Direct Remittance at SBI Life Branch Office

To make a direct remittance at SBI Life Branch office, write a cheque or demand draft and send it to your nearest SBI Life Branch office address. You must mention your policy number and your contact number at the back of the cheque or demand draft.

Pay in Cash at Authorized Cash Collection Centres

At authorized cash collection centers, you can pay for your SBI Life premium in cash. Here is how you can do it:

Premium in cash up to Rs. 49,999 may be paid at Common Service Centers (CSCs).
You can pay a premium up to Rs. 50,000 via the direct debit facility at all Karur Vysya Bank Branches
If you happen to reside in Andhra Pradesh or Madhya Pradesh, you can use the AP Online or MP Online outlets to pay a premium up to Rs. 50,000.

Insurance Premium Payment via State Bank ATM

Use State Bank ATMs to pay your due premiums. Follow the steps mentioned below to go about the same:

Insert your card in the State Bank ATM machine.
Select 'Services' and go to 'Bill Pay'. Select 'SBI Life Insurance' from the options.
Provide the details of your policy number and date of birth.
Make the payment for your SBI Life Insurance policy.

Point of Sale Terminals at SBI Branches

Point of Sale Terminals at SBI Life branches are another option for easy payment of premium. You can use your debit or credit card at the point of sale terminals to pay your due premiums available at selected SBI Life branches.
SBI Life Insurance Premium Payment: FAQs
1. How can I pay the premium through SBI ATMs?
At the SBI ATM, you have to insert your card and select 'Services' on the screen. Navigate to the Bill Pay option and select SBI Life Insurance. To make the payment, you must enter your policy number and date of birth.
2. How do I set up Auto-Debit from my bank account?
The auto-debit facility is available for account holders of SBI, Axis Bank, Kotak Bank, Punjab National Bank, Union Bank of India, ICICI Bank, CITI Bank, Bank of Baroda, IndusInd Bank, and Bank of India. Policyholders must submit a duly Mandate form and a canceled cheque at the SBI branch office to be able to avail the auto-debit facility.
3. What are some in-cash collection centers authorized by SBI Life?
Payment towards the premium of SBI Life insurance plans may be made at the Common Service Centers (CSCs). You can pay up to Rs. 49,999 premium in cash at CSCs. Karur Vysya Bank branches are also authorized by SBI Life as a collection center where you can deposit up to Rs. 50,000 in premium.
4. How do I pay premium through the Point of Sales terminals at SBI branches?
The facility for premium payment through Point of Sales terminals is available at selected SBI Branches. Policyholders can get easy access to a premium payment for SBI Life using Debit and Credit card at Point of Sale Terminals.
5. I am unable to pay my SBI premium online. What should I do?
For concerns, suggestions, and feedback, you can write to the customer care team at info[at]sbilife[dot]co[dot]in or just call on the toll-free number 1800 22 9090.